Top Surfers Paradise holiday packages
3.5-star property
Imperial Surf Private Apartments
Surfers Paradise
11 Aug. - 16 Aug.
5 night stay
Adelaide (ADL) to Gold Coast (OOL)
Virgin Australia • Direct return • Coach
Price was AU$896, price is now AU$768 per person
Incredible location. Our apartment was clean, but a little dated. Ceiling fan in 2nd bedroom didn't work was our only gripe. We are a family of 4 (5yo, 3yo) and would absolutely stay again.
Reviewed on 24 Jan. 2022
3.5-star property
Hi Ho Beach Apartments
Broadbeach
4.1/5
Very Good! (310 reviews)
28 Jul. - 31 Jul.
3 night stay
Melbourne (MEL) to Gold Coast (OOL)
Jetstar • Coach
Gold Coast (OOL) to Melbourne (MEL)
Virgin Australia • Coach
Price was AU$612, price is now AU$529 per person
Good Views - nice unit - close to all
Reviewed on 31 May 2022
3.0-star property
Ingleside Stud Farm
Tallebudgera Valley
4.8/5
Exceptional! (139 reviews)
28 Jul. - 30 Jul.
2 night stay
Melbourne (MEL) to Gold Coast (OOL)
Jetstar • Return • Coach
Save 100% on your flight
Price was AU$557, price is now AU$410 per person
Our host Bruce greeted us on arrival, he is a happy, welcoming soul and made us feel right at home. The cottage is peaceful, and we loved sitting on the deck watching the horses. Great place for a relaxing break with friends or family :)
Reviewed on 1 Apr. 2021
5.0-star property
RACV Royal Pines Resort Gold Coast
Benowa
4.6/5
Wonderful! (1,002 reviews)
11 Aug. - 14 Aug.
3 night stay
Adelaide (ADL) to Gold Coast (OOL)
Virgin Australia • Direct • Coach
Gold Coast (OOL) to Adelaide (ADL)
Jetstar • Direct • Coach
Price was AU$825, price is now AU$658 per person
A great spot, and we will return when our son is older and can benefit from the water park. Some mentions would be no toothpaste. Soaps, shampoos, conditioners, lotions, but no toothpaste. And the only other minor thing was that my partner wanted a quick snack, so we went to get her one from the a la carte, and there was no ramp or access point for prams or wheelchairs. I went to get some water from there, and all of the glasses had to be washed because they were sitting out dirty. The service was always excellent, and overall a pleasant stay.
Reviewed on 29 May 2022
3.5-star property
Mermaid Waters Hotel by Nightcap Plus
Mermaid Waters
4.1/5
Very Good! (996 reviews)
11 Aug. - 14 Aug.
3 night stay
Adelaide (ADL) to Gold Coast (OOL)
Virgin Australia • Direct • Coach
Gold Coast (OOL) to Adelaide (ADL)
Jetstar • Direct • Coach
Price was AU$613, price is now AU$509 per person
Staff were very helpful, friendly and went out of their way to help .... excellent work ethics. Did not appreciate the loud noises through the night ... very noisy neighbours. Not sure if there is a noise curfew that is in place but i think it is worth a thought!!
Reviewed on 21 Jun. 2022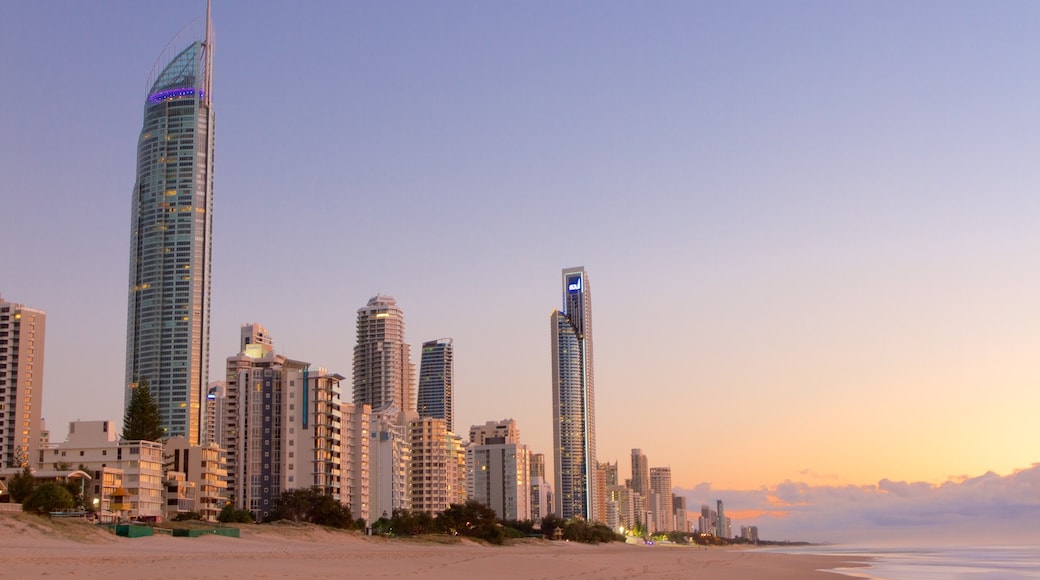 Book your Surfers Paradise holiday
Surfers Paradise Holiday Packages
For beach-lovers, getaways to the capital of the Gold Coast are worth their weight in, well, gold. As one of the best places to hang ten in Australia, Surfers Paradise really earns its name. This place is incredibly laid-back, so don't let any of those high-rises sparkling in the sun fool you. With 52km of golden beaches and just 300 sunny days to enjoy them each year, there simply isn't time to waste rushing around. So stroll through shops, restaurants, bars and clubs. Take a dip in the ocean. Get baked (by the sun, that is) on the sand. Whatever's clever.
A longboard, short board or even a doggie paddle is all you need to have the sunny, sandy, salty getaway of your dreams. Don't worry if you can't fit them all in your luggage—there are plenty to go around here. Of course, our Surfers Paradise holiday packages couldn't hurt either.
Stuff to Do
What's there to do in Surfers Paradise? Uh, well, like, duh bro, surf! That and swim, jet-ski, boat, fish, back-float and lounge.
Ready to kick your trip up a notch? Strap yourself into some dizziness-inducing theme park ride and watch the crashing waves swim around you. After a day of swimming around in them, it's only fair, right? Catch the sunset from—well, pretty much anywhere—but Q1 should be on your list at least one night. It's the tallest building in Australia and the tallest all-residential building in the world. Surfers Paradise holidays just wouldn't be the same without checking out this perch. After dark, get ready for a night out on the town.
Hit the Town
From beachfront taverns to laid-back dive bars, you won't have to spend a single hour without a drink in-hand, mouth or stomach. Slurp a fruity, umbrella-clad cocktail or try a fancy nitrogen beer. Make sure there's some fresh seafood, a kebab or greasy pub food in your belly, too. After all, you have a hard day of sunbathing ahead of you tomorrow. Good thing our Surfers Paradise packages include accommodation you can stumble back to, huh?
Where to Visit
You may be in the capital of the Gold Coast, but that doesn't mean it's the only place to be. Head north to Southport (we know, but that's where it is) to check out the most city-like bustle you're likely to find along the beach. Check out the shops and government buildings. Then head south to Broadbeach to try your luck at the casinos.
If you get tired of the beach (who ever heard of such a thing?) the Hinterland to the west has plenty to offer, too. Grab a Surfers Paradise car rental and hit the Pacific Motorway to check out mountains, rainforests and national parks too. And you thought holidays to Surfers Paradise were all about sunnies and swimwear!
Here at Wotif, we're all about giving you the best getaway at the best price. That's why we're serving up Surfers Paradise package deals all day, every day. And why not try a side of Brisbane holidays, too? Take a bite out of the big city after lounging on the sand all day and you'll have yourself getaway that's bursting at the seams with fun—all without leaving your wallet in a stich!
Top Surfers Paradise hotels
Don't see what you're looking for?
See all available properties in Surfers Paradise
View all properties
Lowest nightly price found within the past 24 hours based on a 1 night stay for 2 adults. Prices and availability subject to change. Additional terms may apply.