Top Surfers Paradise holiday packages
3.5-star property
Coomera Houseboat Holidays
Coomera
10/10
Exceptional! (4 reviews)
18 Jul - 24 Jul
6 night stay
Sydney (SYD) to Gold Coast (OOL)
Jetstar • Return • Coach
Save 100% on your flight
Price was AU$1,410, price is now AU$1,191 per person
Had a great trip away with mates fishing and boating
Reviewed on 7 Sep. 2020
4.0-star property
Talisman Apartments
Broadbeach
9/10
Wonderful! (239 reviews)
10 Jul - 15 Jul
5 night stay
Melbourne (MEL) to Gold Coast (OOL)
Jetstar • Return • Coach
Save 100% on your flight
Price was AU$1,369, price is now AU$1,162 per person
Great location. Close to beach, supermarket and restaurants.
Reviewed on 6 Feb. 2023
3.5-star property
Mermaid Waters Hotel by Nightcap Plus
Mermaid Waters
8.4/10
Very Good! (996 reviews)
17 Jul - 24 Jul
7 night stay
Sydney (SYD) to Gold Coast (OOL)
Jetstar • Return • Coach
Save 100% on your flight
Price was AU$999, price is now AU$792 per person
Very central to everything while still being quiet. Was not a queen bed, was 2 singles pushed together.
Reviewed on 16 Apr. 2023
4.5-star property
Blue C Coolangatta
Coolangatta
9/10
Wonderful! (365 reviews)
10 Jul - 17 Jul
7 night stay
Sydney (SYD) to Gold Coast (OOL)
Jetstar • Return • Coach
Save 100% on your flight
Price was AU$1,308, price is now AU$1,051 per person
The property was well maintained, with great facilities including a heated pool and gym. There was also a secure parking spot under the building. The view was fantastic, and many restaurants and shops within easy walking distance. There was an information sheet supplied with full instructions needed to ensure a comfortable stay. I will definitely stay there again!
Reviewed on 23 May 2023
4.0-star property
Baronnet Apartments
Surfers Paradise
8.8/10
Excellent! (319 reviews)
13 Jul - 21 Jul
8 night stay
Adelaide (ADL) to Gold Coast (OOL)
Jetstar • Return • Coach
Price was AU$1,699, price is now AU$1,410 per person
Love this place! I was in the 8th floor with an amazing view of the ocean . It was so beautiful to wake up to . The young man at the front desk was helpful and sweet. I'll definitely come back .
Reviewed on 5 Jun. 2023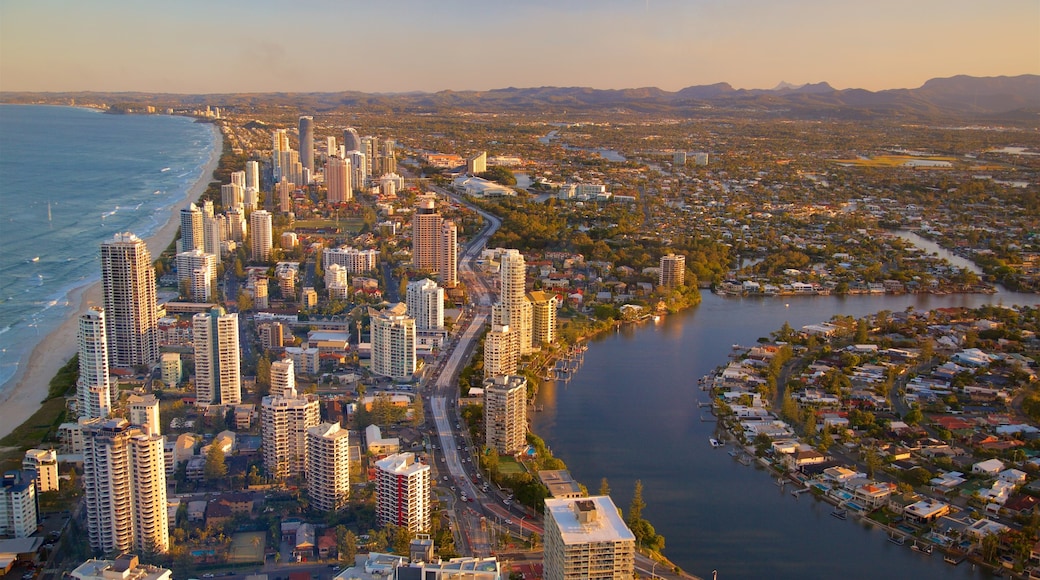 Book your Surfers Paradise holiday
Surfers Paradise Holiday Packages
For beach-lovers, getaways to the capital of the Gold Coast are worth their weight in, well, gold. As one of the best places to hang ten in Australia, Surfers Paradise really earns its name. This place is incredibly laid-back, so don't let any of those high-rises sparkling in the sun fool you. With 52km of golden beaches and just 300 sunny days to enjoy them each year, there simply isn't time to waste rushing around. So stroll through shops, restaurants, bars and clubs. Take a dip in the ocean. Get baked (by the sun, that is) on the sand. Whatever's clever.
A longboard, short board or even a doggie paddle is all you need to have the sunny, sandy, salty getaway of your dreams. Don't worry if you can't fit them all in your luggage—there are plenty to go around here. Of course, our Surfers Paradise holiday packages couldn't hurt either.
Stuff to Do
What's there to do in Surfers Paradise? Uh, well, like, duh bro, surf! That and swim, jet-ski, boat, fish, back-float and lounge.
Ready to kick your trip up a notch? Strap yourself into some dizziness-inducing theme park ride and watch the crashing waves swim around you. After a day of swimming around in them, it's only fair, right? Catch the sunset from—well, pretty much anywhere—but Q1 should be on your list at least one night. It's the tallest building in Australia and the tallest all-residential building in the world. Surfers Paradise holidays just wouldn't be the same without checking out this perch. After dark, get ready for a night out on the town.
Hit the Town
From beachfront taverns to laid-back dive bars, you won't have to spend a single hour without a drink in-hand, mouth or stomach. Slurp a fruity, umbrella-clad cocktail or try a fancy nitrogen beer. Make sure there's some fresh seafood, a kebab or greasy pub food in your belly, too. After all, you have a hard day of sunbathing ahead of you tomorrow. Good thing our Surfers Paradise packages include accommodation you can stumble back to, huh?
Where to Visit
You may be in the capital of the Gold Coast, but that doesn't mean it's the only place to be. Head north to Southport (we know, but that's where it is) to check out the most city-like bustle you're likely to find along the beach. Check out the shops and government buildings. Then head south to Broadbeach to try your luck at the casinos.
If you get tired of the beach (who ever heard of such a thing?) the Hinterland to the west has plenty to offer, too. Grab a Surfers Paradise car rental and hit the Pacific Motorway to check out mountains, rainforests and national parks too. And you thought holidays to Surfers Paradise were all about sunnies and swimwear!
Here at Wotif, we're all about giving you the best getaway at the best price. That's why we're serving up Surfers Paradise package deals all day, every day. And why not try a side of Brisbane holidays, too? Take a bite out of the big city after lounging on the sand all day and you'll have yourself getaway that's bursting at the seams with fun—all without leaving your wallet in a stich!
Top Surfers Paradise hotels
Don't see what you're looking for?
See all available properties in Surfers Paradise
View all properties
Lowest nightly price found within the past 24 hours based on a 1 night stay for 2 adults. Prices and availability subject to change. Additional terms may apply.