Top Brisbane holiday packages
5.0-star property
Ovolo The Valley Brisbane
Fortitude Valley
4.7/5
Exceptional! (1,000 reviews)
12 Mar. - 16 Mar.
4 night stay
Melbourne (MEL) to Brisbane (BNE)
Jetstar • Return • Coach
Price was AU$842, price is now AU$624 per person
The service from Trey and Jay and Michelle was impeccable. The rooms were very clean which made us feel safe. What could be improved is that there are no towels to use by afternoon at the swimming pool. They are not replaced once all towels used. We asked housekeeper to please wear a mask as it made us feel more comfortable. However all in all a wonderful hotel with amazing and engaged staff . We would certainly stay there again.
Reviewed on 14 Jan. 2022
5.0-star property
Hyatt Regency Brisbane
Brisbane Central Business District
4.5/5
Wonderful! (1,000 reviews)
12 Mar. - 16 Mar.
4 night stay
Melbourne (MEL) to Brisbane (BNE)
Jetstar • Return • Coach
Price was AU$736, price is now AU$580 per person
We had a pleasant stay. The staff were efficient and very helpful and polite.
Reviewed on 9 Jan. 2022
5.0-star property
The Inchcolm by Ovolo
Spring Hill
4.7/5
Exceptional! (349 reviews)
6 Mar. - 9 Mar.
3 night stay
Melbourne (MEL) to Brisbane (BNE)
Virgin Australia • Return • Coach
Price was AU$518, price is now AU$408 per person
Very comfortable boutique hotel with excellent staff.
Reviewed on 17 Jan. 2022
4.5-star property
The Point Brisbane Hotel
Kangaroo Point
4.5/5
Wonderful! (1,001 reviews)
12 Mar. - 16 Mar.
4 night stay
Melbourne (MEL) to Brisbane (BNE)
Jetstar • Return • Coach
Price was AU$642, price is now AU$534 per person
Rooms were modern with plenty of space. Staff were very friendly and happy.
Reviewed on 21 Jan. 2022
4.5-star property
The Chermside Apartments
Chermside
4/5
Very Good! (878 reviews)
25 Feb. - 28 Feb.
3 night stay
Sydney (SYD) to Brisbane (BNE)
Virgin Australia • Return • Coach
Price was AU$360, price is now AU$312 per person
Needed a bit of TLC- light globes broken, clock broken, broken tip off knife, one teaspoon- revamp. No dust pan or mop if wanted to clean. Had to pay extra $42 a day for cleaning if u wanted it. Disappointed with parking all but 4 spaces reserved for returned service people so had to park my car on the street where I could get a park with a disabled father who is a returned serviceman. My money should be just as good! I was paying at property when I arrived had money ready but found out money had been taken off my credit card 2 days prior to my arrival with an extra $36 charge. The smell at the ground floor from rubbish was terrible as you got off the lift. Location was good for what I wanted.
Reviewed on 3 Jan. 2022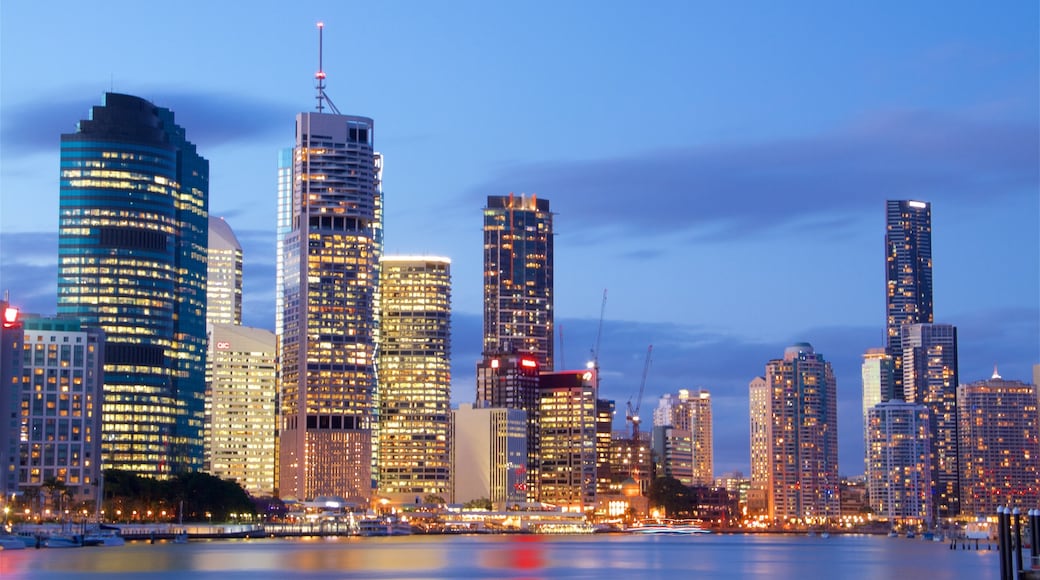 Brisbane Holiday Packages
Brisbane is a record-breaking kind of place, although you might never guess from its laid-back attitude. It's the home of the first man to fly across the Pacific, Australia's largest town hall, and its first dedicated entertainment district. Yes, this city has pioneered many important things (hey, nightlife is just as important as the technology to fly across the sky at breakneck speeds). And when it comes to package holidays in Brisbane, well, they've aced that test, too. You'll soon see for yourself, because irresistible Brisbane is in your future.
What's So Special About Brisbane?
You know that Australia's chockablock with stunning sights and fun things to do—not to mention those crazy cool animals we've got. The question that Brisbane holiday packages can answer for you is this: What haven't you experienced in this vast country? There's plenty that makes Brisbane unique:
Streets Beach: Nature didn't provide any sandy stretches, but that didn't stop the Brisbanites—they just made their own! Streets Beach, in the South Bank Parklands, is Australia's only man-made, inner-city beach, so throw out your towel and enjoy.
The great outdoors: With near-perfect year-round temperatures, don't be surprised if you want to spend most of your Brisbane holiday outside. Paddleboard along the river, cycle along its banks or make tracks for Mount Coot-tha for incredible views of the skyline.
Record-setting nightlife: No need to quiet down around here—Fortitude Valley stakes its claim as Australia's very first dedicated entertainment district. Yes, it's all party, all the time, from live music at The Zoo to fist-bumping with the best of them in The Met nightclub.
Live Like a Local
If there's one place you'll definitely be wishing you were a local, it's Brisbane. Sure, Melbourne may be more popular with the tourists, and Sydney holiday packages get snapped up like hotcakes. But Brisbane getaways have the best of all worlds: awesome weather and big-city atmosphere…without the crowds. Don't believe us? Check out these top spots for really soaking up the uber-cool vibes—and the sunshine.
New Farm: This neighbourhood is the popular new kid in school, and it's just as stylish and friendly. See what's on at the Brisbane Powerhouse, a power station turned art gallery and restaurant. You might catch a comedy show or live music on Sunday afternoons. Pro tip: The free CityHopper ferry can get you there—and you can get some pretty awesome snaps when you're board. Two for one!
GOMA: Its long form is "Gallery of Modern Art", but no one calls it that. It's a super-famous art museum, so it's not exactly a locals-only secret, but it's definitely cool enough to make the list. We do have one insider hint: It has its own cinema, showing themed movies that complement the exhibitions.
Markets: Saturdays are the day to shop till you drop, so hop in your ride from that Brisbane car hire and pack the boot so full, you'll need a few extra suitcases to get all your stuff home. Head to Davies Park Markets in West End for live music and laid-back vibe, or Valley Markets in Fortitude Valley for funky fashion, jewellery and cheap eats.
Chow Time
We've mentioned that lively nightlife, active adventures and chilled-out lazy days can all be part of the deal when you book Brisbane travel. But what about food? Well of course! Stuffing your face with a diverse mix of cuisine from all continents is a time-honoured Brisbane holiday activity. Here's where to find it.
Fortitude Valley: This place isn't just for nightlife—all those partiers need fuel, you know. At the Chinatown Mall, the yum cha breakfasts (tea and steamed dim sum) are legendary, and you can also find some pretty sweet souvenirs.
CBD: If you're feeling fancy, there's only one place to go. The CBD is home to Brisbane's only three-hat restaurant, Esquire. There are also uber-classy whisky bars, romantic French spots and craft cocktails for days.
West End: Simply no idea what you want to eat? Make your way to the West End and walk along Boundary Street—problem solved. You'll find Japanese, Thai, Greek, modern Australian, vegetarian, pizza and yes, even more.
Haven't we convinced you yet? It's time to stop staring at the screen and book one of our cheap Brisbane packages while you still can! Just kidding, they're not actually going anywhere. But you should be! So get on that, book today and we'll see you in Brissie.
Things to do in Brisbane
While kicking back and soaking in those chill vibes is wonderful, your holiday wouldn't be truly complete without some new experiences.
Grab your itinerary and jot down a couple of these excellent Brisbane activities:
Top Brisbane hotels
Lowest nightly price found within the past 24 hours based on a 1 night stay for 2 adults. Prices and availability subject to change. Additional terms may apply.