Top Mana Island holiday packages
5.0-star property
Nanuku Resort Fiji
4.7/5
Exceptional! (35 reviews)
31 Jul. - 5 Aug.
5 night stay
Brisbane (BNE) to Nadi (NAN)
Fiji Airways • Return • Coach
Save 100% on your flight
Price was AU$3,552, price is now AU$2,442 per person
For the first time I find it very differcult to really portray the absolute beauty of this very special place. In other reviews people have already told the world of how wonderful the staff really are here. We have been going to Fiji on and off for over 40 years and there are some very special places but the Staff at Nanuku are at the top of the list. One can have complete privacy and family's are also so beautifully looked after and children do nothing but laugh and enjoy their Villa Buddy as he or she cares for them. The food is to die for! Every day something very different and incredibly fresh arrived at our table. We were very spoilt in our accomadation that was given to us and the Villa Mama and Villa Buddie is a beautiful way to be cared for without over doing it. The bed was very very comfortable with lovely linen etc. yes one pays a little bit more than a four Star but if you can and want to be treated as if you are royalty Nanuku Resort is it. I could go on for ever but just thankyou so much Villa Mama Maria and Villa Buddy Solo for your very personal caring. To the rest of the staff keep up the good work and be very proud of yourselves. Thankyou so much for making our holiday so special and we hope we will be back one day soon.
Reviewed on 27 Sep. 2015
2.0-star property
Nadi Downtown Hotel
8 Aug. - 15 Aug.
7 night stay
Adelaide (ADL) to Nadi (NAN)
Fiji Airways • Return • Coach
Price was AU$942, price is now AU$798 per person
a bit noise, but good location; teh airport shttule isnt that usefull. when we arrived it was just gone. we had to take a texi which is only $12 from airpot to town
Reviewed on 22 Apr. 2017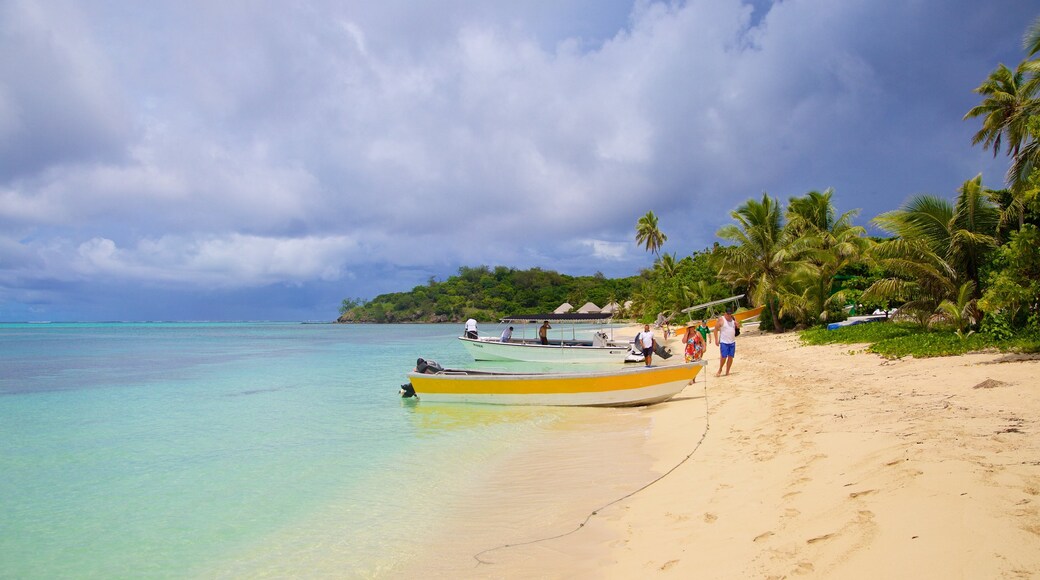 Book your Mana Island holiday
Mana Island Holiday Packages
The South Pacific is no stranger to scenic vistas, but even by its standards, Mana Island, Fiji, is special. One of approximately 20 islands that make up the Mamanuca Islands, Mana is located west of the Coral Coast and is loaded with everything great about this part of the world: pristine beaches, palm trees and clear water. With a range of activities that include kayaking and wildlife sightings, Mana Island holidays have a little something for everyone.
Things to do in Mana Island
Whether it's adventure or relaxation you're looking for, you'll find it here. People who visit Mana Island for a relaxing break can spend their entire time sunbathing on the warm sand. Book one of our car hires in Mana Island to see even more of this lush locale—oh, and maybe spend the drive basking in the gosh darn peace and quiet you crave. If you're struggling to pull yourself away from idyllic locations but you don't want to be too lazy, you'll find there's much fun to be had by joining in some water sports. Take off on jet skis, hop on a banana boat or get a view of the Mamanuca Islands from the air with a parasailing adventure. You can also dive into the blue water to see the colourful corals, which is fun for both beginner and experienced divers. If you want a calmer aquatic experience, take a cruise from the island and explore uninhabited atolls and tiny Fijian villages.
Landlubbers can enjoy easy hikes through the rainforest to get to know the local flora and fauna. If you're looking for a cultural experience, check out a grass skirt-making class on the island. This craft been passed down through generations of Mana Island's inhabitants, and it's a great way to take a little piece of island life back home with you. It's also a handy skill to have in a pinch who knows when you'll need a new outfit? If skirts aren't your thing, consider taking a weaving class and make your own hat to keep the dazzling Fijian rays off your nose.
Shopping, Dining, &amp Nightlife
You'll find everything you need for a trip to Mana Island—snacks, sunscreen and other beach apparel—at the island's many small markets. You won't find any mega malls in this hideaway, and that's kind of the point. So go small or go home, except when it comes to food. In Mana, restaurants serve up a blend of Asian, American and European foods and every venue has their own spin on the local cuisine, which means you must try everything. You know, for research. After dinner, you won't find too many places to dance the night away, but you can always head to the beach for some stargazing undisturbed by light pollution.
What's Next?
When it comes to Coral Coast packages, Wotif's got you covered. Our easy-peasy Mana Island packages bundle your hotel and flights together to give you a special discount. Book yours today and relax in Mana Island tomorrow!
Top Mana Island hotels
Don't see what you're looking for?
See all available properties in Mana Island
View all properties
Lowest nightly price found within the past 24 hours based on a 1 night stay for 2 adults. Prices and availability subject to change. Additional terms may apply.