Top Castaway Island holiday packages
4.0-star property
The Naviti Resort
4/5
Very Good! (638 reviews)
15 Jun. - 22 Jun.
7 night stay
Melbourne (MEL) to Nadi (NAN)
Jetstar • Direct • Coach
Nadi (NAN) to Melbourne (MEL)
Fiji Airways • Direct • Coach
Price was AU$2,353, price is now AU$1,584 per person
Staff are amazing. Helpful, friendly and courteous beyond belief
Reviewed on 28 Dec. 2019
5.0-star property
Nanuku Resort Fiji
4.7/5
Exceptional! (34 reviews)
4 Jul. - 11 Jul.
7 night stay
Adelaide (ADL) to Nadi (NAN)
Fiji Airways • Return • Coach
Save 100% on your flight
Price was AU$9,182, price is now AU$6,548 per person
For the first time I find it very differcult to really portray the absolute beauty of this very special place. In other reviews people have already told the world of how wonderful the staff really are here. We have been going to Fiji on and off for over 40 years and there are some very special places but the Staff at Nanuku are at the top of the list. One can have complete privacy and family's are also so beautifully looked after and children do nothing but laugh and enjoy their Villa Buddy as he or she cares for them. The food is to die for! Every day something very different and incredibly fresh arrived at our table. We were very spoilt in our accomadation that was given to us and the Villa Mama and Villa Buddie is a beautiful way to be cared for without over doing it. The bed was very very comfortable with lovely linen etc. yes one pays a little bit more than a four Star but if you can and want to be treated as if you are royalty Nanuku Resort is it. I could go on for ever but just thankyou so much Villa Mama Maria and Villa Buddy Solo for your very personal caring. To the rest of the staff keep up the good work and be very proud of yourselves. Thankyou so much for making our holiday so special and we hope we will be back one day soon.
Reviewed on 27 Sep. 2015
3.0-star property
Smugglers Cove Beach Resort and Hotel
Wailoloa
3.7/5
Good! (795 reviews)
4 Jul. - 11 Jul.
7 night stay
Adelaide (ADL) to Nadi (NAN)
Fiji Airways • Return • Coach
Price was AU$1,317, price is now AU$1,035 per person
Excellent value for money with great dining options. Guests can walk into other hotel restaurants and venues nearby increasing dining and entertainment options. Staff is super helpful and friendly. Lana, the lady at reception is very professional, helpful and friendly. This is an excellent spot for a sleepover if you have our door activities booked for the day, and don't need to spend money on a 5 star resort. The place is clean, and very well facilitated. And asjesent to 3 more resorts, with guests encouraged to visit all entertainment and dining venues. A cheap economical rental would be cheaper then tacos if one wants to drive into the city for dinner etc.
Reviewed on 30 Apr. 2022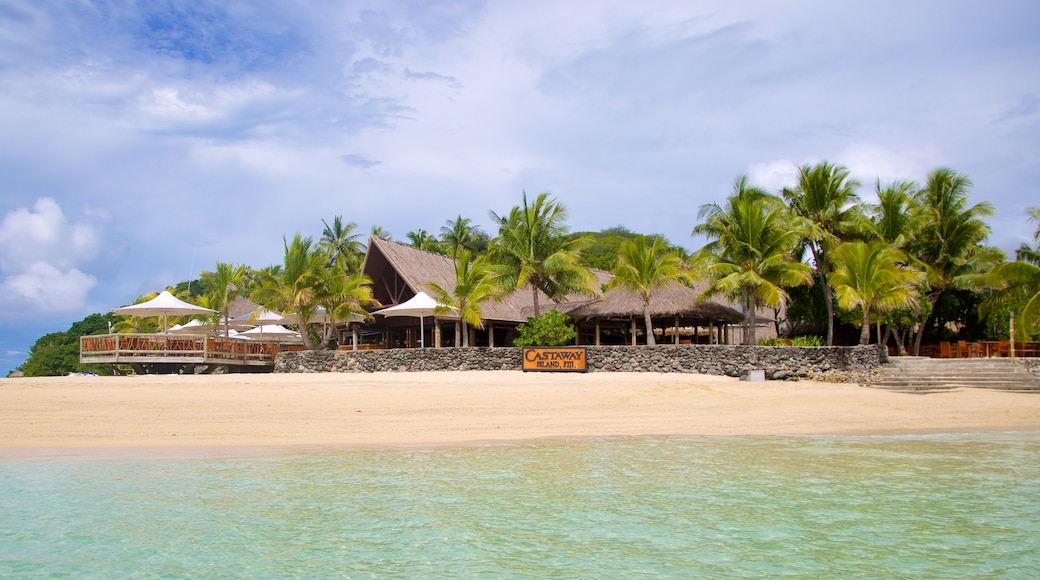 Castaway Island Holiday Packages
Picture a private resort on Castaway Island (also known as Qalito), one of Fiji's beautiful Mamanuca Islands. Just a short 20 km trip from Nadi International Airport (NAN), travellers can view the small cluster of Mamanuca Islands before landing and settling in to a resort with everything you need for a perfect stay. While on Castaway Island holidays you can disconnect from the rest of the world and live it up…or relish a little gosh-darn peace and quiet.
Things to do on Castaway Island
Whatever you want from your holiday, there are plenty of things to do on Castaway Island, from water sports and land and air excursions to simply relaxing on the sand. Spend a day exploring your surroundings and tour the Mamanuca Islands by chartered boat or helicopter, or pick up one of our car hires on Castaway Island so you can travel to the different sites at your own island-hopping pace. Feeling sporty? Test your skills on and under the waves with surfing, water skiing, kayaking and scuba diving to see exquisite underwater flora and "fin-a." If you prefer to keep to the land, take beach walks, play volleyball or soak up the sun while you read your favourite novel. Just don't fall asleep in the sun, unless you want to be as pink as a coral reef. Whatever it is you're looking for, you'll likely be able to find an organised excursion or tour to take you there.
Shopping, Dining &amp Nightlife
The Boutique is a convenient place for travellers to find souvenirs and all the holiday amenities needed to make their trip feel like a sweeter version of home. The Boutique offers gifts, jewellery, authentic island clothing, books and all-natural body care essentials, but if you're really looking for a Fijian keepsake, you'll need to pick yourself up a traditional dinner mat, which you can find in many colours and sizes.
Speaking of dinner, no matter your tastes, there is a menu for you on Castaway Island. From local delicacies—like lovo or kokodo—to international favourites, especially Chinese food, the creative breakfast, lunch and dinner cuisine at the island's restaurants offers something for every palate. Choose from seafood, wood-fired pizzas, burgers, sandwiches and unforgettable Fijian cooking.
When you're looking for Castaway Island packages, good times and nightlife are must-haves to make the trip complete. Sip a cool drink, take in the sights and sounds of paradise at one of the island lounges and enjoy some local island music and entertainment. You'll truly get a taste of the Fijian culture if you catch a Meke performance, which tells the tales of legends, stories and with chanting and drumming alongside traditional Matana dancers.
What's Next?
Holiday packages to Castaway Island with Wotif let travellers save money on their holiday expenses with the best deals on airfare, hotels and holidays. Even better, Wotif offers a price promise for the lowest room rates, no booking fees and reviews for travellers when they book Castaway Island package deals. That's not all, though if you don't want to limit yourself to just one island, try one of our packages to the Yasawa Islands. What are you waiting for? Your next great holiday awaits you with low travel prices to the destination of your dreams.
Top Castaway Island hotels
Don't see what you're looking for?
See all available properties in Castaway Island
View all properties
Lowest nightly price found within the past 24 hours based on a 1 night stay for 2 adults. Prices and availability subject to change. Additional terms may apply.