Top Treasure Island holiday packages
2.0-star property
Likuri Island Resort Fiji
4.2/5
Very Good! (98 reviews)
4 Aug. - 11 Aug.
7 night stay
Adelaide (ADL) to Nadi (NAN)
Fiji Airways • Return • Coach
Price was AU$1,138, price is now AU$909 per person
I loved the location, the people who work at this Island are gems 💎 the front beach rooms were beautiful! Watch out for falling coconuts 🌴
Reviewed on 19 Jun. 2022
3.0-star property
Hexagon International Hotel
4 Aug. - 11 Aug.
7 night stay
Adelaide (ADL) to Nadi (NAN)
Fiji Airways • Return • Coach
Price was AU$1,021, price is now AU$825 per person
The hotel needs the bathrooms updating, they are tired looking. Our room was spacious and overlooked the pool, air con worked fine but tv didnt (although we were not staying to watch tv). Staff were very friendly, shops and restaurants/bars nearby. We did find it a bit odd when we had to sign for towels.....not trusting of guests maybe. Locals dont give it a good rating but we found it comfortable for our week
Reviewed on 26 Jun. 2019
3.0-star property
Tanoa Skylodge Hotel
4 Aug. - 11 Aug.
7 night stay
Adelaide (ADL) to Nadi (NAN)
Fiji Airways • Return • Coach
Price was AU$975, price is now AU$790 per person
Perfect for stay either side of an island transfer. Good facilities and price. Air con and comfy beds :)
Reviewed on 27 Apr. 2022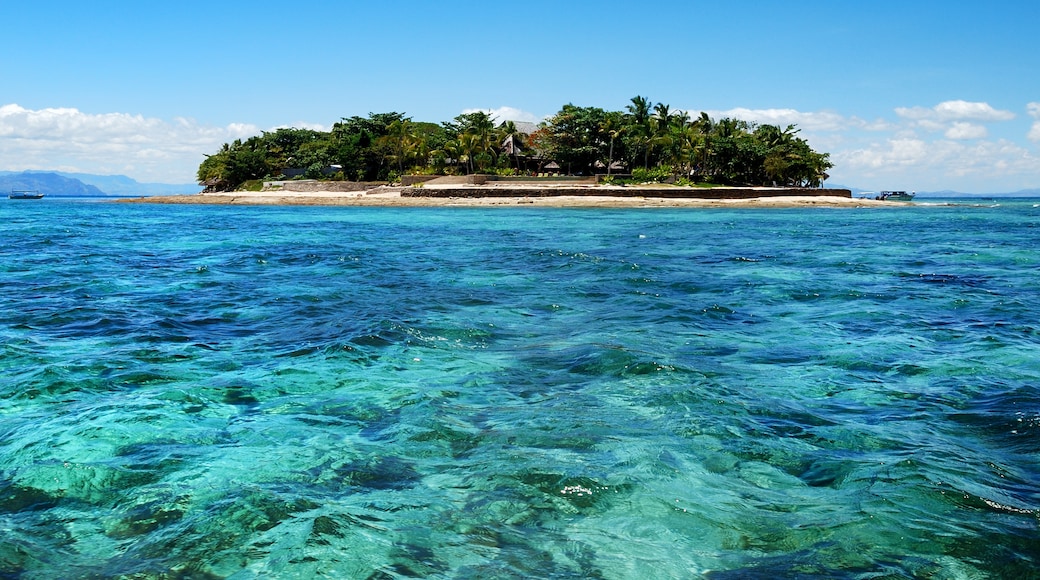 Book your Treasure Island holiday
Treasure Island Holiday Packages
Treasure Island, Fiji, is a resort island located in the Mamanuca group of islands in the South Pacific. It's one of the world's most sought-after destinations and the ideal spot for travellers looking for romance and mystery in a remote seaside location. Treasure Island holiday packages are the quickest way to relaxation—you can book your whole stay at once, whether you're planning to go for a few days or a couple of weeks. You'll love the beauty and relaxation you find among the tropical breezes, and chances are you won't ever want to leave.
Things to Do in Treasure Island
What's your pleasure? Odds are Treasure Island has it. If you're in the mood for outdoor adventure, you can go to one of the world-class diving sites that offer beginner and advanced courses, or you might want to try stand-up paddle-boarding, water skiing, snorkelling or dozens of other water activities. If you're more interested in relaxing, check into a day spa for a massage or beauty treatment, or take a perfect seat at one of the island Tiki bars for a refreshing beverage. You won't need a car to get around Treasure Island, though you'll need to take a boat to it from Vuda Marina. This seaport is located about 15 minutes north of where your flights to Nadi International Airport will land.
Shopping, Dining &amp Nightlife
Treasure Island provides you with plenty of places to go souvenir shopping. Whether you book a hotel separately or select one of the Treasure Island packages, no matter where you stay, you'll be just minutes away from local shops that offer island specialties and treats to bring home. When it comes to nightlife, you won't be disappointed, either. Grab a traditional South Pacific cocktail at one of the beautiful beach bars or enjoy the live entertainment included in Treasure Island package deals you'll see right away why so many people are lured to this exotic destination. You'll also find that you can explore the water at night, too, with after-sunset snorkelling tours—there's nothing more romantic than a shark in the moonlight—or by a more sedate evening spent lounging at the hotel pools. Wherever you go, you'll probably have a drink in hand, so sip carefully and enjoy the island flavours.
All the activity will probably leave you hungry, so check out some of the amazing grubbing options on Treasure Island. There are elegant dining venues set right on the water where you can sample fresh, local produce, or you can check out some of the buffets and beach banquets with table-side flambés.
What's Next?
Whether you're interested in Treasure Island hotels or nearby Malolo Island holiday packages, Wotif can make sure you have the experience of a lifetime. Booking holidays to Treasure Island is easy and affordable when you book a package flight and hotel deal. With millions of rooms available on Wotif, across thousands of destinations, we can make sure you enjoy the amazing getaway you deserve. Start searching and get your trip to Treasure Island booked today!
Top Treasure Island hotels
Don't see what you're looking for?
See all available properties in Treasure Island
View all properties
Lowest nightly price found within the past 24 hours based on a 1 night stay for 2 adults. Prices and availability subject to change. Additional terms may apply.