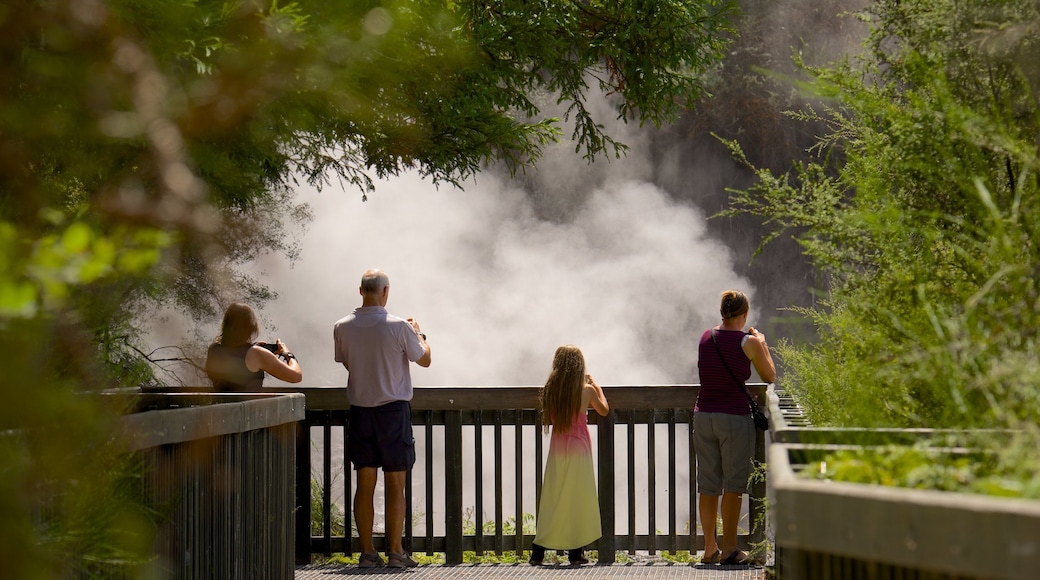 Book your Rotorua holiday
Holidays To Rotorua
Thanks to its location in the Taupo Volcanic Zone, Rotorua is a city full of adventure and unique scenery.
Take a kayak or paddle steamer around one of the region's 18 incredibly blue lakes, including massive Lake Rotorua. In this region, steam escapes from crevices in the ground, gardens bloom alongside bubbling craters and geysers shoot for the sky. And when you need to chill out, you can sit back in a healing thermal mud bath. From traditional Maori culture to art galleries and museums, Rotorua is a fascinating part of New Zealand. Book your Rotorua accommodation with us for a region where even the mud is a tourist attraction.HistoryA Maori explorer named Ihenga founded Rotorua in the 14th century. Shortly after his discovery, other Maori began arriving by canoe, and the area was named after the Maori word for "second lake". Despite suffering a series of earthquakes in 1886, Rotorua has been popular with visitors for more than 200 years, and a "special town district" was created in 1883 to promote Rotorua's spas.Things to doLake Rotorua is the biggest of Rotorua's 18 lakes. And at 79kms, it's the second biggest lake on the North Island. This lake is yours to enjoy when you go parasailing, take a kayaking lesson or enjoy a cruise (and a meal) on a paddle steamer. If adventure activities rev you up, Rotorua has plenty. Agroventures Adventure Park has a bungy jump, a wind tunnel and the world's only Schweeb monorail, which YOU keep in motion by pedalling.If dangling above the forest floor is more your style, try a zipline. Rotorua's forests also have some of the best mountain biking trails you're likely to roll down. Cyclists of all skill levels can bike "The Redwoods", also known as Whakarewarewa Forest. The tall Californian Redwoods here mingle with native ferns and Eucalypts, and you can catch sight of Rotorua's lakes and mountains as you roll along.Rotorua's geothermal activity is one of its biggest attractions. Test out the healing powers of geothermal mud (which Maori have historically used to ease joint and muscle pain) at Hells Gate, a wellness centre far more pleasant than its name suggests. For something a little more…well, explosive, make sure you visit Te Puia. This place is known as NZ's living Maori cultural centre, and it's the home of traditional arts and crafts and more than 500 other geothermal goodies, including Pohutu Geyser. This geyser's eruptions can last anywhere from a few minutes to a number of days. Now THAT'S dedication.Roughly a 90-minute drive from Rotorua you'll find Tarawera Falls, a short but very sweet waterfall walk. Crystal clear water gushes down this 35-metre waterfall, surrounded by native bushland.Shopping and diningRotorua has its share of shopping: fashion boutiques, book stores, mountain bike shops and art galleries. The dining scene includes everything from restaurants that serve up traditional Maori cuisine, to Mexican and Italian, to fine dining, cafes and pubs. Beneath a covered walkway, Eat Streat (yes, it's spelt that way) is an excellent choice if you want variety in a hurry, with high-quality restaurants, cafes and a cool ice-cream parlour.Getting hereBundle your Rotorua hotels and flights together with us for an easier, cheaper trip, so that you can focus on seeing as much of Rotorua as possible.
Top Rotorua hotels
Lowest nightly price found within the past 24 hours based on a 1 night stay for 2 adults. Prices and availability subject to change. Additional terms may apply.
Recommended cities for you