Top Great Ocean Road holiday packages
4.0-star property
View Melbourne
4.4/5
Excellent! (1,003 reviews)
13 Jan. - 16 Jan.
3 night stay
Adelaide (ADL) to Melbourne (MEL)
Jetstar • Return • Coach
Price was AU$652, price is now AU$524 per person
Lovely hotel..comfy bed.. complimentary champagne was a nice touch..AWESOME view! Amazing buffet breakfast..lovely staff..LOVE the late check-out option.. Hubby and I really enjoyed our stay and we will most definitely be back for another staycation very soon!!
Reviewed on 4 Dec. 2022
5.0-star property
Lancemore Crossley St. Melbourne
Melbourne Central Business District
4.6/5
Wonderful! (121 reviews)
13 Jan. - 16 Jan.
3 night stay
Adelaide (ADL) to Melbourne (MEL)
Jetstar • Return • Coach
Price was AU$817, price is now AU$658 per person
The most friendly staff and level of service I've experienced in any accommodation I've ever stayed at in Melbourne, nothing was a hassle. The room was great too, comfy bed and great amenities and food available.
Reviewed on 20 Nov. 2022
4.0-star property
Quest Docklands
Melbourne Central Business District
4.5/5
Wonderful! (924 reviews)
13 Jan. - 16 Jan.
3 night stay
Adelaide (ADL) to Melbourne (MEL)
Jetstar • Return • Coach
Price was AU$995, price is now AU$812 per person
Value for money. Clean tidy and modern Good poistion
Reviewed on 21 Nov. 2022
4.0-star property
Imagine Marco
Melbourne Central Business District
4.3/5
Excellent! (1,375 reviews)
7 Jan. - 15 Jan.
8 night stay
Sydney (SYD) to Melbourne (MEL)
Jetstar • Return • Coach
Price was AU$1,211, price is now AU$1,014 per person
Luxurious going in, hard to find on Google maps when on foot! Comfortable beds. Not as clean as I would have hoped, scuffed paint, broken furniture, little things disappointing like no dish cloth to clean dishes, no soap dish, very bare basics inside. Didn't feel like the family treat that I'd hoped it would be.
Reviewed on 1 Nov. 2022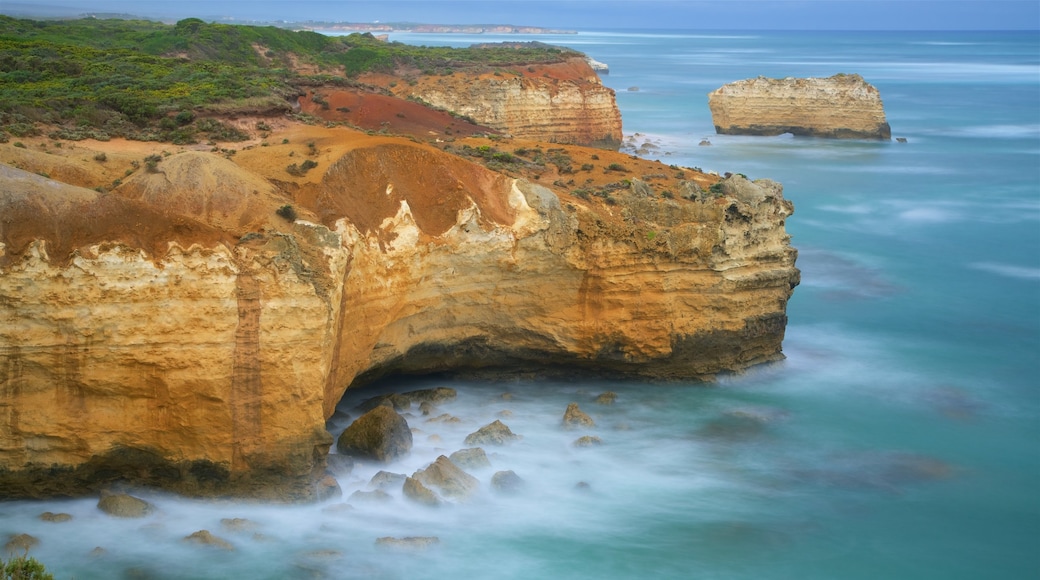 Book your Great Ocean Road holiday
Holiday To Great Ocean Road
You're always on the move, looking for the best wave breaks, stellar scenery and new favourite foods. So it goes without saying that your dream trip will keep you rolling.
Whether you start your holiday on Great Ocean Road in Torquay to the east or in Allansford to the west, you'll find plenty reasons to stop along the way. Running along 243 km of Victoria's south coast, this famous highway is the longest war memorial in the world, built in honour of Australia's World War I soldiers. It's also lined with beaches, gorgeous landmarks and natural wonders, like the Twelve Apostles limestone formations, so pack your bathers and a camera. Snatch up some Great Ocean Road package deals to save up and simplify for the long haul.
Things to Do on Great Ocean Road
Before you can cruise through the towns and villages along the good ol' B100, you'll need a set of road trip-ready wheels. If you're coming from the Melbourne area, pick up one of Wotif's Great Ocean Road car hire deals and start your adventure in Torquay. If you drive straight through, your Great Ocean Road holiday should take about 4 hours and 30 minutes, but go ahead and get distracted by the blond sand at Bells Beach before you even leave the first town. If you want a fresh perspective when you roll into Aireys Inlet, take a tour to the top of Split Point Lighthouse. We don't expect you to drive without tucking in to a lovely beach bungalow hotel and spending a few days working on your tan or hanging ten. For the biggest city sights on the route, hold out for Warrnambool, home to the historic Flagstaff Hill Maritime Village, which showcases the history of this seaside road. Allansford Cheese World and Museum, on the other hand, showcases cheese.
Shopping, Dining &amp Nightlife
We hope you chose a car with a big boot, because Great Ocean Road holidays are for shoppers. Many of the towns and villages are little artist havens and you can start your collection of seaside masterpieces in colourful galleries. This ambling thoroughfare doesn't belong to just the beach-combers. Farmers markets offer a tasty look into the countryside along the Great Ocean Road, so start grazing!
Most of the restaurants on Great Ocean Road are located in Torquay and Warrnambool, which means you've gotta stuff your face before you start the journey and then when you reach the end. Just kidding. There's plenty of options along the way—especially if you love modern Aussie fare and heaps of fish and seafood—but if you want to plan a fancy dinner, you'll have more options at the bookends and anywhere there's a beautiful beach.
Stopping for pints along Great Ocean Road would be the ultimate pub crawl, but your legs would get tired. Instead, focus your energy on the cosy bar scenes in Torquay, Lorne and Warrnambool.
What's Next?
Rev your engines, traveller. It's time to get away on a road trip that always follows the scenic route. Book Great Ocean Road packages with Wotif and get ready to roll!
Top Great Ocean Road hotels
Don't see what you're looking for?
See all available properties in Great Ocean Road
View all properties
Lowest nightly price found within the past 24 hours based on a 1 night stay for 2 adults. Prices and availability subject to change. Additional terms may apply.