Top Sanur holiday packages
4.5-star property
Warwick Ibah Luxury Villas & Spa
4.9/5
Exceptional! (111 reviews)
12 Jan. - 18 Jan.
1 night stay
Sydney (SYD) to Denpasar (DPS)
Singapore Airlines • Direct return • Coach
Price was AU$2,186, price is now AU$2,072 per person
Excellent setting, beautiful villa, friendly and professional staff
Reviewed on 17 May 2019
5.0-star property
Meliã Bali
BTDC
4.3/5
Excellent! (828 reviews)
7 Jan. - 12 Jan.
1 night stay
Sydney (SYD) to Denpasar (DPS)
Singapore Airlines • Direct return • Coach
Price was AU$1,449, price is now AU$1,218 per person
Beautiful location facilities great & friendly staff. Little disappointed where not allowed to use certain areas of resort .Would have been happy to pay small fee to swim in other pool but was told strictly off limits couldn't even dine in cafe as it was only for certain customers. Drinks prices little over the top $22 Vodka & Soda. Sorry we won't be returning.
Reviewed on 15 Feb. 2020
4.5-star property
Nusa Dua Beach Hotel & Spa
BTDC
4.4/5
Excellent! (928 reviews)
7 Jan. - 12 Jan.
1 night stay
Sydney (SYD) to Denpasar (DPS)
Singapore Airlines • Direct return • Coach
Price was AU$1,574, price is now AU$1,433 per person
Staff are very friendly helpful & make you feel very welcome. Great atmosphere & relaxing resort. Been here 4 times & love the Balinese authenticity. Rooms are clean & comfortable thou the bathrooms are starting to show they need an update. Overall love this place & will be back.
Reviewed on 18 Feb. 2020
5.0-star property
Anantara Uluwatu Bali Resort
4.3/5
Excellent! (341 reviews)
9 Jan. - 16 Jan.
1 night stay
Sydney (SYD) to Denpasar (DPS)
Singapore Airlines • Direct return • Coach
Price was AU$2,308, price is now AU$2,123 per person
Loved the views, food was also great and the service was exceptional. They have fantastic staff who went above and beyond. Location in Uluwatu is perfect for visiting many of the beach clubs and Uluwatu Temple. There are also monkeys that live near the property and occasionally make a welcome visit
Reviewed on 16 Mar. 2020
5.0-star property
Sofitel Bali Nusa Dua Beach Resort
BTDC
4.3/5
Excellent! (757 reviews)
7 Jan. - 12 Jan.
1 night stay
Sydney (SYD) to Denpasar (DPS)
Singapore Airlines • Direct return • Coach
Price was AU$1,343, price is now AU$1,254 per person
Clean beach with clear water, best buffet breakfast I have ever had, relaxing poolside vibe. Exec lounge was the icing on the cake...
Reviewed on 2 Feb. 2020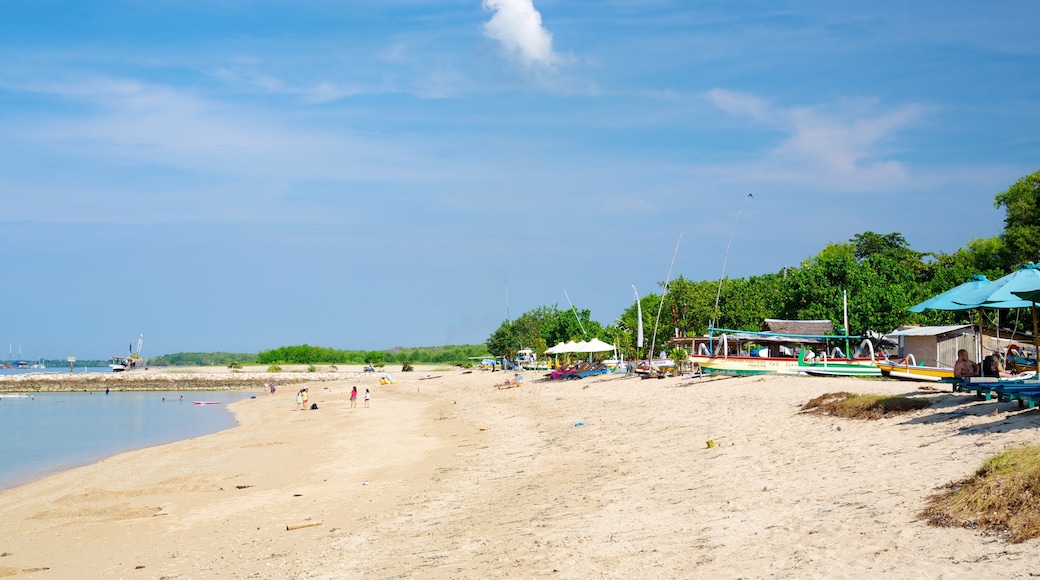 Sanur Holiday Packages
Sanur is Bali's premier family holiday destination. Discover long stretches of sandy beaches kissed by warm waves and quiet streets full of stylish and affordable boutiques, restaurants and cafes. Sanur holidays deliver the best of Bali with a laid-back vibe, so start packing…in a leisurely manner, of course.
Things to Do in Sanur
Travel from your hotel to any Sanur beach for nearly every water sport under the sun, including jet skiing, canoeing, swimming and surfing the outer reef breaks. You can also lounge on the sand with a good book in one hand and a cold drink in the other—now that's our kind of holiday. Back on land, you'll find Bali's rich Hindu heritage on display with regular ceremonies throughout the town centre.
If it's adventure you seek, then adventure you will find. Pick up your car hire in Sanur and start exploring the island's vibrant capital city, Denpasar, then trek out to towering and still-bubbling volcanoes or discover jungle rapids for an exhilarating whitewater boat ride. During your stay, take a day trip inland and up to Ubud, Bali's famed artistic and literary hub that hosts the Ubud Writers & Readers Festival. It's also home to the popular Monkey Forest, named for cheeky inhabitants that are happy to drop in for a photo opportunity.
Shopping, Dining & Nightlife
Sure, Sanur is home to the kind of Bali adventures you'll want to write home about, but the nieces and nephews are probably expecting presents—and that's fortunate, because no holiday in Sanur is complete without some serious shopping. Tucked away off Jalan Danau Tamblingan—the main street in Sanur—is the air-conditioned Hardy's shopping centre, where you'll find fresh local produce at lagoon-bottom prices. The street itself has a long line of designer boutiques brimming with international labels and local creations. Out on the Sanur Bypass, oleh oleh (souvenir) shops are packed with inexpensive local art, crafts, fine materials and clothing. Here's a pro tip: These shops are where local vendors buy their stock to sell on the beach. Plus, "oleh oleh" is fun to say.
Shopping has a way of bringing out the hunger pangs. With so many fabulous dining options in Sanur, it may be difficult to narrow down the selection. Many resorts have their flagship eateries right on the beach, while low-key local cafes and bars dot the coast in between. Sanur's tastiest eats are concentrated along a couple blocks back on the main street, where you can dine daintily or stuff your face with the best of Balinese cuisine. The locally raised duck is a favourite, and the seafood is so fresh you'll think it swam up to the kitchen.
Sanur holidays also reveal a laid-back nightlife scene along the main street. Sip on tempting cocktails and ice-cold bottles of the local beer, Bintang, at one of the bars or restaurants. Travel 9.5 km by taxi down the Sanur Bypass, and you'll be in Kuta, Bali's party central, where multi-level clubs pump up the volume until dawn. Dancers, fire breathing acts and banging tunes create a memorable nightlife experience.
What's Next?
Whether you just want to lounge on a postcard-perfect beach, or you're a business traveller after the best-value Denpasar holiday packages to Bali's southern city, Wotif is here to help you land affordable holiday that fits like a glove…or like your favourite sandals. Don't waste your time bouncing from website to website head straight to Wotif and book your dream trip to Sanur today.
Things to do in Sanur
While lying back and soaking up those chill vibes is wonderful, your holiday just won't be truly complete without some exciting experiences.
We've put together a list of sweet Sanur experiences for you to have a look at:
Top Sanur hotels
Lowest nightly price found within the past 24 hours based on a 1 night stay for 2 adults. Prices and availability subject to change. Additional terms may apply.