Top Hamilton Island holiday packages
4.0-star property
Reef View Hotel
4.2/5
Very Good! (997 reviews)
30 Nov. - 3 Dec.
3 night stay
Sydney (SYD) to Hamilton Island (HTI)
Jetstar • Return • Coach
Price was AU$906, price is now AU$889 per person
Bit dated but great views and good amenities. Shower water flow not good
Reviewed on 12 Aug. 2022
4.5-star property
Elysian Retreat, Whitsunday Islands (Adults Only)
4.9/5
Exceptional! (10 reviews)
15 Nov. - 18 Nov.
3 night stay
Brisbane (BNE) to Hamilton Island (HTI)
Virgin Australia • Return • Coach
Price was AU$2,187, price is now AU$1,955 per person
Just spent 5 nights at Elysian- this place is brilliant! The staff are amazing people, the food is magnificent and the villas and swimming is beautiful. Most relaxing holiday we have had in a long time!
Reviewed on 24 Oct. 2020
4.5-star property
Daydream Island Resort
3.6/5
Good! (312 reviews)
21 Nov. - 24 Nov.
3 night stay
Brisbane (BNE) to Hamilton Island (HTI)
Virgin Australia • Return • Coach
Price was AU$1,495, price is now AU$1,389 per person
Ink stone dining Needs a kick up the arse. Poor organisation from the kitchen how your order is delivered. Sand crabs were frozen NOT Fresh. Pizza base sauce very light on. All in All very disappointing.
Reviewed on 27 Aug. 2022
4.0-star property
Palm Bay Resort
4.6/5
Wonderful! (146 reviews)
15 Nov. - 18 Nov.
3 night stay
Brisbane (BNE) to Hamilton Island (HTI)
Virgin Australia • Return • Coach
Price was AU$1,248, price is now AU$1,217 per person
We enjoyed our stay at Palm Bay Resort. The island was quiet and clean. The restaurant and bar was great with quick service. The staff were friendly and helpful. The activities included paddle boarding, kayaking and tennis. Most activities were a bit run down and need refreshing. Overall, we really enjoyed our getaway. Thank you.
Reviewed on 21 Sep. 2022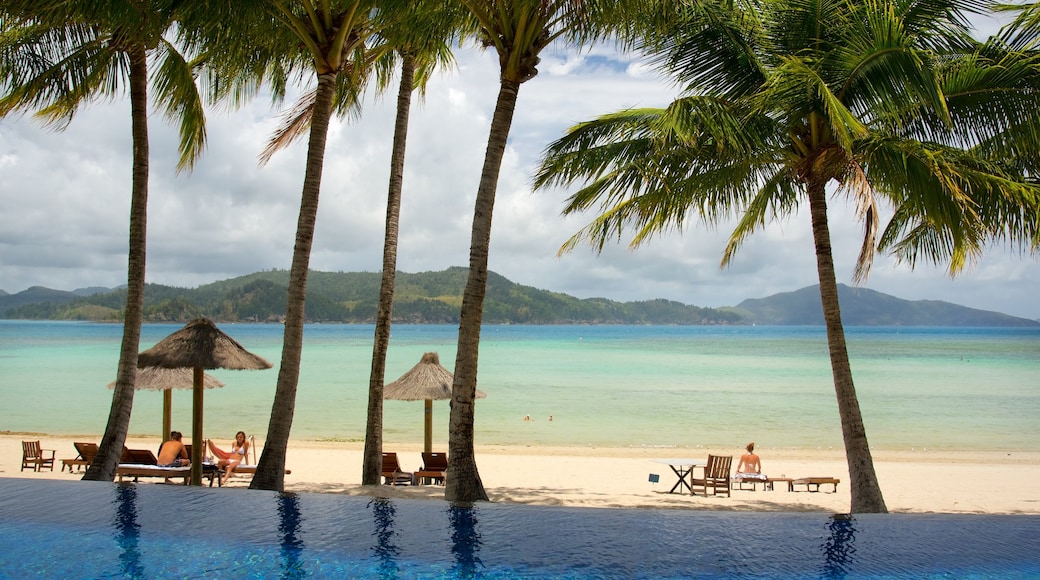 Book your Hamilton Island holiday
Hamilton Island Holiday Packages
Pop quiz: Which Whitsundays Island has its own airport so you can start your getaway the moment you land? Okay, maybe the title of this page gave it away—but that doesn't make it any less true, or any less exciting. Especially since Hamilton Island is a gorgeous, jungle-clad paradise designed to give you the holiday of your dreams. Not only does this little gem in the ocean have its own reef, it's about as close as you can get to the Great Barrier Reef and still have a roof over your head at night. It's also smack in the middle of other islands, like Cumberlands, Long and the ruler of them all, Whitsunday. Oh, and Conway Forest Reserve on the mainland? Just a boat ride away. Enjoy a whole flock (or herd?) of islands with our Hamilton Island holiday packages. Your travel blog will thank you.
Stuff to Do
Jump in the water, of course! Between the kayaks, stand-up paddleboards, windsurfers, catamarans, jet skis and your very own arms and legs, Catseye Bay has everything you need for the water sports of your choice. If actually being in the water isn't your thing, then take a time-out and just live the resort life with massages, grub and never-ending fruity drinks with umbrellas in them.
Getting itchy for a few rounds of golf? You'll know by the way your body automatically falls into your swing stance every time you get out of your beach chair. Just boat on over to Hamilton Island Golf Club. Technically, the course is on Dent Island, but who keeps track on holidays to Hamilton Island, anyway?
Grub to Nosh
You'll be soaking up the sun all day, but just because it goes down every night doesn't mean you have to stop your getaway. Enjoy a fabulous four-course meal with your favourite vintage while cruising around the island. Each resort offers at least one dining experience for landlubbers too, so you'll have plenty of eats on shore. Then, of course, there's that fish you caught out by the reefs this morning. Some of our Hamilton Island packages include accommodation with cooking facilities, so you can be the next Iron Chef right in your own room.
Where to Visit
With so many islands nearby, you'll have plenty of places to visit. Of course, there's plenty to see right here on this one. Check out our Hamilton Island car rental options and go cruising. Hit Resort Drive right on Catseye Beach or head over to the marina. When you want to get away from it all on Hamilton Island holidays, drive out to Coral Cove. And for ultimate privacy, swim across the narrow end of Driftwood Bay to discover Escape Beach.
Had enough relaxation? While that might sound crazy to some, we know there are plenty of travellers who are city slickers at heart. That's why we also offer Townsville holiday packages. When you book with Wotif, you know you're getting the best Hamilton Island package deals, plus savings anywhere else your wanderings take you. Book your getaway today!
Top Hamilton Island hotels
Don't see what you're looking for?
See all available properties in Hamilton Island
View all properties
Lowest nightly price found within the past 24 hours based on a 1 night stay for 2 adults. Prices and availability subject to change. Additional terms may apply.