Top Townsville holiday packages
4.5-star property
Allure Hotel & Apartments
South Townsville
4.2/5
Very Good! (504 reviews)
16 Jul. - 18 Jul.
2 night stay
Brisbane (BNE) to Townsville (TSV)
Jetstar • Return • Coach
Price was AU$413, price is now AU$379 per person
Overall its nice but furniture is fairly basic and the bed and pillow were pretty average.
Reviewed on 14 May 2022
4.0-star property
The Palmer Collective
South Townsville
4/5
Very Good! (319 reviews)
16 Jul. - 18 Jul.
2 night stay
Brisbane (BNE) to Townsville (TSV)
Jetstar • Return • Coach
Price was AU$362, price is now AU$333 per person
Unbelievable value. With the recent addition of the restaurant, there's no need to go anywhere else!
Reviewed on 16 May 2022
4.5-star property
Hotel Grand Chancellor Townsville
4.3/5
Excellent! (775 reviews)
5 Jul. - 9 Jul.
4 night stay
Brisbane (BNE) to Townsville (TSV)
Jetstar • Return • Coach
Price was AU$861, price is now AU$798 per person
Buffet breakfast was amazing, and the staff were excellent. They also had an option for secure parking that wasn't far away so all in all, it was a very good stay.
Reviewed on 20 Apr. 2022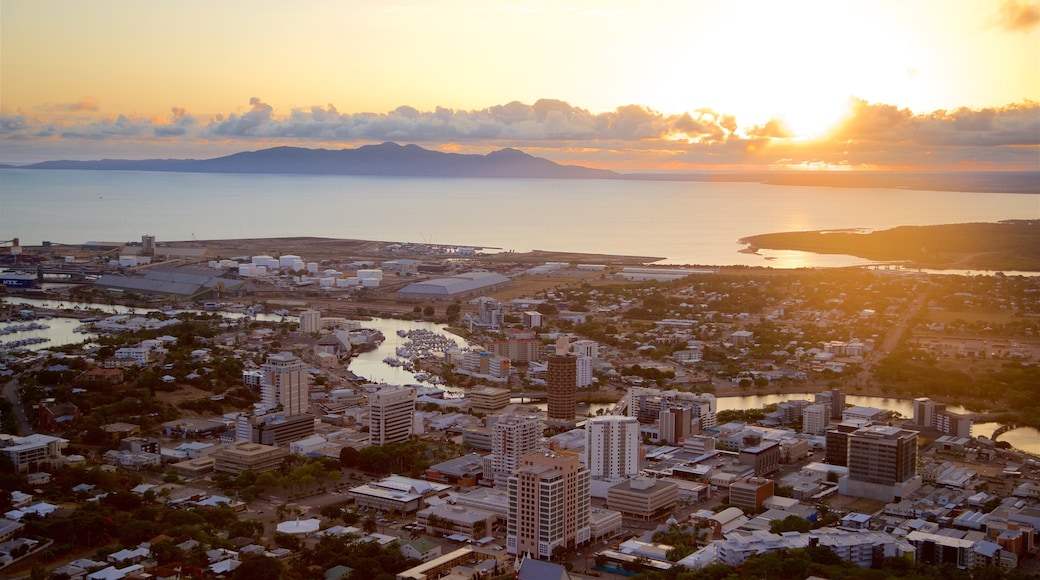 Holiday To Townsville
If you want to pack a lot of natural beauty and beach-lounging into one trip, you know what you've got to do: Float away on holiday in Townsville and soak up the sun.
Dip your toes in Rowes Bay or dive deep and explore the Great Barrier Reef. Feeling adventurous? Grab a long board and charge some sweet wave breaks or strap on a harness for some parasailing—buckles go with everything. The ocean is your playground, so have fun! Landlubbers will love wandering through colourful gardens and historical museums or hiking to the top of a hill to scope out nearby nature reserves and the Coral Sea. Oh, and did we mention there's a creek that runs through the city? Ross Creek, to be exact—so you can enjoy waterside dining almost everywhere! So check out our awesome Townsville packages and get out of here!
Things to Do in Townsville
Start your Townsville holiday at the top of Castle Hill. No, there isn't a castle to look at, but the lookout point offers views so pretty you'll forget about the name anyway. From there, you can drive one of Wotif's Townsville car hire options south to the Townsville Museum and Historical Society before cruising along the waterfront. Before you hit the beach, stop at the Army Museum North Queensland and the Jezzine Barracks. You'll find a lovely art walk and a breezy promenade in addition to a museum and memorial sites. Once your inner history buff has had its chance to shine, it's time to give your inner beach bum some time in the sun. West of the city centre, stake your sunbrella in the sand on The Strand—a long stretch of golden beaches, punctuated with green parks and loads of cafes and surf shops. Feeling toasty? Grab some snorkelling gear and dive at the Great Barrier Reef, which is actually a collection of thousands of reefs, so have fun picking a favourite!
Shopping, Dining &amp Nightlife
Speaking of picking favourites, start shopping on Finders Street, located just west of Ross Creek. This shop-lined street offers everything from chain stores to boutiques, including the Perc Tucker Regional Gallery. We hope you packed an extra suitcase, because you know what they say—Townsville holidays follow the rule of finders, keepers.
Want to chow down on some flavourful finds? Starting at the pier, Ross Creek is lined with heaps of restaurants, all putting their own spin on global fusion and modern Aussie cuisine. Along the Strand you'll also find several waterfront bistros and cafes whipping up tempting dishes. If you're feeling extra fancy, catch a ferry out to mysterious Magnetic Island.
When the sun sets over the Coral Sea, hurry to the sand. The Strand Night Markets pop up after dark and you can shop your way through local vendors and make some new friends right on the beach. Sidle up to a nearby bar for drinks or scoot on over to the creek for even more options.
What's Next?
This is a no-brainer—you've gotta go! Book Townsville holiday packages to mix and match sweet deals on airfares and accommodation and get outta town.
Top Townsville hotels
Don't see what you're looking for?
See all available properties in Townsville
View all properties
Lowest nightly price found within the past 24 hours based on a 1 night stay for 2 adults. Prices and availability subject to change. Additional terms may apply.