Top Echuca holiday packages
3.5-star property
Executive Stay on Little Collins
Melbourne Central Business District
4.2/5
Very Good! (20 reviews)
26 Mar - 29 Mar
3 night stay
Sydney (SYD) to Melbourne (MEL)
Jetstar • Return • Coach
Price was AU$575, price is now AU$486 per person
Great location, close to where I had to go for work and also close to Fitzroy for dinner options.Plus Chinatown around the corner, Dan Murphys only an evening stroll away. Great views, stunning. Clean, well equipped, even had spare HDMI cable to connect laptop to TV. Nice quality feel. Friendly and helpful communication and very easy to get keys. Will definitely stay again when I have to do work in that area of Melbourne.
Reviewed on 29 May 2021
4.0-star property
Quest Docklands
Docklands
4.5/5
Wonderful! (979 reviews)
10 Mar - 13 Mar
3 night stay
Adelaide (ADL) to Melbourne (MEL)
Jetstar • Return • Coach
Save 100% on your flight
Price was AU$1,352, price is now AU$863 per person
Staff were very friendly. Unless there is something on at Marvel Stadium the area is a bit of a ghost town
Reviewed on 3 Feb. 2023
4.5-star property
Mövenpick Hotel Melbourne On Spencer
Melbourne Central Business District
4.6/5
Wonderful! (83 reviews)
17 Mar - 24 Mar
7 night stay
Adelaide (ADL) to Melbourne (MEL)
Jetstar • Return • Coach
Save 100% on your flight
Price was AU$1,181, price is now AU$955 per person
We thoroughly enjoyed our stay. The staff were friendly and welcoming. The restaurant food was delicious. Overall we had a very enjoyable time.
Reviewed on 15 Jan. 2023
3.5-star property
Flagstaff Green Apartments
West Melbourne
4.5/5
Wonderful! (26 reviews)
31 Mar - 2 Apr
2 night stay
Brisbane (BNE) to Melbourne (MEL)
Jetstar • Return • Coach
Save 100% on your flight
Price was AU$2,437, price is now AU$1,978 per person
Fantastic location. 2 adults and 3 kids under 10. Within walking distance to trams to navigate the city. Room was clean enough, the pool/spa area was great for the kids. Only downside is I booked for 3 beds, sofa bed was advertised but never made up - but that is only a small detail! It was the little things like laundry detergent provided that made life a little easier! Cheers
Reviewed on 5 Jan. 2023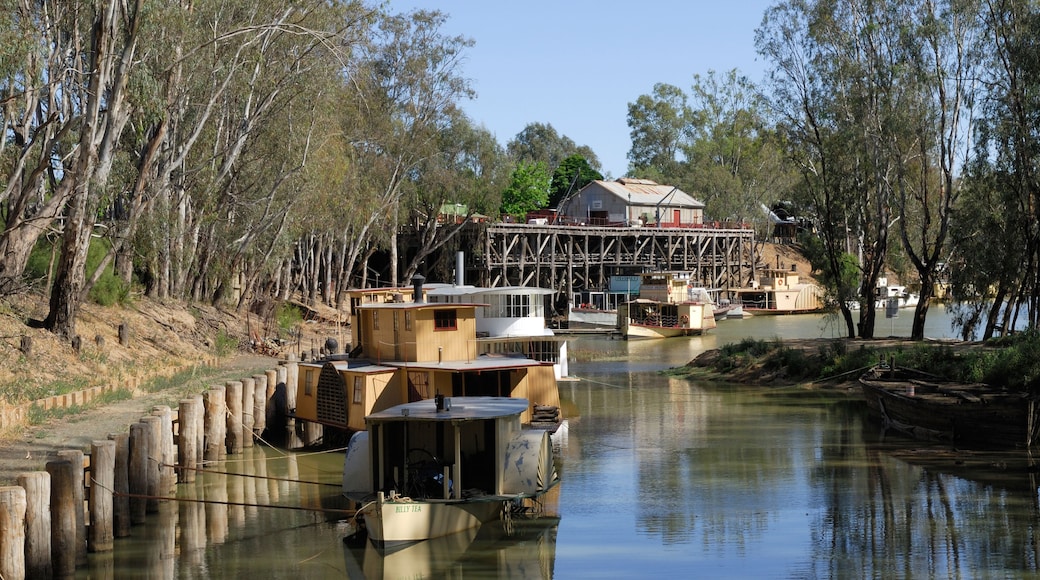 Book your Echuca holiday
If you want to save some big bucks, Wotif is your new best mate.
We'll combine your flight and hotel bookings into a tidy little package.
With your savings, you won't run short of things to do in Echuca.
Many travellers can save up to AU$245. Also, you have the flexibility to pick and choose from more than 550 partner airlines and 665,000 worldwide properties.
We all love a bargain, and Wotif's budget-friendly prices are sure to satisfy. You'll be grabbing your passport and taxiing down the runway before you know it.
Echuca Accommodation
When deciding on somewhere to stay for your getaway, you'll be pleased to hear that you have a fantastic selection to choose from. Wotif has an impressive 51 accommodations in Echuca, so you'll have absolutely no problems getting an awesome bargain.
Let's face facts — it's not every day you get to go on a holiday, so why don't you spend your long-overdue break living it up in a glitzy room at the Tindarra Resort (Lot 2 Perricoota Road)? The Merool on the Murray (131 Merool Road) is a terrific option if you'd prefer not to spend all your hard-earned holiday moolah on somewhere to lay your head. Comfy, budget-friendly and convenient — it's one of our top picks.
Car Hire in Echuca
If you'd like to rent some wheels shortly after touching down at Echuca Airport, look up Hertz (368-372 Ogilvie Ave (Campaspe Valley Motors)), a short drive away. They'll get you and your squad on the road fast enough. Just remember to bagsy the front seat.
Holidays to Echuca
When in doubt, travel. But before you hurry off on your next incredible adventure to Echuca, let us help you locate it on your map.
Want to picture where you'll be based? Echuca sits 190 kilometres north of the city of Melbourne.
If you're travelling with the kiddies and they're beginning to get a bit edgy, why not quiz them to see if they can tell you what the population of this part of Victoria is? (It's around about 19 000 in case you're unsure yourself.)
Top Echuca hotels
Lowest nightly price found within the past 24 hours based on a 1 night stay for 2 adults. Prices and availability subject to change. Additional terms may apply.