Top Istanbul holiday packages
5.0-star property
GLK PREMIER The Home Suites & Spa - Boutique Class
Istanbul City Center
4.1/5
Very Good! (1,017 reviews)
25 Mar - 31 Mar
6 night stay
Sydney (SYD) to Istanbul (IST)
Etihad Airways • Return • Coach
Price was AU$3,206, price is now AU$3,082 per person
Very old building Bathtub was leaking water when making it full, basically useless spa.
Reviewed on 17 Aug. 2019
5.0-star property
Elite World Grand Istanbul Basın Ekspres Hotel
Kucukcekmece
4.2/5
Very Good! (907 reviews)
25 Mar - 31 Mar
6 night stay
Sydney (SYD) to Istanbul (IST)
Etihad Airways • Return • Coach
Price was AU$3,248, price is now AU$3,133 per person
Missing lot of staff in the room like tissues paper and tooth brush . We had to ask to get them . No milk or coffee mate . No adaptor for Australian plugs for phone charger . Mold smell in the bedroom
Reviewed on 19 Apr. 2022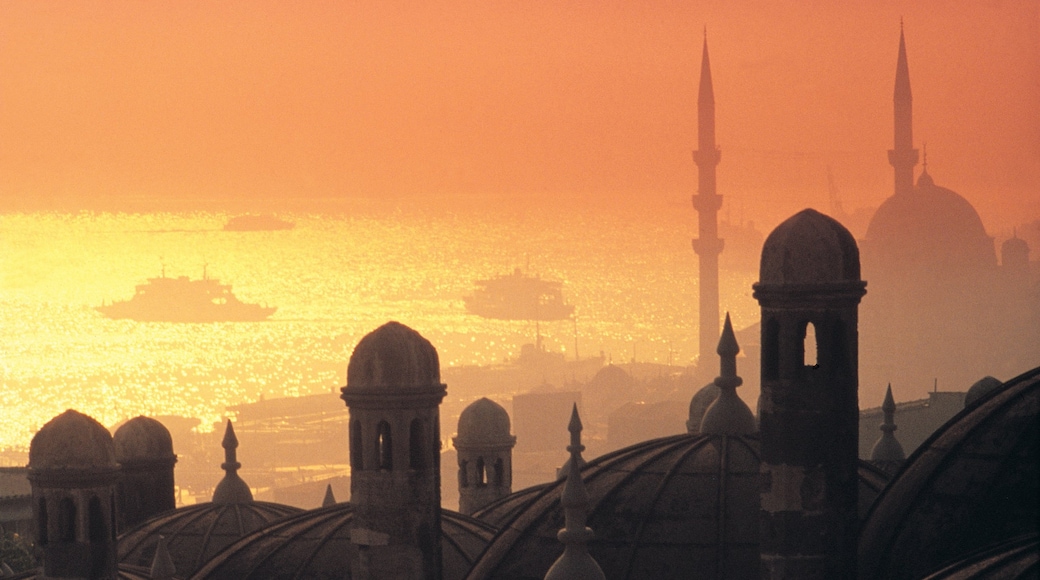 Book your Istanbul holiday
Istanbul Holiday Packages
Let's play a game—we'll describe a place, and you try to guess where it is. Here we go: This super-cosmopolitan city is located where East meets West, lending it an intriguing blend of cultures and traditions. It's been renamed three times, but it is over two thousand years old, so you can't really blame its residents for wanting to switch it up a little. The city is Istanbul, and yes, it has seen some history. It's seen empires rise and fall, religions come and go, and all the time it's just been doing its own amazing thing. This includes being Turkey's most important trade centre and inventing its most famous foods—Turkish delight and Turkish coffee! Whether you're looking for Istanbul holidays from Sydney or just want some awesome ideas for your itinerary, you're in the right place. Read on.
Get Outside
Ever been in two places at once? Thanks to one of Istanbul's coolest facts—that it actually straddles two continents—you can be. Cruise along the Bosphorus Strait, which marks the border of Europe and Asia, on a boat tour and you'll have bragging rights forever. If you really want the VIP experience, go all-inclusive style, with dinner and drinks. You'll feel like a regular sultan (or sultaness).
Feel like catching a different sort of breeze? Hop in your wheels from Wotif's Istanbul car hire and roll down the windows. No, that's not all. You'll soon arrive in the resort town of Kilyos, where you can catch beach breezes to your heart's content. Or take a day trip out to one of the Prince Islands for some sweet views and horse-drawn carriage rides.
Of course, if you're a real sun-seeker, you may want to check out Antalya holiday packages and hop on a quick hour-long flight from Istanbul for a sandy respite. Antalya isn't just for beach bums, though. You can steep yourself in Roman history at Aspendos Theatre, Marcus Aurelius' amphitheatre masterpiece that is still in use today. Or visit the ruins of Termessos to see the city that even Alexander the Great couldn't conquer.
Istanbul Indoors
Some of Istanbul's famous landmarks are just as impressive inside as they are outside. The Hagia Sophia's massive soaring dome appears to float above the rest of the building, and is regarded as an excellent example of Byzantine architecture. Inside, be sure to catch a glimpse of the famous Deesis Mosaic and visit the first-rate museum, which has all sorts of interesting exhibits on the calendar for 2017.
We're not quite sure whether the Grand Bazaar should be considered indoors or outdoors, but it is a definite must-visit on Istanbul holidays. For starters, it's one of the largest and oldest covered markets in the entire world. You can find just about anything here—pashmina, jewellery, belly-dancing outfits…you name it. Haggling might as well be the Turkish national pastime, so get out your phrasebook and start with "Ne kadar?" (How much?). You'll be a pro in no time.
You'll be a pro at finding awesome Istanbul package deals in no time, too, thanks to Wotif's awesome selection and easy-to-use website. Pick and choose your favourite airfares and accommodation, and we'll make sure you get the best bargains on the web. All you have to do is get packing—and leave plenty of room for all that stuff you'll buy at the Grand Bazaar.
Top Istanbul hotels
Lowest nightly price found within the past 24 hours based on a 1 night stay for 2 adults. Prices and availability subject to change. Additional terms may apply.