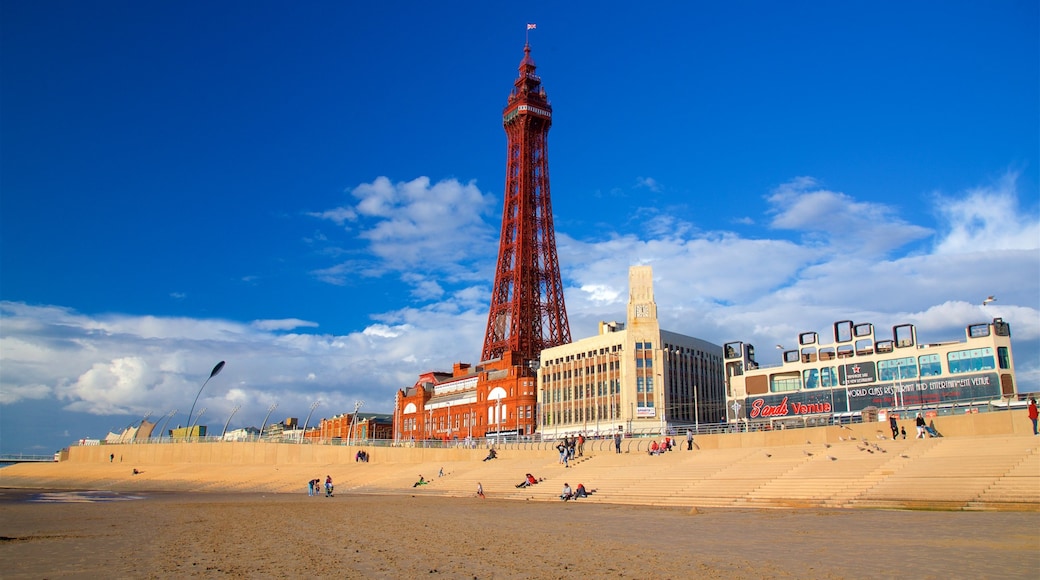 Holidays To Blackpool
One look at the Blackpool skyline will tell you it's the UK's favourite seaside resort town. 
The Ferris wheel and Tower Eye soar above the beach, and three piers provide plenty of opportunity for promenading. Plus, this classic holiday destination on England's northwest coast is just 45 km north of Liverpool. Blackpool packages are ready to introduce you to fun for all ages, British-style.
Things to Do in Blackpool
Get some perspective at the all-glass observation deck of the 115-m Blackpool Tower Eye. To the west is the Irish Sea, and to the south are views all the way to Liverpool. Look down: the people on the Promenade look like tiny ants! Once you come back down, you can go the dungeons for a fright, then lighten up at the circus (or just have a drink at the bar!).
Looking for some sophisticated fun? Blackpool holiday packages near North Pier deliver. The Grand Theatre puts on the Ritz nightly with musicals, plays and live music. Stepping inside this Victorian building will transport you back to the days of variety shows and silent film. The nearby Grundy Gallery is sure to impress your artsy side with eclectic rotating exhibits. While you don't have to go far for good times, Wotif's Blackpool car hire options can help you explore the surrounding area and sample the grub at your own pace.
Shopping, Dining & Nightlife
Just a few steps from Blackpool Tower is Houndshill Shopping Centre, where you can get your shopping fix. Fashionistas will find famous department stores and shops ranging from high-end boutiques to electronics and teddy bears. If you prefer souvenirs you can eat, head to Abington Street Market just inland from North Pier for teacakes, scones and quintessential English sweets like pear drops and malt balls. You know the way to your co-workers' hearts is through their stomachs!
Assuming you didn't eat too much candy, get back to the Blackpool Tower and hit up the ballroom for an English tea session: perch yourself on a gilded chair as you munch on petit fours and sip Earl Grey tea (of course!). There's even waltzing to organ music—optional, but definitely recommended. Another traditional (but perhaps less refined) option: fish and chips! Smother your haddock in salt and vinegar, post up on a boardwalk bench and chow down. No one here is judging you they're all on Blackpool holidays too!
You'll be glad you fuelled up, because it's time to party like it's 1999. You can do this quite literally with '90s nights, pop extravaganzas and more that will keep you dancing until the wee hours. Not much into getting down? No Blackpool holiday—or any UK holiday, for that matter—is complete without a pub crawl! Getting squiffy with the locals is always off the trolley (read: getting tipsy with residents is a good time!).
What's Next?
Don't drop a clanger when it comes to your next leave. Wotif's Blackpool deals are sure to set you right and leave you plenty of pounds to drop on all the well-loved British pastimes. Can't get enough? Check out our London packages too, and really have a knees up (party).
Top Blackpool hotels
Lowest nightly price found within the past 24 hours based on a 1 night stay for 2 adults. Prices and availability subject to change. Additional terms may apply.
Book your Blackpool holiday