Confession time. I've been travelling to Brisbane for work trips for over eight years, but not once have I stayed on for the weekend. A cheeky road trip to Byron Bay? Yes. A few days on the Gold Coast? You bet. A couple of leisure days in the Queensland capital? Umm, not so much.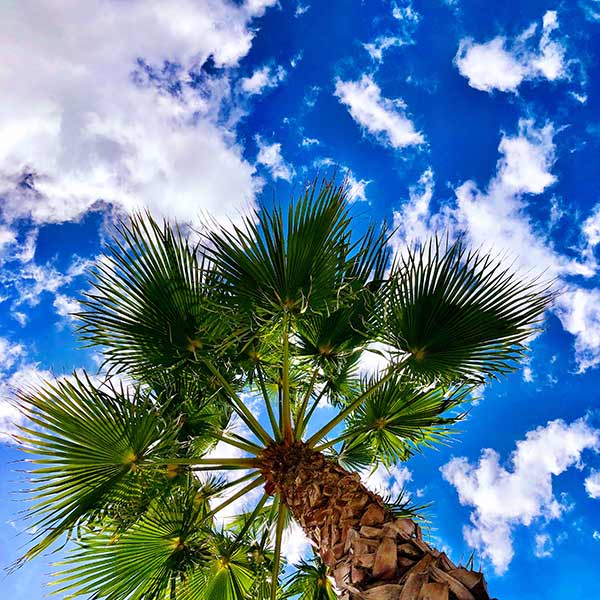 What could possibly break my Bris Vegas getaway drought? Only one of the most glamorous hotels I've ever stayed in that just happens to call Brisbane home.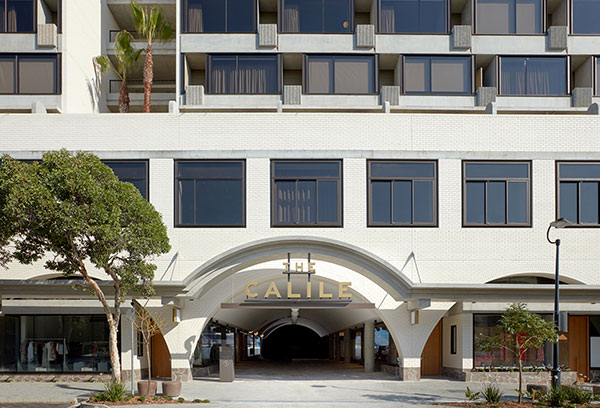 Arriving at The Calile Hotel (pronounced Kal-Isle) in Fortitude Valley post-work on a Friday afternoon, hubby and I are greeted by a building that screams luxe design, even from the outside. The elegance continues inside as we hit the lobby for a smooth and friendly check-in.
Opened in October 2018, the property still has that brand-new feel but also conveys a smoothness and confidence that usually only come when a hotel has been running for years.
'Hotel' doesn't really do The Calile justice, though. 'Urban resort' is a much more accurate label. Renowned local architects Richard and Spence have melded subtropical vibes with city swagger. Sultry, sophisticated and chic – and definitely somewhere people go to be seen – this isn't your average city accommodation.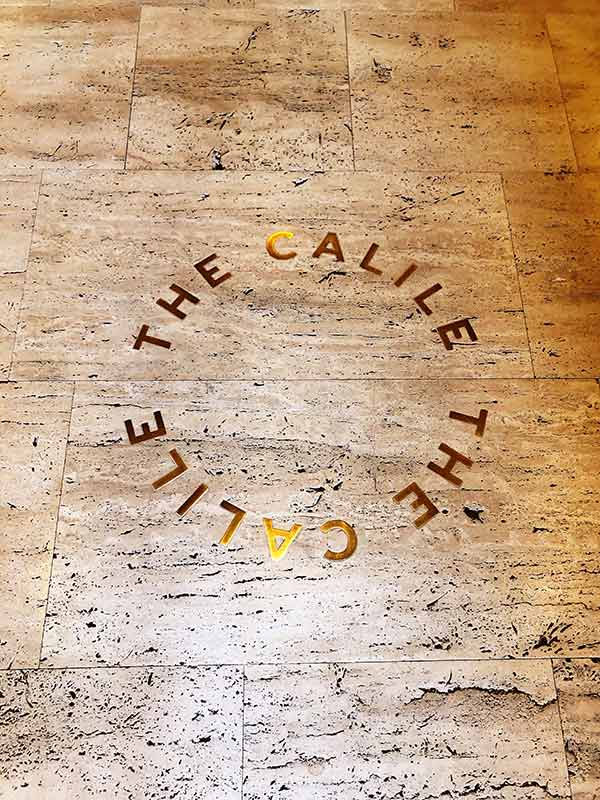 Making our way up in the classy lift to room 510 on (you guessed it) level five, the swipe card entry cues the electric blockout blinds (which are HEAVEN, by the way) to automatically open as we're greeted by funky house tunes and a lush cheese platter and bottle of Pinot Noir. Talk about a rock-star arrival – I could get used to this!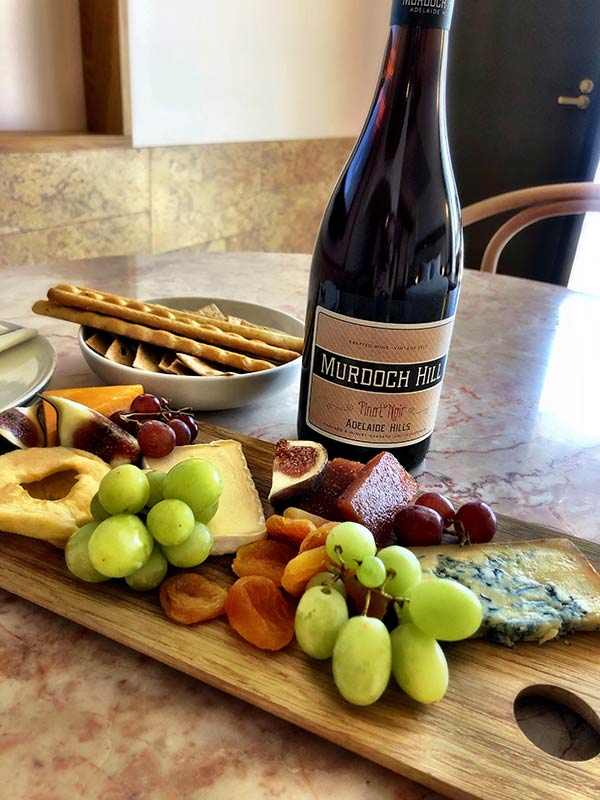 The excitement levels build as I do a lap (everyone does this, right?) of our king pool view room to suss out my home for the weekend. It's one of 175 guest rooms housed in this boutique property.
First stop, the bathroom, where gorgeous pastel pink-toned tiles are complemented with luxe brass finishes (a design treatment seen throughout the hotel). The dreamy shower space is enhanced with a rainwater shower that's just the right height and water pressure. And bonus points for the Grown Alchemist toiletries, double basin and full-length mirror.
Things get even better in the bedroom and living space, with high ceilings, dramatic archways, a luxe king bed, comfy pillows (plus a pillow menu to choose from), custom dressing gowns, a large mounted TV complete with free movies and Google Chromecast, a Bluetooth soundbar and a fancy leather lounge that has my name all over it.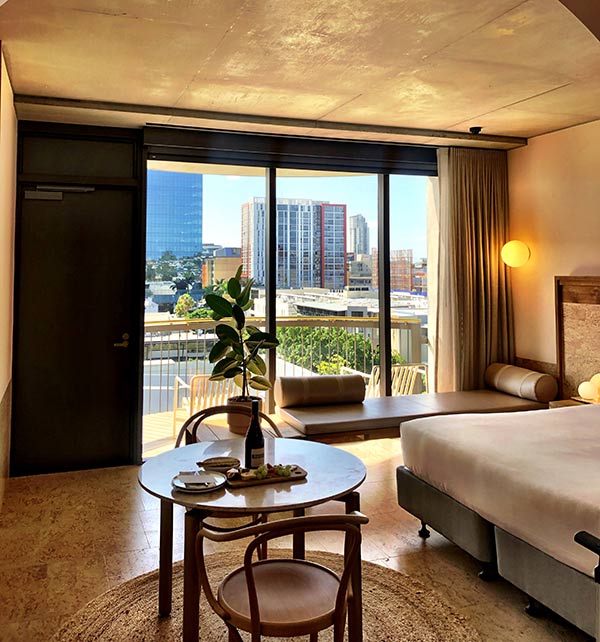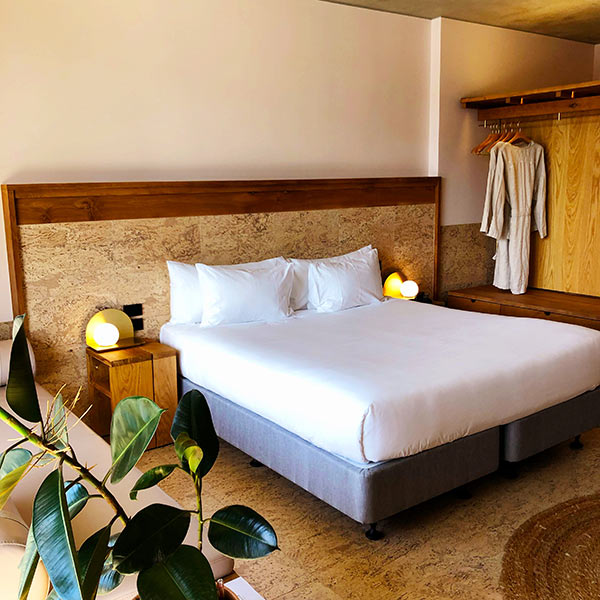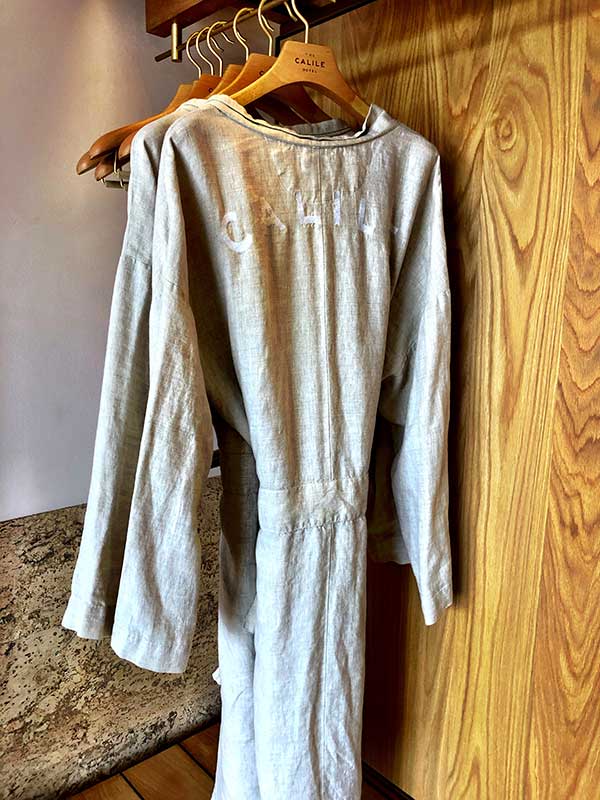 Luxury doesn't just come in the form of gorgeous tiles and an oversized bed, though. It also shines in the cleverness of the room design. Standout features include user-friendly air-conditioning, light and blind panels (not always a given), easy-to-reach bedside power points for all your phone-charging needs, a generous luggage area that actually accommodates two normal-size suitcases (crazy, I know), an ironing board and iron tucked away behind an enclosed door (so well-hidden I completely miss it and call reception to request one!) and a luxe sideboard that houses a well-stocked mini-bar. Even the cork floor is well-thought-out, providing warmth to the room and improving acoustics too.
There's a lot to love about the hotel's environmentally friendly touches too. Like how each room is supplied with a water carafe and glasses that can be filled with micro-filtered chilled water at a fountain on each level, instead of store-bought water in single-use bottles (common in many other hotels).
And then there's the 'pool-view' part of the 'king pool view room'. Our private balcony scores us picture-perfect views… but more on that later!
Phew, and that's just the room!
The entire hotel is a design and architecture lover's dream. The Calile stands out from the same-same hotel pack with a clear and consistent design aesthetic. Think marble, brass, dramatic staircases, retro touches and botanical vibes everywhere.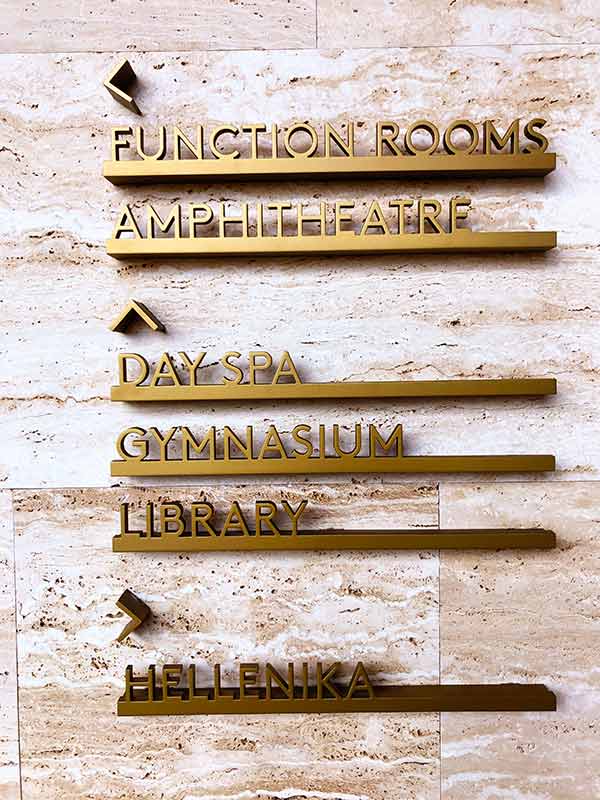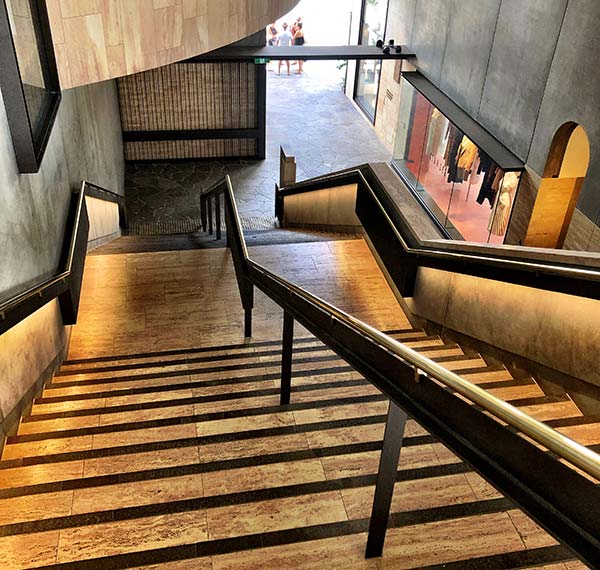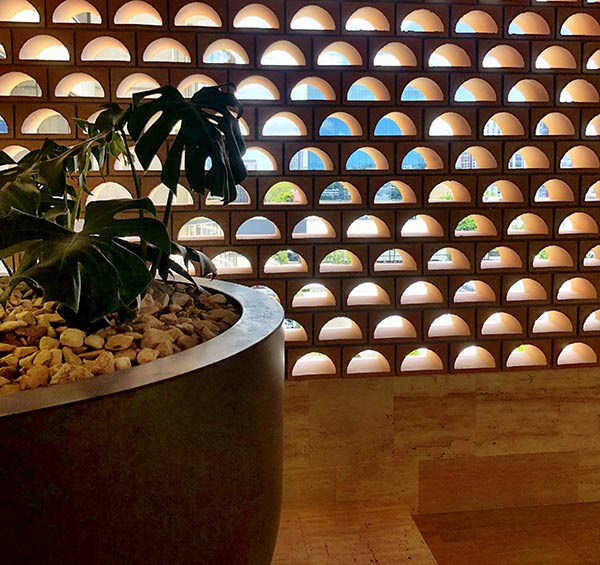 The way to my heart, though, is food and wine, and The Calile comes to the party in this category too.
The Lobby Bar is one of those rare spaces that does all-day dining AND operates as a bar and wears all of those hats perfectly. With luxe pink marble finishes, the vibe is very European (or, dare I say it, Melbourne) and it's a little too easy to settle in here for an espresso – or maybe an espresso martini!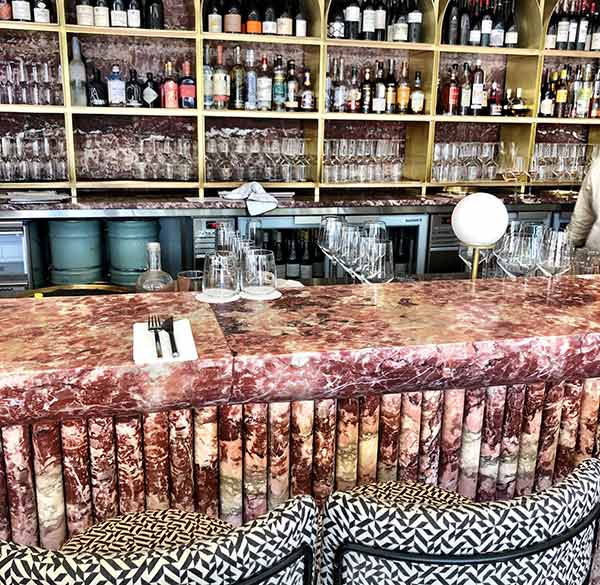 Greek restaurant Hellenika – the second outpost for the Gold Coast favourite – has pride of place on level one, adjacent to the pool. It gives seriously good breakfasts, lunches, dinners, and even poolside snacks.
Seated poolside at Hellenika for brekky, I can't go past the toasted ciabatta with Woodbridge smoked Tasmanian Trout, olives, poached eggs, haloumi and avocado. While it might sound like a simple combination, every single component is perfection and I go on to (annoyingly) rave to hubby for most of the morning about just how good it was 😉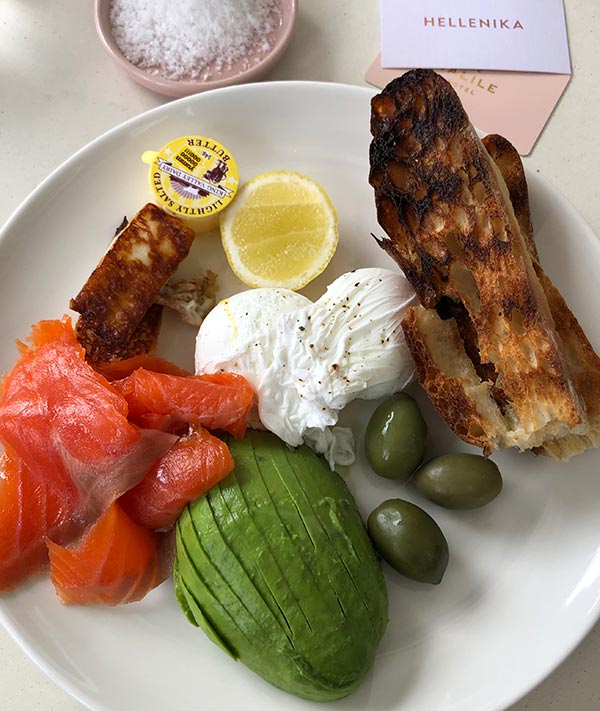 A note on service, too: The team here (and throughout the entire hotel, in fact) are sooooo lovely. Luxe hotels can come with attitude on the staff front, but it's the opposite at The Calile, with every single team member nailing the balance of laidback friendliness with utter professionalism. Some even remember our names!
Returning to Hellenika for dinner, we're this time seated inside. The elegant dining space is buzzing: People here know how to have a good time.
When in doubt, what's a hungry couple to do but order one of the banquets? This is a great option if you have your eye on the lamb – which you totally should – but the à la carte 1.2kg option is a bit beyond you.
Said lamb is the star of the night and well worth saving stomach room for, especially when complemented with a Greek red. Hat tip to the sommelier, too, for a great wine list! Next time I'll be sampling from the fish page of the menu, which is updated daily.
Insider tip: The pool looks just as pretty at night, so be sure to sneak a peak from your balcony when you retire back to your room.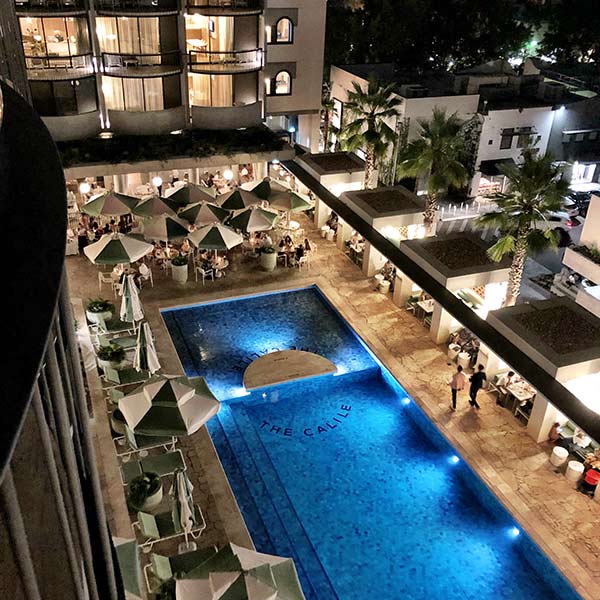 I'm all about balance, so the next morning it's time to front up to the hotel gym. It's huge and well-equipped, with an impressive array of weights, treadmills, rowers, and even monkey bars! One of the benefits of The Calile being so new is that every single piece of equipment is brand-new and state-of-the-art. Yoga, boxing and personal training can also be arranged if you're so inclined.
Just next door to the gym is KAILO Day Spa, where a Saturday afternoon facial is too tempting to resist. And not just any facial – the best facial of my life. After reading rave reviews about the DMK Signature Enzyme Treatment, I had to try it for myself. My therapist, Astrid, is a miracle worker and I breeze out of there with the best skin I've had in a long time. It continues to improve and I receive compliments for days to follow.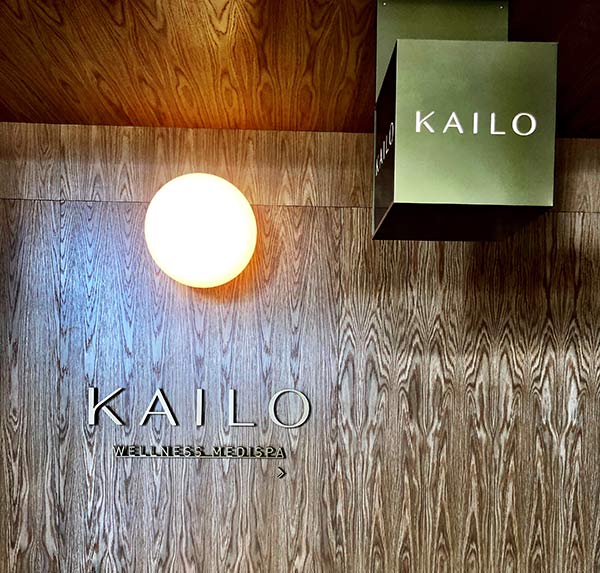 If I'm giving the impression we didn't leave the hotel, well, it's because we hardly did! But that's not to say the location isn't fabulous. Situated on a leafy high street known as the James Street Precinct, The Calile is surrounded by designer boutiques (hello Zimmerman, Carla Zampatti and Mister Zimmi), so your retail therapy needs are well taken care of.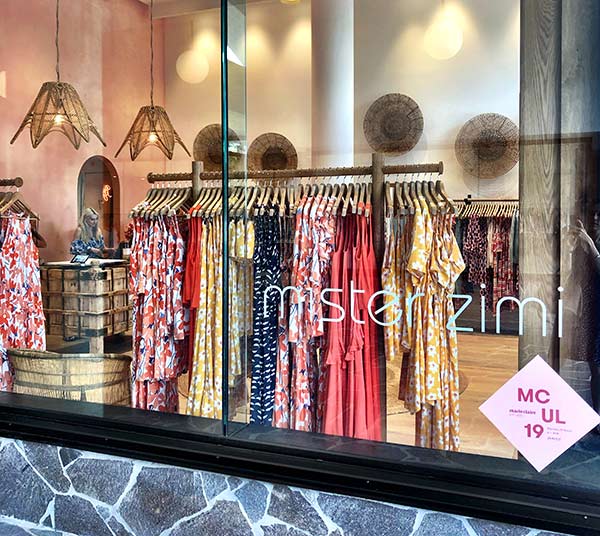 Credit-card workout complete, The Calile's pool is like a magnet that draws you back to the hotel. It's a schedule that goes a little like this… Read while spread out in a shaded cabana or on a sunbed. Take a quick dip. Order a poolside cocktail and zucchini chips from Hellenika. Repeat.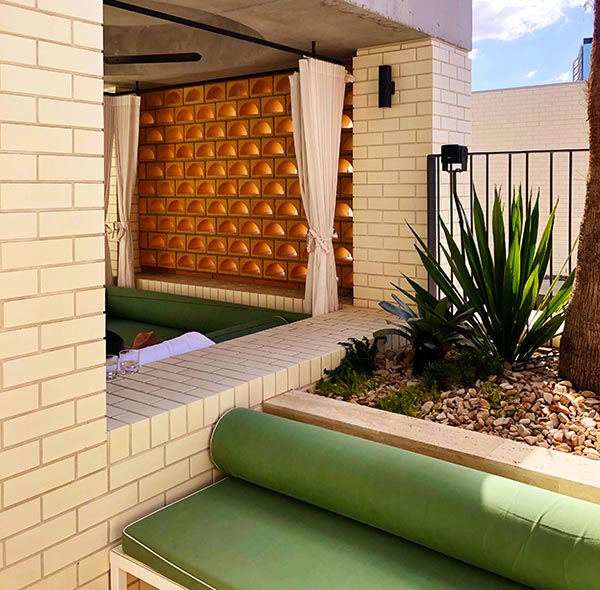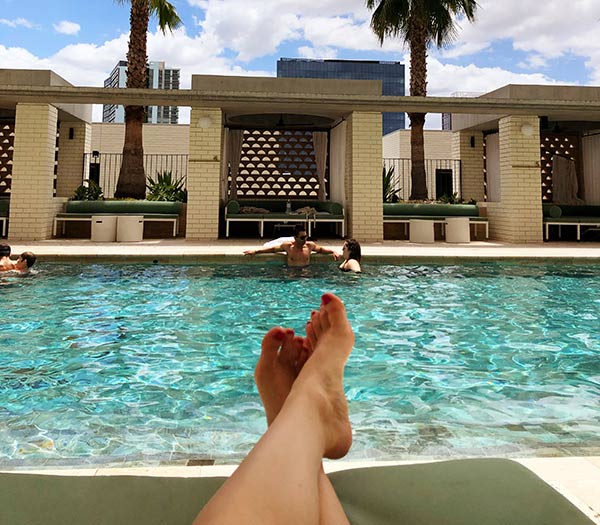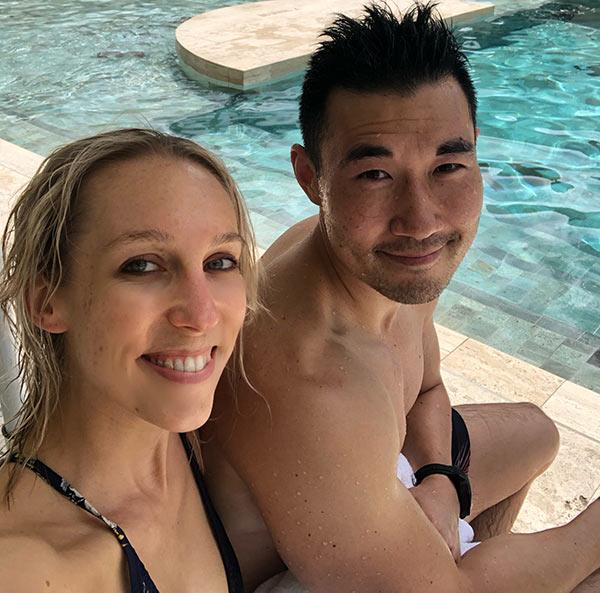 And did you even stay at The Calile if you didn't get a shot on the pool platform? Or make your husband get one too?
Equally great as a city staycation for Brissie locals or a destination in its own right for those of us visiting from further afield, The Calile is one spot you need on your 2019 travel list. A weekend might not be long enough, but it was certainly all the time I needed to declare The Calile the hottest new hotel in Australia. Now to plan my return visit!
Nic stayed as a guest of The Calile Hotel, but all her opinions are her own.
CHECK OUT CALILE HOTEL DEALS