St Patrick's Day is a holiday we embrace every year in Oz – a day to have fun and celebrate everything Irish! My other half is Irish, so I've been lucky enough to go back and forth to Ireland many times over the last 10 years and it's become my home away from home. It's a great place, with so many fun things packed into such a small space you have time to do them all!
Here are my tips to help make every day of your Irish holiday feel like it's Paddy's Day:
1. When you land in Dublin, depending on the weather, your first impressions will either be grand or a bit gloomy. But give it a chance! Get into the Irish spirit by checking off the tourist to-do list. Start the day with an Irish 'fry-up' breakfast, made unique by the addition white pudding. Watch traditional music at Temple Bar. Have a pint of Guinness at the Guinness Storehouse. See how they distill Jameson Whiskey at their distillery experience. Take some cool pictures at the Leprechaun Museum. See the Book of Kells and Old Library at Trinity College. A few days in Dublin will help to get over any jet lag before you explore further afield. Insider tip: Dublin gets really busy in summer, so beat the queues by booking your tickets online as much as possible.
2. If you're a literature-lover, then you'll already know that Ireland is famous for giving the world some of the best writers of all times. You could literally tour the country by following in the footsteps of people like James Joyce, William Butler Yeats, and Samuel Beckett, seeing where they took inspiration for their works. After all, it was Irish-born Oscar Wilde that told us, "Travel improves the mind wonderfully and does away with all one's prejudices."
3. Drive an hour south of Dublin city and you'll find yourself in the Wicklow Mountains. As soon as you arrive, you'll recognise every Irish tourism ad you've ever seen! It's postcard-perfect Ireland and full of hiking trails, historic sites and views that make you say swear words, they're just so pretty. One time I was there I was so close to finding the end of a rainbow. There was nothing to see by the time we got there but I refuse to believe that I've been lied to about that pot of gold 🌈💰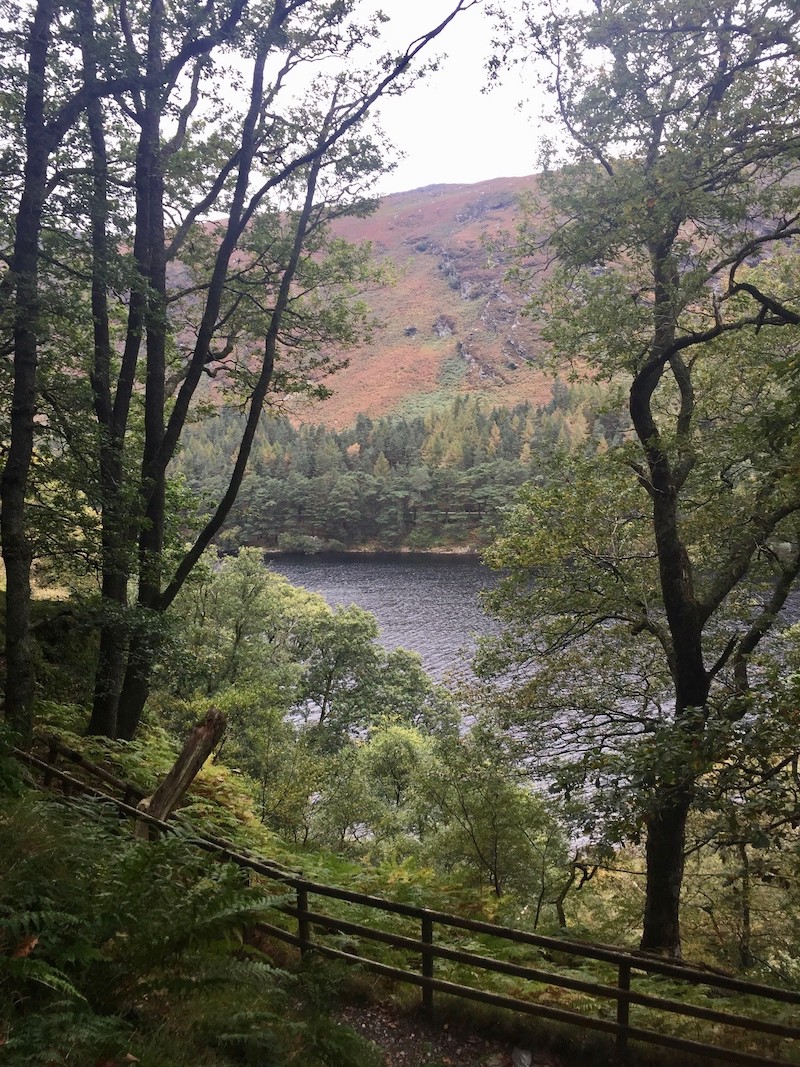 4. Take a cooking class, because Ireland is way more than meat and potatoes. They have some of the best produce in the world and know exactly what to do with it. When I first moved to Ireland, I discovered Rachel Allen and she changed my life one cookbook at a time. For a real foodie experience, head to Ballymaloe Cookery School outside of Cork for a meal or to enroll in a 12-week cooking course.
5. Don't forget to try the favourites, though, like Irish stew and bacon and cabbage. Comforting, hearty meals are perfect after a day of Irish weather and every Irish Mammy will have her own recipe perfected. Insider tip: Just call it 'stew' in Ireland. Asking for 'Irish stew' will get you a few raised eyebrows and smirks.
6. As a country of seafood-lovers, it should come as no surprise that another country surrounded by ocean would deliver some of the tastiest seafood around (outside of Australia, of course 😉). If you only try one piece of seafood in Ireland, PLEASE let it be a Galway Bay oyster – they are the food of the gods. They're so good there's a whole festival dedicated to them. A fresh Galway Bay oyster pairs perfectly with a pint of Guinness and will give you holiday memories to last a lifetime.
7. Remember the Cliffs of Insanity from The Princess Bride? They're real and are actually called the Cliffs of Moher – and they are spectacular! I've visited them in rain, hail and sunshine and have loved every visit. Plus you can view them from the top, take a boat trip to admire them from below or even jump in a helicopter and see them from the air. Insider tip: If you can time your visit for the morning of a crisp, clear day, you'll get some really cool photo ops.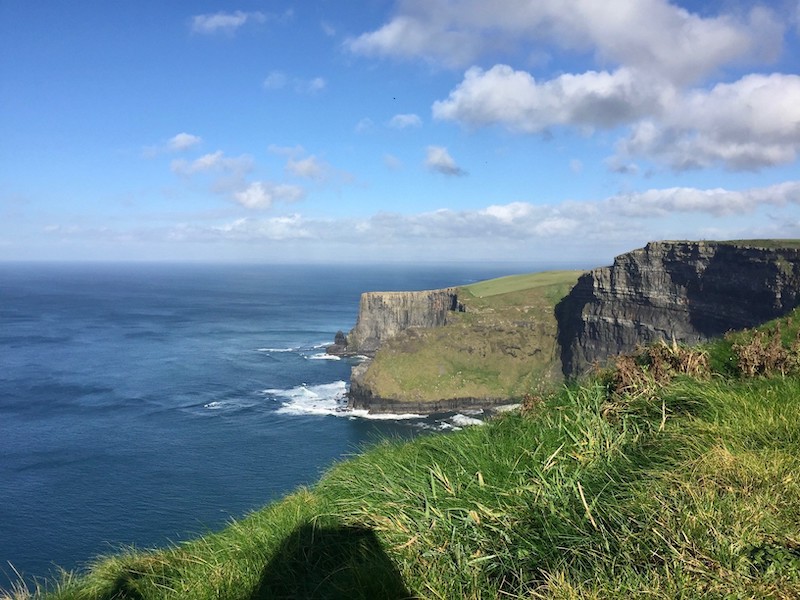 8. How about being on an island in Ireland? On our last trip, I finally got to visit the Aran Islands. They're three islands, just off the coast of Galway, with the largest, Inis Mór, home to the World Heritage-listed Dún Aonghasa (a series of prehistoric hill forts sitting on the edge of a 100m cliff). Hire a bike once you get there and ride across to the other side of the island to visit the site. We just did a day trip but there are now a few B&Bs as well as a glamping site!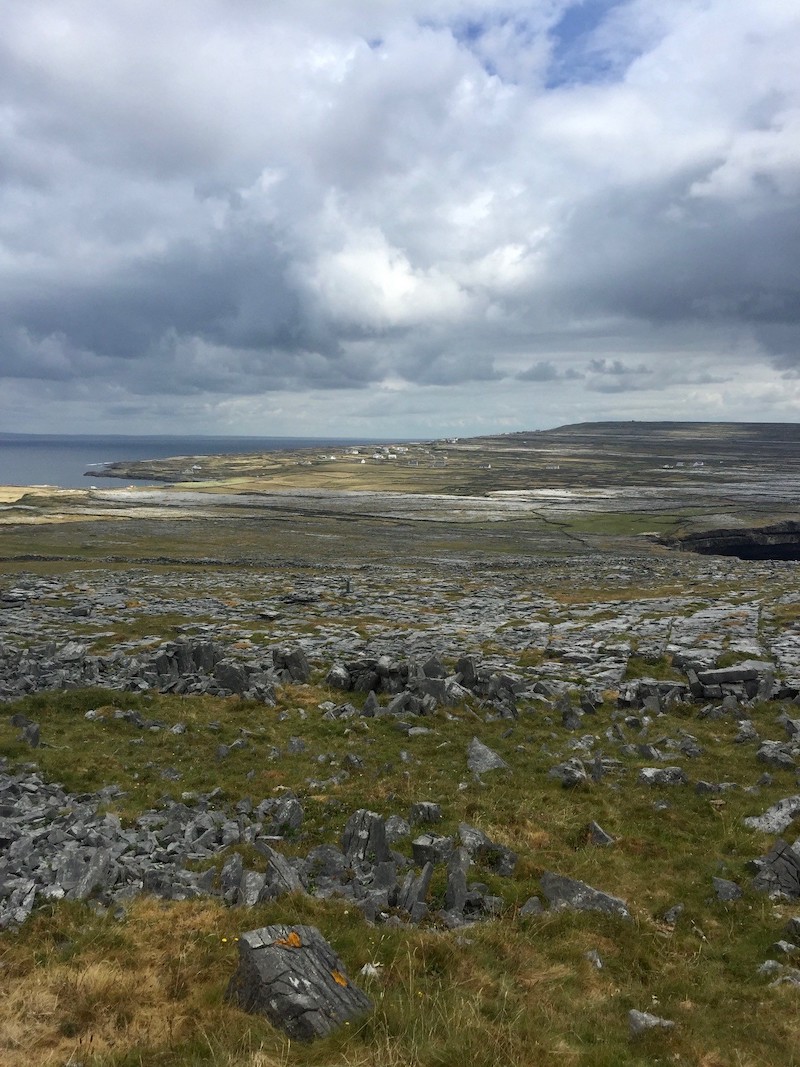 9. I'm biased, I married an Irishman, but if Irish accents make you swoon, time your trip for September and get to the Lisdoonvarna Matchmaking Festival. Not only is Lisdoonvarna a really pretty country town, you literally could find 'The One' – one of the festival's matchmakers claims to have set up around 3000 marriages over the last 50 years! Plus it's a month-long celebration, with loads of music and dancing, which sounds much more fun than swiping right.
10. If that pint of Guinness at the Storehouse wasn't your thing, give it a second chance at a village pub, just to be sure. Village pubs are the perfect place to rest and revive, as well as experience some true Irish hospitality. Shout out to our 'local' – Dessie O'Briens in Kilrickle, County Galway, for teaching me much of my Irish knowledge on many a night out. A few translations to help the convo go more smoothly: Yoke – any thing, object or person. Grand – fine or alright. Scuttered – drunk. Coddin – joking. Wee – small. There are loads more and you might struggle with the accent at first, but stay with it because Irish people are great storytellers and will have you in stitches in no time!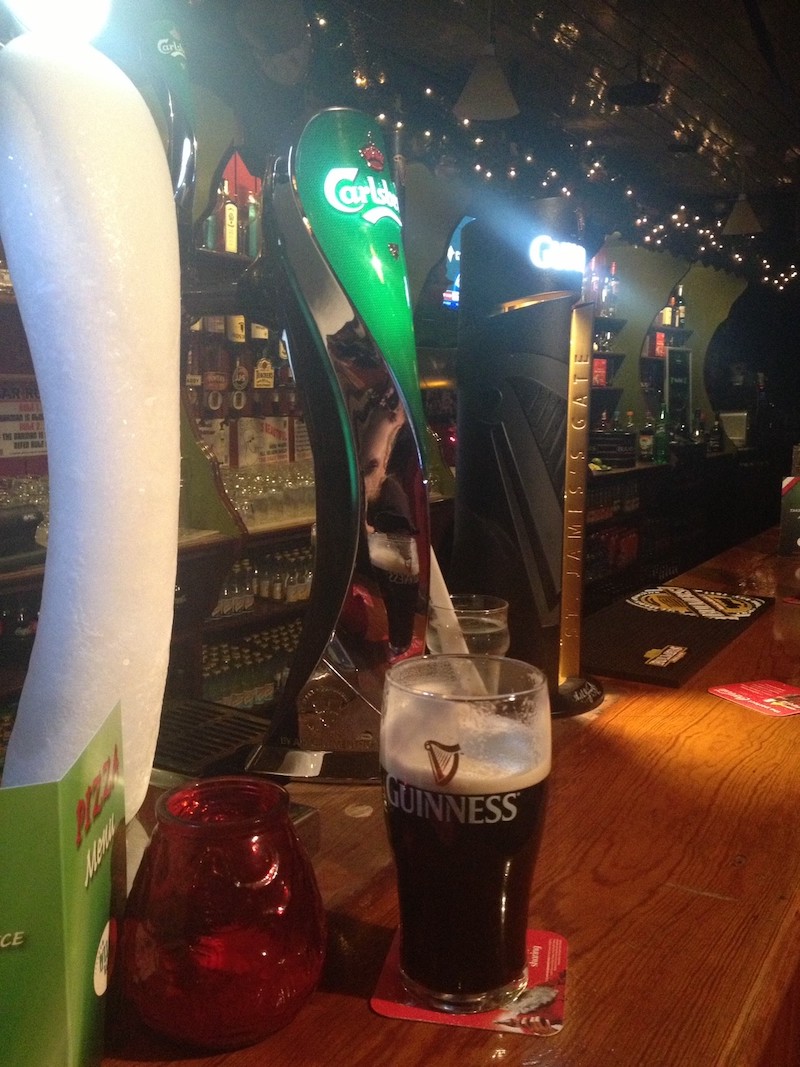 11. Irish coffee can and should be had at any time of the day. Just when you think coffee can't get any better, the Irish go and add a shot of whiskey and fresh cream on top. Insider tip: Irish coffee is not meant to be stirred, you just sip through the cream.
12. If you're feeling adventurous, take some time to climb Croagh Patrick in County Mayo. Traditional Irish Catholics make the pilgrimage up the 764m mountain to honour Saint Patrick, even doing it barefoot as an act of penance (ouch!). It's a challenging trek, but so worth it for the views from the top.
13. Visit Belfast and the Giant's Causeway in Northern Ireland. This corner of the island gives you something completely different to what you'll see in other parts, plus Belfast is where the Titanic was built. Visit Titanic Belfast – it might cause a few tears, but it's totally worth investing a few hours to learn some of the stories and history we didn't get from Leo. If you have the time, take a Black Taxi tour to see all the amazing murals around the city. They tell a fantastic story of the city's past.
14. If you're visiting at the end of July, go to the Galway Races. A week-long festival with horse races in the afternoon, followed by partying in Galway city afterwards.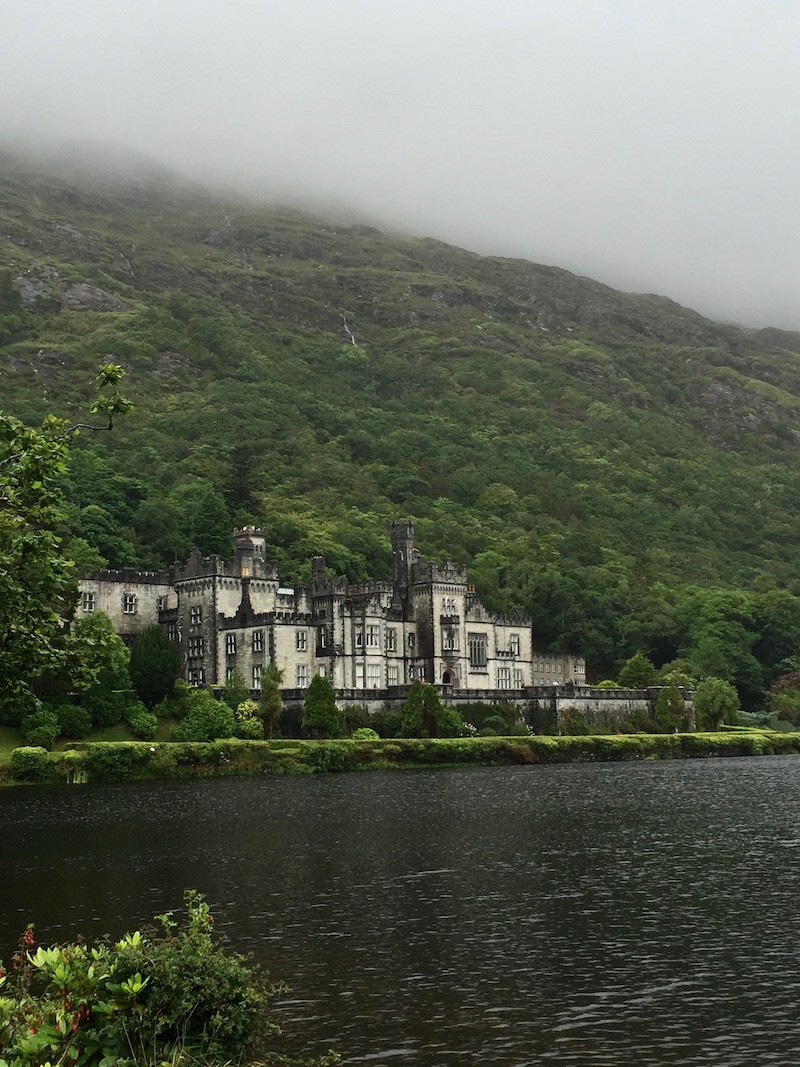 15. Check out a hurling game. Instead of me trying to explain what it is, just watch this video. It's very fast and amazing to watch.
16. Loads of TV shows and movies have been filmed in Ireland and you can visit most of these locations. Obviously we all know Game of Thrones, but there's also Vikings, Saving Private Ryan, Braveheart, Harry Potter, Star Wars and more.
17. Castles! I love a good castle. My preference is one you can sleep in overnight and feel like royalty, but I'm also partial to a castle ruin that you can explore and learn some pretty gruesome history. One of my faves is Ashford Castle, which is a gorgeous hotel and worth a luxurious overnight stay. It's also where I was introduced to my first ever hot port, which completely changed my winter-night beverage choices and I never looked back. Otherwise, Blarney Castle is a very well-preserved ruin site that's great to explore and it's home to the Blarney Stone – a tourist hot spot where you line up at the top of the castle to lean backwards and kiss the stone to receive 'the gift of the gab'. There are loads of stories going around about this being nonsense and what the locals actually do to the stone before tourists go in for the smooch, but it's all fun and games and makes a really good holiday snap!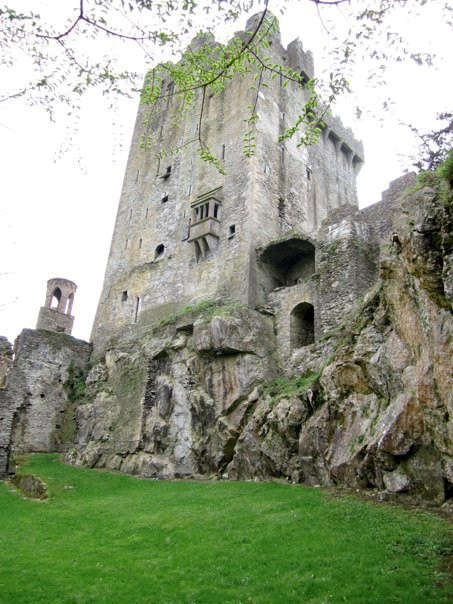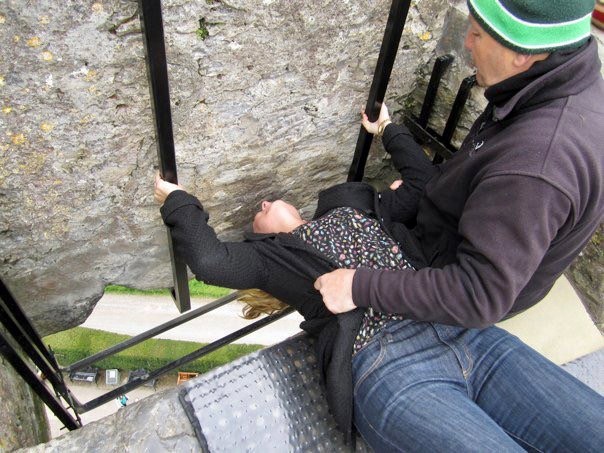 18. If you're going to spend a night out in a city in Ireland, make sure it's Galway! So many great pubs to enjoy, or, in summer, you can just hang out on Quay Street and listen to the buskers. I'll admit I'm biased to Galway because of the number of brilliant nights it's given me, but it has also been named a 2020 European Capital of Culture, so there seem to be loads of people who agree with me 😉
19. Hire a car and drive. The difference between a 3hr drive in Ireland compared to Australia is that in Ireland you can actually drive from coast to coast. Jump off the motorway and take the long way through the small towns because you'll still have time to enjoy every part. But be mindful when following maps – just because it says it's a road, that doesn't mean it isn't a dirt road where you'll get stuck behind a tractor for a couple of kilometres. I am no longer in charge of the map on our car trips.
20. Expect rain and embrace the sunshine. In Ireland, it's going to rain – how long and how much depends on the luck of the Irish. Rain is what Ireland does best and it gives everyone something to talk about – seriously, if the weather doesn't come up in a conversation, that person is not interested in talking to you, so take it as a hint to leave them alone. But because it rains so much, the Irish really make the most of the sun when it does come out. You'll see everyone out on the streets and in parks, you'll smell barbeques and hear the ice-cream man from miles away. Make the most of the sun while it's out, just in case it decides not to come out again.
21. Have the craic! Irish people are some of the most fun and friendly you'll ever meet and love nothing more than making you feel welcome in their country. You might struggle with the accent at first and get a little bit sick of the weather, but if you just put on the Irish attitude of making fun out of every situation, you'll be able to head home saying "We had great craic!"
PLAN YOUR IRISH GETAWAY