Top Rainbow Beach holiday packages
3.5-star property
Noosa Heads Motel
Noosa Heads
4.3/5
Excellent! (998 reviews)
30 Mar - 5 Apr
6 night stay
Melbourne (MEL) to Maroochydore (MCY)
Jetstar • Return • Coach
Price was AU$1,543, price is now AU$1,291 per person
Very welcoming and kindly offered us an early check-in. The room was spacious and light and clean with a fresh breeze over the balcony. Parking was so easy. It was delightful.
Reviewed on 5 Feb. 2023
4.5-star property
Alexandra on the Pacific
Alexandra Headland
4.3/5
Excellent! (437 reviews)
9 Mar - 12 Mar
3 night stay
Sydney (SYD) to Maroochydore (MCY)
Jetstar • Return • Coach
Price was AU$798, price is now AU$699 per person
The room was very spacious and comfortable. We could walk to the beach and the restaurants. So convenient. Will stay there again. Highly recommend.
Reviewed on 16 Jul. 2022
4.0-star property
Allure Mooloolaba
Mooloolaba
4.9/5
Exceptional! (47 reviews)
31 Mar - 4 Apr
4 night stay
Melbourne (MEL) to Maroochydore (MCY)
Jetstar • Return • Coach
Price was AU$1,096, price is now AU$974 per person
Great property, everything for a family with kids, Coles 2 minutes away, playground 5 mins away, promenade 3 minutes away! All the cutlery and cookware were provided but you need to buy cooking oil and other necessary things if you intend to be cooking.
Reviewed on 27 Jan. 2023
5.0-star property
Sea Pearl Resort Mooloolaba
Mooloolaba
4.8/5
Exceptional! (32 reviews)
24 Mar - 27 Mar
3 night stay
Sydney (SYD) to Maroochydore (MCY)
Jetstar • Return • Coach
Price was AU$1,529, price is now AU$1,395 per person
High end apartment in an excellent location, spacious enough for two families. Excellent communication from onsite manager Sharon. Will definitely be back!
Reviewed on 6 Feb. 2022
3.5-star property
Joanne Apartments
Caloundra
4.5/5
Wonderful! (131 reviews)
9 Mar - 12 Mar
3 night stay
Sydney (SYD) to Maroochydore (MCY)
Jetstar • Return • Coach
Price was AU$639, price is now AU$585 per person
This is a great place to stay. Wonderful manager, la comfortable apartment with everything we needed and a beautiful ocean view, lovely pools, and just a short stroll to the beach. The perfect place for my 5 day getaway with my daughter!
Reviewed on 16 Nov. 2022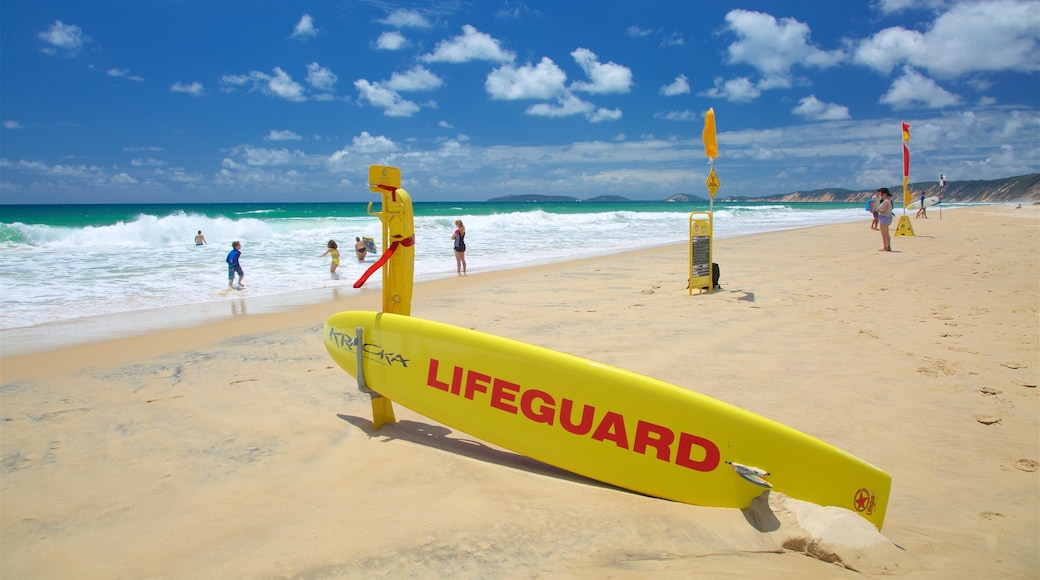 Book your Rainbow Beach holiday
Wotif is here to help you save your precious money.
We can combine your flights and accommodation into one neat little package. Easy as!
Your Rainbow Beach vacation is about to get heaps more exciting.
If you book now, you can save up to AU$245. And think about the choices you have with more than 550 airlines and 665,000 properties, it's so easy to build your dream holiday.
Some of the most competitive prices available are on Wotif. So pack your suitcase, find your passport and get a wriggle on!
Rainbow Beach Accommodation
Whoohoo! Getaway time! That means you'll want somewhere to catch your Zs at night. Wotif lists 12 accommodations in Rainbow Beach, so what are you waiting for?
After some insider info on suitable places to stay in this area? We know you'll be snug as a bug at the Rainbow Sea Resort and Plantation Resort at Rainbow.
Holidays to Rainbow Beach
It's time to quit putting all those incredible travel pics as your wallpaper and make your holiday goals come to life in Rainbow Beach. Not sure where to begin? With the basics of course.
Rainbow Beach is situated in the Sunshine Coast region and has some fascinating places nearby. For example, Inskip is 7 kilometres away.
If you've been trying to recall just how many people are in this part of Sunshine Coast but your mind's in packing mode, we'll give you a hand. When last counted, the population was 3 000.
Top Rainbow Beach hotels
Don't see what you're looking for?
See all available properties in Rainbow Beach
View all properties
Lowest nightly price found within the past 24 hours based on a 1 night stay for 2 adults. Prices and availability subject to change. Additional terms may apply.
Recommended cities for you