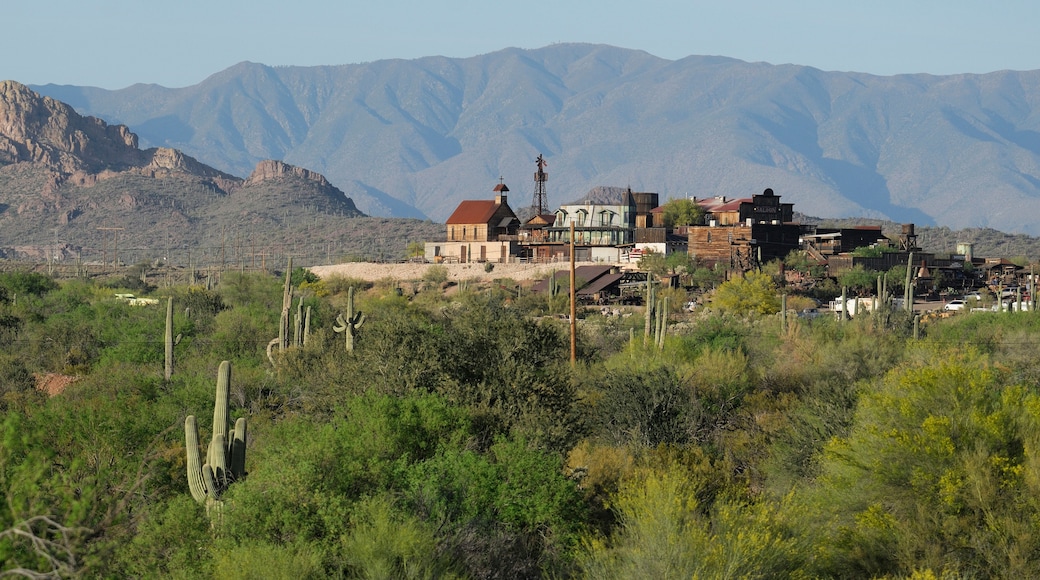 Book your Phoenix holiday
Holidays To Phoenix
No one wants a soggy holiday, unless you're a frog. Luckily (at least we hope), you are a real person and definitely not a water-dwelling amphibian, so you can plan your next getaway to a place that's pretty much always sunny and dry.
Head to a striking modern oasis in the middle of the American desert with a holiday in Phoenix. The centre of the high-tech industry in the Southwest, this city has undergone a revival that combines the new (world-class hotels, restaurants and entertainment) with respect for the historical and cultural roots of the region. Get a taste of both by stopping at the Arizona Science Centre, then the Pueblo Grande Museum and Archaeological Park.
Things to Do in Phoenix
Even in the sixth-largest city in the US, it's easy to appreciate the simple things. The Sonoran Desert is…well, it's a desert, so plants like the Saguaro cactus must be strong to survive. You'll appreciate this rugged beauty even more during your Phoenix holidays with a visit to the Desert Botanical Garden, where you'll see native plant life along with the critters who make their home there. Find local art and souvenirs at the Phoenix Art Museum. Get your dose of high culture with a night out at the Arizona Opera or Phoenix Symphony, or dress down for a baseball game when the Diamondbacks are in town. During a hot, sunny day, there's nothing better than a cold beer or lemonade while sitting in the stands. On the first Friday of each month, local art galleries and shops are open to the public, often with plenty of free refreshments as you browse. If the sight of so much desert has you feeling a bit dried out, make a stop at the Sea Life Aquarium, where you can see starfish and sharks up close. And remember, though there's shade and plenty of air conditioned venues to be found here, don't forget to bring sun cream on your holidays to Phoenix.
Shopping, Dining & Nightlife
We get it, you want to shop. Pro Tip: Snag one of Wotif's Phoenix car hire deals to make the most of your time, because you're going to find a ton to do. Need high-end wares to impress your friends back home? Go to nearby Scottsdale and bust out the credit card. For everything else, there's Biltmore Fashion Park, which has a great mix of affordable and, um, less affordable souvenirs. Need something a little more, oh, authentic? Spend your Phoenix holiday combing the boutiques surrounding I-10 and bring home swag like desert artwork, plants, Arizona-themed books and more.
You shopped, and now you'll eat. You can find fantastic Mexican cuisine in Phoenix—of course!—but branch out a little bit while you visit. As Phoenix has grown, other types of fare have sprung up try French food, Italian and Peruvian food, amongst a lot of other delicious examples. Pair a hearty dinner with a beer and live music at one of the city's many bars, and you've got a great evening just waiting to unfold. No matter what it is you're looking for, Phoenix is bound to deliver. Go to a comedy club or take in a theatrical performance in downtown Phoenix, or head to Scottsdale for wine bars, nightclubs and lounges that will keep you partying long into the night.
What's Next?
At Wotif, we have deals on your every holiday destination, available day or night. Book when you want and travel how you want with our affordable rates. Our Phoenix deals will have you on your way to Arizona, ready for sunnies and cold drinks, in no time!
Top Phoenix hotels
Lowest nightly price found within the past 24 hours based on a 1 night stay for 2 adults. Prices and availability subject to change. Additional terms may apply.
Recommended cities for you