Top Nadi holiday packages
4.0-star property
Landers Bay Resort & Spa Fiji - Adults Only
8/10
Very Good! (139 reviews)
8 Nov - 15 Nov
7 night stay
Brisbane (BNE) to Nadi (NAN)
Fiji Airways • Return • Coach
Save 100% on your flight
Price was AU$1,725, price is now AU$1,135 per person
We stayed one night and found the staff lovely and helpful. We felt well looked after at all times. The resort was quiet and pleasant.
Reviewed on 4 Sep. 2023
3.5-star property
Serenity Island Resort
8.8/10
Excellent! (146 reviews)
8 Nov - 15 Nov
7 night stay
Brisbane (BNE) to Nadi (NAN)
Fiji Airways • Return • Coach
Price was AU$1,703, price is now AU$1,262 per person
Having just returned from our first visit to Fiji staying at Serenity Island I can only say what a wonderful relaxing time we enjoyed. The location is beautiful, and the beachfront bure that we stayed in and had everything we needed and when you stepped out of the door you were only metres from the water. Good menu selection and lovely Fiji singing welcome every evening. It's worth noting that all inclusive does include both drinks and meals but only at meal time hours but definitely a worthwhile option. The Island is small but you are able to walk and/or kayak / paddle board around the whole island for free and provides a lovely relaxing pastime. The staff are what make this destination so good, from Captain Nemo, waiters, bar and kitchen staff, cleaners everybody who works there they work as a great team and make every guest feel welcome - nothing is too much trouble! Thank you to the whole Serenity Resort team for looking after us so well.
Reviewed on 27 Sep. 2023
5.0-star property
Nanuku Resort Fiji
9.4/10
Exceptional! (62 reviews)
8 Nov - 15 Nov
7 night stay
Brisbane (BNE) to Nadi (NAN)
Fiji Airways • Return • Coach
Save 100% on your flight
Price was AU$4,864, price is now AU$3,867 per person
For the first time I find it very differcult to really portray the absolute beauty of this very special place. In other reviews people have already told the world of how wonderful the staff really are here. We have been going to Fiji on and off for over 40 years and there are some very special places but the Staff at Nanuku are at the top of the list. One can have complete privacy and family's are also so beautifully looked after and children do nothing but laugh and enjoy their Villa Buddy as he or she cares for them. The food is to die for! Every day something very different and incredibly fresh arrived at our table. We were very spoilt in our accomadation that was given to us and the Villa Mama and Villa Buddie is a beautiful way to be cared for without over doing it. The bed was very very comfortable with lovely linen etc. yes one pays a little bit more than a four Star but if you can and want to be treated as if you are royalty Nanuku Resort is it. I could go on for ever but just thankyou so much Villa Mama Maria and Villa Buddy Solo for your very personal caring. To the rest of the staff keep up the good work and be very proud of yourselves. Thankyou so much for making our holiday so special and we hope we will be back one day soon.
Reviewed on 27 Sep. 2015
3.5-star property
The Crow's Nest Resort
7.8/10
Good! (102 reviews)
17 Nov - 22 Nov
5 night stay
Sydney (SYD) to Nadi (NAN)
Fiji Airways • Return • Coach
Price was AU$1,520, price is now AU$1,276 per person
Clean and fresh room with great views of the water .. villa at the back so higher up Pool was cold Breakfast was just ok
Reviewed on 26 Aug. 2022
Prices and availability subject to change. Additional terms may apply.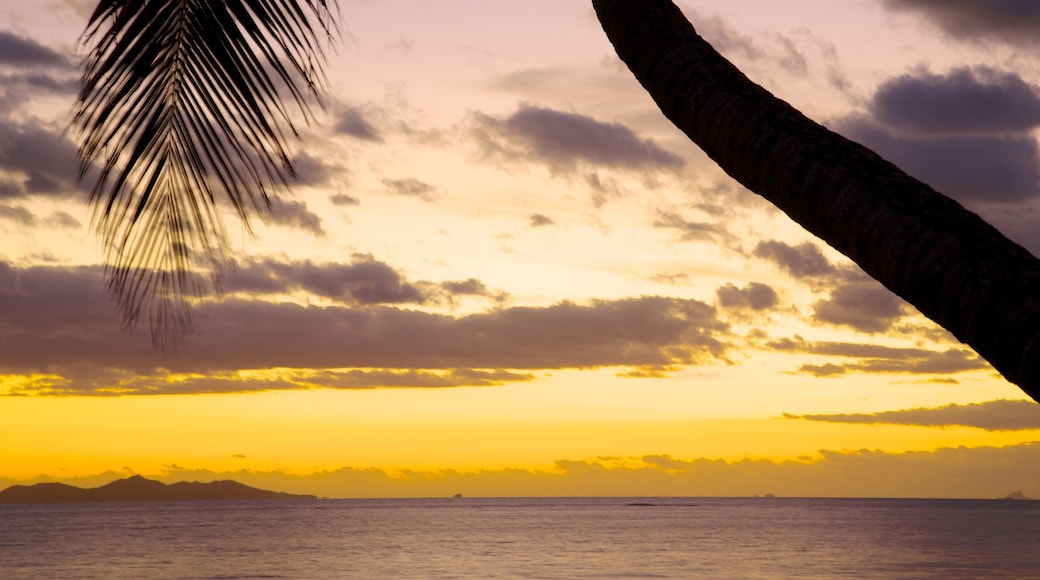 Book your Nadi holiday
Nadi Holiday Packages
If you're looking for a lively, multicultural destination in Fiji, Nadi is the place. Situated on the western coastline of Viti Levu, Nadi is the largest of Fiji's more than 300 islands. The primary port of entry is Nadi International Airport (NAN), just 9 km north of town. Once you arrive, you'll find the main street, Queens Road—nope, no apostrophe—bustling with activity as Fijian music emanates from storefronts and homes.
Things to Do in Nadi
During your Nadi holiday, learn more about Hindu culture at the Sri Subramaniya temple, located at the southern end of Queens Road. The largest Hindu temple in the entire Southern Hemisphere provides many helpful guides ready to explain its distinctive artwork and architecture. Some of Fiji's natural wonders lie just beyond Nadi, so don on your backpack and trek through rainforests during the day, and then chill on the beach as you watch the sunset. Coral diving and snorkelling are popular among eco-tourists, and water lovers will want to look into paddleboard, kayak or jet ski rentals. With a Nadi car hire, you're free to explore Viti Levu from coast to coast. Along the way, you'll find lush valleys framed by towering mountains. The tallest of these peaks, Mount Tomanivi, is just east of Nadi. Koroyanitu National Heritage Park is less than a half-hour away by car. Once you're there, hike through dakua forests and waterfalls.
Shopping, Dining & Nightlife
At the south end of Queens Road, you'll find stalls at the Nadi Handicraft Market. Look for baskets woven from the durable leaves of the pandanus palm, work out a good price on a carved tanoa bowl or purchase some locally crafted masi cloth. If you want to savour a meal while hanging out on a boat (look at you, living large!), try a sunset dinner cruise there's no denying that fresh lobster tastes even better when you're being serenaded by local musicians and you can feel the ocean breeze. Restaurants found along Nadi Bay cater to every palate, and you can enjoy dishes like Thai fish atop lime slices or prawns served with papaya salsa.
Backpackers coming in from the mountains may want to simply kick back at an outdoor cafe with Wi-Fi to reconnect with friends back home (and post some awe-inspiring pictures of your adventure up on social media, of course). If you're up for a good party, you'll be happy to hear that Nadi has some of the best clubs in Fiji. Live music and DJs are easy to find on weekends, especially in the city's Martintar neighbourhood. There's something for everyone, from high-end cocktail bars to eclectic surfer hangouts.
What's Next?
Ready for your Nadi getaway? Whether you're looking for a five-star resort or a hostel, a diving adventure or a relaxing holiday, Wotif can get you there. When you work with us, booking memorable and affordable Nadi holidays is simple. You can also check out our packages to the Castaway Islands and other top hotels and resorts. We'll connect you with lodging appropriate for family holidays, solo adventures, group holidays and romantic getaways. Start booking one of our Nadi packages today!
Top Nadi hotels
Lowest nightly price found within the past 24 hours based on a 1 night stay for 2 adults. Prices and availability subject to change. Additional terms may apply.
Recommended cities for you