Top Las Vegas holiday packages
5.0-star property
The Venetian Resort Las Vegas
Las Vegas Strip
4.5/5
Wonderful! (16,809 reviews)
23 Jan. - 27 Jan.
4 night stay
Sydney (SYD) to Las Vegas (LAS)
Delta • Direct return • Coach
Price was AU$3,544, price is now AU$3,026 per person
We were very pleased with the Venetian/palazzo. There was all the services onsite which made it quite simple to not want to leave as you could do many activities onsite.
Reviewed on 11 Mar. 2020
3.5-star property
Harrah's Hotel and Casino Las Vegas
Las Vegas Strip
3.8/5
Good! (8,295 reviews)
23 Jan. - 27 Jan.
4 night stay
Sydney (SYD) to Las Vegas (LAS)
Delta • Direct return • Coach
Price was AU$3,218, price is now AU$2,767 per person
Staff at check in were beyond helpful. Outstanding service
Reviewed on 18 Jan. 2020
4.0-star property
The Platinum Hotel
4.4/5
Excellent! (998 reviews)
23 Jan. - 27 Jan.
4 night stay
Sydney (SYD) to Las Vegas (LAS)
Delta • Direct return • Coach
Price was AU$3,613, price is now AU$3,206 per person
Not a casino and just off strip made it suitable for us Huge rooms comfortable beds clean and tidy
Reviewed on 22 Oct. 2019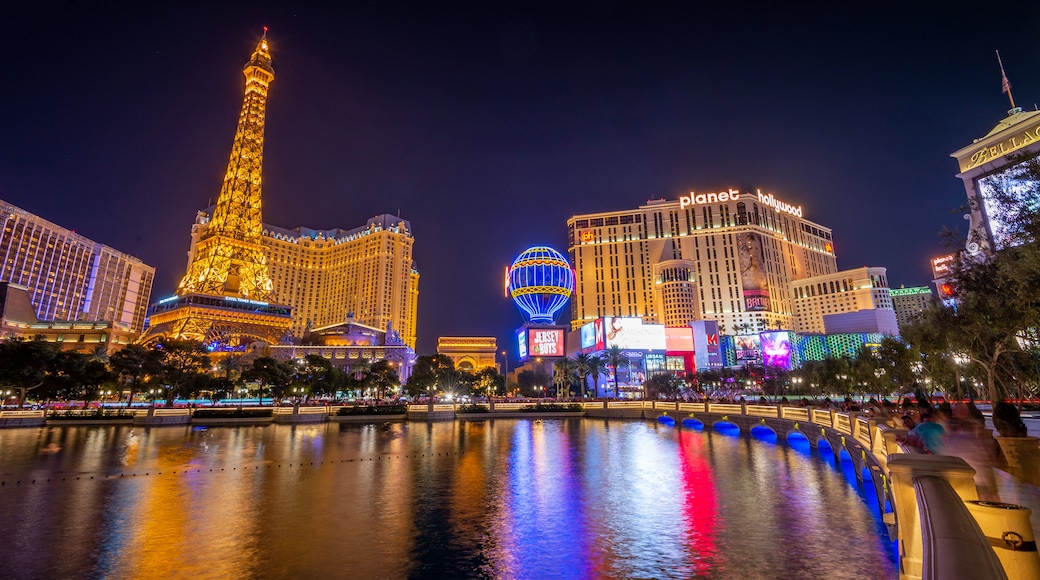 Book your Las Vegas holiday
Las Vegas Holiday Packages
Immortalised in countless books, films and television shows, the bright lights of that neon paradise in the Nevada desert have attracted countless visitors since the state got its gaming license in 1931. If you ask us, it's only gotten more appealing! Even with the closing of the "old joints" and the opening of massive casino resorts, this place is still the greatest adult playground on earth. And how do you explore this unbelievable destination? By taking advantage of one of Wotif's awesome Las Vegas holiday packages and becoming a desert dweller.
More Than Just Casinos
Yes, there really are other things to do besides gambling your life savings away by splitting aces and eights, or laying down Junior's university tuition on roulette. There are all sorts of places to see and things to do that don't involve the tables! Get one of our Las Vegas car rentals so you can go from this activity to that activity at the snap of your fingers.
Check out some of the activities we think you'd like below:
The Stratosphere Hotel – We're not telling you to stay here, unless you really want to—we just want you to visit, because they have some of the most terrifying rides on The Strip. Get strapped into the Big Shot and zoom 50m upward—if that doesn't scare the living daylights out of you, the roller coaster that sticks out over the edge of the building sure will. It's called X-Scream, and it takes a serious set of stones to ride this bad boy.
The Mob Museum – It's no secret that Vegas used to be run by Italian-Americans wearing sleek Armani suits who belonged to a club called "this thing of ours". And since this town is home to the weird and off the wall, of course there's a museum dedicated to those shady cats. Some of the exhibits include artifacts from famous mobsters like Al Capone and an interactive history of the Prohibition era. This might be the coolest museum you ever go to that doesn't have dinosaurs.
Zombie Apocalypse – If you want to experience a real-life 28 Days Later, sign up to battle zombies at Adventure Combat Ops. We're not kidding—you'll be thrown into the middle of a zombie outbreak. Don't worry, you'll be outfitted with the proper tools to defend yourself and save the world, which is really just par for course during holidays to Las Vegas, right?
What About La-La Land?
We know our Vegas flight and accommodation packages are awesome, but wait until you get a look at our Los Angeles packages. It's only a 45-minute flight, so book one now and you could be drinking a mai tai next to your favourite movie star at the Beverly Hills Hotel by noon. After you've sucked down a few of those, go for a stroll down the Hollywood Walk of Fame. Tinsel Town never looked so good.
There it is, folks. Stop what you're doing right now, book one of Wotif's cheap Las Vegas holiday packages and throw your inhibitions to the strongest wind you can find when you get to Sin City.
Top Las Vegas hotels
Lowest nightly price found within the past 24 hours based on a 1 night stay for 2 adults. Prices and availability subject to change. Additional terms may apply.