Top Byron Bay holiday packages
4.0-star property
Byron Bay Hotel & Apartments
4.3/5
Excellent! (738 reviews)
12 Nov. - 19 Nov.
7 night stay
Melbourne (MEL) to Ballina (BNK)
Jetstar • Return • Coach
Save 100% on your flight
Price was AU$2,200, price is now AU$1,763 per person
The staff at the front counter are incredibly nice and helpful. Always a great stay
Reviewed on 5 Mar. 2022
3.5-star property
The Lord Byron
4.2/5
Very Good! (672 reviews)
19 Nov. - 26 Nov.
7 night stay
Sydney (SYD) to Ballina (BNK)
Jetstar • Return • Coach
Price was AU$1,703, price is now AU$1,552 per person
Great staff service. Can tell rooms have been cheaply refurbished with bathrooms still very dated and grubby walls.
Reviewed on 5 Sep. 2022
4.0-star property
99 Acres Bangalow Retreat
4.9/5
Exceptional! (69 reviews)
12 Nov. - 19 Nov.
7 night stay
Melbourne (MEL) to Ballina (BNK)
Jetstar • Return • Coach
Price was AU$1,386, price is now AU$1,271 per person
The Property Manager goes above and beyond! The property is so beautiful and the room we stayed in was in great condition - modern looking furniture and comfortable bed. We will definitely be back!
Reviewed on 22 May 2022
4.0-star property
Ballina Manor Boutique Hotel
4.6/5
Wonderful! (75 reviews)
19 Nov. - 26 Nov.
7 night stay
Sydney (SYD) to Ballina (BNK)
Jetstar • Return • Coach
Price was AU$940, price is now AU$865 per person
This is a lovely place to stay in Ballina. The historical building is well sign posted, so easy to locate. It is very well maintained, including the gardens, and impeccably clean. The host is friendly and accommodating. It was brilliant not having to carry a key, due to the coded entry to the building and room. We stayed on the top floor, where we enjoyed our brekky with a view from the little balcony. The room was spacious, well appointed and the bed and pillows were super comfy. Please note, access to each level is via a staircase. If you are physically challenged, make sure to request a room on the ground floor. We, however, loved it! A nice (and tasty) touch was the complimentary breakfast muesli, which I think was a local blend. During our stay, we loved strolling along the riverbank walk and dining at one of the cafes on the river, which are in easy walking distance of Ballina Manor.
Reviewed on 23 Sep. 2022
3.0-star property
Coast Inn Motel
4.4/5
Excellent! (458 reviews)
19 Nov. - 26 Nov.
7 night stay
Sydney (SYD) to Ballina (BNK)
Jetstar • Return • Coach
Price was AU$882, price is now AU$813 per person
Very noisy road noise , thin walls could hear neighbours showering , toaster provided but no plates or utensils
Reviewed on 22 Sep. 2022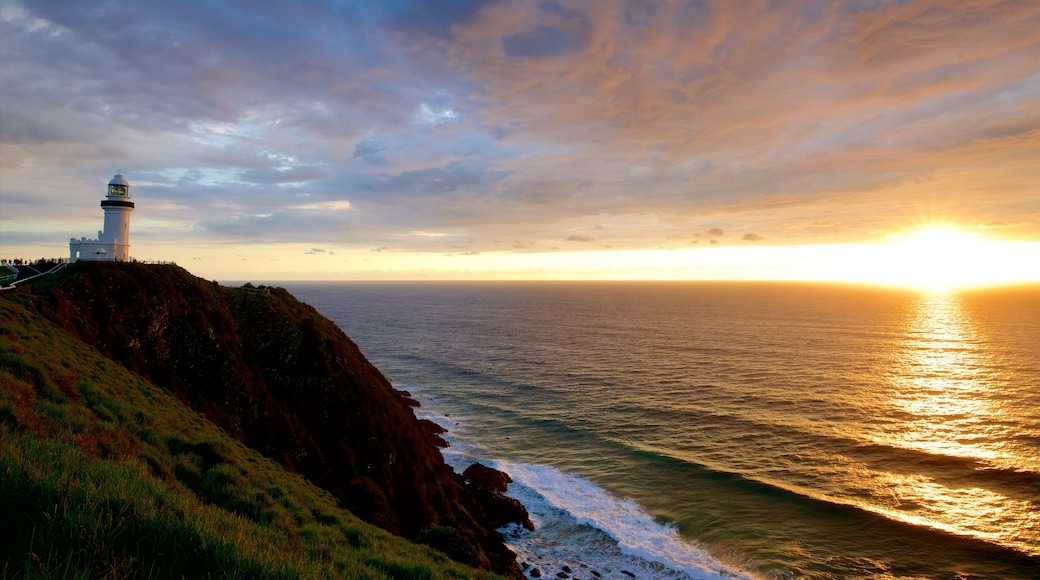 Book your Byron Bay holiday
Holidays To Byron Bay
Travellers of all types flock to Byron Bay, a free-spirited beach town where surf and hippie culture meet.
The iconic Cape Byron Lighthouse shines from a hill on the most easterly point of Australia. Tanned Adonis's catch impressive waves, and funky local musicians busk in the streets. Whether you're attracted to Byron's waves, sunshine, natural beauty or wild nightlife, our Byron Bay holiday packages provide a Byron stay with all the right vibes.HistoryThe traditional home of the Arakwal people, Captain Cook named the region "Byron" after Admiral Byron, the grandfather of famous poet Lord Byron. Historically famous for timber, dairy and seaside gold mining, Byron Bay was discovered by surfers in the 60s. This was when its journey into a tourist destination began.Things to doWhether you want to surf, swim, sunbake or just chill out, Byron Bay has the perfect beach for you. Main Beach is a clean white-sand patrolled beach close to the heart of town. Tallow Beach is a 7 km surf beach where you can see the lighthouse off in the distance. Wategos Beach is an excellent place to surf or have a BBQ. Walk or drive up to Cape Byron Lighthouse, where you can take in amazing views of the ocean and rainforest, watch whales and check out the Maritime Museum. Visit Arakwal National Park for wildlife watching and a clifftop walking track with both ocean and hinterland views.To get a better look at Byron from above, free-fall over mountains and beaches by taking Australia's highest skydive. Or soar through the air on a hang-glider or hot air balloon ride. If you're craving a little relaxation, spend some time enjoying a day spa, health retreat or meditation class. For another side to Byron, head out after dark. You'll have no shortage of places for a great night, with backpacker bars, wild dance clubs, good old-fashioned pubs and heaps of live music.The rest of Northern NSW has some unforgettable attractions too. Just over an hour from Byron is Australia's capital of alternative culture: Nimbin. This little town is home to funky shops and cafes painted in psychedelic colours, and surrounded by lovely natural attractions like the Nimbin Rocks and Djanbung Gardens. Take a walk up to the summit of Mt. Warning, the first place in Australia to see the sunrise. A walking trail through the rainforest will take you to the summit in just over a couple of hours. And from there, you can see remarkable 360 degree views all the way to regions like the Gold Coast. Shopping and diningLike everything else in Byron Bay, the shopping is unique, diverse and interesting. Check out the Byron Bay Community Market on Butler Street Reserve for vintage jewellery and souvenirs. Take a look in Byron Bay's surf shops, boutiques and art galleries. If you're a lover of all things New Age, take a trip to Crystal Castle and Shambhala Gardens for spiritual gifts and a garden full of giant crystals and Hindu and Buddhist statues.Byron has a great selection of stylish restaurants, cool cafes and simple favourites like fish and chips. Vegetarians and vegans (as well as the health conscious) are well taken care of in this part of NSW. But don't worry, carnivores: you'll be able to tear into a big juicy steak here too. With cuisine from across the world like French and Thai thrown into the mix, there's never any need to go hungry in Byron.Getting hereBundle your Byron Bay accommodation and flights into the ultimate Byron Bay holiday package with Wotif (don't forget your surfboard). Book today and you'll be chilling at The Bay in no time.
Top Byron Bay hotels
Lowest nightly price found within the past 24 hours based on a 1 night stay for 2 adults. Prices and availability subject to change. Additional terms may apply.