Top Ballarat holiday packages
4.5-star property
Melbourne Private Apartments Docklands
Yarra Riverfront
30 Sep. - 4 Oct.
4 night stay
Adelaide (ADL) to Melbourne (MEL)
Regional Express • Coach
Melbourne (MEL) to Adelaide (ADL)
Jetstar • Coach
Save 100% on your flight
Price was AU$2,103, price is now AU$1,780 per person
Most restaurants are closed over the weekend. Need instructions on how to operate the dishwasher. More towels and napkins should be provided.
Reviewed on 25 Apr. 2022
4.0-star property
Sky One Apartments 
Box Hill
4.3/5
Excellent! (48 reviews)
30 Sep. - 4 Oct.
4 night stay
Adelaide (ADL) to Melbourne (MEL)
Regional Express • Coach
Melbourne (MEL) to Adelaide (ADL)
Jetstar • Coach
Price was AU$1,023, price is now AU$875 per person
Had an awesome weekend with my family at SkyOne. My kids loved our stay. Room was clean and had everything needed. staff members were very welcoming and provided excellent customer service. My kids enjoyed the facilities. Thankyou SkyOne. We would definitely go back again. Highly recommended👌
Reviewed on 17 Jul. 2022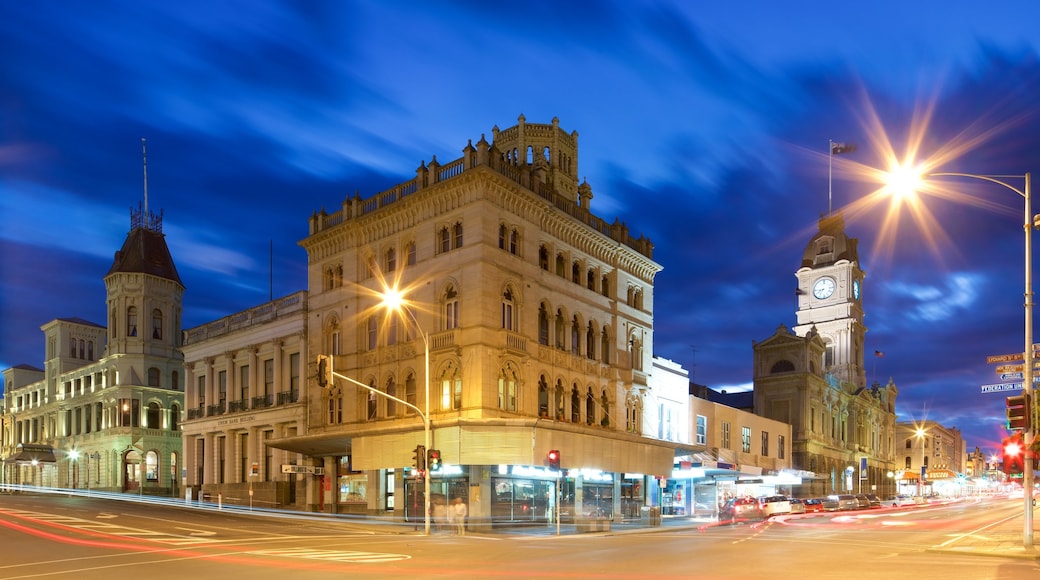 Book your Ballarat holiday
Holiday To Ballarat
"I like goooooooold". This what Ballarat's founders sang as they swung their pickaxes into granite and shook their pans free of muddy water in search of the shining element.
It's also what Goldmember said through the third instalment of Austin Powers, but that's neither here nor there. The attachment to gold in this city hasn't dwindled with time. While it's not a major industry anymore, the place has capitalised on the history of it. But you don't just have to pan for riches you can also feed animals at a wildlife park. Browse Wotif's offers on package deals to Ballarat and go for pay dirt.
Things to Do in Ballarat
This is the third-biggest city in the state of Victoria, and you've got a lot of ground to cover, so grab a vehicle from Wotif's Ballarat car hire options. Make your way to Sovereign Hill, an open-air museum that has recreated a gold mining village from 1851. Grab a pan, dive into the gold digging section and search for the real stuff in the winding creek. After you've hit pay dirt, take a tour of one or both of the old mines. And don't forget to mosey down Main Street and catch the demonstration of pure gold being melted and poured into a bullion bar.
One of the best things to do on a Ballarat holiday is to visit Ballarat Wildlife Park and see some of Australia's most famous animal residents. The coolest part of this experience is the hands-on interaction you can have with animals like koalas, wombats and kangaroos. There's about 80 free-roaming roos in the park, so it's not uncommon to run into them while ordering at the snack bar or in the loo (they really aren't into things like privacy).
Shopping, Dining &amp Nightlife
Can you believe how much money you saved with our Ballarat holiday packages? Maybe it's time to spend it. Head to Central Square Shopping Centre, where you'll find big-name chain stores and over 40 retail outlets. The city is also hosts different markets throughout the week. Pick up antiques, handmade clothes and Aboriginal art in these small street bazaars. Stop by a couple of the popular ones, like the Pleasant Street Primary Craft Market and the Trash &amp Treasure.
Ballarat Central is where you'll find great shopping and a broad range of dining options. Grab a steamy meat pie with a side sundae from a street stall. When you're ready for a full meal, there's a number of fine steakhouses that'll make you feel fancy. If you'd like to expand your palate, head to the Golden Point suburb, where Indian and Asian restaurants dominate the food scene.
Guess where the best nightlife is during a holiday in Ballarat? Ding-ding-ding! The downtown district comes alive during the day and re-energises itself when the sun sets. Several modern pubs have sprouted up throughout town and many feature local bands from Melbourne. Definitely check out some of the gold rush-era hotels with lobby bars restored to look the way they did when miners bellied-up to the bar.
What's Next?
Getaways are for relaxing, having fun and possibly striking it rich. OK, maybe not the last one…but where we're sending you it could happen! Browse Wotif's superb offers on Ballarat package deals and book one as quickly as possible.
Top Ballarat hotels
Lowest nightly price found within the past 24 hours based on a 1 night stay for 2 adults. Prices and availability subject to change. Additional terms may apply.