The quickest way to a panic attack at an airport is popping your luggage on the scales and seeing it go over the limit.
The fees can be massive – up to $1000 (or more!) depending on which airline you're travelling with and how far over you've gone.
But don't go emptying your suitcase in the dumpster behind the terminal Starbucks (something we NEVER recommend you do, by the way) just yet. Here are eight easy luggage hacks that can save your bank account from a punishing.
1. Stick it in your carry-on
If your suitcase is bulging at the seams, destined to fail its check-in weigh-in, transfer some items to your hand luggage.
Don't have a carry-on bag? Even better. Pick up a cheap or even plastic bag from one of the terminal stores and start filling it.
Depending on your airline's carry-on policy, you might be able to take two bags on with you – one handbag or laptop case and one small piece of luggage. But make sure you check their size and weight restrictions before you go overboard.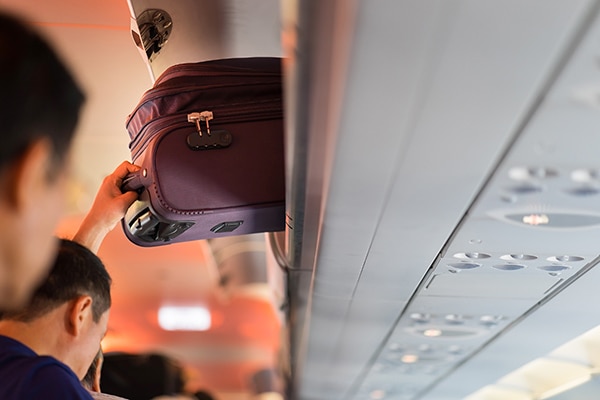 2. Share the love (and the weight)
Travelling in a group? Great! Take some items out of your over-burdened bag and put them in someone else's.
Assess every option. Ask your friends/spouse/partner and even look for that little bit of extra room in the kids' bags. Any unused kilo is fair game.
3. Layer up
Have you been somewhere cold or are you heading to the chill? A good jacket is a lifesaver… and a couple of kilos you can remove from your suitcase. Take it out and pop it on.
Your coat can also double as a blanket on the plane and the hood (if it has one) can make an excellent eye mask – flight attendants swear by them. Just make sure you have a light jacket or cardigan too, because planes are cold!
Remember to wear your bulkiest shoes too. While you'll probably have to take them off for your security check, wearing your heaviest shoes takes the weight out of your bag and puts it onto your feet. Another kilo saved!
4. Ask your airline for advice BEFORE you go to the airport
Sometimes all you can do is 'fess up. Just make sure you do it before you arrive at the airport.
If your bag is overflowing, call your airline before you go to the airport or do your online check-in and ask what your options are. Different airlines can have very different baggage policies and you may have more options than you realise. And if you have to admit defeat and pay for an extra checked-in bag, it's usually cheaper to do it before you check in.
As a last resort, you can also ask for help at the airport. However, the staff here are likely to be more busy and perhaps a little less forgiving (especially if your flight is already looking full).
5. Travel with a luggage scale
Yes, we know this tip might not seem super helpful if you are already at the airport, frantically Googling. But bear with us.
Luggage scales can obviously help you manage the weight of your bags and stay under the limit. But that's not the reason we're listing them here.
We're listing luggage scales because sometimes airport scales are wrong.
If you're sure your bag is under the limit, or if you weighed your bags before you left and got a totally different figure to the one now confronting you at the check-in counter, a little set of handheld luggage scales could save your bacon. Don't leave home without them!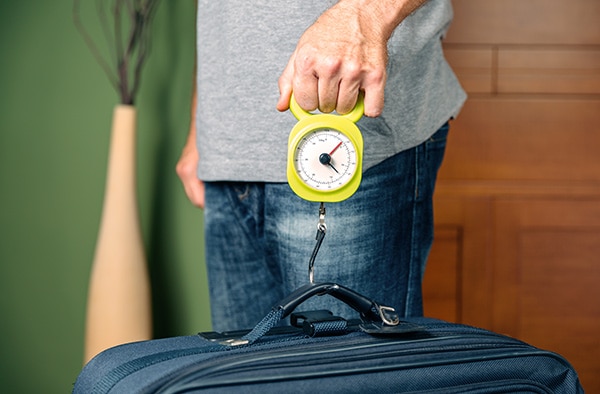 7. Kondo it
At the end of the day, it's often not worth fighting to keep items that are worth less than the money you are going to have pay in baggage fees.
Keep your designer gear and souvenirs and take a look at how you can minimise in every other capacity. Socks and jocks? Toiletries? In the bin. They're cents in the dollar compared to paying a fee.
Completed books and magazines, cheap clothes (keep the Dolce & Gabbana), old towels – really get harsh on what you need at home or at your destination.
Yes, you might have to spend a few dollars replacing a few items. But an airport Kondo sesh could save hundreds of dollars in baggage fees.
8. Find a celebrity
If worst comes to worst, just scan the airport for a kind-hearted celebrity and your baggage woes may be over. That is, if you believe viral Facebook posts.
Earlier this year, a man calling himself Lucas Santos posted that he and his sister had been caught by excess baggage charges they could not afford. But along came Keanu Reeves, who paid all the charges and even posed for a photo.
The truth is that the original post was made by a man named Junior Frederico. It mentioned nothing about baggage charges – he and his sis were just stoked to meet the Speed star.
But it does sound like something that Keanu, a famously excellent human, would totally do.
PLAN YOUR NEXT GETAWAY