When it comes to awesome travel jobs, it looks like Mark Fitz has got it made. He's a photographer, writer and social media influencer who specialises in promoting travel and outdoor experiences (read: He gets paid to visit and photograph some of the world's most incredible destinations). We sit down with Mark to get his top travel tips and find out if the pro traveller life is all it's cracked up to be. Spoiler alert: It is 😊
1. Mark, as a travel writer and photographer, it looks like you're living the dream! How did you turn your love of travel into a career?
It certainly is a dream job and it all started as a hobby! I was a tax accountant for many years and I started taking photos as a way to wind down after crunching numbers all day. My girlfriend suggested I download an app called Instagram where you could post photos. I started using it and posting photos from around the region we were living in. The local tourism board saw them and asked if I'd like to shoot a few photos for them and it grew from there. 2.5 years ago, I quit accounting and started doing photography full-time and I'm now travelling all around Australia and overseas.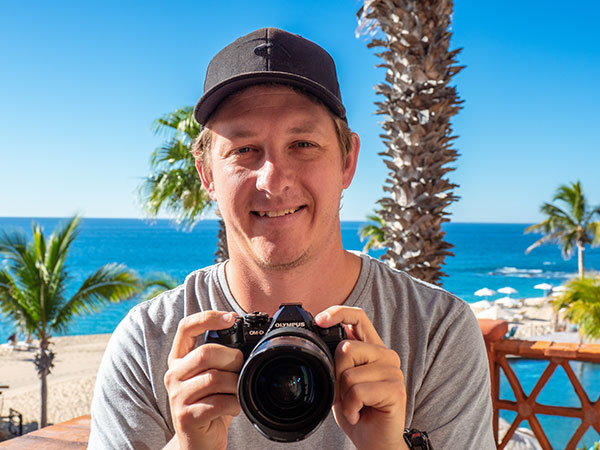 2. How many trips do you go on a year?
I'm usually on the road for two-to-three weeks every month.
3. You must stay in a lot of hotels. What do you look for in your perfect stay?
A great hotel, for me, has a comfy bed, is clean, has a nice little restaurant on site or close by and has black-out curtains. You can't beat black-out curtains for the perfect night's sleep!
4. Your Instagram account is incredible! What's your No.1 tip for the perfect snap?
Thanks very much! A lot of my images are beach landscapes, so my top tip for the perfect beach shot is to use a polarising filter. Polarising filters act the same as polarised sunglasses – they reduce glare and help bring out the blues in the water and the whites in the sand.
5. You've got some amazing drone shots too. Do you have any tips for new drone users?
Drones have really added a whole new dimension to photography and they enable you to photograph places in ways never done before. Always be mindful, though, of other people in the area – drones can be a bit noisy and you don't want to invade people's privacy. When using them in Australia, make sure you download and use Can I fly there? –  the Civil Aviation Safety Authority's official app – so you know where you can and can't fly.
6. Do you have any fave Aussie or overseas destinations? It's okay, we won't tell the others 😉
My all-time favourite spot is Hill Inlet and Whitehaven Beach in the Whitsundays. It's an incredible natural wonder and the swirling turquoise blues and bright white sands have to be seen to be believed. It doesn't matter how many times I go there, I'm always left in awe of the place.
7. Are you an overpacker, an underpacker, or a packing genius? And if you're a genius, what's your secret?

I used to be an overpacker and was always right on the weight limit, but over time I've gotten better at it. I try to wrap anything that might be breakable in several layers of clothes, rather than having it in a separate box in the suitcase. The space I've saved by not having to take all those boxes has been awesome.
8. What's one thing about your job that most people would never guess?
The length of the days that we work is probably the one thing that most people don't realise. Quite often we're up at 4am to shoot sunrise and from there it's onto several activities during the day and then off to shoot sunset in the evening. Once the sun has set our day still continues, as we've then got to save all our photos to back-up hard drives and work out a plan for the next day. Some evenings there might even be an astro-shoot as well and you can end up working up to 18 or 19 hours. I wouldn't change it for the world, though – it sure beats calculators and tax returns!
9. Where do you call home? If we come for a visit, what's the No.1 thing we should do?
I live in Mackay, Queensland. It's a beautiful region just south of the Whitsundays, with some great beaches and beautiful rainforests. The absolute number one thing to do here is sunrise with the kangaroos and wallabies on the beach at Cape Hillsborough!
C is for Cape Hillsborough! 🌅🌊😍
If you're looking for a uniquely Australian beach experience, you can't go past the third spot on my A-Z of Australia's Best Beaches!
For more info on this stunning spot just click the link below! https://t.co/wL9gsRH6Zu@Queensland pic.twitter.com/Q7oL9ABb4i

— Mark Fitz (@_MarkFitz) May 2, 2019
10. Thanks for your time, Mark! We have just one more question to finish up with. Help us settle a debate: window, aisle or middle?
It's definitely the window seat. Not only do you get great views, but you can also lean up against it with a pillow when you want to fall asleep!
Want to see more of Mark's work? Check out his website or follow him on Instagram.
PLAN YOUR AWESOME GETAWAY