There's something glorious about a getaway that doesn't involve using any precious annual leave. It feels like a little life win. A gift to yourself, if you will. Because, let's face it, #adulting can be tough and occasionally a city girl has just GOT to get out of the urban jungle. You with me?
And what better place for a Sydneysider to escape to on a warm summer's weekend than the beautiful coastal town of Terrigal, an easy 90-minute drive north of the city.
Our home for the night is the iconic Crowne Plaza Terrigal Pacific.
View this post on Instagram
Growing up, I spent many holidays at nearby Wamberal, where family friends had a beach house (which was as amazing as it sounds – thank you Wicht family for the childhood memories!).
We'd venture into buzzing Terrigal, the next beach along, for a spot of shopping, maybe some fish and chips and ALWAYS a choc mint ice-cream from the Crowne. In a waffle cone, of course, because even as a child in the '90s my food choices were fancy 😉
Back then, the sprawling Crowne complex was like a pink fairytale mansion perched right on the seaside. High ceilings. A grand foyer and staircase. All the five-star touches.
So, when I find myself with a reservation to finally stay here some *ahem* 20-odd years later, I do worry slightly it might not live up to the expectations set by my childhood memories.
Long story short, I have no reason to be concerned! The Crowne Plaza Terrigal Pacific might not be the newest hotel you've ever stayed at, but its classic elegance and casual beach-luxe vibes are perfectly timeless.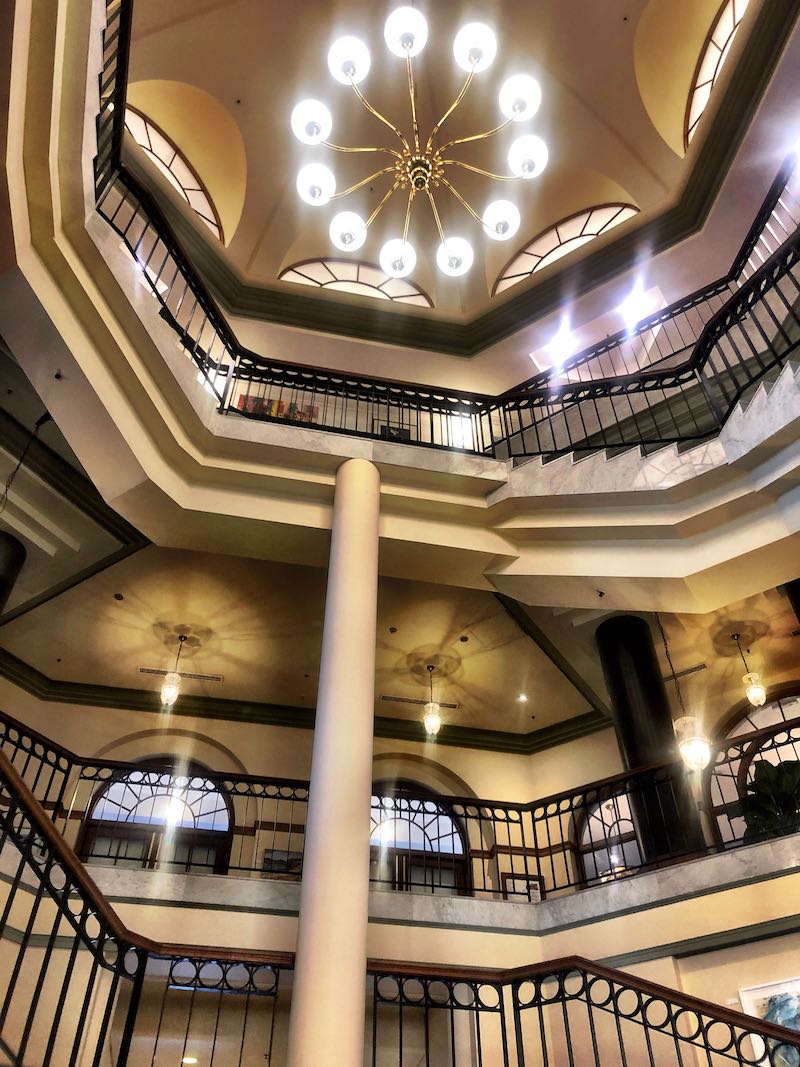 As soon as we pull into the hotel driveway, we're greeted by the super-friendly and professional concierge, who gives us the low-down on all things parking and check-in before we even get out of the car.
Insider tip: There's secure undercover paid parking at the hotel and free parking at the nearby council carpark.
Check-in is at the relatively late time of 3pm, but that's balanced with a relaxing 11am check-out time.
We're quickly on our way to our room, one of 199 in total. It's a king ocean view room on level seven, the top floor.
The room itself is clean, bright and well-equipped, with pops of colour. The king bed and pillows are lush, the mini-bar is well-stocked, the robes are comfy and the lounge is perfect for settling into. Bonus points too for the full-length mirror in the bathroom and block-out blinds.
But really, the hero of the room is the balcony and its view. Overlooking the pool and Terrigal Beach in all its pine-tree glory, the relaxing soundtrack of crashing waves immediately puts me in holiday mode.
And it gets even better when Florida Beach Bar, part of the Crowne complex, has live music floating up throughout the afternoon. A view AND entertainment without even leaving the room. How good is that?
Of course, there are lots of reasons to escape your room and enjoy the hotel facilities. Things to love about Crowne Plaza Terrigal Pacific include:
The pool: The pool area is large and luxe. Settle in on a deck chair, test out the sauna, take a splash in the heated pool or order from the Deck Bar. If you're that way inclined, there's also a well-equipped gym area.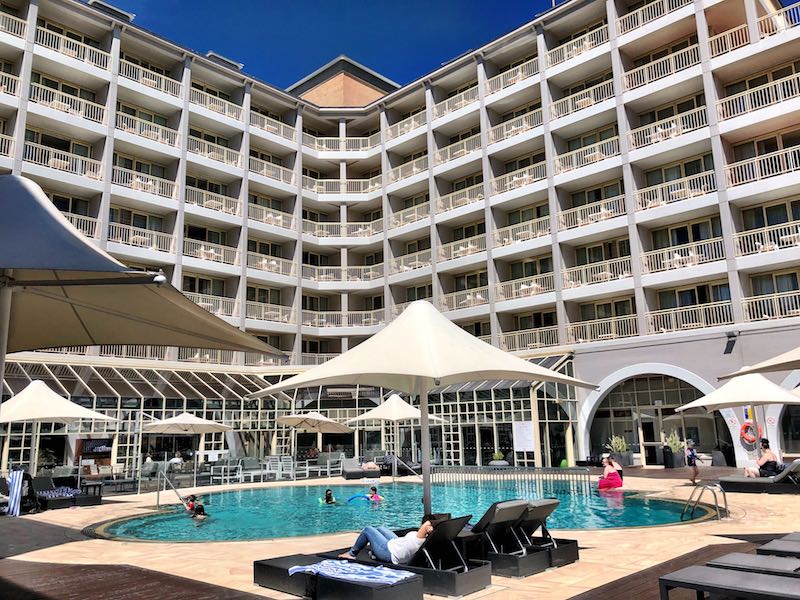 Endota Spa: What's a lovely hotel stay without a little pampering? You know you're in good hands with the Endota Spa brand in the house.
Lovely boutiques: You can scratch your shopping itch without even leaving the complex, with plenty of shops on site. Or keep strolling to Terrigal proper for a vast array of clothing boutiques, homeware stores and even an epic lolly shop.
Three ocean-facing restaurants and bars: Which means there's something for every taste and budget!
Seasalt Restaurant boasts spectacular views and outstanding cuisine. The seafood platter for two gets my vote.
More informal dining is on offer at Florida Beach Bar and Terrace on the ground level, which serves Mediterranean-inspired cuisine with a fun and vibrant atmosphere.
The Lord Ashley Lounge is ideal for a light meal, a cheeky cocktail or their famous high tea. The sparkling high tea ($49) has my name all over it, but the kids high tea ($20) is genius for family stays – hello milkshake, marshmallows, mini pies, sausage rolls, fairy bread and more!
The events space: The Crowne is well-known as a business and conference venue, and for good reason thanks to its 13 meeting spaces and conference facilities. There are worse places to spend a few work days with your colleagues (feel free to drop a hint to your boss 😉). It's also a popular wedding venue and one lucky couple celebrate their nuptials the same weekend as our stay.
Venture out to explore beyond the Crowne and you'll be rewarded with everything that the buzzing Terrigal Village has to offer. By day, it's all about the beach. Soak up the summer vibes on the sand or go for a stroll up to the nearby headland known as the Skillion for even more amazing ocean views.
View this post on Instagram
When it comes to food, fish and chips is your lunchtime go-to (when in Terrigal!)
By night, you're spoilt for choice, with nearly every type of cuisine you can think of. My eye was always on the dinner prize of the renowned Yellowtail Restaurant.
View this post on Instagram
Yellowtail's small 35-seater restaurant has been transformed into a sophisticated and intimate yet approachable space that's obviously a favourite with locals and visitors alike.
The ever-changing menu features the very best of local and seasonal produce, and at the risk of sounding like a Sydney food snob, I'm pleasantly surprised by the calibre of the food and wine experience.
Insider tip: If they're on the menu, the brussel sprouts are a must-order.
If you feel like a cocktail after your meal, the newly opened Joker and the Thief is already a crowd favourite, or Pocket Bar is a tried-and-tested gem.
Of course, no cheeky hotel stay is complete without a buffet breakfast and the Crowne delivers with a vast array of options. Think fresh fruits, yoghurt, cereals, muffins, breads, banana bread, pancakes, a made-to-order eggs station, a fresh juice station, and more.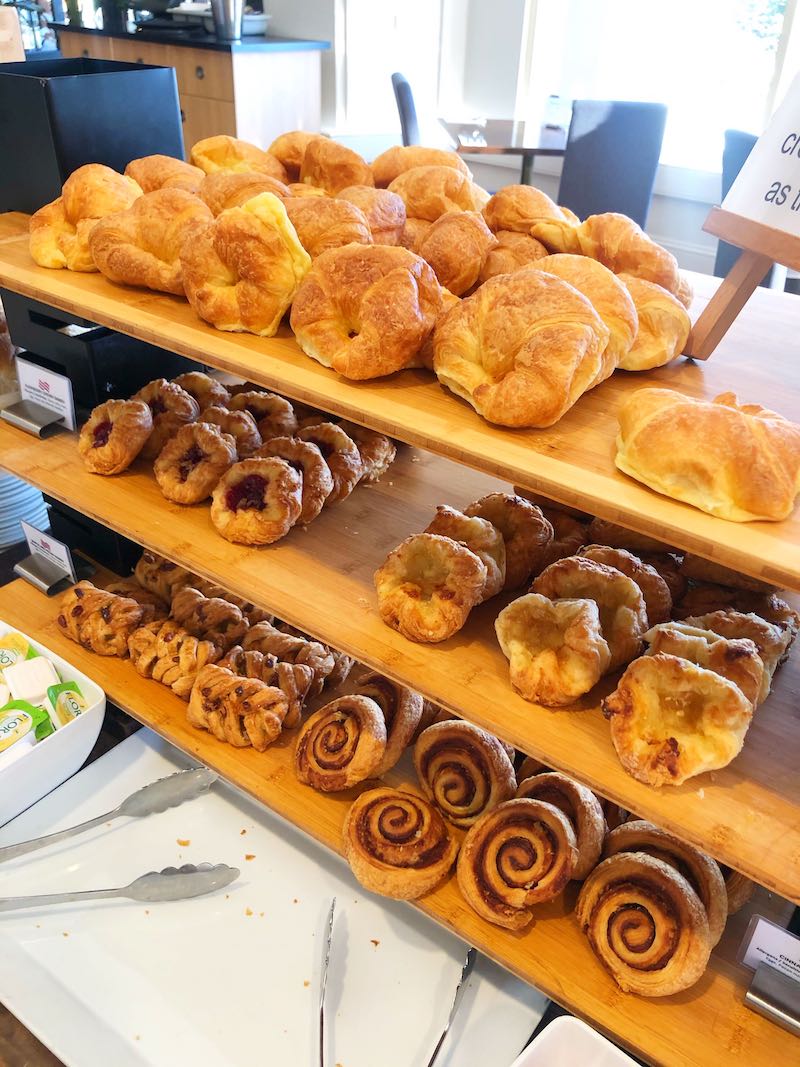 Insider tip: Live locally? Take advantage of the locals' buffet breakfast offer. Normally, $39.50, Central Coast residents can enjoy the delicious spread for $25 per person on weekdays and $30 per person on weekends (ID required).
Just 24 hours in Terrigal and I'm feeling like a new woman with zero damage to my annual leave balance. Cheeky getaway success!
Nic stayed as a guest of Crowne Plaza Terrigal Pacific but all views remain her own.
STAY AT CROWNE PLAZA TERRIGAL PACIFIC
CHECK OUT MORE TERRIGAL STAYS