There's no better way to stave off the hot Aussie weather than with a refreshing dip. Don't pester your pal with the backyard pool – Oz has plenty of pretty places to dive into that will do the trick. Here are nine natural swimming spots we reckon are tops.
1. Lake McKenzie, QLD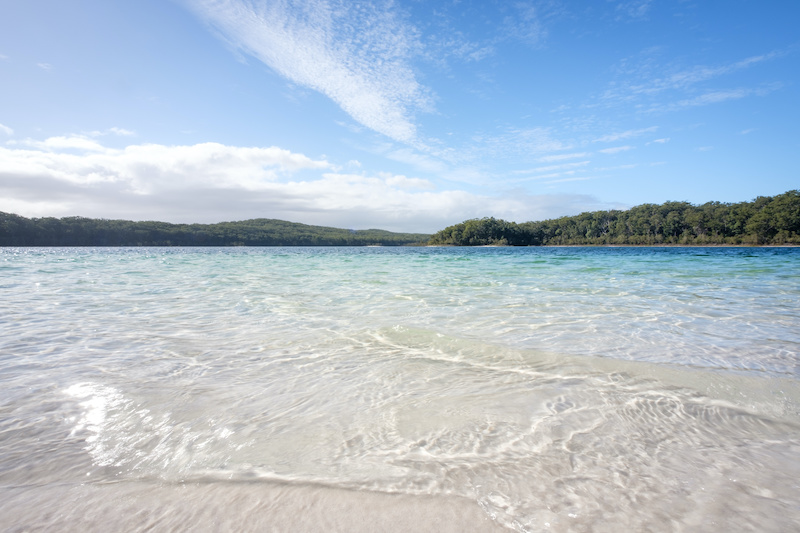 Named Boorangoora (meaning 'waters of wisdom') by the Butchulla people, Lake McKenzie is known to some as the jewel of Fraser Island. One glance at it and you'll see why! This lake contains only rainwater, giving the whole place the illusion of a swimming pool, while the pure white silica sand filters the water leaving it crystal clear for swimmers. This piece of paradise, less than 40 minutes drive from Kingfisher Bay Resort, is accessible on foot via a few hiking trails, or you can hire a 4WD and take the inland tracks.
2. Injidup Natural Spa, WA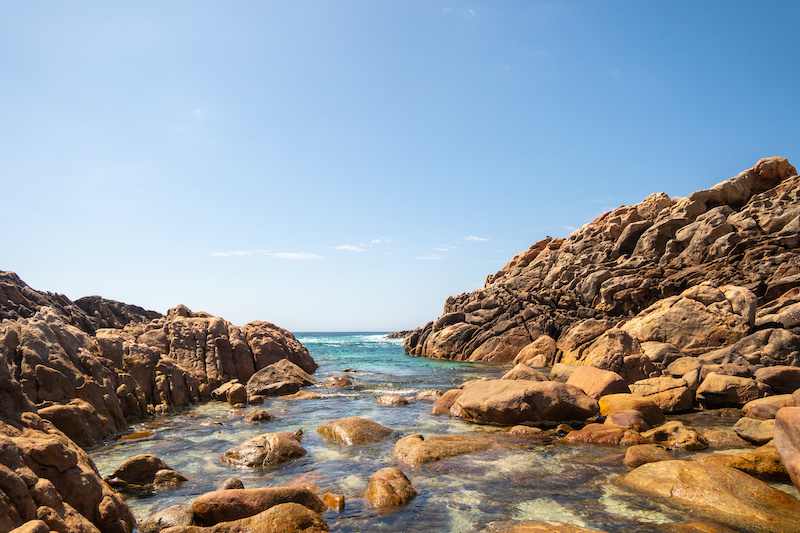 A short drive south of Yallingup (and 10 minutes from Smiths Beach Resort) is a hidden rock pool right on the edge of the Indian Ocean. Though the rocks protect swimmers from the turbulent waves that crash and break over them, the churning waters are let in, giving the pool a spa-type feel – fancy! Surfers should also pack their board for neighbouring Injidup Beach, known for its great surf conditions 🏄‍♂️
3. Second Valley, SA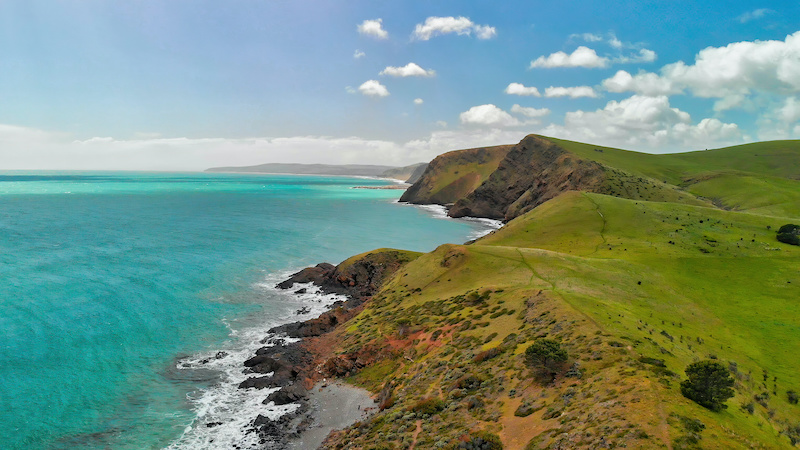 After arriving at Second Valley on the Fleurieu Peninsula, you'd be forgiven for thinking you'd been transported to Cornwall, especially when you spot the rolling cliffs plunging into azure waters. Popular for its cliff jumping, weekends can be a little hectic as locals gather for a dive. Our tip? Add it to your mid-week itinerary or be an early riser on weekends. Also, if you bunk at New Terry Hotel & Golf Resort, you're only a 10 minute drive away!
4. Apsley River Gorge and Waterhole, TAS
After a hike through the Douglas-Apsley National Park (an easy 15-minute drive from Beach House XIV), cool off with a dip in the clear, deep waterhole of Apsley River Gorge. You might even spot the Australian grayling, an endangered native fish, during your dip. All visitors need a valid Parks pass to enter, with the complete hike taking around three hours (minus any time spent paddling in the waterhole, of course!)
5. Wattamolla, NSW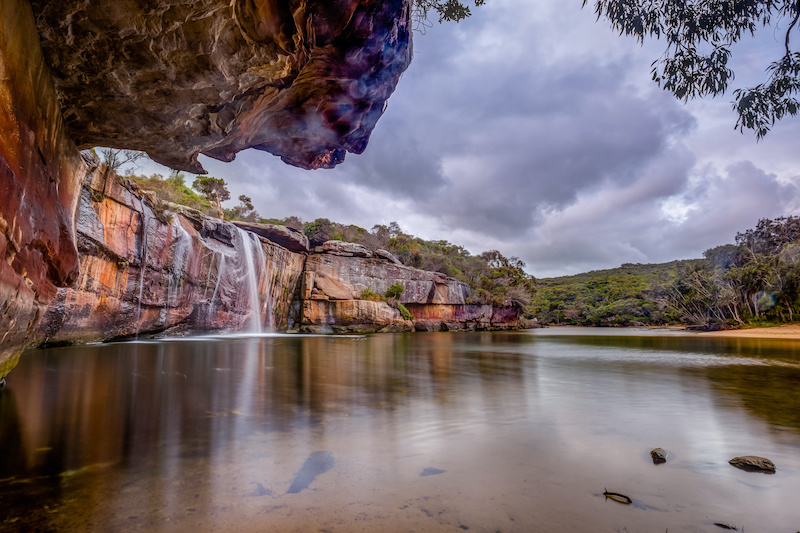 In Sydney's Royal National Park is a lagoon wedged between Wattamolla waterfall, Coote Creek and the ocean. Calm waters, along with ample shade, pristine sand and the natural soundscape of the waterfall make this one of the most popular swimming spots in the Sydney region. Pack a picnic and plenty of water or, stay the night at somewhere close such as Bundeena Apartment. Once you've conquered Wattamolla, head around 10km up the road to the Figure Eight pools, where the rock face features a set of perfectly rounded natural plunge pools.
6. Josephine Falls, QLD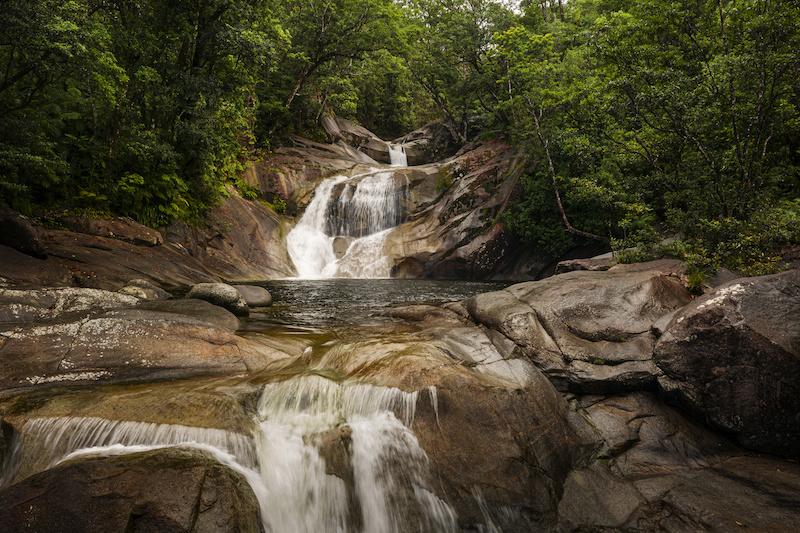 South of Cairns in the Wooroonooran National Park is Josephine Falls, a multi-tiered cascade that's like a natural waterslide. The tall rainforest canopy makes the water appear emerald green, as the clear water trickles down granite boulders to the swimming hole. The best time to travel and take a dip (and plan an escape to a spot such as Bramston on the Beach) is April to October to avoid flooding in the wet season.
7. Blue Pool, NSW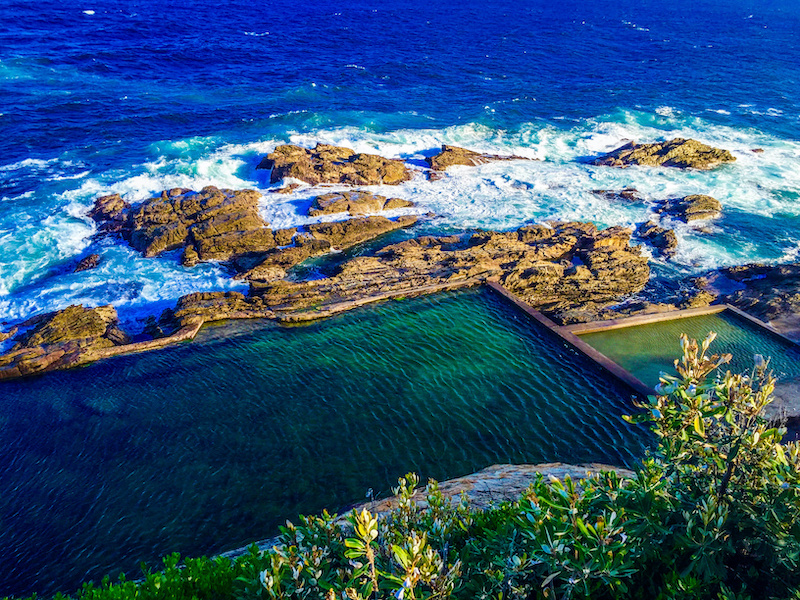 Bermagui is a charming little spot to stop if you're visiting the wonderful Sapphire Coast (as is the comfy Bermagui Beach Hotel!). The Bermagui Blue Pool is a real highlight – with clean and clear sea waters crashing against a cliff backdrop, it's easy to see why it's considered to be one of the best ocean rock pools in the world. Accessible via kid-friendly steps, it's also the perfect spot for whale watching during the migration season.
Remember: always take care when swimming in Australian waterways by reading and observing safety signs and staying alert to weather and ocean conditions.
Heads up! Due to COVID-19, government restrictions are in constant review and travel guidelines may change. We strongly recommend that all travellers seek further information about destinations and attractions before scheduling trips or making bookings, take extra care and follow all rules.