Top Rarotonga holiday packages
4.5-star property
Crown Beach Resort & Spa
Arorangi
4.3/5
Excellent! (122 reviews)
17 Mar - 24 Mar
7 night stay
Melbourne (MEL) to Rarotonga (RAR)
Qantas Airways • Direct return • Coach
Price was AU$2,935, price is now AU$2,576 per person
Really quiet resort right on the beach. Awesome accommodation and friendly staff, with a great restaurant
Reviewed on 8 Jul. 2019
5.0-star property
Crystal Blue Lagoon Villas
Takitumu District
5/5
Exceptional! (31 reviews)
17 Mar - 24 Mar
7 night stay
Melbourne (MEL) to Rarotonga (RAR)
Qantas Airways • Direct return • Coach
Price was AU$4,033, price is now AU$3,659 per person
A wonderful relaxing environment. Everything you need and more. Close to Muri amenities and activities. The staff were lovely and unobtrusive and the pool and spa were meticulous in appearance and cleanliness at all times. Highly recommend this resort as a place to have total privacy and within walking distance to things to do if the mood takes you.
Reviewed on 23 Apr. 2017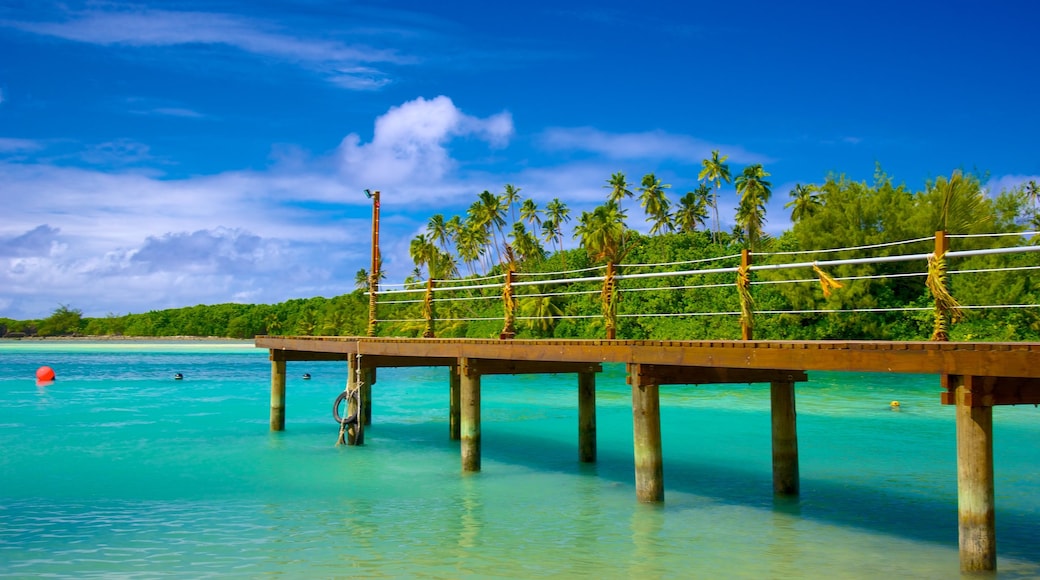 Book your Rarotonga holiday
Rarotonga Holiday Packages
Take a magnifying glass to a map of the South Pacific and start scanning.
You see those dots southwest of Tahiti and northeast of New Zealand's North Island? Those are the Cook Islands, and Rarotonga is the biggest of them. High mountains, deep valleys and emerald lagoons make this faraway island nation a perfect place for a tropical walkabout. Book a Rarotonga package today and be gone tomorrow.
Things to Do in Rarotonga
Don't let this tiny island fool you: all the fun you'll experience on your Rarotonga holiday will exhaust you—in the best way! If you're not sure which beach to unwind on, trek to the Peak of Raemaru Mountain. From there you'll be able to see the extent of the reefs surrounding the island and pick out a good-looking beach to dig your toes into. Do you see it down there? It's called Titikaveka Beach, and it's perfect for stretching the legs after mountain climbing. The water in the lagoon is so clear, you don't even have to dunk your head to see the colourful fishes. But you might as well throw on a snorkel mask to get up close and personal with Nemo and friends. After saying good-bye to the blue starfish, go on the cross-island walk through the valleys the ripple through the isle. Eventually you'll end up at Wigmore's Falls near the island's south coast, where the pool below the rock face is perfect for swimming. These are just a few of the activities to take part in during Rarotonga holidays.
Shopping, Dining & Nightlife
Your mates back home are going to expect souvenirs, and you better deliver. The Punanga Nui Cultural Market will fulfil all your shopping needs. Pick up a black pearl necklace—a local specialty!—for a loved one back home. A Tangaroa carving will have your blokes whipping it up when they see it. And if you think you're musically gifted, take home a pate and learn a new instrument. Don't forget to bargain, but don't worry—you'll have plenty of cash to spend, thanks to our Rarotonga deals.
It's time to eat. Hope you like seafood, because here on Rarotonga, there's plenty. You could walk through the capital city of Avarua blindfolded and it wouldn't be hard to find a good meal. Enjoy a dish of fresh-caught octopus known locally as Eke. Not a fan of tentacles? A good portion of raw fish marinated with lime and served with coconut cream will do the trick. Most dishes come with a side of locally grown fresh fruit like mangoes and banana. If you want to visit a number of food establishments, use one of Wotif's Rarotonga car hire options to zip your way through the streets in search of a good meal.
Hit the streets of Avarua for your night-time entertainment. Follow the sounds of homemade pate instruments into one of the many bars for good times and Cooks Lager. For something further down the line of the cultural spectrum, stop in at the Te Nui Village. Be sure to check out our Rarotonga holiday packages, as some of the hotels included may offer special deals.
What's Next?
Sun. Sand. Ocean. Distant islands. Seriously, what more do you want in Cook Island holidays ? Don't waste time searching around for the best deals. Use Wotif to find the best Rarotonga holiday packages and get off the map in the South Pacific. Captain Cook would be impressed.
Top Rarotonga hotels
Lowest nightly price found within the past 24 hours based on a 1 night stay for 2 adults. Prices and availability subject to change. Additional terms may apply.
Recommended cities for you