Top Kangaroo Island holiday packages
3.5-star property
Penneshaw Oceanview Apartments
1 May - 5 May
4 night stay
Melbourne (MEL) to Kangaroo Island (KGC)
Qantas Airways • Direct return • Coach
Price was AU$1,352, price is now AU$1,298 per person
Great location close to the sealink terminal, shops,dining and coffee. If you were more adventurous, then kingscote closer to the natonal park. You do need an element of fitness, as stairs inside the house were steep. Be aware that when front blinds down, you can see in when lights on. Communication very good with owner. Will stay here again in the future.
Reviewed on 16 Mar. 2022
4.5-star property
LifeTime Private Retreats
1 May - 5 May
4 night stay
Melbourne (MEL) to Kangaroo Island (KGC)
Qantas Airways • Direct return • Coach
Price was AU$2,618, price is now AU$2,618 per person
A great romantic escape on top of a hill overlooking a beautiful beach in a secluded location. You're right away from the action in Snelling Beach but worth the short drive. Hannaford & Sachs restaurant is superb but the only place for miles so be self sufficient or have dinner before arriving.
Reviewed on 14 Jul. 2017
4.0-star property
Ecopia Retreat
1 May - 5 May
4 night stay
Melbourne (MEL) to Kangaroo Island (KGC)
Qantas Airways • Direct return • Coach
Price was AU$2,198, price is now AU$2,198 per person
It was a fantastic stay in the heart of KI! Unbelievable that in such wild and beautiful destiny contemporary and luxury accommodation are awaiting for us. Love it very much!
Reviewed on 1 Oct. 2019
3.5-star property
Kangaroo Island Bayview Villas
1 May - 5 May
4 night stay
Melbourne (MEL) to Kangaroo Island (KGC)
Qantas Airways • Direct return • Coach
Price was AU$1,161, price is now AU$1,161 per person
Well positioned close to town ,supermarket,restaurants with a lovely balcony view and quiet surroundings.
Reviewed on 2 Mar. 2020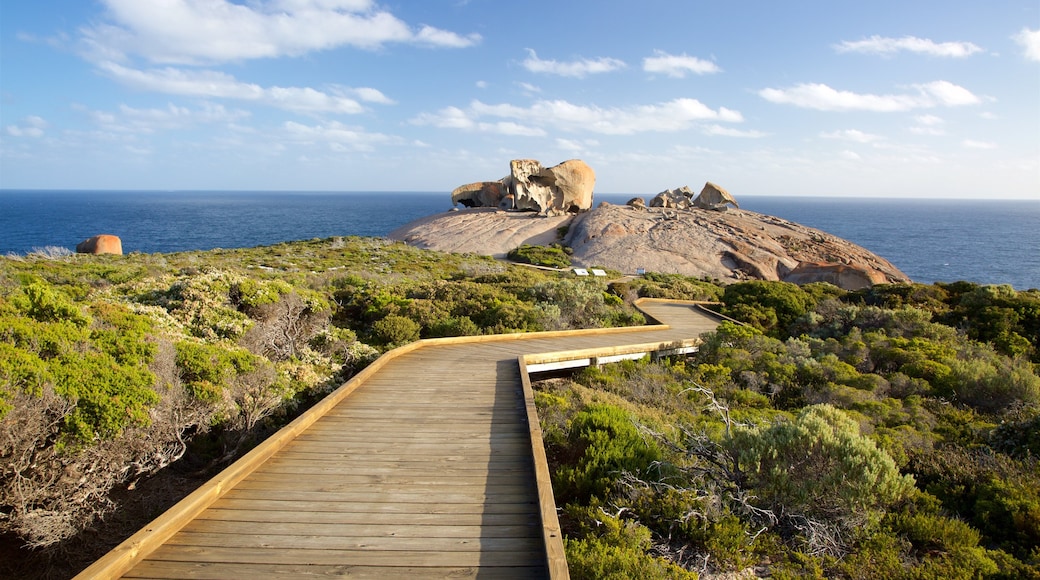 Book your Kangaroo Island holiday
Kangaroo Island Holiday Packages
Lying just off the coast of South Australia is an island where kangaroos and wallabies frolic without a care in the world, fine wine is made from some of the greatest vineyards around, and nature walks are taken daily. We're talking about Kangaroo Island, the third-largest island in the land of Oz.
What does all this chatter mean for you? It means it's time to stop fumdoodling around—you gotta book one of Wotif's amazing deals on Kangaroo Island packages now. We'll take bottles of Shiraz as payment.
Getting to & Around Kangaroo Island
Before booking one of our fantastic Kangaroo Island holiday packages, be sure to figure out the "where" and "how" of your destination. Getting to the island is as easy as taking a ferry service from nearby Cape Jervis. There's also the option to fly from the nearby city of Adelaide directly to Kingscote Airport (KGC), the main airport for the entire island.
Getting around can be a little difficult if you don't book Kangaroo Island car hire. There's no taxi service, but there is a bus service that can give you access to the entire island. Or you can go super-touristy and sign up for a tour.
Visiting Kangaroo Island
We hope you like to take bushwalks alongside creatures like kangaroos, wallabies and Australian sea lions, because there's a ridiculous numberof nature parks here. And when you go on Kangaroo Island holidays, you've got to explore a nature park. Whether that be Seal Bay Conservation Park, Flinders Chase National Park, Little Sahara or any of the others, just pick one! We don't care which.
It's about time you sample some of the area's finest. Finest what, you ask? Well, you can start with wine. Kangaroo Island is quickly establishing itself as one of Australia's top vino regions. Take your time sipping through glasses of shiraz, cabernet sauvignon and chardonnay. Once you're all hopped up on squashed grapes, head to Clifford's Honey Farm and dig into the freshest honey around. Seriously, they take you to a back room and pull the golden greatness right out of an active beehive!
When it's all said and done, you're going to have to eat something during holidays to Kangaroo Island. Make your way to the country pub known as Penny's Restaurant and order up the South Australia lamb cutlets or the sand crab lasagne. Holy cow, that sounds freaking unbelievable.
Back to the Mainland
Not only do we have phenomenal deals on trips to Kangaroo Island, but our Adelaide packages are unreal. A quick flight across the St. Vincent Gulf and you'll be roaming the streets of the capital city of South Australia in no time. Check out the South Australia Museum and the Port Adelaide Lighthouse for starters. All this and more on one trip? Yes, it's possible.
When the time comes for you to bail on your everyday responsibilities, Wotif has you covered. We've got the best offers on Kangaroo Island package deals and you'd be nuts not to take advantage of them. Browse, book, pack, and go have the time of your life. You've earned it.
Top Kangaroo Island hotels
Don't see what you're looking for?
See all available properties in Kangaroo Island
View all properties
Lowest nightly price found within the past 24 hours based on a 1 night stay for 2 adults. Prices and availability subject to change. Additional terms may apply.
Recommended cities for you