Top Christchurch holiday packages
4.0-star property
Ramada Suites Christchurch City
Christchurch City Centre
10 May - 14 May
4 night stay
Brisbane (BNE) to Christchurch (CHC)
Qantas Airways • Return • Coach
Price was AU$1,157, price is now AU$1,058 per person
Good location close to the CBD and local restaurants.
Reviewed on 5 Feb. 2023
4.0-star property
Strathern Motor Lodge
Merivale
10 May - 14 May
4 night stay
Brisbane (BNE) to Christchurch (CHC)
Qantas Airways • Return • Coach
Price was AU$966, price is now AU$893 per person
Really enjoyed our overnight stay here. Nice and quiet and the spa bath was lovely!
Reviewed on 25 Aug. 2022
3.5-star property
CentrePoint on Colombo Motel
Christchurch City Centre
10 May - 14 May
4 night stay
Brisbane (BNE) to Christchurch (CHC)
Qantas Airways • Return • Coach
Price was AU$978, price is now AU$905 per person
Friendly staff and a good location for going to an event at the Town Hall.
Reviewed on 12 Mar. 2023
4.5-star property
Fable Christchurch
Christchurch City Centre
10 May - 14 May
4 night stay
Brisbane (BNE) to Christchurch (CHC)
Qantas Airways • Return • Coach
Price was AU$1,167, price is now AU$1,082 per person
Great central location with an easy walk to the city centre. A great eatery lane next door.
Reviewed on 23 Feb. 2023
4.0-star property
Bealey Plaza Motel
Christchurch City Centre
10 May - 14 May
4 night stay
Brisbane (BNE) to Christchurch (CHC)
Qantas Airways • Return • Coach
Price was AU$1,055, price is now AU$980 per person
Very tidy, nice and modern property. We were there only very briefly but would have been happy to stay longer.
Reviewed on 11 Aug. 2021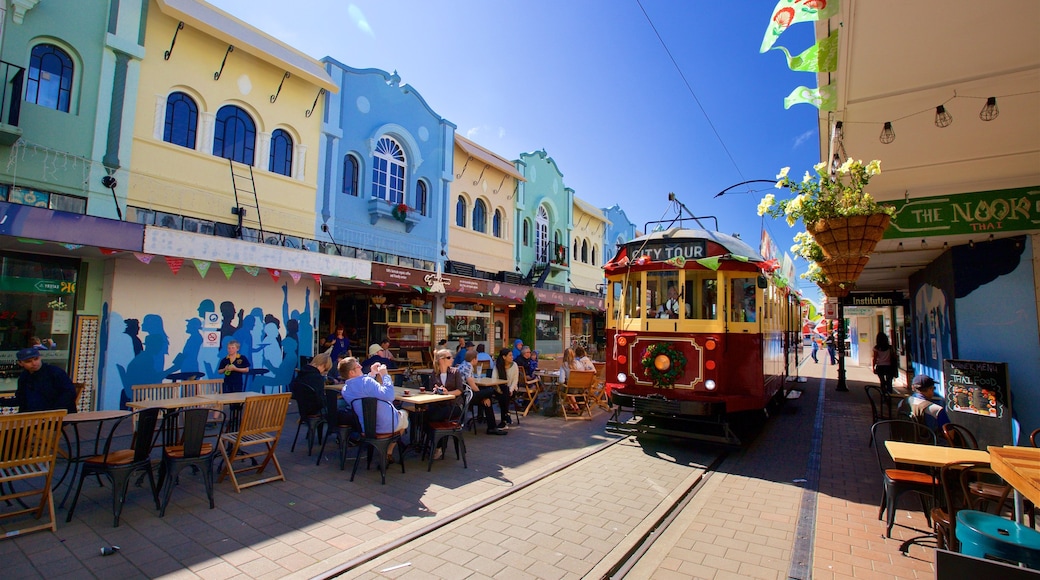 Book your Christchurch holiday
Christchurch Holiday Packages
Itching for an escape to New Zealand? Why bother going to Auckland when Christchurch has so much more to offer? Located just north of Banks Peninsula on the shores of Pegasus Bay, Christchurch is renowned for its astonishing terrain and culture. The largest city on the South Island and the third-largest in all New Zealand, the "Garden City" is an awesome spot for anyone looking to get away for a while. If you can't wait to run wild in this coastal city, check out our Christchurch holiday packages and start crafting your out-of-office email.
Get Cultured
You can ski, bike, surf and bushwalk—all in a single day—during one of our holidays to Christchurch. Whether you want to get in touch with your inner treehugger or earn an unofficial degree in local history, there's something for everyone in the quirky corner of Canterbury:
Wildlife and eco-tours: Looking for nature? You won't need to look far. This region is chockablock with flora and fauna living in one of the world's most beautiful landscapes. Hug a koala while on land, dive beneath the waves to make friends with Nemo, and hang out with more of the curious creatures that call this area home.

Art and galleries: If you're keen on discovering New Zealand's culture, Christchurch is brimming with art institutions and educational centres. The enormous collection at Christchurch Art Gallery is sure to wow you, while nearby Timaru's Aigantighe Art Gallery showcases some of the most incredible creations in the country, including English Victorian paintings and international works dating back to the 17th century.

Māori culture: Christchurch's Ko Tāne Living Māori Village at the Willowbank Wildlife Reserve lets you play a role in interactive experiences centred around the history, traditions and food of the Māori people.
Go Adventuring
If just lying around relaxing doesn't sound like your kind of holiday, don't worry—Christchurch has you covered. Here are a few selfie-taking opportunities that will give your mum quite the start when she sees them.
Fly through the sky: Thrill-seekers can choose between skydiving in Methven or bungee-jumping at Hanmer Springs, as each town is just an hour's drive from Christchurch. Looking for something a little tamer? Hop into a hot air balloon for an unforgettable view of the mountains, plains and Pacific Ocean.

Get wild on the water: Jet boat trips through the Waimak River Gorge are an essential part of the Christchurch experience, while sea kayaking offers a quieter way to explore the aquatic scene. Set off on a seafaring expedition to find blue penguins (yes, they're the cutest of all penguins no, you can't cuddle with them), or let the wind carry you above the water on a paragliding trip.

Adrenalin Forest: If you're not having fun unless your heart is pounding, here's the adventure for you. This high-wire attraction on the fringes of Christchurch challenges you and your companions to blast through more than a hundred elevated challenges while doing your best not to scream like an adolescent girl.
Wotif makes it easy to book flights and accommodation in Christchurch in the blink of an eye. And by snagging one of our Christchurch car hire deals, you can see the surrounding area on your own schedule.
So what are you waiting for? Browse our offerings, choose the Christchurch package that fits your budget, and send that out-of-office email to your boss. You've got a holiday to get to!
Top Christchurch hotels
Don't see what you're looking for?
See all available properties in Christchurch
View all properties
Lowest nightly price found within the past 24 hours based on a 1 night stay for 2 adults. Prices and availability subject to change. Additional terms may apply.
Recommended cities for you