If there's one thing you should know about Townsville, it's that there are SO many things to see and do while you're there. It's the gateway to the Great Barrier Reef, the largest city in Northern Australia and was named Wotif's Top Winter Destination for 2019 (320 days of sunshine a year will do that!). Not convinced? Here are five more awesome reasons to visit Townsville, North Queensland, ASAP.
1. The natural surrounds
Arrive into Townsville and the first thing you'll notice is how the city is framed by mountains, luscious greenery and crystal blue water. And you know what that means? There's no shortage of hikes, swimming spots and waterfalls to explore. No trip to Townsville is complete without a hike to the top of Castle Hill. The views of Magnetic Island (or Maggie if you want to sound like a local) are incredible. Try the Goat Track if you want something easy on the legs, it's just a 1.3km return trip.
Speaking of Maggie, you really haven't been to Townsville if you don't make the trip across the water to visit her. Thrillseekers will love zipping around the island in the topless cars, while those looking to take it a little slower will love all the walking tracks and hiking options along the coastline. Make sure you add the Forts Walk to your list of must-dos – it's one of the best places to spot a koala in the wild in the north of the country.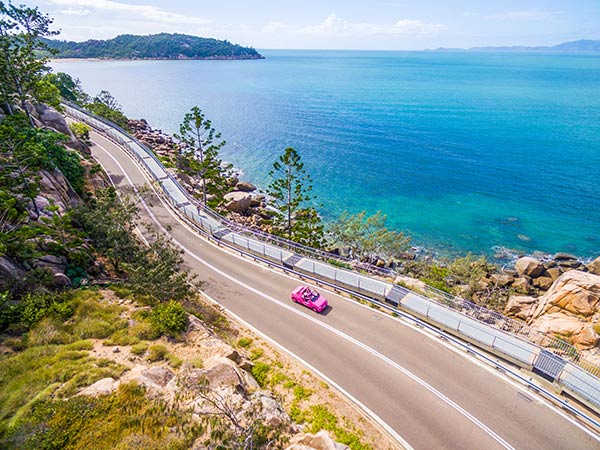 If fresh water is more your thing, then head inland to Crystal Creek at Paluma. As you can guess from the name, the water is crystal clear and it's the perfect all-year-round swimming spot, even on those chilly 27 °C winter days 😉
But it's not the only freshwater swimming spot. Jourama Falls is an hour north of town and the perfect spot to go camping, bushwalking or birdwatching. And if you're really lucky, you might just spot a northern platypus. They're much smaller than the ones found down south and a lot harder to spot. Look out for bubbles and ripples at the surface of the water.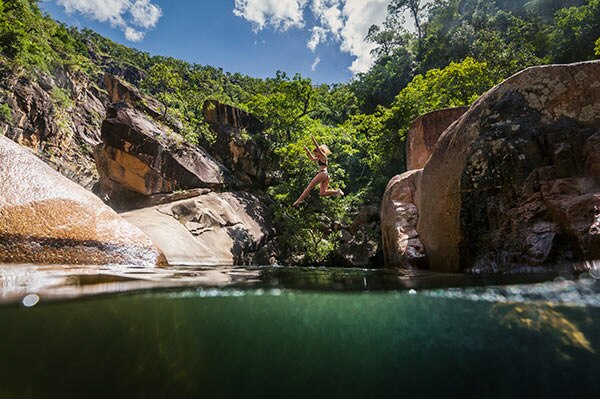 The natural wonders aren't limited to the outdoors, though. Reef HQ Great Barrier Reef Aquarium is the world's largest living coral reef aquarium and it's the closest you can get to the Great Barrier Reef without getting wet. It first opened in 1987 and was created to make the reef accessible and affordable, while also spreading the word about conservation efforts.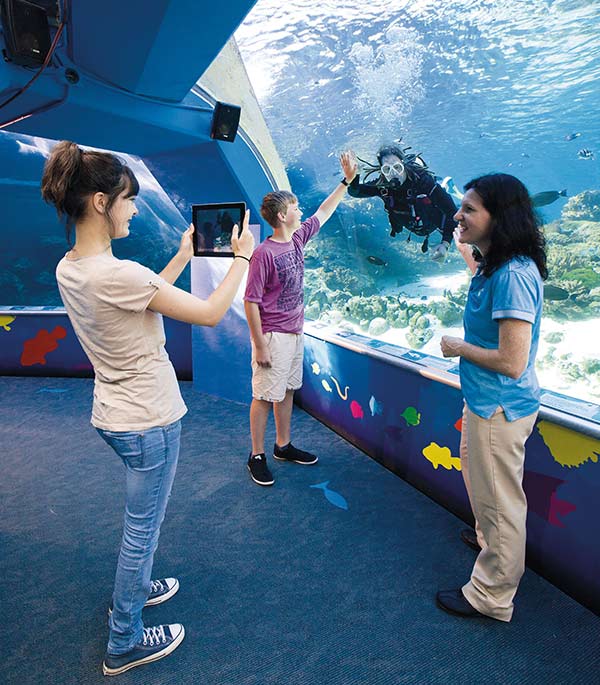 2. The local food and drink scene
Think the big capital cities have all the fun when it comes to dining? Nuh-uh! Townsville is emerging as quite the foodie hub. The locals can't get enough of City Lane & City Arcade, where you'll find a whole host of dining, drinking and retail therapy options.
Rock up to The Courtyard for Mexican cantina vibes, complete with street art, a retro beer garden and simple but delicious eats. Or if you're looking to chill out with a glass of beer, then you can't go past TapHouse. Their craft beers and tapas combinations will have you chatting, eating and drinking your way through the night. Bar-hoppers, head down the road to Flinders Street and take a seat at Hooch & Fellow. This cosy cocktail bar has been nominated for a number of national awards, including Regional Bar of the Year when it first opened in 2017.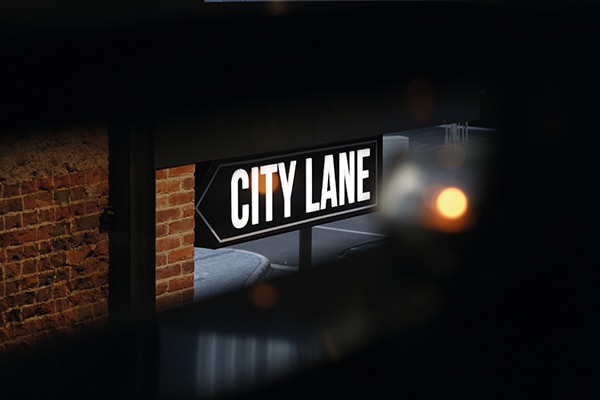 3. Hot spots to stay and play
Townsville is home to some stellar new hotels, with fantastic options for families, friends and couples. The recently opened The Ville Resort – Casino is a huge hit, with people eager to spend days lazing beside the infinity pool (with a swim-up bar, of course!). There are amazing food options too, with new restaurants Miss Songs and Palm House having just opened up and The Quarterback newly renovated.
If you want to party, then head to Rambutan. It's a backpacker's hostel, but the vibe is chilled, the drinks flow and it's the perfect place to sit with a bevvie on a Sunday afternoon. Oh, and did we mention they have a pool area you'll want to write home about? Well, we have now.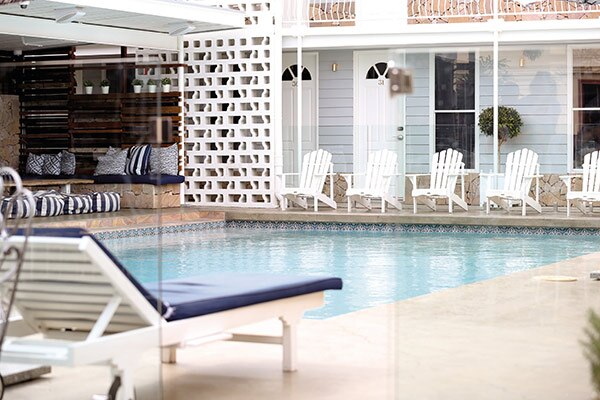 For something a little more relaxed, check out The Brewery. It's home to Townsville's very own brew, The Townsville Bitter. Grab a tasting plate and kick back with your favourite cold one.
And we can't mention Townsville without talking about The Strand. It's the heart of the city, with a golden beach, a water park, barbecues, cafes, exercise equipment and enough green space for even the most energetic kids to tire themselves out.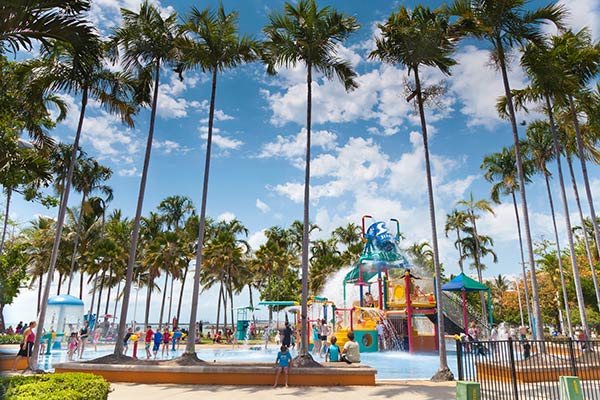 4. Amazing sporting events
If you're a fan of the North Queensland Toyota Cowboys, then welcome home. Not only can you catch their home games in town, but in 2020 you'll be able to watch the team play in their very own stadium, right in the heart of the CBD. Artist impressions of the future North Queensland Stadium have already been released. Go Cowboys!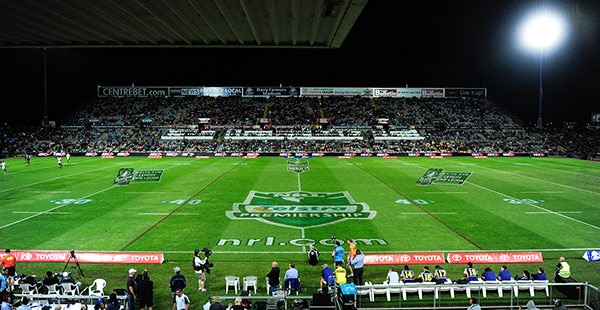 NRL not your game? No problem! Townsville has heaps of other sporting events to take your pick from, including the Supercars Watpac Townsville 400, the McDonald's Townsville Running Festival and the Intersport Townsville Triathlon and Multisport Festival, to name just a few.
5. The weather
If all of those points aren't enough to convince you that Townsville is awesome, then we have six words for you: 320 days of sunshine every year. That's right, Townsville's weather is fantastic. In fact, it's so fantastic that our Winter Heat Index named Townsville the No. 1 winter destination for 2019. The index looked at other factors too – like affordability, traveller interest and positive customer reviews – so you know Townsville is a serious winner.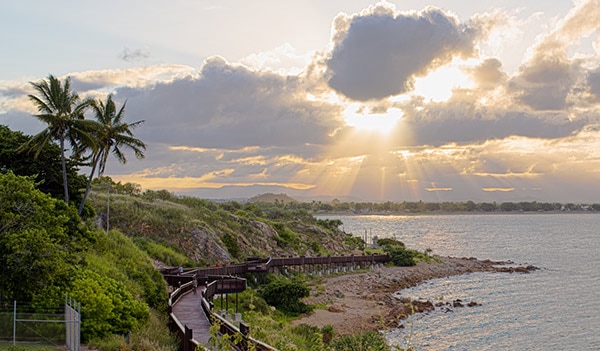 So, what are you waiting for? Start planning your Townsville getaway today!
PLAN YOUR TOWNSVILLE GETAWAY