It's enough to give even the most seasoned traveller chills down their spine – the dreaded missing luggage.
That sinking feeling when the last, lone bag trundles around the carousel for the 14th time and you resign yourself to the fact that yours isn't going to suddenly appear behind it.
The good news is this scenario is becoming less common every year. In fact, airline information technology company SITA has found that baggage mishandling incidents have dropped 70% since 2007. These days, fewer than seven in 1000 bags go AWOL. That means there's only a 0.07% chance of your bag going missing – and even then, by the time you realise, it's often already on its way to you.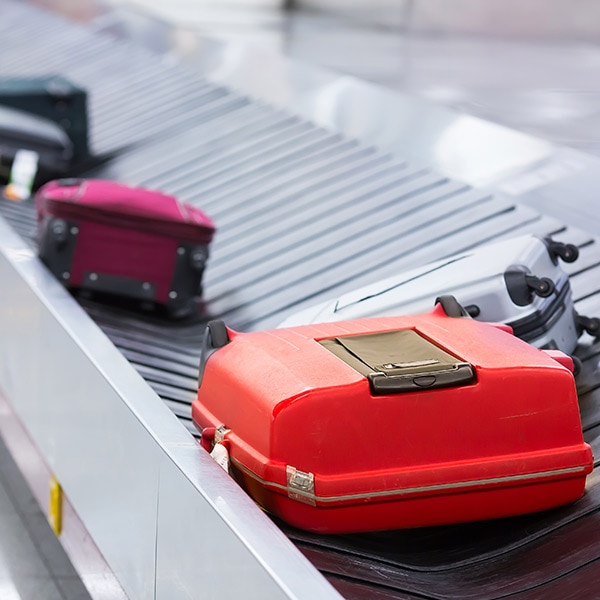 But what if you're unlucky? What do you do if your bag goes missing? Relax, take a deep breath and…
1. Don't panic
In most instances, you and your bag will be reunited – and often pretty quickly.
If it turns out your luggage is in the same airport terminal, it could be with you in a matter of hours. If it simply missed a connection, it could be with you the next day (or whenever the next flight is).
However, if your bag has gone on another flight, you might have to wait anywhere from 48 hours to five days for it to be found and sent to the correct destination. Which is why it's always a good idea to pack your most important or valuable items (like prescription medication or jewellery) in your carry-on bag.
2. Report your missing bag to your airline
Your airline is your first port of call as soon as you've realised your bag is missing. Go straight to their info desk and ask for help.
You'll need to lodge a Property Irregularity Report, or PIR. It's best to do this straight away, before you've left the airport, as trying to claim a missing bag later, without a PIR, can be a major battle (which could mean saying goodbye to your bag for real). If you've been on multiple flights with multiple airlines, you'll need to lodge the PIR with the airline from the final leg of your journey.
Legally, you have up to 21 days to lodge your PIR. But it's best to get the wheels moving ASAP – the sooner you claim, the sooner you'll get your bag!
If your bag definitely isn't at the airport and you have to leave without it, you may need to buy some essentials. Many airlines offer care packs and vouchers to help cover the cost – ask yours if they can help.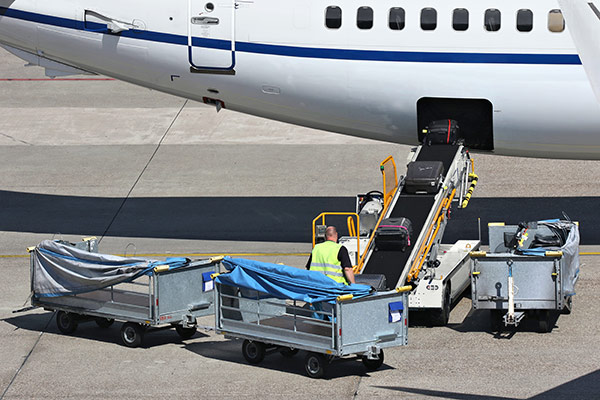 3. Wait 21 days
As mentioned above, most missing bags are quickly located and returned. But in the rare instance that your luggage is truly lost, you'll need to wait three weeks (21 days) for the status of your baggage to change from 'delayed' to 'lost'.
In this unlucky (and, as we've already said, increasingly rare!) situation, you can then claim for compensation. There are a couple of ways you can do this, starting with…
4. Claim compensation from your airline
Yep, your airline will compensate you if your bag is well and truly lost – although perhaps not as much as you'd hope (which is why you should always get travel insurance). For Australian domestic flights, compensation payouts are capped at $160 AUD for cabin baggage and $1600 AUD for checked luggage.
For international flights (both into and out of Australia), the cap is $1735 AUD, which covers both checked and carry-on bags. Airlines have two years to pay these claims, although they usually pay them much sooner.
If you lose your bags overseas on a flight that didn't leave from or arrive in Australia, you have 21 days to write to your airline to lodge a claim. Compensation payments for these claims are capped to bit over $2000 AUD.
5. Lodge a claim with your travel insurance
$1600 AUD might sound like a lot, but the cost of a new suitcase, a few good outfits and an electronic device or two all adds up. Luckily your travel insurance should cover the gap between your airline's compensation and the actual value of your luggage. But a heads-up for future trips: Different insurers and policies have different limits. Shop around to make sure you pick the best one for your needs.
Another big plus of travel insurance is that it'll usually cover you for any urgent essentials you need to buy while your bag is missing (whether it's returned to you later or not). Keep a record of and receipts for anything you need to buy. One easy way to do it is to take photos on your phone.
Losing your bag can be a pain, but the odds are you'll soon be reunited. Don't let what is probably a temporary inconvenience spoil your trip. Get out there and make some memories!
PLAN YOUR NEXT GETAWAY