Updated at 12pm on 1 April 2019.
Sorry, tall friends! Emu Airlines is nothing more than an April Fools' Day joke. We hope you found it emusing 😜
Scroll down to the bottom of this post for some real airlines that have all your tall-travel needs covered.
Like the rest of Australia, we here at Wotif love Big Things. Whether they're Big Pineapples, Big Bananas, Big Rams or Big Melons, we can't get enough of them. But when it comes to travel, there's one larger-than-life group that we think has been shamefully neglected – and that's tall people.
But not anymore. Today Wotif is proud to launch Emu Airlines – the world's first airline catering exclusively to tall travellers.
Wotif Managing Director Daniel Finch believes the situation currently facing vertically gifted travellers is "the height of injustice". He says:
"Whether it's having their knees crushed by the seat in front of them, having to fake-laugh at endless 'You should have been a basketball player' jokes, or being asked to put EVERYONE'S bags in the overhead compartment, flying can be a real nightmare for our tall friends. Today, with Emu Airlines, Wotif says no more!"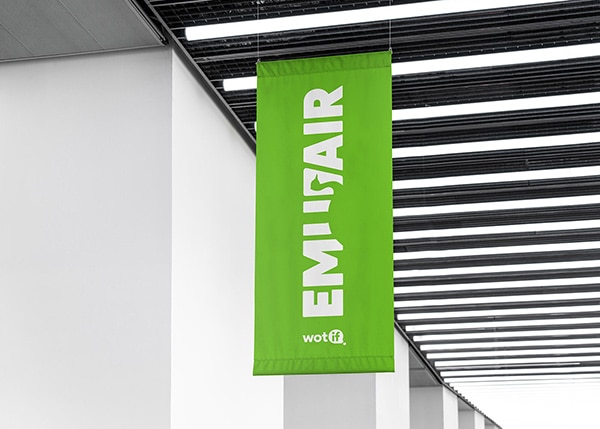 Sky-high traveller Grant Alto admits that when he first heard about Emu Airlines, he thought it was a tall tale. We had an uphill battle trying to convince him the lofty idea was actually happening. But when we finally did, he became quite emu-tional.
"Like a real emu, I thought I was just too tall to fly. Emu Airlines has given me back my wings!"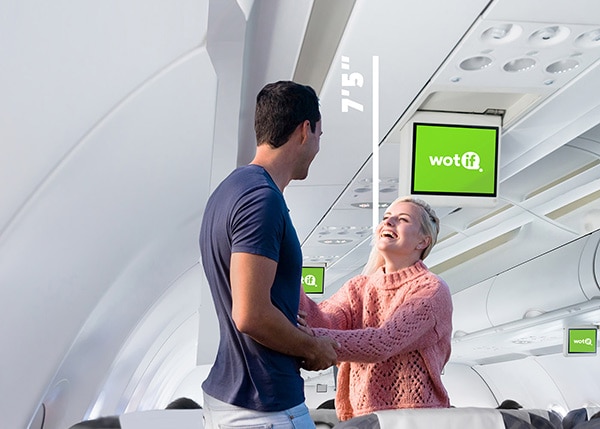 With Emu Airlines, Wotif is really raising the bar for air-travel comfort. We're lifting the one-and-a-half-mile-high game with:
Two classes: budget-friendly Emuconomy seats and luxurious Daddy Long Legs double suites (which include two premium-sized seats that can be folded down together to create a king-sized bed 😲)
Non-squishy seats! Emuconomy offers 101.6cm of pitch between rows (usually around 78cm) and extra tall seat backs with built-in travel pillows for enhanced neck support. They even come with double-wide armrests, which means no more silent battles for elbow room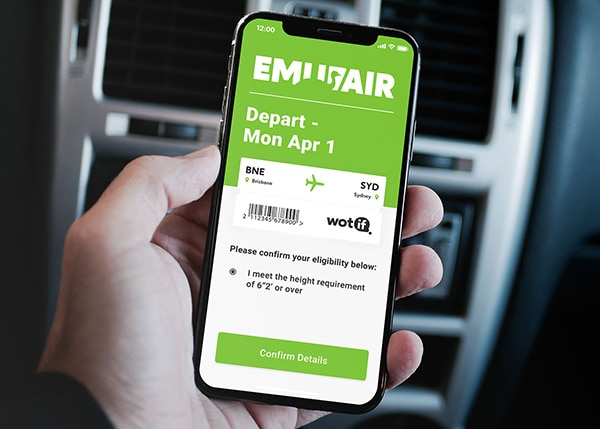 A minimum 33kg luggage allowance and no restriction on bag size (to accommodate bigger shoes and longer pants)
Ensuite-size bathrooms with proper sliding doors (which will be music to the ears of anyone who's ever been trapped by those cruddy fold-in ones 🙋)
Indulgent (and inspirational) 'Reach for the Stars' care packages with XL compression socks, 600ml bottles of water and full-size chocky bars (because "fun" size isn't fun for anyone)
Complimentary on-board yoga and massage for stretching out tired muscles – perfect for long flights (and long limbs)
Tarmac boarding via the 'Stairway to Heaven' – a specially designed set of airstairs with an impressive 26.67cm rise between steps (because your long legs don't need little baby steps, thank you very much)
Wotif's Emu Airlines will begin taking bookings at midday today for travel up until 29 February 2021. Accept no emutations!
The real deal
Alas, Emu Airlines is just an April Fools' joke. But here are some real airlines that have got your back for when you want a bit of extra room.
Virgin Australia
Book an Economy X seat on one of their B777-300ER aircrafts for 38 inches (96.52cm) of pitch and 18.5 inches (46.99cm) of width. Or fly Premium Economy for 41 inches (104.14cm) of pitch and 19.5 inches (49.53cm) of width.
Hawaiian Airlines
Start your Hawaii getaway in style with a flight on one of Hawaiian Airlines A330neo, Asiana or LATAM A350-900 aircrafts. Their standard economy seats come with 36 inches (91.44cm) of pitch and 18 inches (45.72cm) of width.
Japan Airlines
Talk about comfy! Fly Premium Economy with Japan Airlines for 42 inches of pitch (106.68cm – even more than our made-up Emuconomy) and 19 inches (48.26cm) of width.
Air New Zealand
Another great option for vertically gifted travellers. Fly Premium Economy with Air Zealand for 41-42 inches (104.14-106.68cm) of pitch and 18.5-20 inches (46.99-50.8cm) of width, depending on whether you end up on a B787-9 (Dreamliner) or a B777-300.
Check out all of our top flight deals here.