Lord Howe Island. An idyllic South Pacific island that's only a two-hour flight from Sydney or Brisbane, will captivate you with its jaw-dropping natural beauty and show you a side of Australia that's unlike anything you've ever seen. Giant, luscious green mountains, turquoise waters and spectacular snorkelling and diving are just a few reasons to visit this slice of paradise. Here are seven must-dos.
1. Go hiking
Lord Howe Island is famous for its fantastic hikes and anyone who loves getting off the beaten track will be in heaven here. Travellers flock from all over the world to tackle Mount Gower – Lord Howe Island's signature trek, which is rated as one of Australia's best day walks. It's not for the faint-hearted, though – the return journey can take up to 10 hours and it must be done with a guide. The 14km hike will take you up to 875m above sea level and through a pristine natural environment that includes a cloud forest and the chance to see unique flora and fauna that don't exist anywhere else in the world. The views from the summit are breathtaking and on a clear day you can see out over the whole island and the lagoon.
If smaller, self-guided walks are more your style, then don't worry, there are plenty of those too. Malabar Ridge is a great choice for an early morning walk and takes you up to Kim's Lookout, with views across the lagoon to the twin peaks of Mount Lidgbird and Mount Gower. Goat House Cave, Intermediate Hill, North Bay and Old Gulch are some of the most popular trails, with options to suit most fitness levels and abilities. Just remember to bring plenty of water and make sure you wear sturdy footwear. But don't worry about snakes – there are none on the island.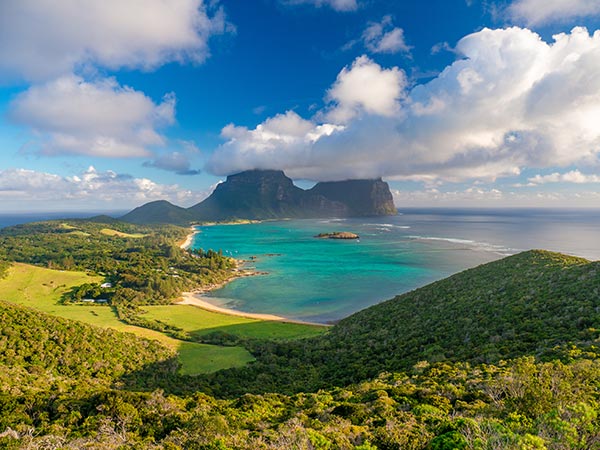 2. Feed the fish at Ned's Beach
After working up a sweat on one of those hikes, you'll want to cool off with a dip and Ned's Beach is just the spot! Only a 5-minute bike ride from the main lagoon, Ned's crystal-clear waters are home to schools of mullet, wrasse, garfish and drummers. With a food dispenser on the beach selling small containers of nutritional pellets, the fish will be waiting eagerly for you to feed them. As soon as your toes hit the water, they'll be right at your feet and don't be surprised if they swim between your legs. There's also snorkelling gear for hire via an honesty box system and it's well worth it, with stunning coral gardens just a short swim from shore.
3. Go snorkelling and diving
With the world's southernmost coral reef ecosystem surrounding the island, there are plenty of incredible snorkelling and diving spots at Lord Howe. There's something for everyone, with Pro Dive Lord Howe Island running everything from intro scuba diving classes in the lagoon to private diving tours of the world-famous Ball's Pyramid.
Lord Howe's unique location at the meeting point of five major ocean currents – including the East Australian Current (yes, the one from Finding Nemo) – means that many of the tropical species you'd find on the Great Barrier Reef can also found here. In fact, more than 500 species of fish and over 90 types of coral live in this underwater paradise.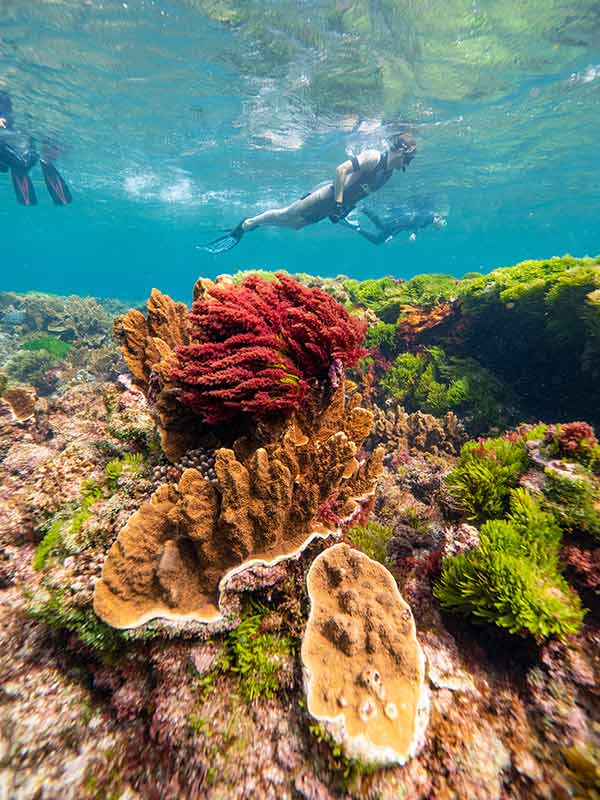 4. Cycle and swim at one of Australia's best beaches
Grab your towel and jump on your bike, 'cause there are 15 beaches to explore! Bikes are the main mode of transport on the island and most of the beaches are easily accessible on two wheels, so it's a great way to do some beach hopping.
If cycling isn't your thing, hire a kayak or stand-up paddleboard to find your own quiet, sandy hideaway spot. Make sure you check out Blinky Beach near the airport runway for its famous waves and turquoise waters.
5. Eat and drink
It's easy to find fantastic food and wine on Lord Howe, with everything from the famous local fish fry to fine dining. Many hotels also have restaurants, athough some are only open on select evenings, so reservations are a must. Check out Anchorage Restaurant (breakfast, lunch and dinner, seven days a week) for modern Australian cuisine using incredible local produce, Beach House on the Moon (Mondays and Fridays, dinner only) for a fantastic fish-fry buffet, or Greenback Eatery (Mondays and Thursdays, dinner only) for fresh fish caught by the restaurant's own fishing boat!
Feel like something simple? If you're staying in an apartment or villa, pop down to the general store and grab a few supplies to cook up a delicious meal. Or make the most of the amazing sunsets and pack up a picnic to enjoy dinner overlooking the lagoon.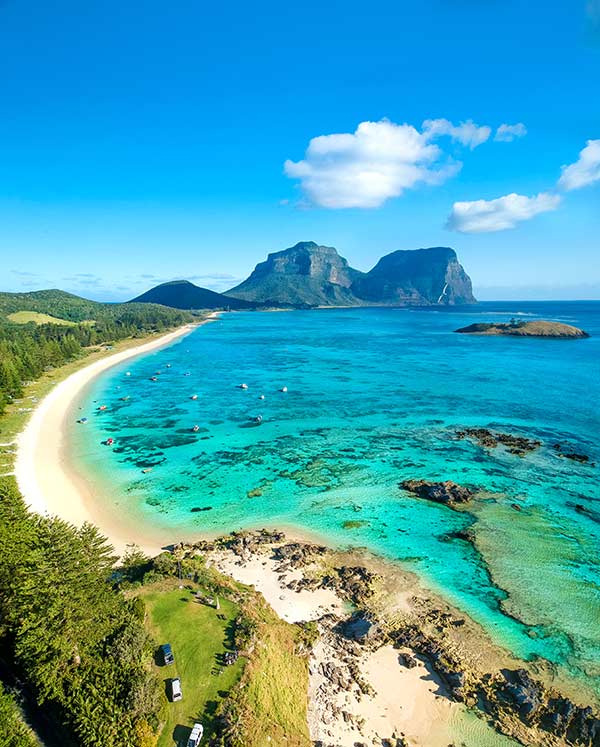 6. Visit the Museum and join a guided nature tour
Lord Howe's remote location in the Tasman Sea has blessed it with many unique natural attractions and extraordinary beauty. Because of this, it was listed as a UNESCO World Heritage property in 1982. Lord Howe Island Museum pays homage to this pristine environment, with displays showcasing everything from the volcanic origins of the island to the history of its early settlers, as well as information on the local flora and fauna. The museum's curator, Ian Hutton, also runs tours and it's a great opportunity to learn about the island first-hand from a local legend who's lived there for over 30 years.
7. Swim with turtles
Some of the world's friendliest turtles live in the waters around Lord Howe Island and there are a couple of great ways to see them up close. Islander Cruises run regular snorkelling and glass-bottom-boat nature tours at North Bay – a popular hangout spot for hawksbill, loggerhead and green sea turtles. You'll usually find them either snoozing on the sea floor or cruising through the bay's stunning coral gardens.
Old Settlement Beach is also popular with turtles and the best time to spot them is when the tide's coming in. You won't have to go far to see them as they're usually just grazing on the sea grass in the shallows.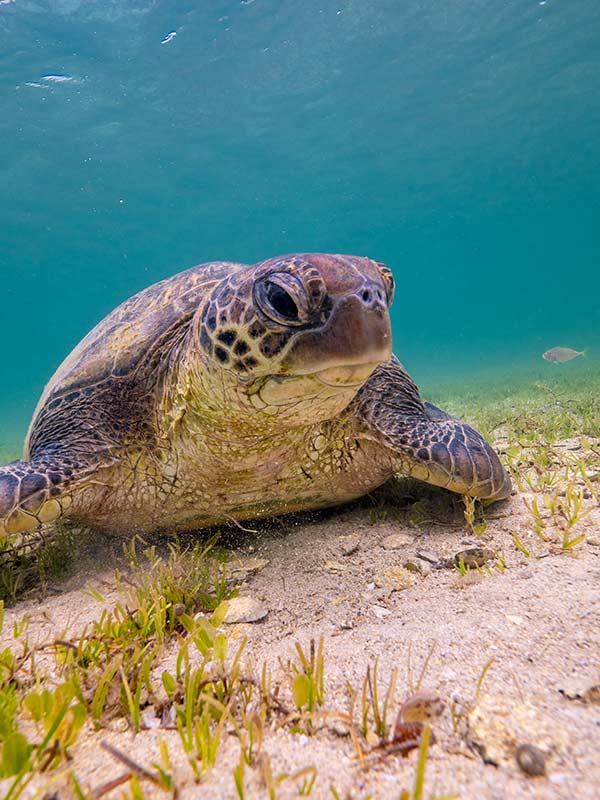 PLAN YOUR LORD HOWE ISLAND GETAWAY