Melbourne is home to incredible coffee, street art, foodie spots and also the coolest street in the world (it's Smith Street in Collingwood, in case you were wondering). It's also a great spot for a holiday and there are plenty of ways to experience the city without breaking the bank. Here are 18 of our fave cheap (and free!) must-dos.
1. Munch a bánh mì from Trang's
Wander down to Trang Bakery and Cafe at 382 Smith Street in Collingwood (the coolest street in the world, remember?) and nab one of the best bánh mì in the city. From the crispy pork roll to the vegan duck, there's something for everyone and all for around $7!
2. Have a lol for free
Comedy is huge in Melbourne and belly laughs don't have to split your wallet. Head to Spleen Bar on Mondays, where big comedy acts try out new material or upstairs at Bobbie Peel's on Thursdays.
3. Snap some awesome laneway art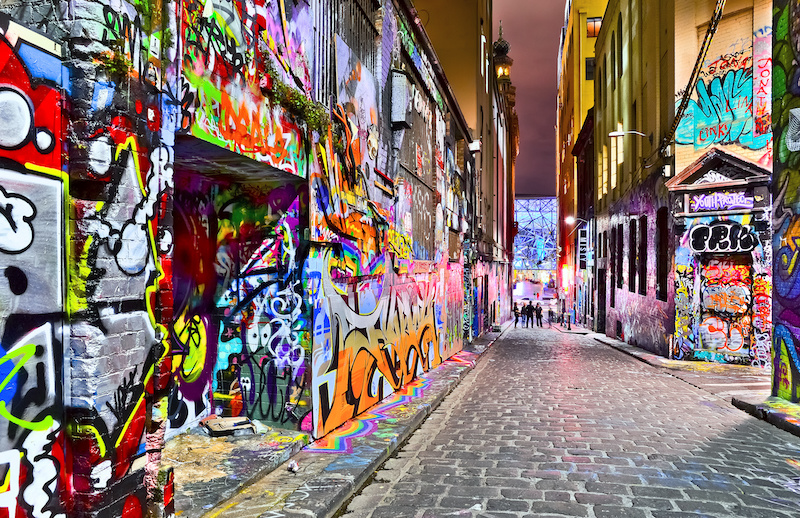 Have you even been to Melbourne if you haven't spammed your Instagram friends with dozens of cool laneway pics? Check out Hosier Lane, Union Lane and Degraves Street for some of that iconic Melbourne graffiti art the city is famous for. You might even spot a Banksy!
4. Scoff a dim sim from South Melbourne Market
We're not talking about any old dim-sim – oh no. The dimmies from South Melbourne Market are cricket-ball-sized and have been around since 1949. They're best enjoyed doused in chilli and soy sauce (yum!) and it's only $12 for a pack of six if you want to take some home. A wander through the famous market is pretty good too.
5. See some (more) art
Melbourne has some incredible free gallery spaces to explore. Check out the National Gallery of Victoria and the cinematic ACMI for a start!
6. Have a bite in Chinatown
Head to Chinatown for some of the best dumplings in the city. There's a great Chinese Museum and some cool hidden laneway bars too.
7. Say hi to the penguins at St Kilda Pier
All through summer, when the sun goes down, you might be lucky enough to spot the cute little penguins who nest among the rocks at St Kilda Pier. A walk along the beach is pretty lovely too.
8. Wander around (with a guide)
Head into the city and join one of the I'm Free walking tours to get the inside scoop on Melbourne's history from an experienced tour guide. There's no obligation to pay anything at all, but you can pay your guide a tip at the end to say thanks for a great couple of hours.
9. Grab a coffee at Patricia's
Melbourne has so many great coffee spots, but Patricia Coffee makes our list for it's oh-so-Melbourne, hidden-down-a-laneway cred. It's also just damn good coffee served up three ways: white, black or filter.
10. Stroll through the retail arcades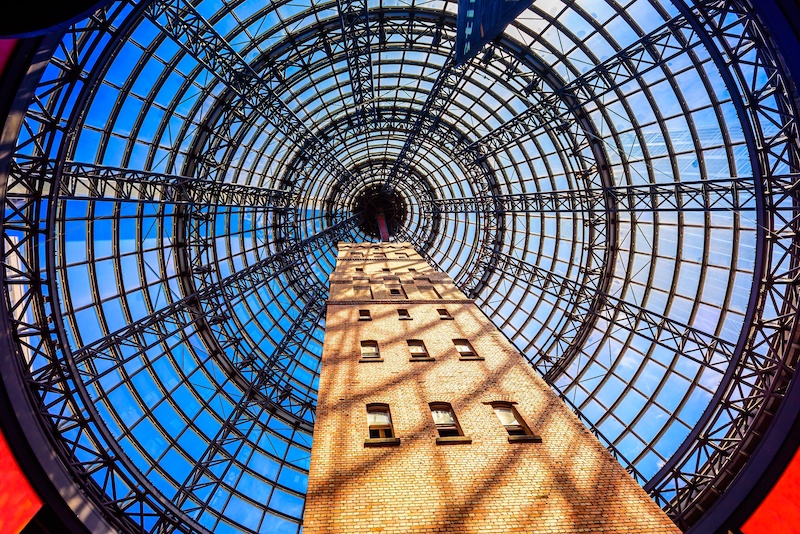 Sure, shopping is pricey, but window shopping is free! You can wander through The Strand, The Block or The Royal Arcade, or take some pics in Melbourne Central (the Coop's Shot Tower – a 19th-century building inside a modern shopping centre – is a must-see). And maybe pick up a coffee along the way –  hey, you are in Melbourne.
11. See fabulous shows five nights a week
Melbourne is home to some fantastic drag shows! Check out Mollie's Bar and Diner in Fitzroy – a local fave. There are shows five nights a week, with everything from drag bingo to drag roulette. Don't miss Babydrag on Thursday nights – your chance to support (and be wow-ed by) Melbourne's best new and emerging drag talent.
12. Visit the Collingwood Children's Farm
Spend some time on a working farm just 4km from the CBD. Collingwood Children's Farm offers your kids the chance to feed a goat and meet a farmer. Kiddos under two get free entry, plus the farm is right next to Abbotsford Convent (and pay-what-you-feel vegan restaurant Lentil as Anything).
13. Live large (literally!) in the miniature village at Fitzroy Gardens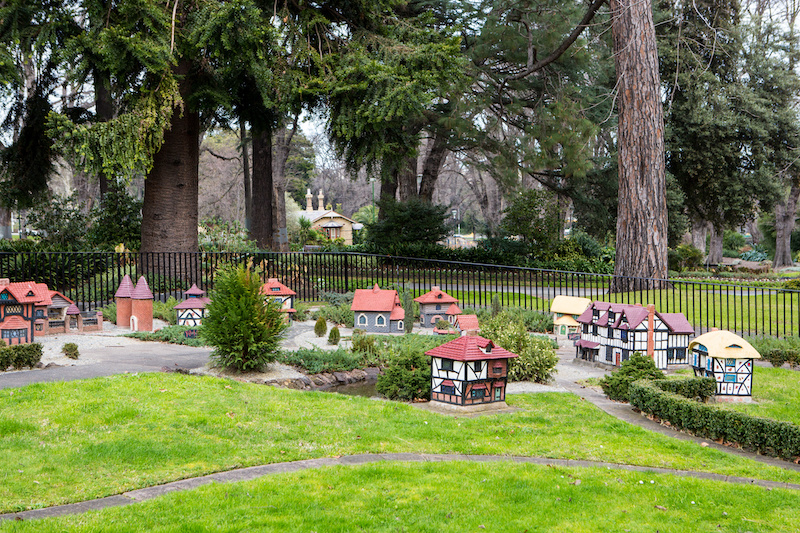 Most Melburnians don't even know about the tiny Tudor village in Fitzroy Gardens made up of 28 teeny concrete buildings. The Instagram opportunities to look like a giant are too good to pass up!
14. Hit an epic nature playground
Nature Playground Royal Park has all the good stuff to keep kids busy – we're talking slides, monkeybars, ropes, a water play area, and more. There's even a metal skeleton of a dinosaur! It's best suited to kids over five. And a little heads-up – there's loads of sand and opportunities for mess, which the kids will love, but you might want to pack a towel and a change of clothes 😉
15. See a pink lake
Westgate Park in Port Melbourne is a lovely spot for a picnic – but it's even lovelier in summer when the salt lake turns pink! The park is a green (and pink) haven hidden in an industrial area, and it connects to the 53km Bay Trail – a must-do for keen cyclists and joggers.
16. Check out the Brighton Boxes (and the beach)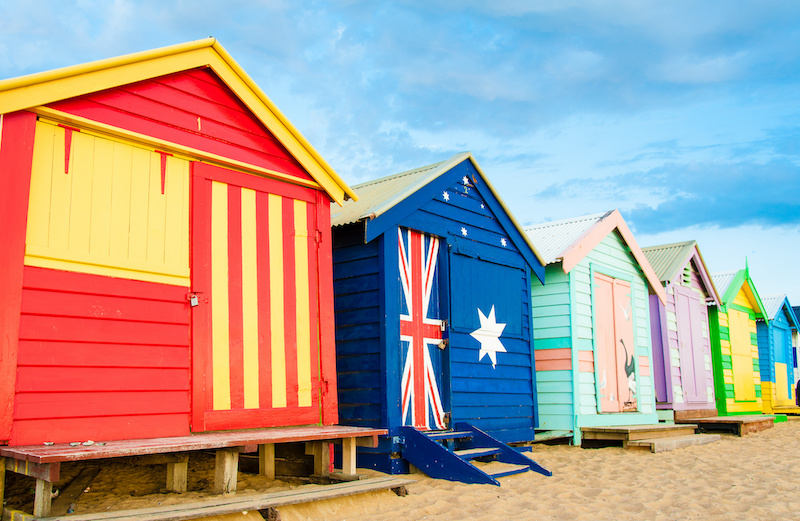 The 82 brightly painted wooden beach huts at Brighton Beach are a must-see (and must-snap) for anyone visiting Melbourne. They're also hot property – one recently sold for $340,000, which is not bad for a little shack! And, of course, the beach is wonderful too.
17. Walk the Golden Mile
Download the Museums Victoria app, pop in your headphones and take a 4km self-guided tour around the city. There are 33 gold discs to find, each relating to an historical site. Each stop has its own detailed text, audio commentary and historical pics which tell the stories of the characters, businesses and architecture that have shaped Melbourne and Victoria.
18. Mabu Mabu (help yourself) to some saltbush damper
Stop by Federation Square in the centre of Naarm (the traditional name for Melbourne) to visit the Koorie Trust Heritage. It's free to visit and there's always an awesome event or exhibition to check out. Afterwards, head to Indigenous-owned Big Esso to try the saltbush damper with golden syrup for a tasty $9. The whole menu is an expression of the chef's Torres Strait Islander heritage (they're part of the Komet Tribe of the Meriam People of Mer Island) and everything is delicious 😋
PLAN YOUR MELBOURNE GETAWAY
Heads up! Due to COVID-19, government restrictions are in constant review and travel guidelines may change. We strongly recommend that all travellers seek further information about destinations and attractions before scheduling trips or making bookings, take extra care and follow all rules.