A silver lining of COVID life? It's given me a deep appreciation for trying new things. Fresh recipes to cook at home? Absolutely. A drop of binge-able Netflix shows? Send them my way. At-home yoga sessions I haven't tackled yet? Sign me up!
Now that life is returning (knock-on-wood) to the new normal, I'm more excited than ever to take my love for untried experiences outside my apartment. And lucky for me, my hometown of Sydney is really coming to the party with a stack of new spots for eating and drinking (two of my favourite hobbies 😉) as well as things to do and places to explore. Here are 12 top tips for the latest and greatest things Sydney has to offer.
View this post on Instagram
1. The new must-see show… Hamilton
It's not over-stating it to say that Hamilton, the iconic musical based on the life of American Founding Father Alexander Hamilton, is reason enough on its own to plan a Sydney trip. With the lights out on Broadway and the West End, Sydney is the only city in the world where this award-winning extravaganza is currently being brought to life (go us!). You don't want to miss your shot at being in the room where it happens (the Lyric Theatre if you're wondering) in the greatest city in the world. Lyric puns aside, the show is world-class and the catchy hip-hop soundtrack is guaranteed to be stuck in your head for weeks to come.
View this post on Instagram
2. The new Italian restaurant you go to when you can't go to Italy… a'Mare
Ormeggio at The Spit has long been one of the best waterfront dining spots in town so when it was announced Executive Chef Alex Pavoni was opening a new outpost at the brand-new Crown Sydney precinct, expectations were high. And after spending a delightful Sunday afternoon at newbie a'Mare, I can confidently say it lives up to the hype.
Dining out feels extra special after the year that was 2020 but a'Mare takes it to the next level with its polished yet friendly service, luxe fit-out (just try to resist taking a selfie in the fancy bathrooms) and sparkling water views.
Insider tip: It's hard to go wrong with anything on the menu but if you're dining as a couple, I suggest ordering from the 'pasta e risotto' section and have the dishes come out one at a time to share.
a'Mare prides itself on table side service for a number of its dishes and the signature trofie al pesto ($35), made to order right before your eyes is a must, both for the entertainment value and for your tastebuds! Squid ink lovers will also be wowed by the risotto nero e bianco ($45).
View this post on Instagram
And finally, the tiramisu al cucchiaio ($18) is a given – you 100% need to save room for this creamy dessert heaven.
View this post on Instagram
3. The ultimate outdoor lover's walk… Bondi to Manly
Everyone knows about the famous Bondi to Bronte walk but have you heard of the Bondi to Manly? This epic coastal and harbourside walking track connects Sydney's two most famous beaches. At 80km in length, this isn't your average stroll, but you can dip in and out at whichever starting point takes your fancy or tackle it over a couple of days. Major bragging rights if you do it from start to finish!
View this post on Instagram
4. The new best scrambled eggs in town… Piña
Bills might have held the crown for the best scrambled eggs in Sydney for years but I'm calling it: newcomer Piña is the new king of this fave brekkie dish in the harbour city. The latest offering from the team behind popular Potts Point cafe Room Ten is located opposite its big sister in Llankelly Place and if the crowds are anything to go by, this is THE place to do brekkie. Order the scrambled eggs with chilli oil and a side of avocado ($16 + $6) and prepare to be wowed. Bonus points for the super friendly team and speedy service – they run a well-oiled machine here, so don't let the lines put you off.
View this post on Instagram

Insider tip: While you're in Potts Point, be sure to do a spot of shopping. Potts Point Bookshop is a personal favourite.
5. The new CBD bar that will entice you back to the city… Vini Divini
"At a time when people are craving connection and overseas holidays have been put on hold, Vini Divini Wine Lab is bringing people together to celebrate the simple pleasures, spark conversations and transport oneself to the sweet life – 'la dolce vita' – with the opening of this small Mediterranean wine bar." I couldn't have said it better than their website!
A bar that takes their food just as seriously as their wine has a very special place in my foodie heart and Vini Divini delivers on both fronts.
View this post on Instagram

Come here for the interesting Mediterranean wines you're unlikely to sample elsewhere – the Greek wines we try are exceptional. And to order? Well, I'd go with pretty much everything on the menu. Seda's babaganoush ($9), the heirloom tomato, basil, buffalo mozzarella ($16) and wagyu bresaola ($13) are all perfection. But it's the personable service from owner Philippe Gilbert and his team that will have you returning time and time again. And maybe that babaganoush 😉
View this post on Instagram
6. The new little taste of Korea in Chippendale… JungSung
The Chippendale dining precinct is always full of surprises and newly-opened JungSung aims to be a pleasant one with its take on contemporary Korean cuisine. The dishes are inspired by Chef InSup Kim's past experiences working in Michelin-starred restaurants in New York. Settle in and enjoy the four-course menu ($85 plus $50 with matching wines). If you're lucky, the melt-in-your-mouth Berkshire pork will still be on the menu.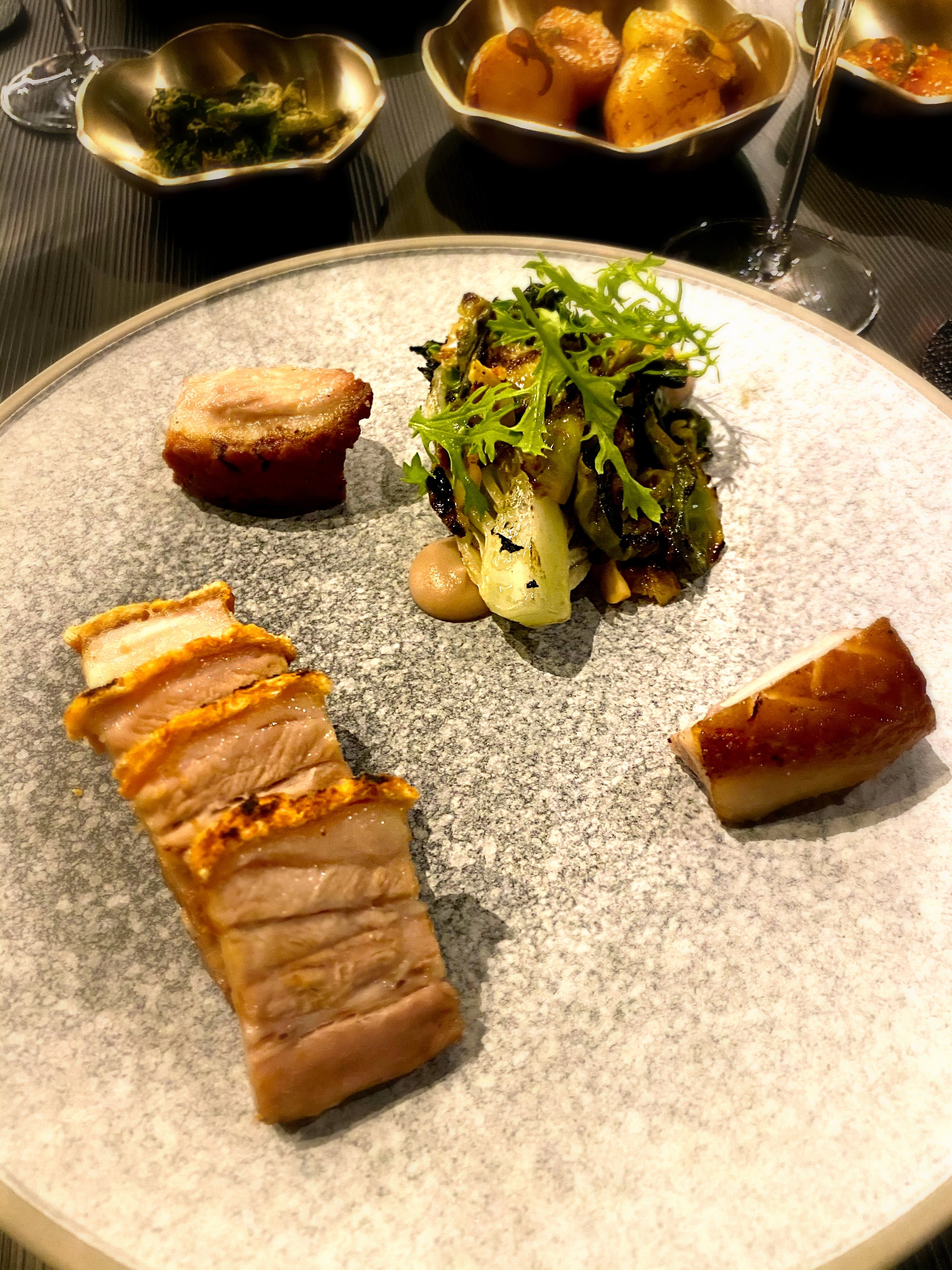 7. The new nostalgic bakery you didn't know you needed in your life… Humble Bakery
Was I craving an old-school pink finger bun before the cult Humble Bakery version started popping up all over my Instagram feed? Can't say I was! But I'm sure glad I was tempted into trying it because this not-so-humble bakery is a real winner. The finger bun ($6.50) is a must but you'd be crazy not to try the cinnamon bun ($6) and carrot cake ($10) while you're there too.
If savoury is more your thing, the mushroom toastie ($16) is salty, carby, crispy, chewy deliciousness.
View this post on Instagram
8. The new bottle shop that's like a candy story for wine lovers… P&V Wine Merchants
Newtown locals have long been fortunate enough to have natural wine specialists P&V Wine Merchants in their hood and now it's Paddington's turn. The two-in-one wine bar and bottle shop from Sydney wine scene powerhouses Mike Bennie and Lou Dowling is home to a ridiculous array of interesting booze options – you truly are spoilt for choice here. If you can't decide, though, the friendly staff are happy to offer their advice. Or better still, grab yourself a table in the courtyard and sample a glass (or two!) for yourself.
View this post on Instagram
9. The new French bistro above said bottle shop that's BYO heaven… Porcine Bistro
If all that wine perusing has made you hungry, you're in luck! Up the stairs from P&V is newbie Porcine Bistro. With ex-Old Fitz chef Nicholas Hill at the helm, you know you're in good hands. The garlic mussels on toast ($24) are a very good time and trust me when I say the calves shin, snail and garlic pie ($32) is what pastry dreams are made of. For $25 per bottle corkage, you can also BYO from P&V downstairs. That's my kind of neighbour.
View this post on Instagram
10. The culture hit that will awaken your creative side… White Rabbit Gallery
If you're feeling a little culturally deprived after all that time at home in 2020, it's time for a gallery visit! I'd specifically recommend White Rabbit Gallery's new exhibition, Lubin. With works by more than 25 artists from China and Taiwan, visitors experience harsh fluorescents, and literal cracks of lightning to uncover the invisible architecture that shapes our world. Check it out!
View this post on Instagram
11. The new seafood place you'll wish was your local… Fish Shop
Don't let the name fool you: this isn't your average Fish Shop. Opened in February, this neighbourhood gem in the backstreets of the famous beachside suburb of Bondi offers a mix-and-match menu to suit all seafood lovers. We go for the barramundi ($19) and accompany it with roast carrots ($14) as well as a freekeh salad ($10), which are not only delicious but excellent value.
Insider tip: If the panko prawn toast with chilli jam ($22) is on the menu, you know what you need to do!
View this post on Instagram
12. The new(ish) Sydney home of rum you never knew existed… Brix Distillery
Hands up if you knew Sydney had its very own rum distillery? Me neither! Tucked away in Surry Hills, we visit Brix Distillery for a Saturday afternoon rum-spicing session ($110 per person) – learning all things rum and blending our own from a variety of in-house infusions including vanilla, mango, cinnamon and native wattleseed. It's fun, informative AND you get to take your personally-made rum home. Not up for a class? The bar has a great vibe too and is worthy of a visit in its own right.
View this post on Instagram
And wot about where to stay?
If you've spent A LOT of time at home over the last year or so (who hasn't?!), staying in a boutique hotel will definitely feel like a totally new experience. And it's hard to beat The Old Clare Hotel as your Sydney base. The grungy Clare pub and Carlton United Brewery were transformed in 2015 to create this Sydney accommodation fave where everything that's old is new again!
View this post on Instagram
From vintage chairs to the lobby wall plastered in old pub posters or the rooftop bar that's a Sydney institution for good reason, a stay at The Old Clare never gets old. Located in Chippendale, you're also walking distance – or at a stretch, a short Uber ride away – from not only the CBD but also lively precincts like Surry Hills, Potts Point and Darling Harbour.
So, wot are you waiting for? Why not book a trip, get out there and discover all the new gems Sydney has to offer!
Nic was a guest of Destination NSW but all opinions remain her own