There are some things I won't cut corners on, but when it comes to the business of travel when time, budget and enjoyment levels are on the line, I'm more than happy to have a few short cuts up my sleeve to make the experience as awesome as possible. If you share a passion for helpful travel hints, dive into 29 of my favourites below.
1. Take a white noise machine
Before the birth of my daughter, I knew nothing of the galaxy (or genius) of white noise machines. Now, I never stay anywhere new without one. Late night car horns? Nope, never heard 'em. Mid-nap door slamming of other guests? All expertly drowned out by this nifty little gadget 😴
2. Pack your bags with a tumble dry sheet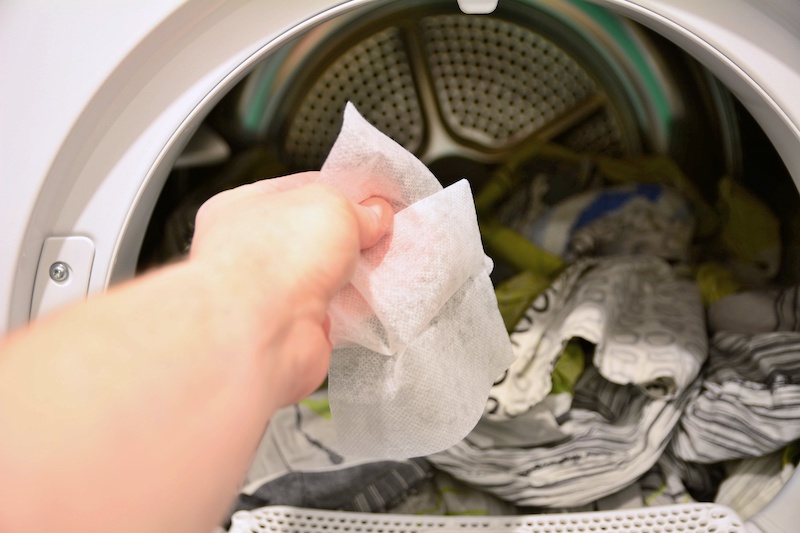 The thing about suitcases is that they hold smells as well as they hold all your goodies. (Don't even get me started on the stench of wet sneakers in a suitcase pocket). A couple of those scented, super lightweight fabric softener sheets you chuck into the drier will make everything smell as fresh as a daisy.
3. Use 'timeline' function in Google Maps
Sometimes getting lost is part of the fun of discovering a new place. Sometimes, it's more of a nightmare. Did you know that Google Maps has a Timeline function that allows you to see an estimation of routes you've taken or places you've recently been, based on your location history? Retracing your steps is practically a thing of the past with this little hack!
4. Use Google Maps Trip Planner
Did you know that Google Maps also has in-built trip planning capability? Everything from activities, restaurants and hotels can be mapped in a custom layer for you to see exactly where and in which order you're heading to different spots in your destination. It's also shareable with travel buddies so no one gets lost.
5. Download maps before leaving
Nope, I'm not done with secret Google Maps hacks. You never know when your connectivity will drop but there is a way you can always ensure you know where you're going. Why not download maps of new places for offline viewing before you start to explore them? And yes, this functionality already exists in Google Maps! 👊
6. Always pack a waterproof bag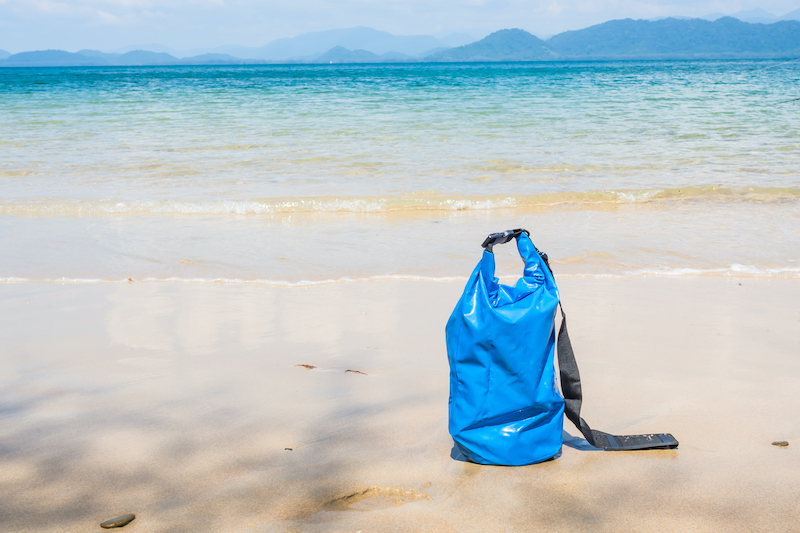 You just never know what will happen in life and the same is true of holidays. A sturdy waterproof bag is a total lifesaver in so many situations – it could be a quick-fix sick bag for kids, a vessel to help you get impromptu washing done when there's no available sink, an easy way to protect your smartphone on beach trips or simply somewhere to stash wet beach clothes so your fresh stuff doesn't get soaked or smelly.
7. Carry beeswax
Apart from being a great little go-to for cuts, sunburns and dry skin, beeswax is also an awesome tool for emergency waterproofing. No, really! Pure beeswax is nature's waterproofer and can work last-minute wonders on everything from leather to nylon backpacks.
8. Take a bulldog clip
This little guy more than pulls his weight for being the most versatile (and easily packable!) inclusion to your suitcase. I've yet to find an end to the ways a bulldog clip can be useful – I've used it to clip over open razors to stop nicks, to close pesky hotel room blinds that don't seem to make it all the way together, to temporarily fix broken zippers and also to keep unruly headphone cords organised. It's also a good one for keeping sneaky snack packets closed. Because what's a holiday without snacks?
9. Use the art of distraction
This isn't something that's limited to holidays but it's a pretty great lifesaver for parents on any car journey, whether it's two minutes or two hours long. I've rigged up a fabric book/shoe holder that's become a makeshift activity centre behind the passenger car seat (facing my daughter's car seat) and packed it with books and activities to keep her from requesting songs I don't want to hear 4000 times. Works a treat!
10. Check the back of your in-room TV
If you've fallen victim to the world's most annoying packing oversight and left your charging plug at home, you mightn't even need to leave your room to solve the issue. Have a look at the cable ports on any TVs in your room – many have USB charging ports at the back.
11. If that doesn't work, ask reception for one
As you've probably guessed (especially since you're the one that left it at home), phone chargers are among the most commonly left-behind items at hotels, so they might just have a whole bunch running spare. Hey, all you can do is ask!
12. Mark your bag as 'fragile'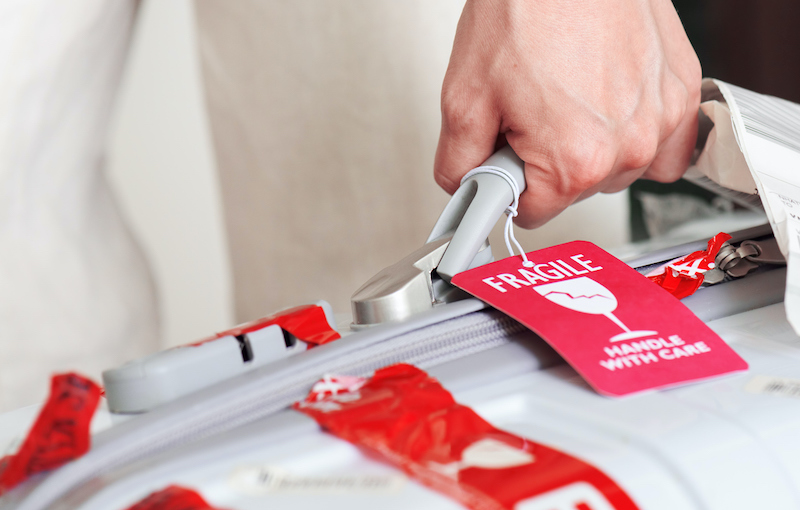 Often bags that are marked as fragile are packed into a plane's hold last to help avoid them finding their way to the bottom of a very heavy pile. That's also the reason why they're often the bags to come out first, or in a separate section entirely, sometimes bypassing a significant wait for you 👊
13. Pack some mint tins
They're hardy, almost unbreakable and perfect for little bits and pieces that you don't want to get lost in your suitcase. I've packed them with everything from bobby pins and jewellery as well as salt, pepper and spices for self-catering trips where I'm not sure how close I'll be to a supermarket. I've also been known to pop spare house keys in there so they don't get bundled up and lost somewhere in transit.
14. Squeeze in a little luxury
You won't catch me decanting my everyday shampoo into a tiny bottle pre-trip. I save fancy travel sets (think Aesop or Grown Alchemist) for, well, travel and boy does it make my trip feel that little bit more luxe every time I'm getting clean 🛀
15. Keep a running packing checklist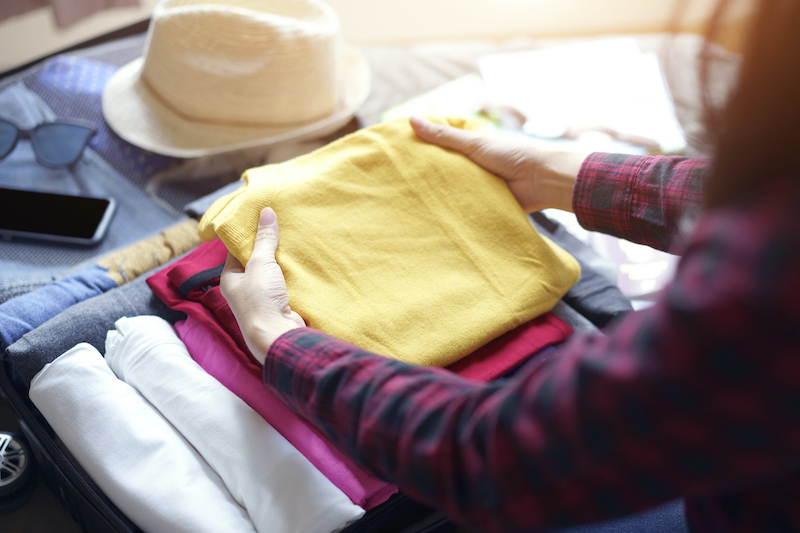 I don't think I've ever worn everything in my suitcase, which gives away my packing prowess (or lack thereof). Keeping a running packing list (one for winter, one for summer) that you can always reference to help you pack better and smarter next time – and for infinity. There are heaps of apps that can help, too – Packr suggests packing options based on the weather forecast at your destination and PackPoint does the same but generates a list based on your chosen holiday activities, too!
16. Always take a pic of where you left your car
Don't be like Kramer. Take a pic of where you parked your car before a flight or extended stopover so that you remember where you left it 🙃
17. Order a meal delivery service
Nothing ruins the fresh feeling of a good break than getting back to the reality of the day-to-day… and coming home to an empty fridge. Order a few pre-prepped meals to be delivered to your door on the day you get home (or before you leave to chuck in the fridge or freezer) so that holiday feeling doesn't wear off while you're waiting to buy milk at the supermarket.
18. Bring baby powder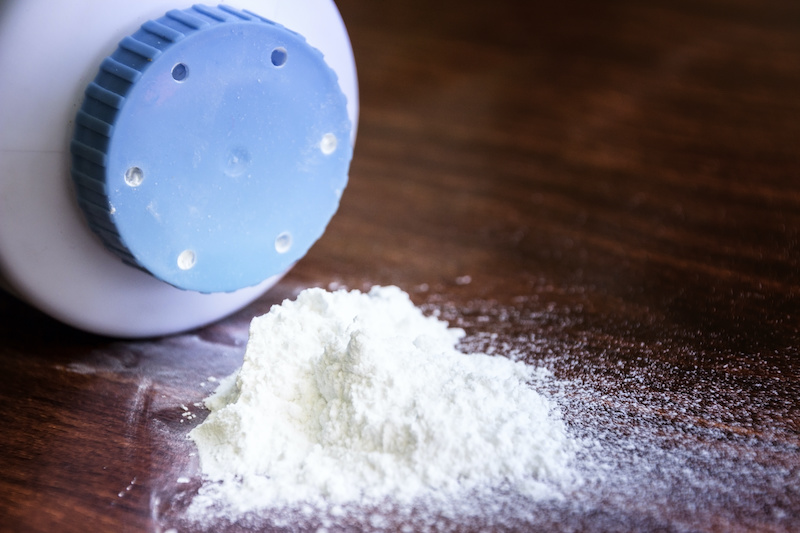 Again, you don't need a kid to find multiple uses for this little wonder. Not only does it work as well as dry shampoo (but isn't an aerosol so it's able to be taken on a plane), it can also deodorise stinky shoes and performs utter magic on sandy feet. No, really!
19. Pack the heaviest things at the bottom of your suitcase
Crushed clothes have a way of deflating that holiday spring in your step, don't they? Always pack the heaviest items at the bottom of your suitcase (that is, when your bag is being held by the handle or wheeled along, what part of the suitcase is closest to the ground?) to help avoid squishing the rest of your stuff.
20. Behold: the genius of a pool noodle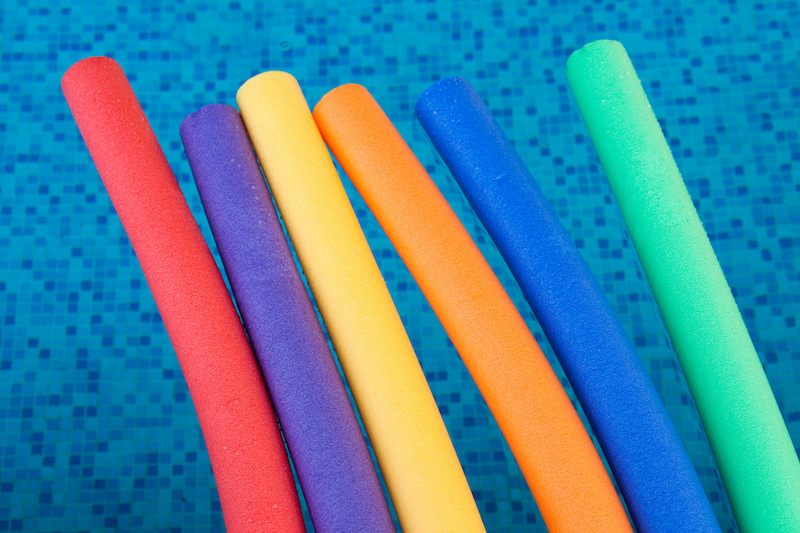 It's more than a sub-standard pool toy, believe me. If you've got little ones sleeping in unfamiliar beds, chuck a pool noodle (or part of one if you're short on packing space) in the fitted sheet of a single bed to create a lightweight, makeshift bed rail.
21. Forgot the aloe vera?
Sunburn is a ghastly business but we're only human (and our kids aren't always compliant enough for thorough sunscreen top-ups). If you've got a burnt back on your hands and you're without a soothing balm of sorts, soak a tea towel, washcloth or face washer in milk and use that as a kind of ice pack. Not only does the coolness of the milk help to soothe the burn, the antioxidants within it can help to reduce inflammation.
22. Mine Insta hashtags
Who doesn't love a been-there-done-that tip? Instagram can be that travel resource for you if you use it right. Have a look at some destination-specific hashtags and bookmark any spots you think you'd want to try out to help your research.
23. Always. Bring. A. Corkscrew.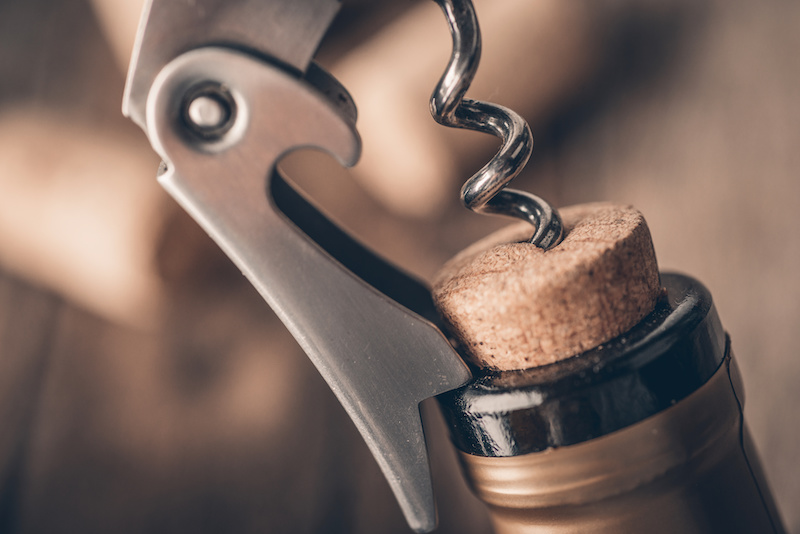 Sure, most wines these days are screwtops but it only takes one unexpected cork-stopped bottle and lack of corkscrew for you to learn this lesson the hard way.
24. Make your own packing cubes
Some people swear by the magic of packing cubes but don't feel the need to pop out and buy some. What about those cotton drawstring bags they give you when you've bought a new bag or any fancy toiletries? That'll do the trick.
25. Protect your powder makeup
Pressed powder makeup is a great travel resource for how compact (get it?!) and easily transportable it is. Once it's been cracked, though? It's a nightmare of a thing to lug around and use. Pop a cotton pad between the powder and the lid to reduce cracking (and the possibility of an adult tantrum!) 🙃
26. Send yourself a postcard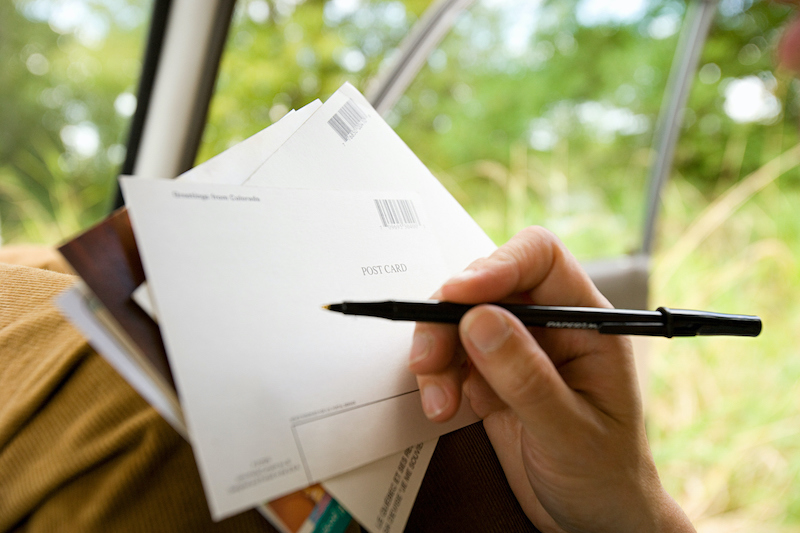 If you're doing holidays right, you should be having too much of a good time to write it all down in a travel diary. While holiday photos are awesome, sometimes it takes a couple of sentences to keep a specific holiday memory alive. Why not write yourself a postcard and send it home for every spot you visit so you can remember those special holiday times? Plus, you'll have something fun to arrive home to 🤗
27. Use disposable shower caps to cover shoe soles
Don't pack your dirty shoes with your clean clothes – it's pretty much a surefire way to soil your stuff before you've even begun your trip. If you've given up the shower cap game long ago (who hasn't?!) put them to good use by covering your shoe soles with them. If you treat them right, they'll be more than just single use, too.
28. Get a great travel playlist in your ears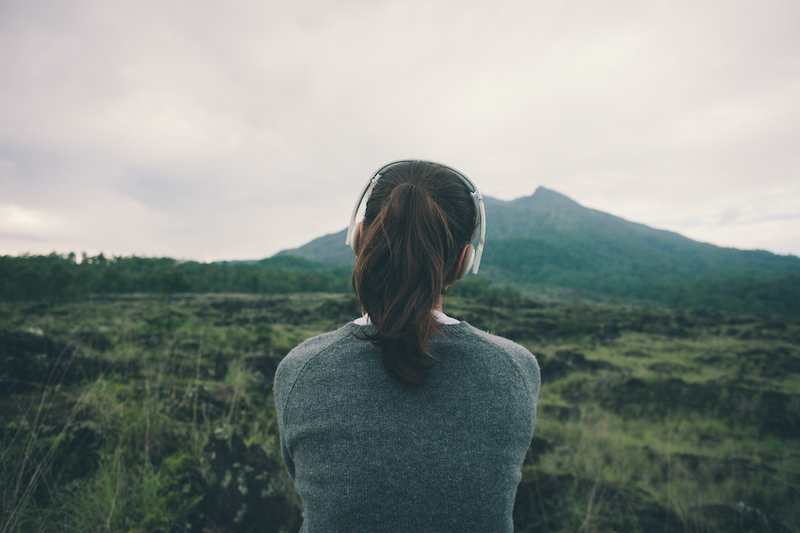 Great moments in life need epic playlists to match – especially when travelling. Whether you're packing a suitcase or driving around a new town, tunes really can make a trip. Wotif has great travel playlists to get you started (and one specifically for families, too) and, if you're a premium Spotify member, you can even download them before you leave and play them in offline mode. Genius!
29. Download the Wotif app to start saving
It wouldn't be a travel hacks list without this one, would it? The Wotif app (available on iPhone and Android) gives Aussie travellers access to thousands of mobile-exclusive deals which is pretty ideal when you're booking a holiday. It also gives you an easy way to manage your booking, which is even better for when you're on your holiday! If you have a pal that's also heading off on holiday, the savings don't have to stop with you. Refer them to create a new account through the app and they'll get a 12% discount on their stay. That's what we call 'the best of both worlds' 😄
Just try and tell me you're not taking the bulldog clip on your next trip 😉 Now that you've got a few new hacks under your belt, it's time to get planning!
PLAN A GETAWAY
Heads up! Due to COVID-19, government restrictions are in constant review and travel guidelines may change. We strongly recommend that all travellers seek further information about destinations and attractions before scheduling trips or making bookings, take extra care and follow all rules.