Sometimes you just need to get far away from phone reception to recharge… and there's nothing quite like the beautiful landscapes we have here in Oz to help you do just that. I've found seven stunning spots around Australia where you can really unplug and escape the daily grind.
1. Groote Eylandt, NT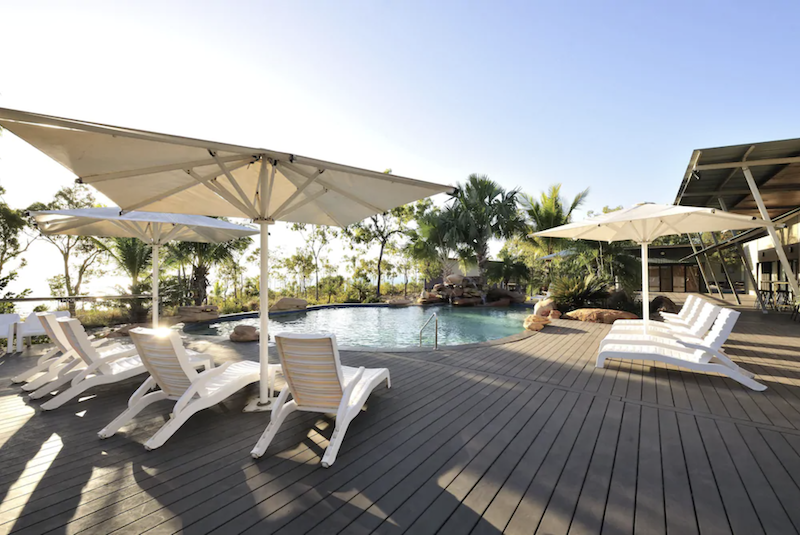 Say goodbye to the mainland and visit the hidden oasis of Groote Eylandt, Australia's third largest island, more than 600km east of Darwin. A short 90-minute flight from state capital, this island has everything you need for a relaxing getaway – pristine beaches, world-class sportfishing, a golf course and access to the rich cultural history of the Anindilyakwa people. The island is also surrounded by an archipelago of 40 smaller islands and rarely visited tropical rainforests, beaches and swimming holes – who knew there was so much to explore?!
Stay nearby: Groote Eylandt Lodge – If you're going to go remote, you want to do it at a place like Groote Eylandt Lodge! You'll want for nothing here – there's everything from outdoor pools, an on-site restaurant serving meals all day and a waterside location that's totally blissful.
2. Anna Creek Painted Hills, SA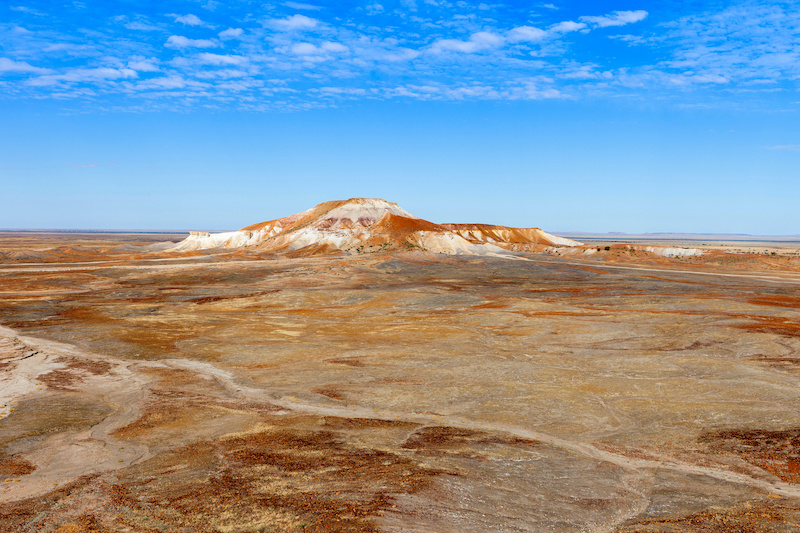 This special spot in far north South Australia is so remote, it's only accessible by plane due to its environmental fragility. The stunning rocky outcrop of hills stretches for almost 20km and are thought to be the result of some 50 million years of climate change. This particular part of Central Australia only became accessible to tourists in 2018 and the best (and only!) way to see it is from the air, departing from Coober Pedy – talk about remote!
Stay nearby: Mud Hut Motel – Go outback chic at this hotel in the heart of Coober Pedy. The rooms are above ground but they're made of rammed earth (yep, you read that correctly) – the perfect antidote to the harsh and hot weather of Coober Pedy!
3. Snobs Creek Falls, VIC
Take a detour from the lakeside town of Eildon (two hours north of Melbourne) out to Thornton via a dirt track to the wonderful (and little-known!) Snob Creek Falls. The viewing platform is fixed into the rock face and puts you so close you can feel the spray of the water. And, if you time your trip to be mid-morning or mid-afternoon, you'll see beams of sunlight bouncing off the falls.
Stay nearby: Fawlty Farm in Taylor Bay – This charming little stay is cosy and well equipped for big ol' gatherings – there's a games room with a pool table, outdoor BBQ grills and an outdoor Jacuzzi. Gather the troops!
4. Shark Bay, WA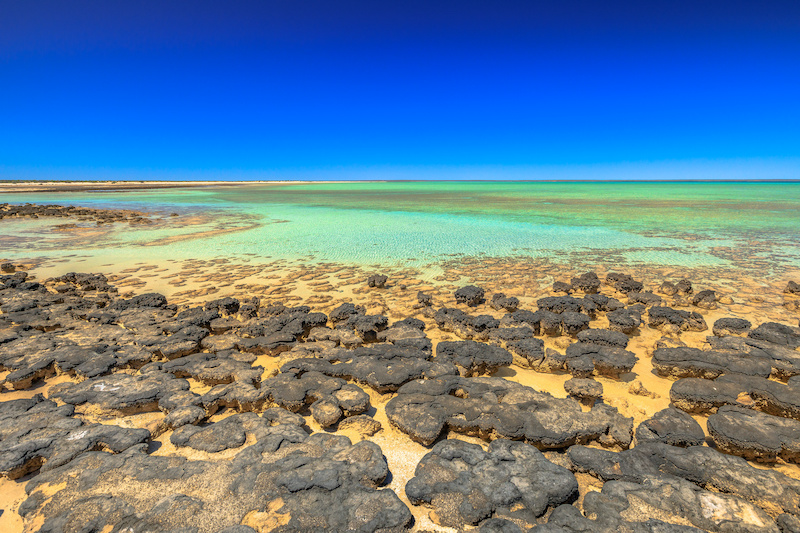 Travel to the most westerly point of the continent to experience Shark Bay – a World Heritage Area that covers an insane 2.2 million hectares. Year-round sunshine, warm waters and a heap of rare plants and animals make this the perfect spot for a remote vacay. Inside the reaches of Shark Bay is Monkey Mia, a spot where you can see sunburnt sand dunes, sandy white beaches and, if you're lucky, wild dolphins. Monkey Mia is also the only place in the country where friendly bottlenose dolphins visit daily (sometimes more than once!).
Stay nearby: RAC Monkey Mia Dolphin Resort – You can't get much closer to the water's edge than at this bright and sunny stay. Kids will be more than occupied with all there is on-site, including two pools, kayak and canoe hire and, for the adults, a hot tub 😉
5. Langford Island, QLD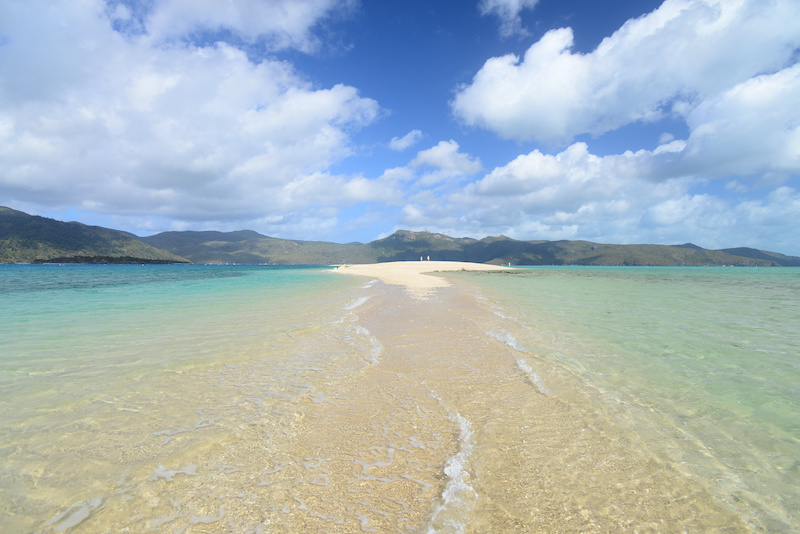 Why not plan a Whitsundays escape without the crowds and take a boat ride out to Langford Island? At high tide, you can walk through water across the long sand spit, and there's a bush hike up some stone steps that brings you to a breathtaking view of Hook and Hayman Islands. Also, don't forget the snorkels – the island is known for the many green turtles that bob about in the water here!
Stay nearby: InterContinental Hayman Island Resort, an ING Resort – Switching off is easy when you're staying at this luxury hotel. Between the top notch on-site restaurants and bars, amazing pools and awesome setting on the edge of the glittering island, you'll be suitably relaxed in no time.
6. Lake Rhona, TAS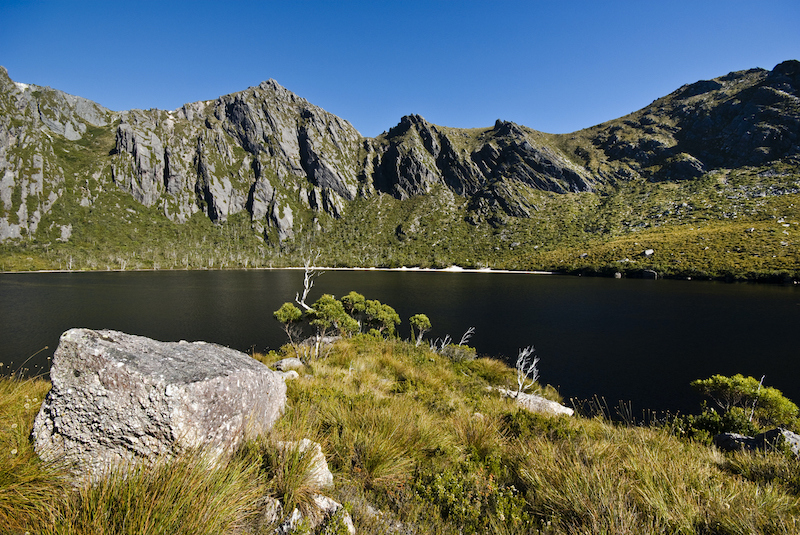 Tucked away high in the mountains of Tassie's wild south west is Lake Rhona, a beach on a mountain pass (no, really!). Near Lake Gordon, Rhona can only be reached via an overnight hike and the 28km trek is not for the faint hearted BUT the payoff is in having the pink-tinged quartzite sand and tannin-stained lake all to yourself. Finish your trek with a warm bath and a hot tea just a few hours drive away at Strathgordon – you deserve it!
Stay nearby: Pedder Wilderness Lodge – It's the beautiful views of Lake Pedder that make this stay an epic one. Surrounded by rugged Tasmanian wilderness, you'll be cosy and comfy here (and active – there's an on-site fitness centre and tennis court 👊).
7. Dorrigo National Park, NSW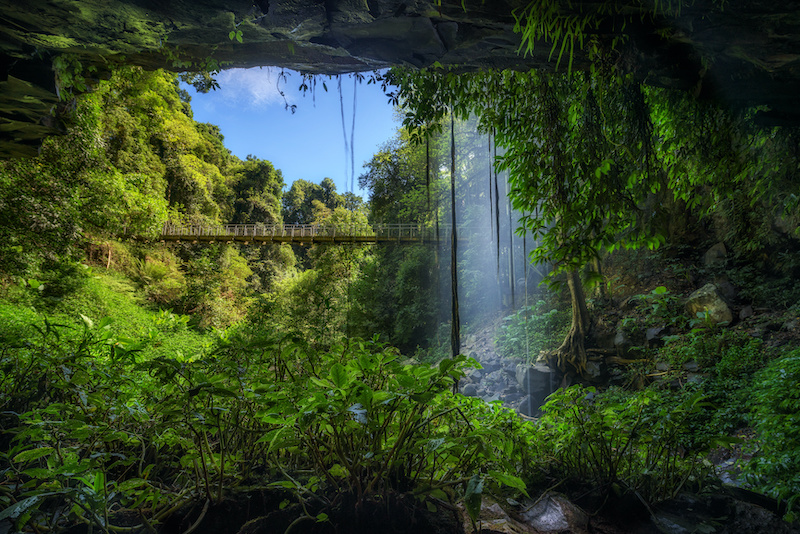 An hour inland from Coffs Harbour is one of the state's most pristine little spots. Dorrigo National Park is a World Heritage-listed Gondwana Rainforest, rich with lush waterfalls, heaps of birdlife and wonderful walks – one of which leads you to the stunning Crystal Shower Falls, where you can walk behind the gushing stream as it sprays off the rocky ledge.
Stay nearby: Lookout Mountain Retreat – You're less than a kilometre away from the edge of Dorrigo National Park at the spectacular Lookout Mountain Retreat – not that you'd forget, considering the awesome valley views. Rooms have kitchenettes and rainfall shower heads for that extra special touch.
Now there are no excuses – time to slap your laptop shut and choose a remote spot to relax in. Wot are you waiting for?
Heads up! Due to COVID-19, government restrictions are in constant review and travel guidelines may change. We strongly recommend that all travellers seek further information about destinations and attractions before scheduling trips or making bookings, take extra care and follow all rules.