Remember being a kid and going on holiday? You'd toss your bags on the hotel bed and make a beeline for the pool. Truthfully, not much has changed as an adult. Here are 11 of Australia's finest hotel pool experiences so you can relive that childhood joy once more.
Perth, WA
Hands down, Crown Towers Perth is one of the best hotels on the Western shoreline and a favourite with tourists from both Australia and overseas. The sprawling, multi-tiered pool area includes in-water deck chairs, luxury daybeds, poolside food and drink service, and pool (as in the game) tables. Fancy!
Townsville, QLD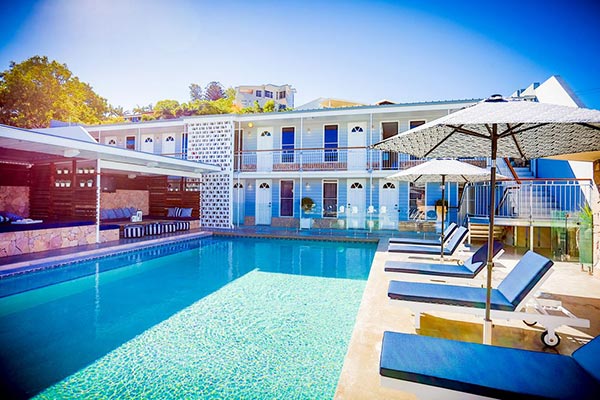 Forget backpacking – this is glampacking, making Rambutan a hostel with a difference. Check out the incredible rooftop bar and pool, where you can dine on Southern American cuisine and sip cocktails in a poolside cabana till your heart's content.
Sydney, NSW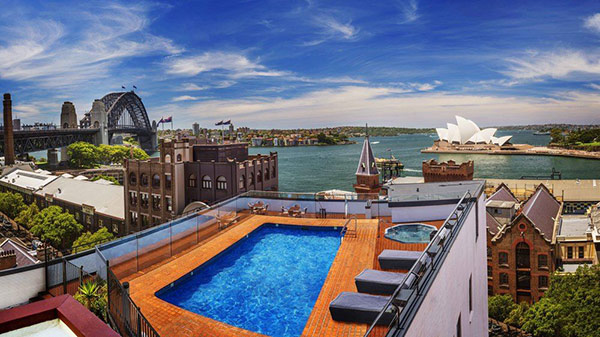 Sometimes you have to explore the finer things in life. The Holiday Inn at The Rocks is comfy and convenient, but seems unassuming – until you reach the rooftop pool. Slip into the water and you'll have views of the Sydney Harbour Bridge to your left and the Sydney Opera House to your right. Perfect!
Byron Bay, NSW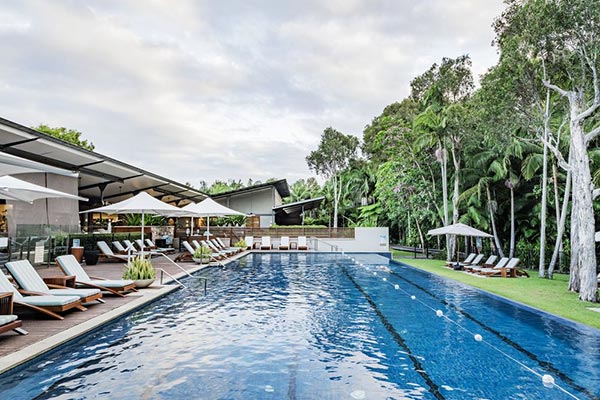 They do things differently in Byron – even swimming. The pool at the Byron is divided into two sections: one for laps and one for relaxation. But the whole thing is flanked by lush rainforest and more deckchairs than you can poke a stick at, so it's pretty tranquil whatever you do.
Melbourne, VIC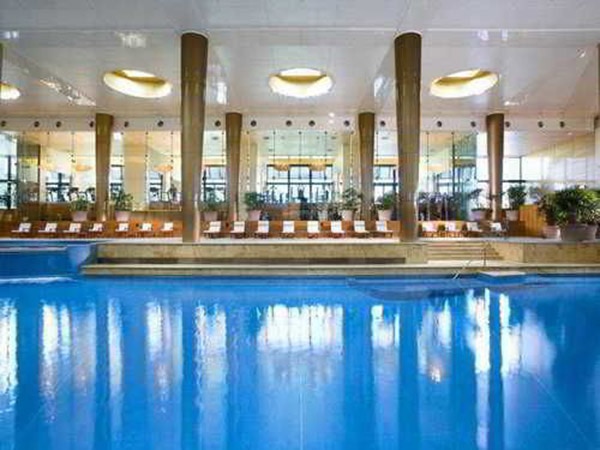 When size is everything, you can't go wrong at Crown Towers Melbourne. Its massive indoor pool is one of the largest in the country and it's heated so you can enjoy it in any weather (a must in Melbs). Relax on a four-post daybed, order a drink to the water's edge, or work on your fitness in the awesome fully equipped gym.
Gold Coast, QLD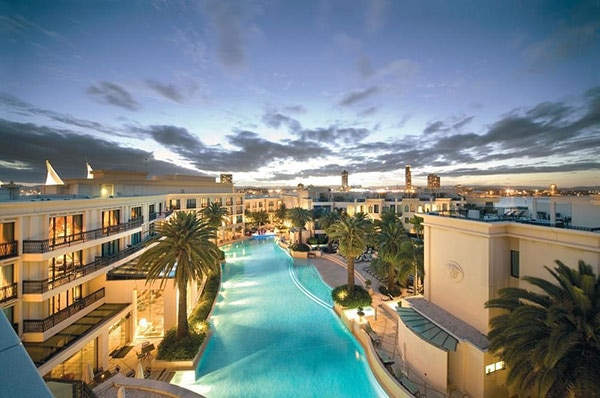 The Palazzo Versace doesn't have a simple pool – it has a 'water salon'. The hotel's Romanesque facade overlooks the 63m heated pool, which comes with its own private white-sand beach, cabana oases with king-size loungers and massive palm trees that all come together to create a true oasis.
Gold Coast, QLD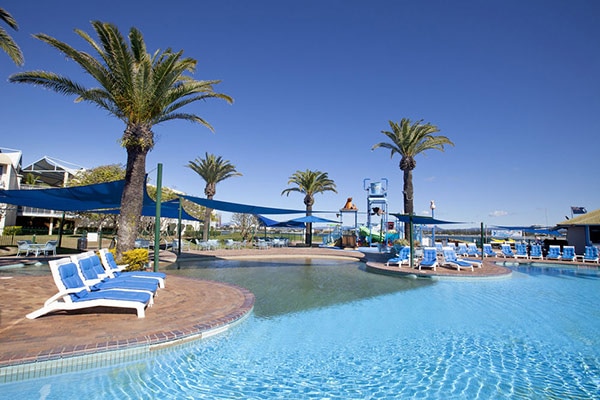 When it comes to awesome pools, we could write a whole other list on the Gold Coast alone. But Sea World Resort deserves an extra special mention because it offers a truly unique and kid-friendly experience. The SpongeBob SplashBash aquatic playground is as fun as any of the rides at Sea World and staying at the theme park's official resort entitles you to exclusive experiences at the park too.
Melbourne, VIC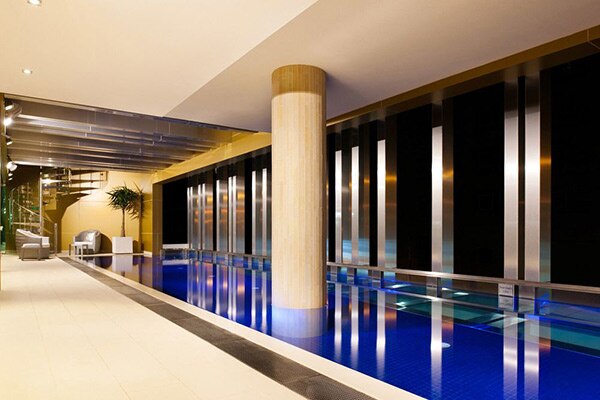 The Olsen is another awesome part of the Art Series' range of signature hotels that specialise in gorgeous design and unique experiences. Its pool area features a sun deck and a glass-bottomed pool that's gotta be seen to be believed.
Sydney, NSW
The Langham chain is famous for decadence and the pool at its Sydney hotel is one reason why. Set indoors, surrounded by marble columns and beneath a star-dappled ceiling, you'll feel like Roman royalty. The beach murals are a nice touch too.
Port Douglas, QLD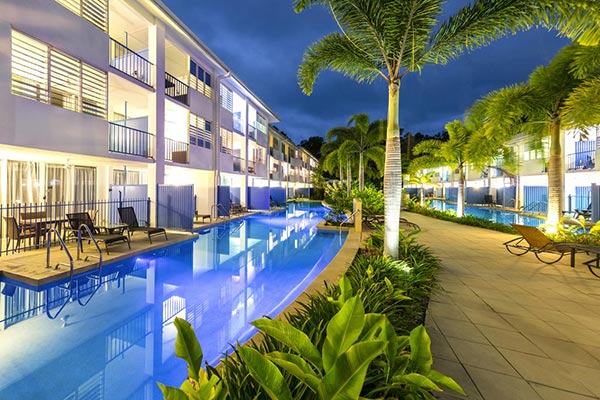 Oaks Lagoons takes the 'lagoons' part of its name literally – it feels like there's more pool than resort! Float your way around SIX massive lap pools that snake their way around the property – a different pool for each day of your stay.
Hobart, TAS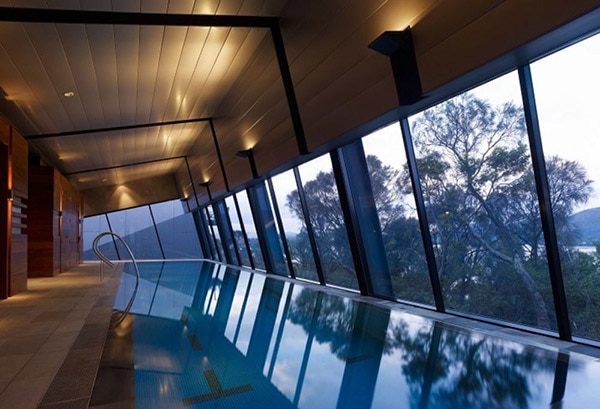 They call Mona Pavillions a 'maverick' hotel because of its ultra-contemporary and super luxurious pavilion-style cabins. The whole resort is a feast for the senses, but a serious highlight is the heated infinity pool that overlooks the river and has its own sauna.
PLAN YOUR NEXT GETAWAY