Top Yokohama holiday packages
5.0-star property
Hotel New Otani Tokyo EXECUTIVE HOUSE ZEN
Kioicho
4.8/5
Exceptional! (233 reviews)
5 Nov. - 13 Nov.
8 night stay
Sydney (SYD) to Tokyo (TYO)
Japan Airlines • Return • Coach
Price was AU$6,028, price is now AU$5,520 per person
The club lounge was lovely to visit before or after a day out. Impeccable service. The deluxe room was spacious, the bed so comfortable and huge! The room had all the accompaniments of a 5 star hotel. Location was perfect. Great district with great restaurants around the corner, not too busy but very lively and very easy to get to train lines.
Reviewed on 26 Apr. 2019
4.5-star property
InterContinental Yokohama Grand, an IHG Hotel
Minatomirai
4.4/5
Excellent! (1,321 reviews)
19 Nov. - 26 Nov.
7 night stay
Sydney (SYD) to Tokyo (TYO)
Jetstar • Direct return • Coach
Price was AU$3,162, price is now AU$2,185 per person
Great place definetly recommend staying there jciiuciv vucidivivivivi ivivivivgg i
Reviewed on 5 Dec. 2019
4.0-star property
Royal Park Hotel Tokyo Nihonbashi
Chuo
4.4/5
Excellent! (996 reviews)
8 Nov. - 16 Nov.
8 night stay
Melbourne (MEL) to Tokyo (TYO)
Jetstar • Direct return • Coach
Price was AU$2,192, price is now AU$1,886 per person
Very friendly and helpful staff. No compliant at all.
Reviewed on 23 Apr. 2019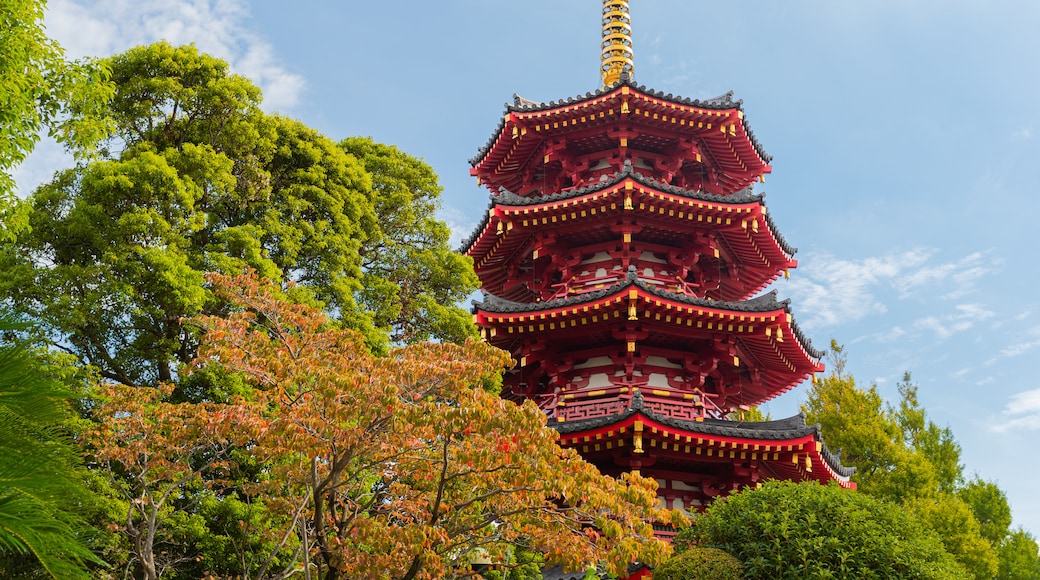 Book your Yokohama holiday
Holidays To Yokohama
If you aren't already planning a trip to the coast of Japan, you will be soon!
Located just 40 km south of Tokyo, the busy port city of Yokohama has all the glitter and get-up-and-go of its neighbour, but with easygoing coastal vibes. Sure, you'll have to hustle to get to the front of the line at the nightclub, but you can spend your holiday in Yokohama wandering through Chinatown and quirky museums at an easygoing pace. It's not like you would want to speed through the exhibitions at the Cupnoodles Museum anyway, right? Speaking of ramen, Yokohama is serious foodie territory, so get the scoop on cheap Yokohama packages and pack your travel chopsticks, mate!
Things to Do in Yokohama
Spend an arvo at Minato Mirai 21, an entertainment district with shopping, dining and an amusement park right on the waterfront—the views from the observation deck are fantastic and the novelty shop finds are unique, like heart-shaped instant noodle soups.
Speaking of soup, the Cupnoodles Museum—which is exactly what it sounds like—is also right on the water. The easier to make the soup with, obviously. Don't confuse Cupnoodles with the Ramen Museum, though, which is on the north side of the city near the Shin-Yokohama metro station—visit both!
You could spend your entire Yokohama holiday learning about food, or you could explore the region's art scene at the Yokohama Museum of Art west of Minato Mirai 21. If colourful architecture is your favourite art form, make your way through Chinatown. The historic gate is a masterpiece! Next, catch some fresh air at Sankeien Gardens in the Naka Ward, then jump back into the thick of it.
Shopping, Dining &amp Nightlife
While you're admiring the architecture and painted lanterns in Chinatown, take advantage of the brilliant treasures you can pick up to take home from small, local shops. If you want to feel like you're boutique shopping in a posh European neighbourhood, check out Motomachi Street a few blocks from Chinatown. Further inland, get the full city market experience in the Yokohamabashi Shopping District. Don't worry if you go a little crazy you're about to save travel funds by booking one of Wotif's Yokohama packages!
When you aren't slurping back the goods at the noodle museums—for research, after all—Yokohama's cuisine scene is waiting. Heaps of new and established restaurants will woo you back to the port at meal time, tempting you with gorgeous sushi and the city's original gyunabe—beef pot roast. Yum.
Once night falls, indulge in deliciousness with artsy cocktails in a waterfront bar with clean-cut professionals on business trips…or sing at the top of your lungs in a karaoke lounge. The port is hopping at night with house and live bands, so pick your poison—er, choose between techno, jazz and anything under the sun.
What's Next?
Whatever time it is, you've got to book one of Wotif's packages to Yokohama, because the "Land of the Rising Sun" is always awesome. Want to see more of Japan? While you're here, check out our Tokyo holiday packages, book a sweet Yokohama car hire deal and yell "Road Trip!"
Top Yokohama hotels
Lowest nightly price found within the past 24 hours based on a 1 night stay for 2 adults. Prices and availability subject to change. Additional terms may apply.