Top Viti Levu holiday packages
2.5-star property
Colo-i-suva Rainforest Eco Resort
3.8/5
Good! (121 reviews)
18 Feb. - 21 Feb.
3 night stay
Sydney (SYD) to Nadi (NAN)
Fiji Airways • Return • Coach
Price was AU$587, price is now AU$498 per person
Perfect in every possible way!The only thing is it's abit far from the city like a 10-15mins drive but glad we had a car.
Reviewed on 10 Aug. 2019
5.0-star property
Nanuku, Auberge Resorts Collection
4.7/5
Exceptional! (34 reviews)
7 Mar. - 14 Mar.
7 night stay
Brisbane (BNE) to Nadi (NAN)
Fiji Airways • Return • Coach
Save 100% on your flight
Price was AU$9,858, price is now AU$7,026 per person
For the first time I find it very differcult to really portray the absolute beauty of this very special place. In other reviews people have already told the world of how wonderful the staff really are here. We have been going to Fiji on and off for over 40 years and there are some very special places but the Staff at Nanuku are at the top of the list. One can have complete privacy and family's are also so beautifully looked after and children do nothing but laugh and enjoy their Villa Buddy as he or she cares for them. The food is to die for! Every day something very different and incredibly fresh arrived at our table. We were very spoilt in our accomadation that was given to us and the Villa Mama and Villa Buddie is a beautiful way to be cared for without over doing it. The bed was very very comfortable with lovely linen etc. yes one pays a little bit more than a four Star but if you can and want to be treated as if you are royalty Nanuku Resort is it. I could go on for ever but just thankyou so much Villa Mama Maria and Villa Buddy Solo for your very personal caring. To the rest of the staff keep up the good work and be very proud of yourselves. Thankyou so much for making our holiday so special and we hope we will be back one day soon.
Reviewed on 27 Sep. 2015
4.5-star property
Outrigger Fiji Beach Resort
4.3/5
Excellent! (744 reviews)
22 Feb. - 26 Feb.
4 night stay
Brisbane (BNE) to Nadi (NAN)
Qantas Airways • Return • Coach
Price was AU$1,129, price is now AU$920 per person
Staff was excellent - always greeted you and funny and playful Able to enjoy the amenities as we were not able to leave to go anywhere
Reviewed on 11 Jan. 2022
3.5-star property
deVos - The Private Residence
7 Mar. - 14 Mar.
7 night stay
Brisbane (BNE) to Nadi (NAN)
Fiji Airways • Return • Coach
Price was AU$1,375, price is now AU$1,139 per person
Great place and wonderful friendly people, very relaxing, fantastic location
Reviewed on 16 Sep. 2019
3.5-star property
Maui Palms
4.6/5
Wonderful! (97 reviews)
7 Mar. - 14 Mar.
7 night stay
Brisbane (BNE) to Nadi (NAN)
Fiji Airways • Return • Coach
Price was AU$1,107, price is now AU$932 per person
Great stay right on the beach, everything you need at the resort! Very helpful and friendly staff. 5 star in my books!
Reviewed on 15 Apr. 2017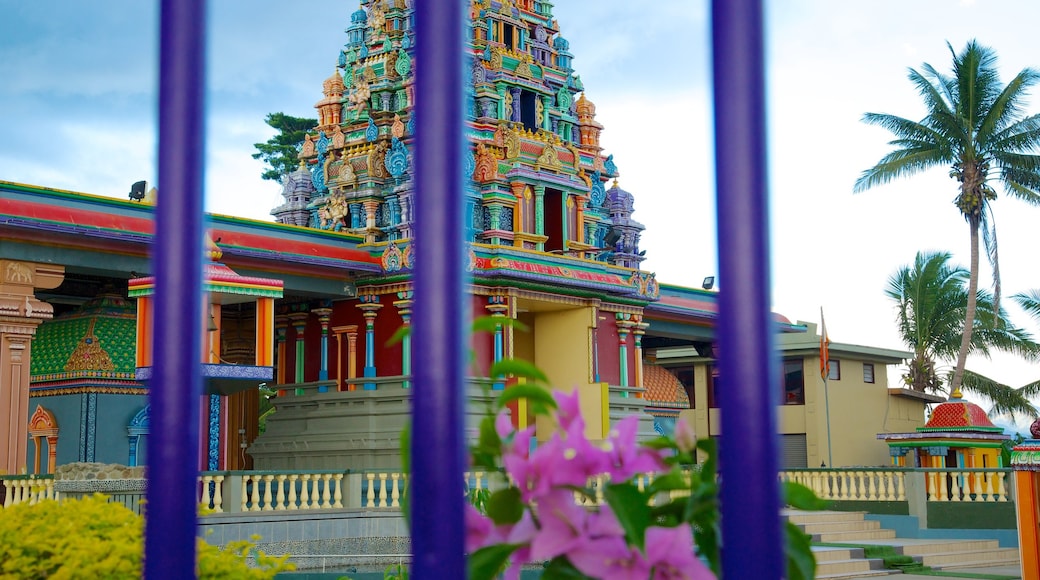 Viti Levu Holiday Packages
The largest of Fiji's islands, Viti Levu is full of surprises. Home to the busy capital of Suva, a Viti Levu holiday has a bit of everything. On this South Pacific island, you'll be free to go with the flow—plan an adventurous day trip, relax on a pristine beach or taste incredible seafood on your island holiday.
Things to Do in Viti Levu
With so many options for day trips, you'll want to break out your calendar and do some planning. "Toucan" tour an eco-park and watch tropical birds among the flora and fauna, or hustle up a sand dune where the Sigatoka River meets the ocean. Don't forget your camera for the view from the top. The Navua River also offers many full- and half-day trips where you can tour riverside villages, participate in traditional Fijian ceremonies and take a dip in swimming holes at the base of waterfalls. Browsing through Viti Levu packages was the easy part—picking your holiday activities might be a bit trickier, with so much on offer!
Shopping, Dining & Nightlife
Bring your walking shoes and stay hydrated, because you can shop 'til you drop in Viti Levu. Nadi, on the northwest side of Viti Levu, has the Port Denarau Shopping Centre and the Handicraft Market for local wares. Browse clothing, tour packages and black pearl jewellery in this open-air hub right off the coast, then head back to Suva to barter with the best of them at the Suva Flea Market, where you'll find everything from old books to traditional crafts made by local artisans. Are you famished from your shopping excursion? You're in luck! From the capital, head west in one of Wotif's Viti Levu car hires to the Coral Coast for dinner.
There's nothing fishy about the fresh seafood here, and you'll find plenty of it offered up with true Fijian flavours. If you'd like to enjoy something a bit more experiential, find some food cooked Lovo-style. This traditional Fijian cooking method employs earth-oven cooking with memorable results. Cruising the island waters is also a great plan for dining, and dinner cruises depart from almost all ports of Viti Levu. Don't risk going hungry "seas" the day and book ahead of time. After dinner, head to one of the many Suva bars or nightclubs for drinks and dancing…or take your party to the water on an old ferryboat repurposed as a floating bar, restaurant and dance hall with live music. For cocktails and a respite from the crowds, escape to an outdoor balcony along the Sigatoka River and enjoy a breath of fresh air under the mangrove canopies.
What's Next?
Viti Levu package deals that bundle flights and hotels are your best bet for booking. Not sure where you want to go exactly? We provide plenty of options. From journeys to Viti Levu to nearby Denarau Island packages, it's time to make your holiday dreams a reality. Grab a travel companion and ready your holiday leave—the islands are waiting.
Things to do in Viti Levu
What's a getaway without throwing yourself into new experiences? Dive out of your comfort zone and into a world full of adventure.
Mix up your Viti Levu itinerary with some new adventures. A Nausori Highlands Day Tour is an excellent option.
Top Viti Levu hotels
Lowest nightly price found within the past 24 hours based on a 1 night stay for 2 adults. Prices and availability subject to change. Additional terms may apply.