Top Albury holiday packages
4.5-star property
The Graces Beechworth
4.9/5
Exceptional! (184 reviews)
22 Nov. - 24 Nov.
2 night stay
Adelaide (ADL) to Albury (ABX)
Qantas Airways • Direct return • Coach
Price was AU$874, price is now AU$851 per person
Everything was warm, inviting and friendly . Elaine our host went the extra mile with local information as well as a sumptuous breakfast.
Reviewed on 19 Jul. 2022
3.5-star property
Golden Heritage Cottages
4.9/5
Exceptional! (34 reviews)
22 Nov. - 24 Nov.
2 night stay
Adelaide (ADL) to Albury (ABX)
Qantas Airways • Direct return • Coach
Price was AU$833, price is now AU$814 per person
Delightful visit to Beechworth staying in this excellent 2 bedroom cottage with friends. Really enjoyed it
Reviewed on 27 Sep. 2022
3.5-star property
Albury Burvale Motor Inn
4/5
Very Good! (545 reviews)
22 Nov. - 24 Nov.
2 night stay
Adelaide (ADL) to Albury (ABX)
Qantas Airways • Direct return • Coach
Price was AU$744, price is now AU$733 per person
Good size room for a family with 2 children. Good location close to shops and restaurants. Good internet and tv, comfortable beds. Easy parking outside room.
Reviewed on 25 Sep. 2022
3.0-star property
Green Door Motel
Lavington
4.1/5
Very Good! (53 reviews)
22 Nov. - 24 Nov.
2 night stay
Adelaide (ADL) to Albury (ABX)
Qantas Airways • Direct return • Coach
Price was AU$734, price is now AU$724 per person
Great value for money and incredibly large clean rooms - best bits: easy check-in, internet generally good, kettle, microwave and fridge in room. did I mention incredibly clean and great value? If you are sensitive to traffic noise - bring some ear plugs and can get some trucks in early morning, but motel itself is lovely and quiet (no onsite pub!!). Beds are ok - not super comfy and if you really feel the cold you will be running split system over night as it's a sheet and blanket. I get a better sleep and way better internet connection at the green door than I have yet at any of the other motels/ pub accommodation in the area and appreciate the consistency of service. Don't book it expecting the park hyatt, but if you are a regular motel stayer you will appreciate the consistency, quiet, cleanliness and other little things that this place does well.
Reviewed on 16 Sep. 2022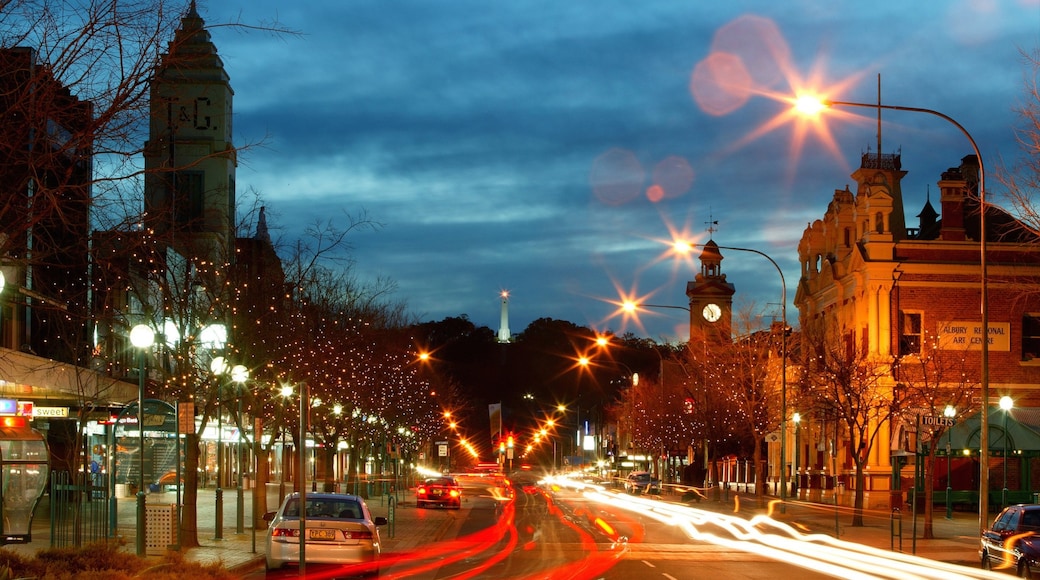 Book your Albury holiday
Holiday To Albury
Gearing up for some quiet time out on the water? Check out our holidays in Albury and float away your troubles on nearby Lake Hume.
Located at the bottom of New South Wales, Albury combines a small-town feel with big-city amenities, rural beauty and a delicious cuisine scene. Sounds like the recipe for relaxation! Take a heritage tour through historic landmarks, tuck in to cosy cafes and do a little wine tasting in the Rutherglen region. If you can't get enough, we won't make you go home—just follow the Murray River through the countryside. Already packing your water wings and sunnies? Scoop up some sweet Albury holiday deals and catch the current to your next destination!
Things to Do in Albury
Start your Albury holiday with a breath of fresh air at Monument Hill War Memorial, where you'll see some of the best views of the city. For less of a climb, wander over to Noreuil Park, located in the city centre, just a hop and a skip from Albury Botanic Garden. Talk about a double dose of peace and quiet. When you wanna trade bright blooms for colourful canvases, spend some time with MAMA—no, not your mum—the Murray Art Museum Albury. Most of the exhibitions showcase the works of contemporary Australian artists, so get in on the ground floor…literally, because that's where the entrance is.
Next, stop in at a quirky café and take a picnic out to Lake Hume, just 15 km east of Albury. Pick up one of Wotif's awesome Albury car hire options and take a kayak with you for a little added adventure. But if you're really, really not sportsy, that's OK there are a few country clubs in the area, so if you prefer nibbling canapes to paddling up stream, Albury holidays still have something for you!
Shopping, Dining &amp Nightlife
You won't find strip malls in Albury, and that's kind of the point. Instead, take a drive down Dean Street for a little shopping spree through local boutiques and regional retailers. For an experience that is all Albury (and its neighbour Wodonga), check out the Albury Wodonga Farmers Market, a weekly collection of fine arts, fresh produce and delicious snacks. Just look for the smiling faces and colourful stands at Hovell Tree Park.
If lake days make you hungry, get thee to Dean Street. This thoroughfare is lined with restaurants and cafes featuring flavours from all over the world. Tuck in to Tandoori or find out what's new with modern Australian eats. NOM.
Conveniently enough, you can chow down and booze it up on the same street. When the sun goes down, consider Dean your BFF for fancy boutique bars and groovy gastropubs.
What's Next?
Ready to slow down already? Book Wotif's Albury holiday packages to save time and money planning your next big trip in New South Wales. Mix and match your choice of top hotels and airfares that fit your schedule right here. It's so easy, you'll think you're already on holiday…well, almost.
Top Albury hotels
Lowest nightly price found within the past 24 hours based on a 1 night stay for 2 adults. Prices and availability subject to change. Additional terms may apply.