Have you heard the BIG news? To celebrate our 18th birthday, Wotif has given Australia its newest and juiciest Big Thing – the Big Melon in Chinchilla, QLD. Some of the team were lucky enough to go to Chinchilla for the grand unveiling. Here are some highlights from an amazing couple of days.
The Big Drive
Most of the Wotif team are based in Sydney and Brisbane – aka places that are not Chinchilla. This gives us the perfect excuse for an epic work-team road trip. The Sydney peeps fly up to Brissie, where we hire some cars, stock up on snacks and hit the road 🚗 😎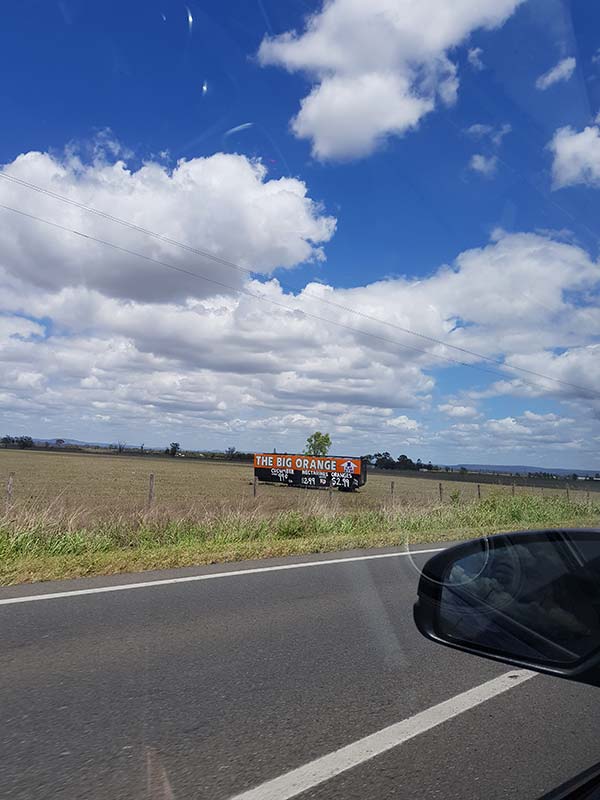 Many of us get our first glimpse of the Big Melon as we drive into town. Even those of us who worked closely with the designers and engineers that built the Melon are blown away by how big and bright it is. I mean, just look at it!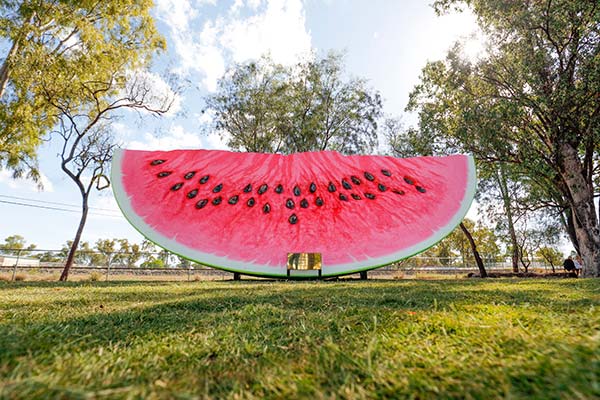 The Big News
We wake up early – reeeeal early – the following day to get ready for the grand unveiling. But what's this we see on the front page of the paper? Oh, just our favourite oversized slice of fruit, looking awesome.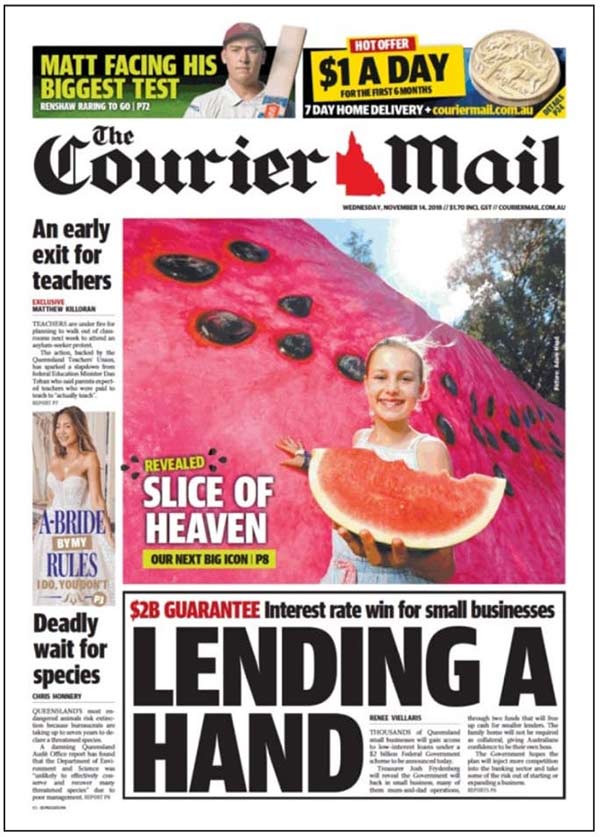 The Big Reveal
Okay, so the big reveal isn't a huuuge surprise to the locals of Chinchilla. The Big Melon has been in place for a couple of days and it's kind of hard to hide. But it's still news to the rest of Australia, who've been waiting for weeks to find out which finalist – the Big Melon in Chinchilla, the Big Peanut in Kingaroy, the Big Tulip in Mittagong or the Big Kilt in Glen Innes – will become Australia's Next Big Thing. In fact, it's such big news that Today come out to film the fun 😲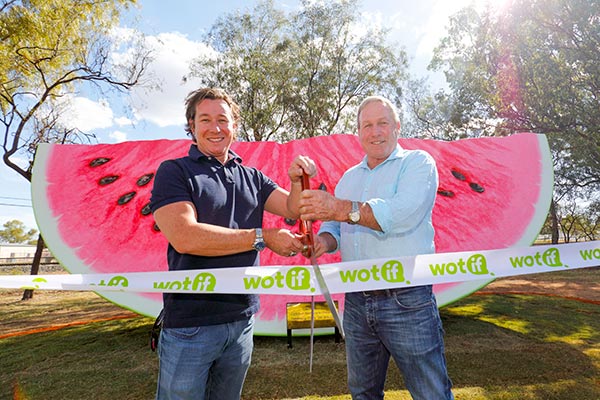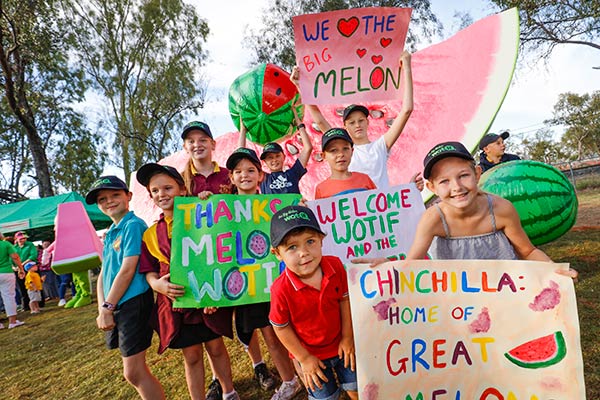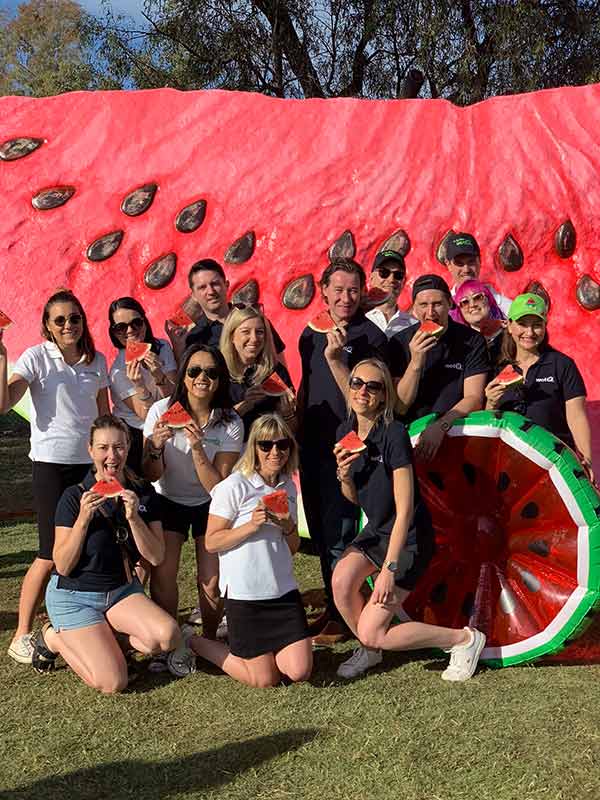 And what fun it is! You see, Chinchilla is famous for its legendary Melon Fest, which is held every two years. It's a massive event, attracting up to 20,000 visitors and raising over $2 million for charity every time it's held. To celebrate the Big Melon's arrival, the Melon Fest committee throw a Mini Melon Fest with watermelon skiing and a delicious brekkie barbecue. And, yeah, watermelon skiing is EXACTLY as messy as it sounds.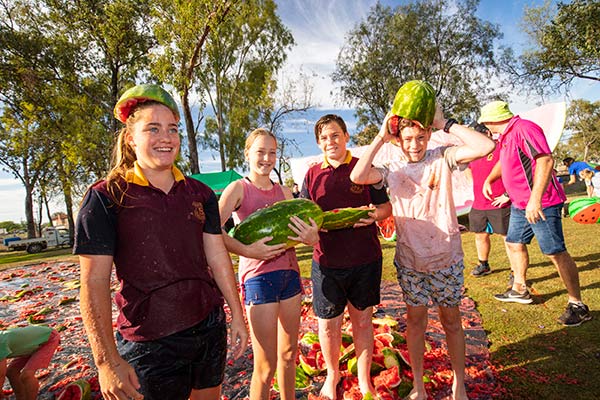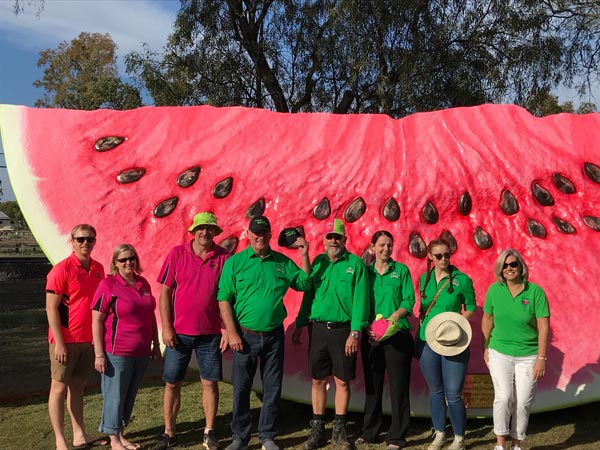 The Big Excursion
There's a reason Chinchilla is known as Australia's melon capital – and not just Melon Fest. Chinchilla is one of Australia's largest melon-growing regions and Darryl O'Leary – a local melon farmer – invites us to visit his property. Darryl teams up with his son, Terry O'Leary and mate, Murray Sturgess, to give us a tour and answer all our questions about how our favourite fruit is grown. It's a fascinating and very educational morning. Big thanks to Darryl, Terry and Murray for showing us around!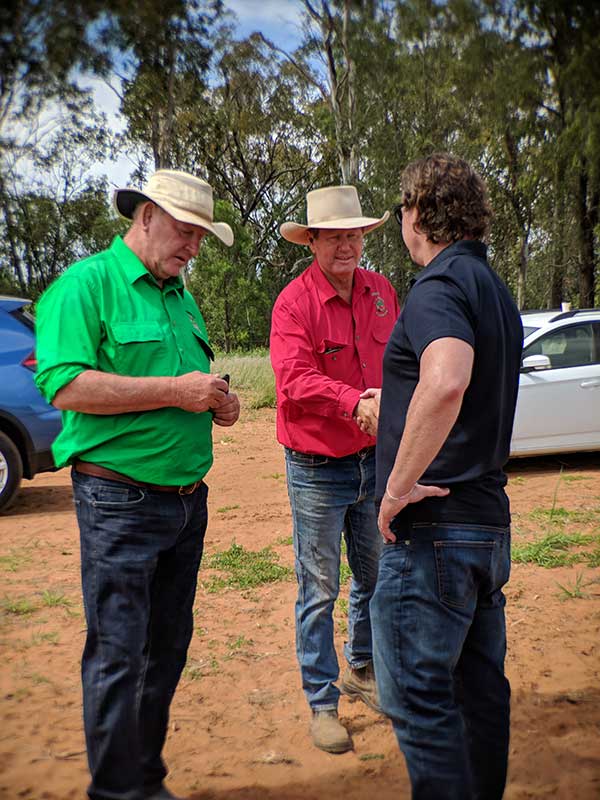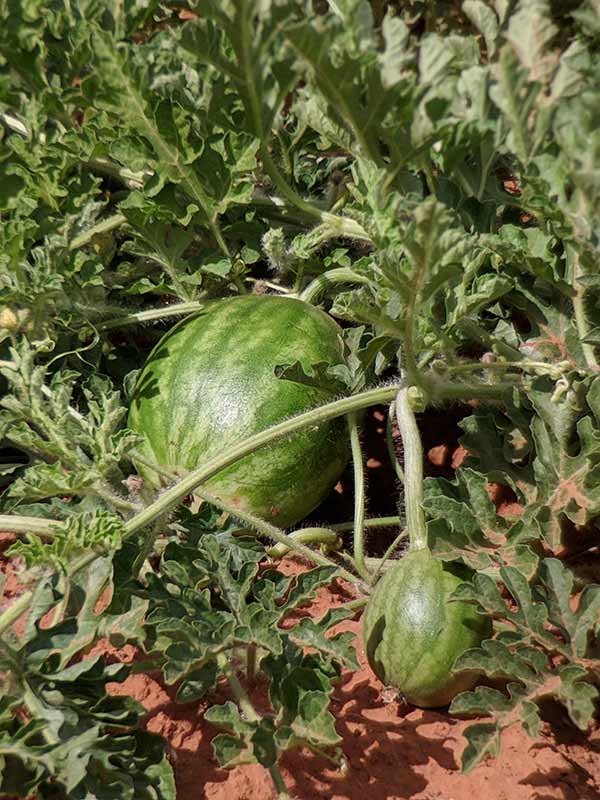 The Not-So-Big (but very awesome) Town
We only get to stay in Chinchilla for a couple of days and, unfortunately, we have to spend most of our time working (hey, building Australia's newest Big Thing is a lot of work, you know!). But we all try to make the most of the time we have in this fantastic town. Which, of course, means eating every delicious thing in sight. Wotif team favourites include:
• Jack Daniels BBQ pork ribs and classic chicken schnitties with chips and gravy at the Club Hotel
• Incredible smoothie bowls and gorgeous raw, vegan, gluten-free, and dairy-free cakes at Panache @ Home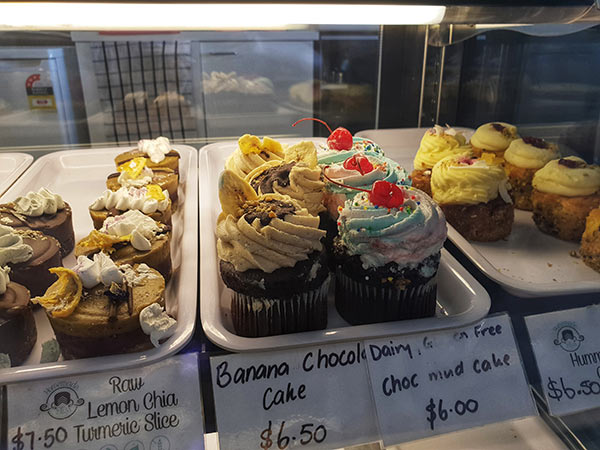 • AMAZING steak sandwiches, BLTs and vegetarian breakfasts at the Downtown Café
• Delicious pies and incredible bee sting donuts at Merritt's Bakery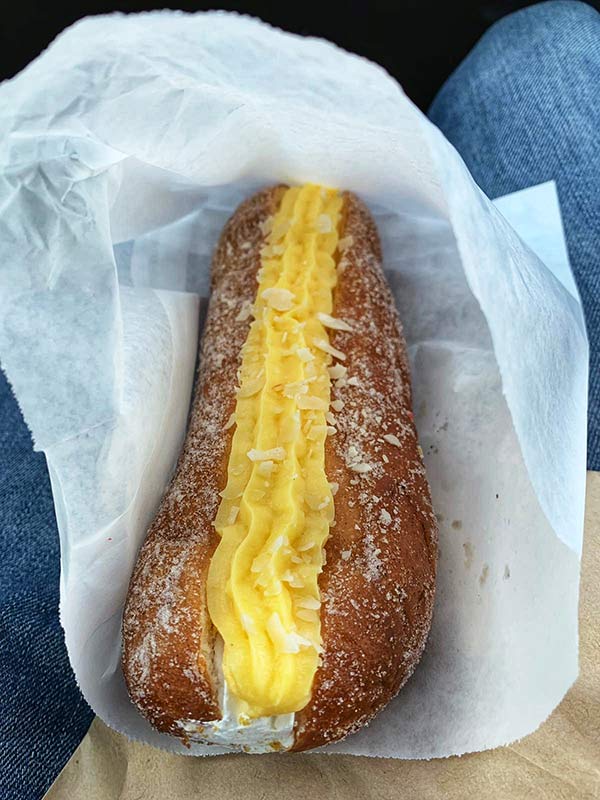 In a rare break between meals, we also check out the Chinchilla Visitor Information Centre to get some ideas for future trips (hey, when you work at Wotif, you're always planning your next holiday 😉). The staff are local experts, with heaps of tips for things to do – like fishing and swimming at the Chinchilla Weir, visiting the Cactoblastis Memorial Hall (the only building in the world dedicated to an insect), and hiking through the Barakula State Forest. They can also hook you up with a fossicking license (so you can try your luck searching for a rare piece of Chinchilla petrified wood), as well as delicious handmade jams, unique arts and crafts, and fascinating local history books. It's definitely worth a visit.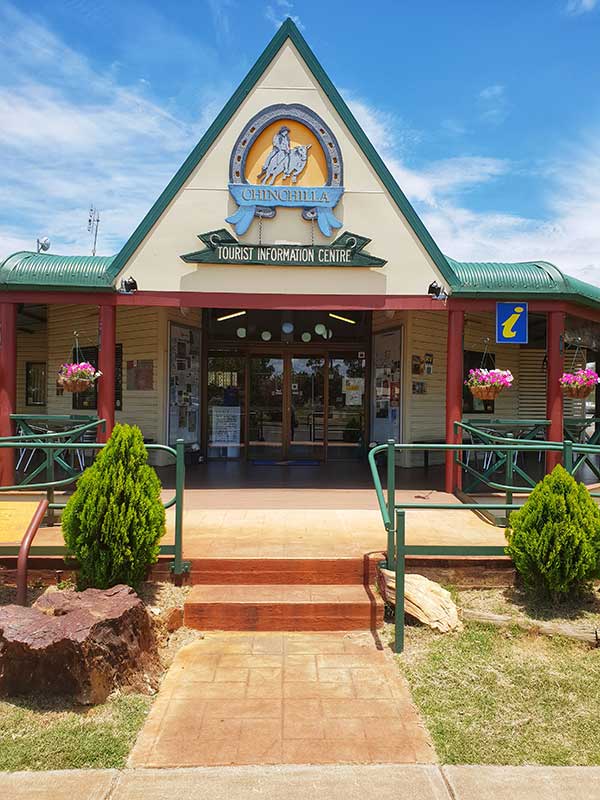 The Big Celebration
Chinchilla is so full of warm, genuine, wonderful people that we feel like we've made a thousand new friends. So what do we do with all our new mates? We head to the pub! Yep, for almost three hours at the Club Hotel, we all come together to celebrate Chinchilla and the Big Melon. It's standing room only, with whole families coming out to join the fun.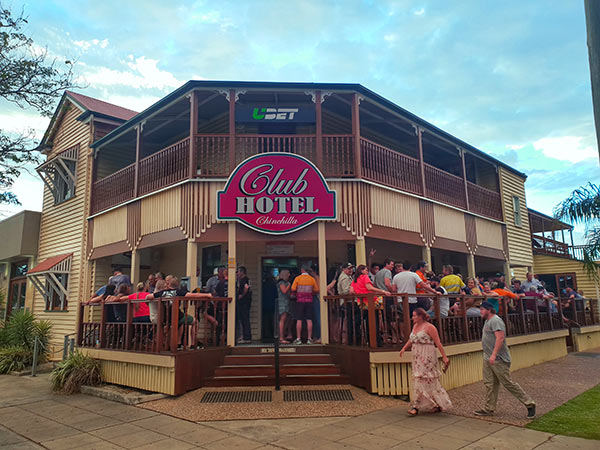 And to top it all off, the sky treats us to a perfectly arched rainbow that ends at – you guessed it – the Big Melon. Now, that tops a pot of gold any day 🌈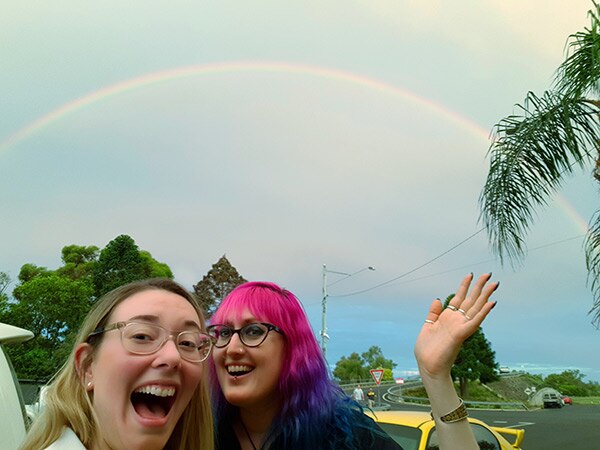 The whole Wotif Team would like to send a BIG THANKYOU to everyone who helped bring the Big Melon to life and came out to say hello. Bring on Melon Fest 2019!
PLAN YOUR CHINCHILLA GETAWAY