Did you know New Zealand boasts an insane 30,000 square kilometres of wilderness? How awesome is that?! With all that greenery comes some pretty epic national parks. We reckon these 10 should be at the top of your must-visit list. Here's why…
1. Abel Tasman National Park
Nelson – Tasman
It might be New Zealand's smallest national park, but Abel Tasman National Park is BIG on things to do. Explore on foot, by boat or via air for an unforgettable experience – the area is full of crystal-clear streams, golden sands and the sounds of birds in the air. For the ultimate experience, camp out under the stars overnight.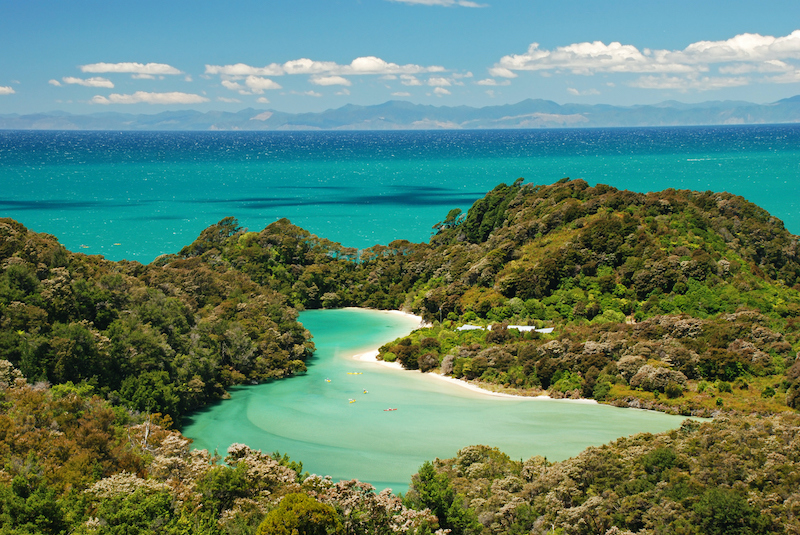 2. Fiordland National Park
Southland
It took around 100,000 years for the 14 fiords in the national park to form. And according to Māori legend, the glacier-carved valleys are thanks to the great god Tu-te-raki-whanoa. They are stunning. A trip to the Eighth Wonder of the World isn't to be missed.
3. Mount Aspiring National Park
Otago
Hikers adore this park full of valleys, glaciers and mountains. In summer you can walk from one valley to another, if your legs can handle it. For a breezier hike on the South Island, a 30-minute stroll to the Blue Pools leads you over a bridge overlooking the crystal-clear water of the Blue River. This place is a must-visit for fans of Middle-earth.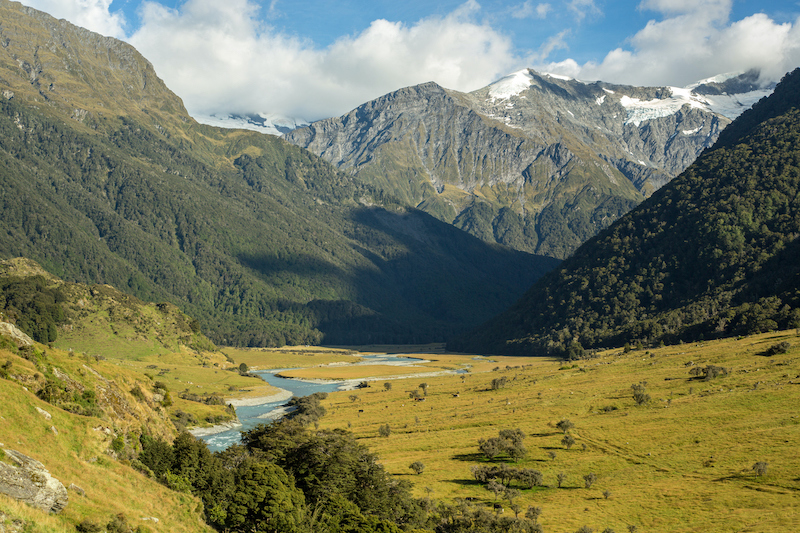 4. Rakiura National Park
Stewart Island
No need to schlep to Norway for the Northern Lights, stay here and see the stunning Southern Lights instead. Stop at Rakiura and you'll get why it translates to 'the Land of Glowing Skies'. Check out the Stewart Island side because there's an excellent chance of seeing a kiwi in the wild!
5. Aoraki Mount Cook National Park
Canterbury
Famous for being the training ground for local mountaineer Sir Edmund Hillary before he became the first confirmed climber to summit Everest in 1953, Mt Cook is the tallest mountain in all of NZ. Best for snow bunnies, mountaineers and stargazers, which means a detour to the International Dark Sky Reserve is a must.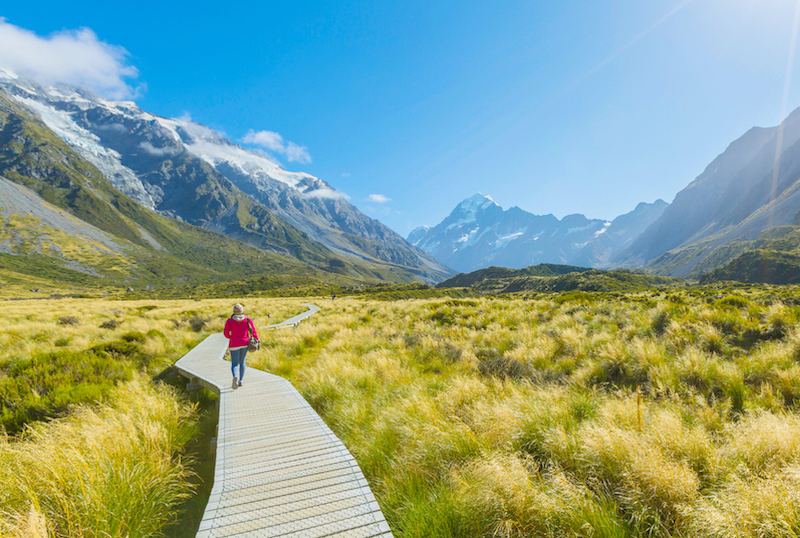 6. Arthurs Pass National Park
Canterbury
Another fave for those taking the road less travelled is Arthurs Pass National Park. It's smack bang between Canterbury and the West Coast. Keep your eyes peeled for the kea. They're known for their inquisitive personalities.
7. Tongariro National Park
Whanganui – Manawatu
Sitting atop three volcanoes, Tongariro National Park is one heck of a dramatic spot. Want to feel like you're in an alien apocalyptic alternate universe? Tongario ticks all the boxes. It's also NZ's first EVER national park and features emerald green lakes. Wander past the spectacular waterfalls or take the six-day Round the Mountain walk.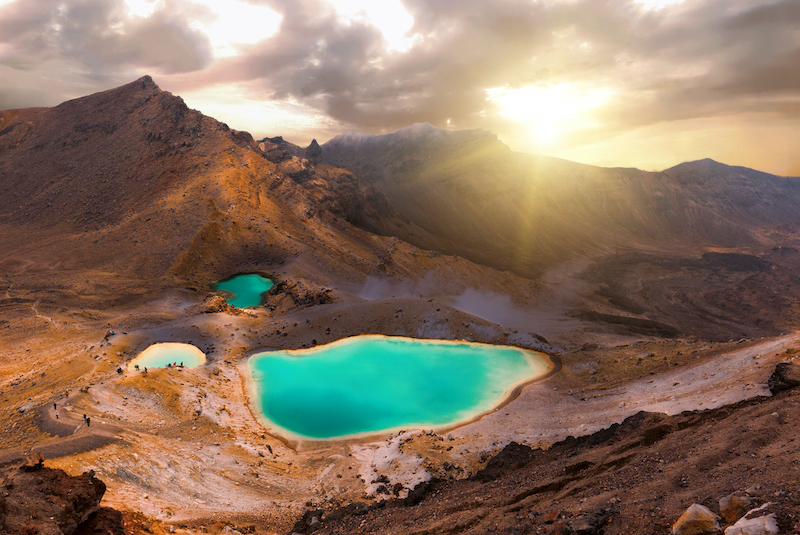 8. Nelson Lakes National Park
Nelson – Tasman
Enchanting is the best way to describe Nelson Lakes National Park. The stunning lakes of Rotorua (large waters) and Rotoiti (small waters) are engulfed by steep mountains, offering challenging lakeside walking tracks. It's also a great spot for snorkelling in summer.
9. Westland Tai Poutini National Park
West Coast
If you see yourself as an adventurer, this is the park for you. Westland Tai Poutini National Park is home to the famous Fox and Franz Josef Glaciers, which move up to four metres every single day. If you stand at the foot of the glacier you can hear the sounds of the ancient ice grinding. The Ice Age never ended here, so be sure to pack a jumper and keep warm.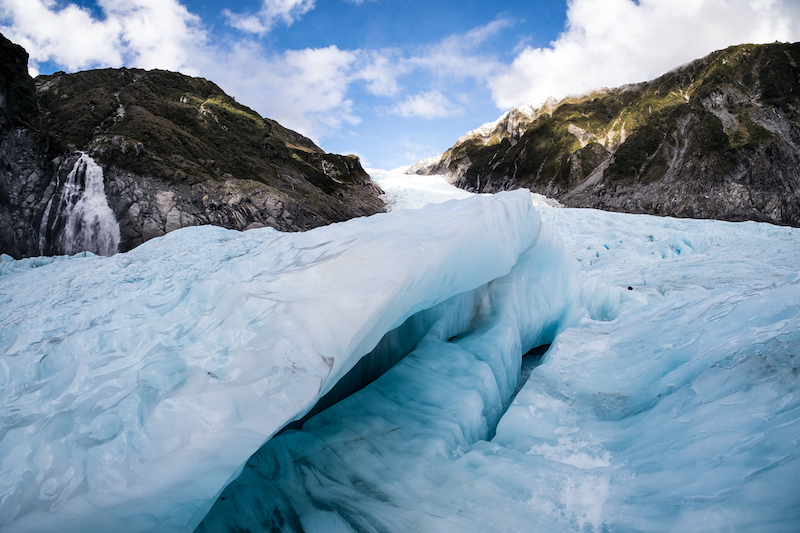 10. Whanganui National Park
Whanganui
The highlight of Whanganui National Park is the Bridge to Nowhere, a concrete bridge with no signs, no road at either side and little sign of civilisation. You can reach the bridge via boat or take a two-day hike along the Mangapurua Track, which starts at Whakahoro. For those with the arm strength, the 290km Whanganui River is a great paddle.
PLAN YOUR NEXT GETAWAY