Whether you're vegan for health reasons, the environment, because you're a huge animal lover, or you're just interested in introducing more meat-free Mondays to your life, there are a whole host of vegan treats to take your pick from in Brisbane. Hankering for some tapas, a fancy degustation menu or just want a greasy burger? Well, you're in luck because I've gone and done the research and found my top 5 vegan hotspots in Brisbane. Look, someone had to do it 😉
Read more: Top 5 vegan hotspots in Melbourne
1. Grassfed, South Brisbane
View this post on Instagram
Vegan or not, sometimes we all feel like some greasy junk food – I do at least! And when those cravings kick in, there's nothing quite like the burgers from Grassfed on Fish Lane in South Brisbane. There are some incredible meat-alternative burger patties on the market now and the people from Grassfed use Australian-made plant-based burger patties, vEEF. They have a similar texture to beef, but without an animal in sight. You can't go past the Classic cheeseburger, but the Spiced BBQ "Pork" burger with apple slaw and chipotle sauce (🤤) and the Buffalo Cauliflower (😍) are both drool-worthy too. Make sure you leave enough room for dessert, though, because I Should Coco Ice Cream sundaes are on the menu, too. Go on, indulge yourself!
2. You Came Again, West End
View this post on Instagram
Not only is this one of my favourite vegan restaurants in Brisbane, but it's also one of my favourite places, full stop. If the food wasn't enough to woo you over at You Came Again, the wonderful staff and the hostess with the mostess, Nicola Stone, will have you feeling like you're popping over to your best mate's place for a delicious feast. This quirky tapas bar in West End has dinner and cocktail specials – a haloumi dish and a lemon myrtle cocktail were on the menu the night we visited – but the main tapas menu will win even your omni friends over. My meat-eating amigo loved the jackfruit sliders (so did I, I'll be returning to sample some more soon) and you can't go past the agedashi tofu, miso-good glazed eggplant and a bowl of crispy chippies.
3. Vege Rama, CBD
This place is my absolute favourite mid-week lunch treat. Everything from pizzas, desserts, curries, stews, salads, lasagna and noodles are available on the menu and they're all fresh and vegan. I'm a big fan of the raw Pad Thai, the Thai curry and the pakoras with tamarind sauce – but, honestly, there's not a dish I've tried at Vege Rama that I haven't loved. If you do visit during the week, head in early, the seats fill up fast around lunchtime.
4. Dicki's, New Farm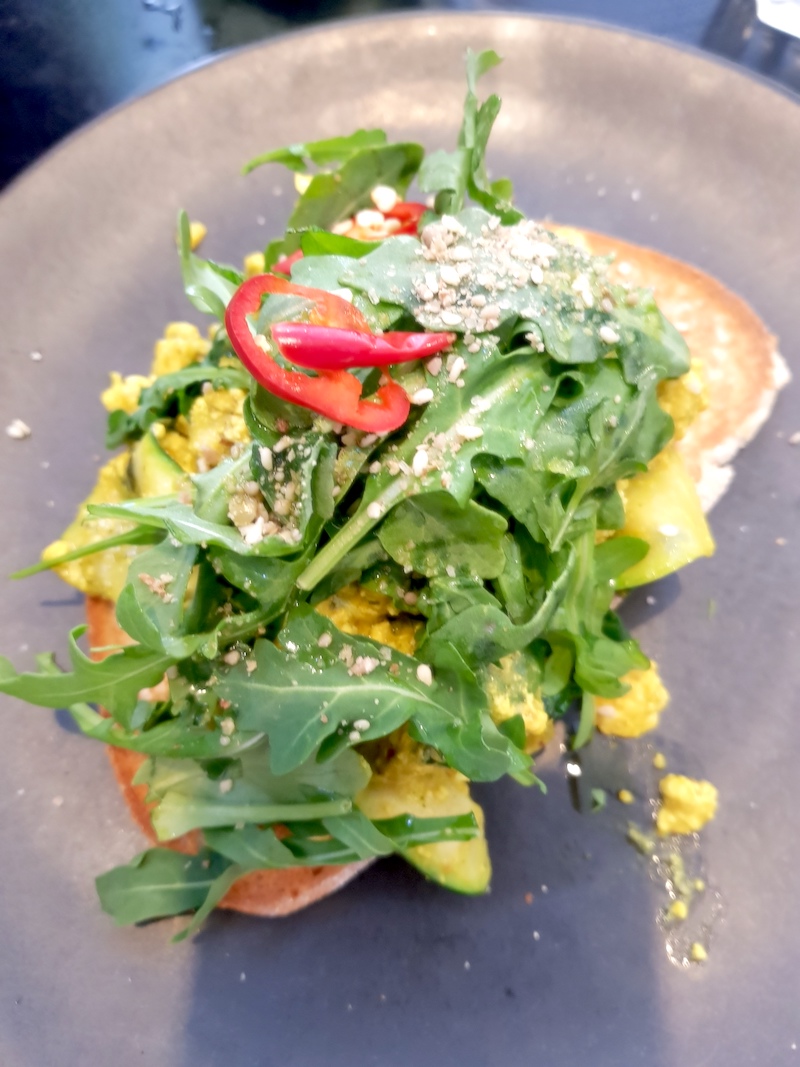 Breakfast is my favourite meal of the day and I love nothing more than heading to a café for a long and lazy morning. If you're with me on this one, then Dicki's in New Farm is for you. Grab yourself a soy chai latte, green smoothie or your morning coffee and peruse the menu. They have everything from a pesto tofu scramble on sourdough bread (yum!) and bruschetta with macadamia fetta to caramelised banana waffles and Oreo chocolate cake 😱 Who said vegan food was boring?! Not me!
5. Grown, West End
View this post on Instagram
If you're looking for something a little fancy, a little bit extra, then head on over to Grown in West End. Not only do they source all their produce from local farmers no more than 400km from Brisbane, but they also put on degustation events and send all their food waste to the Jane Street Community Garden just down the road. But the food isn't just sustainable, it's DELICIOUS. I couldn't get enough of the lentil dahl curry with lime rice and scallions and the sourdough-crumbed eggplant with a tomato sugo and raisins. And, trust me, you want to leave room for the citrus cheesecake with spiced spring melon, berry toffee and a pop of peppercorn. Yum!
PLAN YOUR NEXT BRISSIE GETAWAY