Aussies have long had a love affair with Bali, but there's a new hot spot to hit up. Touted as 'the new Seminyak', Canggu is where it's at and I'm here to tell you why COMO Uma Canggu, located on Bali's South-West Coast, is where you need to stay.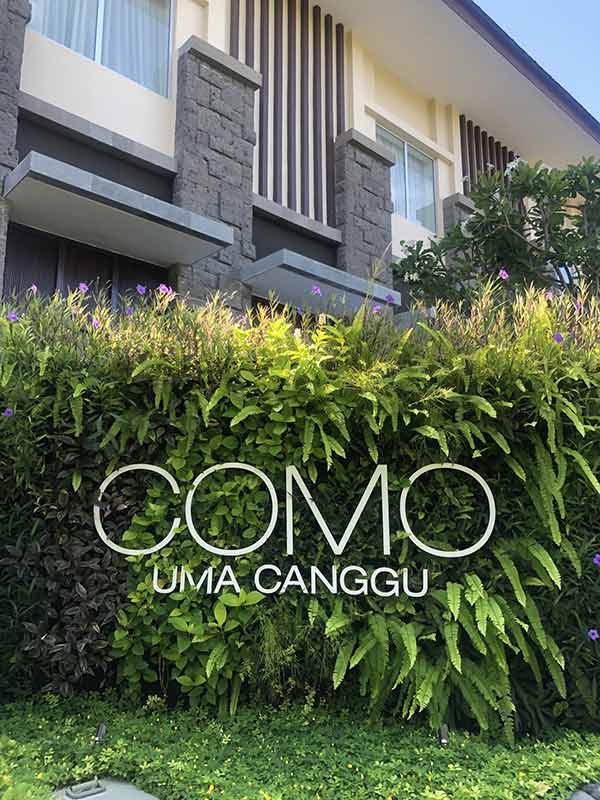 COMO Uma Canggu combines sophisticated luxury with Bali's laidback surf culture. Some resorts can feel a little stale, like you could be anywhere in the world and you're missing something of what the *real* destination is like, but you will NOT have that issue here.
COMO Hotels and Resorts pride themselves on offering luxury travel experiences. Each property is individually curated to match its location, with a focus on impeccable service, exceptional cuisine and a dedication to wellness. I can get on board with that! Freshly opened in February 2018, the 119-room Canggu outpost, located on Echo beach, does not disappoint.
After being picked up and escorted from Ngurah Rai International Airport (a 21km drive in air-conditioned comfort), we pull into COMO Uma's lush driveway and I know straight away this resort and I are going to get on just fine 😉 This fact is confirmed when a refreshing fruity drink is placed in front of me as we check in.
Hubby and I are shown to our room – a one-bedroom residence on the third floor – and we have to pick up our jaws when we see the panoramic ocean and pool views.
And again when we see the spa bath – easily the biggest I've ever seen in a hotel room – which has my name all over it.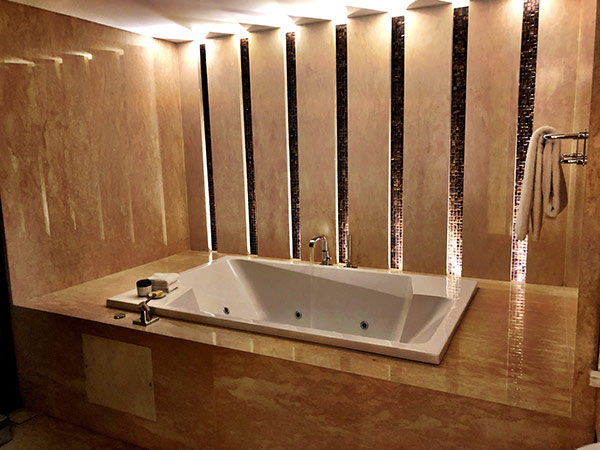 The view – and that bath – are mesmerising but the room itself also deserves your attention. Features include a super-comfortable king bed, a spacious and luxuriously decorated lounge area, a well-equipped kitchen with a full-size fridge, glass bottles of water, complimentary movies and wi-fi, and a twice daily service. And the balcony with comfy lounge chairs is the perfect spot to escape to when you want some private time but still want to hear the waves crashing and see those water views.
Speaking of which, a tropical holiday needs a pool and the COMO has you covered with two. The HUGE 115-metre long lagoon-style pool is ideal for lazing by, complete with lifeguards, umbrellas, lounges and food and beverage service.
The happy faces of poolside life
If you can drag yourself away from that (not-so-little) holiday sanctuary, there's also a beachside 25-metre pool, complete with Insta-worthy swing beds, where you can watch the waves till your heart's content.
Hot tip: If you're lucky enough to stay in one of the rooftop penthouses, you'll have your own private pool too!
As a self-confessed foodie, for me a resort stay is made or broken by the quality of their dining offering and I'm pleased to report the waterfront COMO Beach Club is up there with the best resort food I've ever eaten. And we had many breakfasts, lunches and dinners there just to be sure 😉 Focusing on fresh, seasonal ingredients, the wood-fired grill is key to many of the mouth-watering dishes coming out of the kitchen, while the staff run the place like clockwork.
With a luxe take on a traditional surf shack, the light and breezy space is both refined and laid-back. The décor transforms effortlessly to suit whatever the current time of day, making the restaurant a centrepiece of the resort.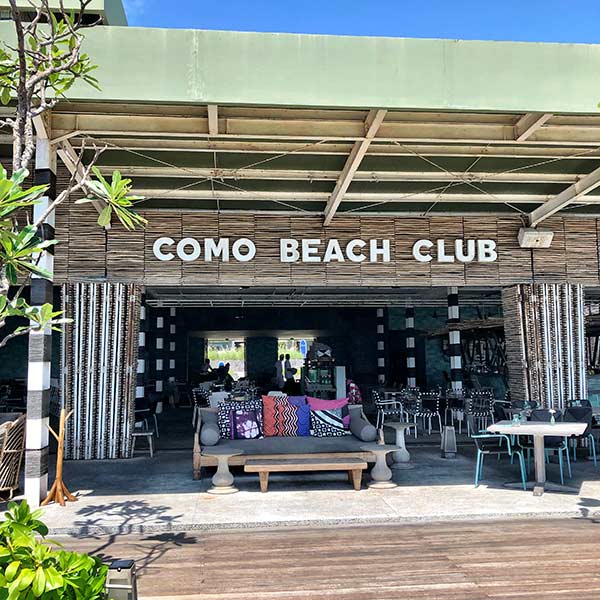 Breakfast is included for hotel guests and includes one à la carte dish, as well as access to the Breakfast Table: Think beautiful tropical fruits, coconut water and juices, cereals, charcuterie, cheeses and, of course, pastries, muffins and breads (baked in-house!).
When in Bali though, your go-to brekky has to be nasi-goreng – made here to perfection with red rice, kale, sweetcorn, tofu and mushrooms. And more than a little chilli hit. You've been warned!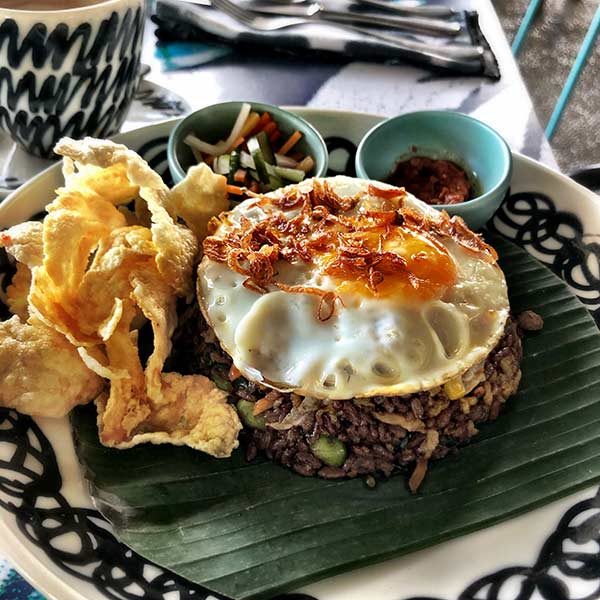 Hot tip: For a more café-style or grab-and-go option, the onsite Glow café – located next door to the gym – has your coffee, smoothie, bliss ball, and juice needs covered.
For lunch we find it hard to go past the seafood, and seared tuna and octopus become firm favourites.
Featuring on the bar, lunch and dinner menus, the tuna tostadas – diced tuna tartare with coconut, chilli, ginger and lime on the most delicious crackers – are amazing. We end up ordering them every single time we eat there 😉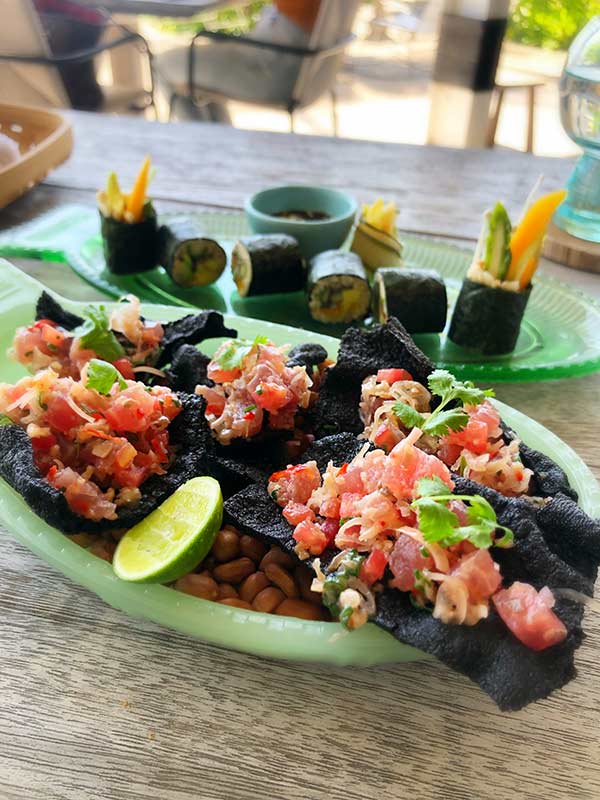 Dinner is a chilled-out affair. I recommend starting with poolside cocktails – the vodka martinis are tops – and watching that famous Bali sunset.
Then settle in for grilled mackerel, dips, short rib and the amazing crab fried rice.
There are even live acoustic performers – who are really great – every Tuesday to Saturday evening to really get you in the holiday relaxation mood.
And if relaxation is on your agenda, the COMO Shambhala Retreat – the resort's day spa – is a must.
With eight treatment rooms – including two for couples – it oozes luxury and sophistication, with a clean white design, high ceilings and the divine smells you only find in a day spa.
My Essential Supplifying Facial is the perfect way to start my week of Bali-style pampering and the signature COMO Shambhala Massage gets hubby's thumbs-up. The warm ginger drink we enjoy after our treatments – which Shambhala kindly give us the recipe for – is a little taste of heaven.
If you're a gym bunny who likes to keep up your fitness on holidays (or counter your cocktail intake 😉), the COMO gym is the stuff of travel dreams. I've visited a lot of hotel gyms over the years and this is easily the best. Not only does it have all the usual cardio machines (and lots of them), there are serious weights, two pilates rooms (one for reformer, one for mat work) and a yoga studio. There's a good chance it's better than your local gym at home.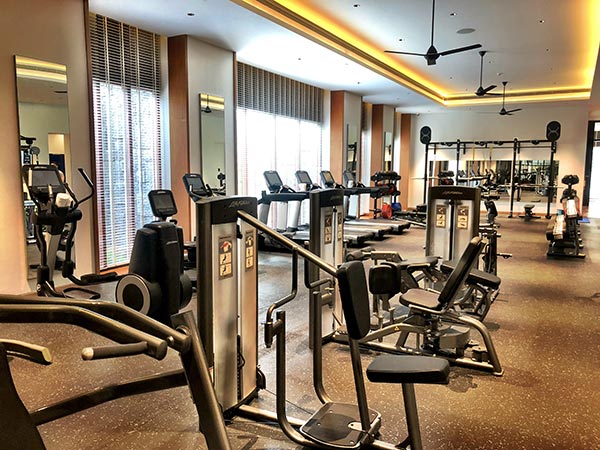 Emma and her team run a program of daily classes – the schedule changes weekly – which includes a complimentary 9am class for hotel guests. During our stay, I was the only one to show up to the Wednesday pilates class, so I scored a private session with Ray. Which was amazing and I absolutely felt it the next day!
Another class you might want to take up is of the surfing variety, thanks to a partnership with Tropicsurf. Because when in Canggu!
Those with kids will also appreciate Play by COMO. It's a kid's dream, with toys, games and books. They even do kids' yoga here.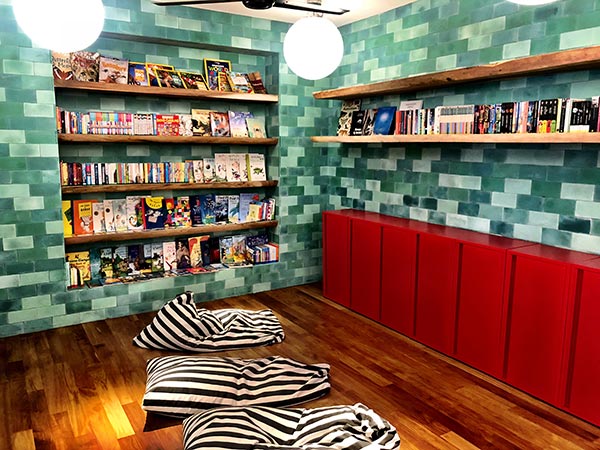 Like any stay, it's the people that make it and the entire COMO team go above and beyond with their genuine friendliness and warmth. Little touches like remembering our names and favourite orders don't go unnoticed.
When you need to escape the daily grind, get yourself to COMO Uma Canggu, stat. You won't regret it.
STAY AT COMO UMA CANGGU
CHECK OUT MORE BALI GETAWAYS