Top Siem Reap holiday packages
4.0-star property
Hari Residence & Spa
9.4/10
Exceptional! (389 reviews)
9 Jul - 16 Jul
7 night stay
Brisbane (BNE) to Siem Reap (REP)
Qantas Airways • Coach
Siem Reap (REP) to Brisbane (BNE)
Bangkok Airways • Coach
Price was AU$4,276, price is now AU$4,059 per person
The hotel is new and everything sparkles. The staff cannot do enough to help you and to make your stay in Siem Reap extremely enjoyable. All staff, from all areas of work, including the tuktuk drivers, are friendly and welcoming. The location is great, just a few minutes walk to the old and night markets - or you can take a tuktuk. I highly recommend this hotel.
Reviewed on 2 Nov. 2019
5.0-star property
Park Hyatt Siem Reap
Downtown Siem Reap
9.4/10
Exceptional! (352 reviews)
9 Jul - 16 Jul
7 night stay
Brisbane (BNE) to Siem Reap (REP)
Qantas Airways • Coach
Siem Reap (REP) to Brisbane (BNE)
Bangkok Airways • Coach
Price was AU$5,344, price is now AU$5,187 per person
I believe this hotel is one of the best I have been to Exceptionaly clean, food is excellent Awesome bakery for coffee in the afternoon Highly recommend
Reviewed on 12 May 2018
5.0-star property
Prince d' Angkor Hotel & Spa
Downtown Siem Reap
8.4/10
Very Good! (806 reviews)
9 Jul - 16 Jul
7 night stay
Brisbane (BNE) to Siem Reap (REP)
Qantas Airways • Coach
Siem Reap (REP) to Brisbane (BNE)
Bangkok Airways • Coach
Price was AU$4,153, price is now AU$4,042 per person
Bit tired and musty and overrun by Chinese nationals but not too bad. Good location.
Reviewed on 8 Jan. 2019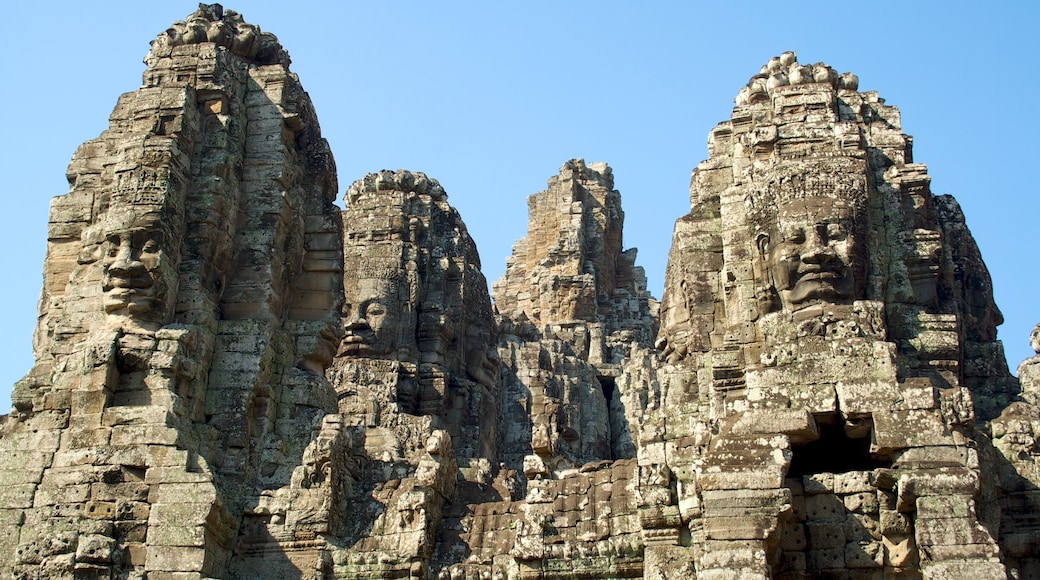 Book your Siem Reap holiday
Siem Reap Holiday Packages
Cambodia's vibrant resort town of Siem Reap is your gateway to the ancient wonders of Angkor. The sprawling complex of Khmer temples dates back to the ninth century, when local royalty ruled over much of modern-day Cambodia, Thailand and Vietnam. You can experience it all with one of our Siem Reap holidays.
Things to Do in Siem Reap
With a Siem Reap holiday package, the World Heritage-listed Angkor Archaeological Park will be at your doorstep. Explore iconic Angkor Wat and the buildings of Ta Prohm, which are nearly reclaimed by thick jungle tree roots. The real pull here, though, is the mysterious Bayon Temple, or "Temple of Faces." The eyes of the "smiling face" on the main tower seem to follow you from all angles. Partly spiritual, partly spooky and entirely unique, this temple is second in tourist visits only to Angkor Wat itself.
Back in town, you'll find that Siem Reap is a hip and happening destination in itself check out the floating villages of Lake Tonle Sap or learn the song and dance of 13 traditional settlements at the Cambodian Cultural Village. If you feel the need for a road trip, check out our car hire options in Siem Reap and cruise the main highway south to Cambodia's capital, Phnom Penh.
Shopping, Dining & Nightlife
When you book one of our Siem Reap holiday deals, you'll head for a town bursting with traditional Khmer handicrafts, fashionable clothing boutiques and urban, trendy art galleries. The town centre is small and easy to navigate, with bargains scattered throughout many bigger shops are concentrated along Sivutha Boulevard. The Phsar Chas market is best for traditional souvenirs such as wood carvings, and the area around Pub Street houses many of the area's galleries and boutiques.
Cambodian cuisine is fresh, aromatic and delicious, sharing some similarities with Thai food. It uses coconut, seafood, meat, spices and local vegetables to great effect but generally the chili is milder. Run "amok" with the local fish and coconut curry (called amok), which is a delicious standout. Along with Cambodian eateries in Siem Reap you'll find surprisingly world-class French restaurants, reflecting Cambodia's history as a French colony, in addition to plenty of places plating up sensational renditions of all your Western favourites.
Cambodia is famed for its no-holds barred nightlife, and Siem Reap packages put you in the middle of the action. Start the night with a cocktail in one of the many stylish small bars, wander down the appropriately named Pub Street for a drink promotion, or boogie down in the uninhibited party bars. Pub Street and the area around Phsar Chas are the liveliest spots after dark.
What's Next?
Angkor Wat may be a temple to Lord Vishnu, but Wotif is a veritable temple to Siem Reap deals. Whether you're looking for couple's escapes or Cambodia holidays with the whole family, you won't have to make any sacrifices to find awesome packages that are as individual as you are. Book today and get ready to explore one of Southeast Asia's most historical and spiritual places.
Top Siem Reap hotels
Lowest nightly price found within the past 24 hours based on a 1 night stay for 2 adults. Prices and availability subject to change. Additional terms may apply.
Recommended cities for you