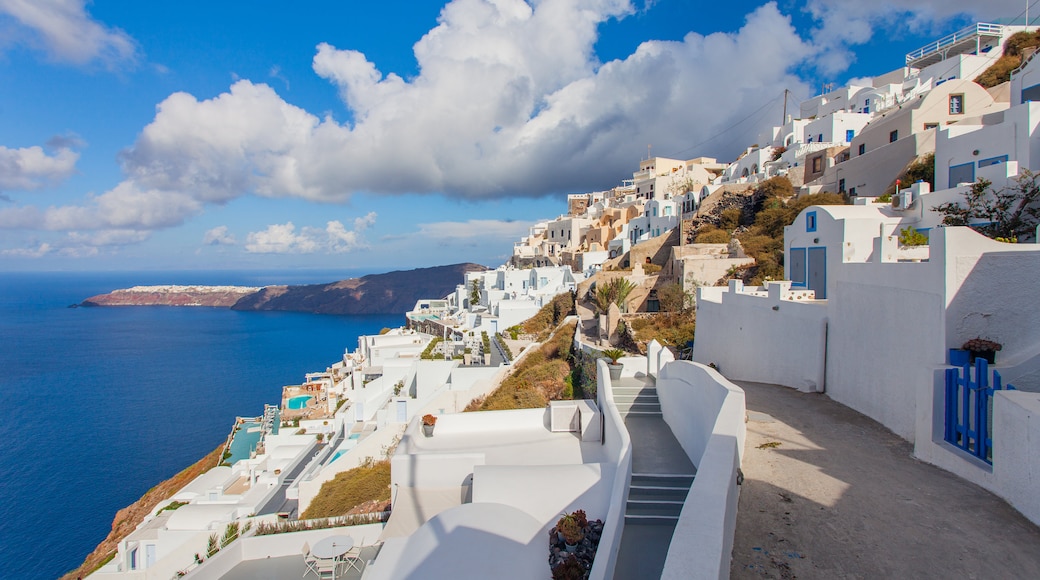 Santorini Holiday Packages
Imagining white, cubed houses perched on cliffs above an azure ocean? Santorini has caught the eye of travellers for hundreds of years. Formed by a massive volcanic eruption, the archipelago is famous for its laidback lifestyle, sweeping vistas and unique whitewashed architecture. The rugged cliffs, lava-pebbled beaches and beautiful Aegean Sea will welcome you on your Santorini holiday.
What to Do in Santorini
Although there is no shortage of activities on the island, it's better to embrace the relaxed lifestyle and take things a day, or even an hour, at a time on your Santorini holidays. No one will blame you if you spend your time sprawled out on one of the many beaches or scuba diving through the caverns and reefs off the island's shores. For a true overview of Santorini, hike up to the Monastery of Profitis Ilias, the highest point on the island. From here, you can see Santorini's striking Cycladic buildings, the surrounding islands in the archipelago and, on a good day, the mountains on the nearby island of Crete. Descend a little ways down the mountain to see the ruins of Ancient Thira, an archaeological site first settled in the 9th century BC that offers striking views of the ocean. Aside from your own two feet, get around the island by booking one of Wotif's car hire options in Santorini.
The small island is also well-served by taxis and buses, but public transportation schedules may not be entirely prompt. Once you're in motion, head to the main town of Fira, where you can check out the Minoan archaeological site of Akrotiri and its remarkable preserved frescoes. From there, drive to Oia, a picturesque village that is the other major settlement on the main island.
Shopping, Dining & Nightlife
The main commercial thoroughfare on Santorini is the shopping district in the town of Fira. Walk through its streets and you'll find designer jewellery, handbags, local art and clothing in abundance. Fira is also your best bet for convenience shops, with necessities like sunscreen and toothbrushes, and restaurants. Authentic Santorini cuisine includes eggplant, fried tomato slices, stuffed grape leaves and fresh grilled fish from the Aegean. Grab a spot at one of the taverns overlooking the caldera, sip some fine wine and watch the sun sink into the ocean.
Once the sun goes down, get ready to head out on the town. Like the shops, most bars and nightclubs are in Fira. You'll find everything from discotheques to cocktail lounges to suit your tastes and fit with your Santorini holiday package. If you're lucky enough to visit during late summer, check out the International Music Festival of Santorini, where crowds gather to see performances from a variety of acts.
What Next?
Book your Greece holidays without breaking the bank. Wotif is here to help you find cheap packages to Santorini with a minimum amount of stress. Whether you're going on your own or with kids in tow, we can dig up the best Santorini deals to save you time and money, both of which will be well-spent on this remarkable island.
Things to do in Santorini
Are you ready to grab your getaway by the horns and ride it off into the sunset? Travelling is all about experiencing amazing new things (no matter how late you stayed up last night).
Don't confirm your Santorini holiday itinerary just yet. Check out our top recommendations and add in a couple more things:
Top Santorini hotels
Lowest nightly price found within the past 24 hours based on a 1 night stay for 2 adults. Prices and availability subject to change. Additional terms may apply.