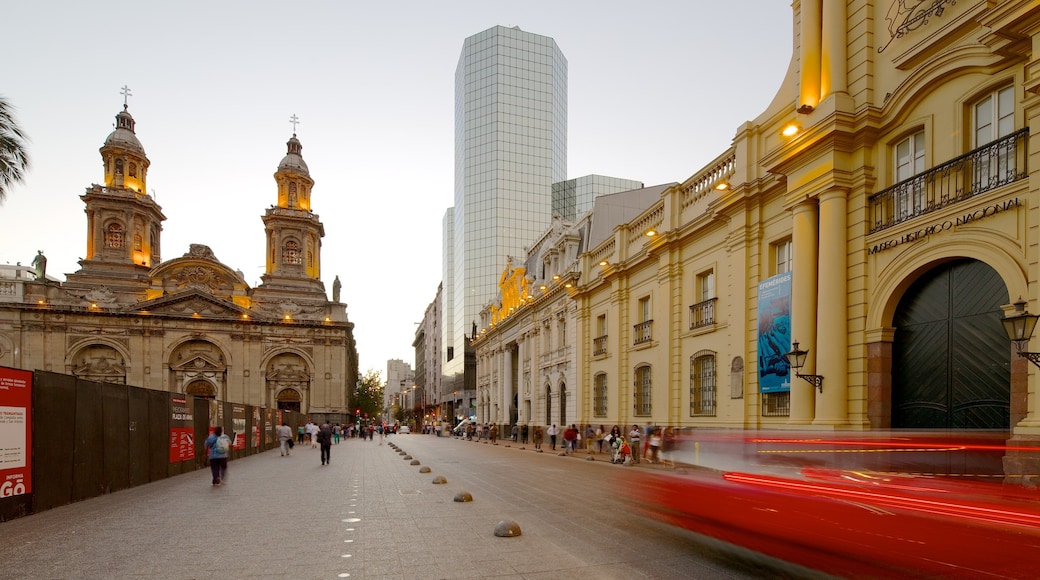 Book your Santiago holiday
Santiago Holiday Packages
Santiago's vibe is eccentric, chaotic, artsy and cosmopolitan. From taking in the creative vibes at the National Fine Arts Museum to a thorough exploration of the luxury goods on Alonso de Cordova, a holiday in this beautiful city is sure to leave you with a lifetime of memories. Book your trip today and go!
Things to Do in Santiago
Kick off your Santiago holiday packages by jumping on a funicular (think tram) to transport you to the peak of Cerro San Cristobal, where you will find Parque Metrpolitanio (Metropolitan Park) and a towering statue of the Virgen de la Inmaculada Concepción. Here you can admire the panoramic views of Santiago and beyond, and then wander over to the Botanical Gardens and the two large public pools for a swim.
Venture back into the city to Chile's tallest building, Gran Torre Santiago, and head to the 62nd floor to check out the observation deck. For a dose of arts and culture, visit the Chilean Natural History Museum or the National Fine Arts Museum. Public transportation options include cabs, the subway and buses (called micros), but for freedom and the ability to travel on to other destinations in Chile like Valparaiso, having a car is the way to go. Use Wotif to get the best deals on Santiago car hire options, too.
Shopping, Dining &amp Nightlife
Temporary markets called ferias are where Santiago's fashionistas head to pick up vintage finds and trendy independent labels. If you're the luxury-loving type, then the store-lined street of Alonso de Corodova offers a swanky spot to pick up designer goodies.
Shopping is thirsty work, so make a pit stop for a freshly pressed fruit juice, or perhaps a glass of pisco sour if you fancy something a little stronger. The cuisine here draws inspiration from Spain, Mexico and neighbouring South American countries. Seafood features heavily on many menus, while snacks like Chilean corn pie and crispy root vegetable empanadas provide sustenance for vegetarians.
Make sure you fuel up before hitting the town, as the drinks here are notoriously strong. It will only take a few glasses of pipeno wine before your legs may get a little wobbly, as this is strong stuff. You can find the most popular bars and clubs in the Bellavista district, along a drag called Calle Pio Nono. Whatever you get up to while enjoying your Santiago packages, if anyone offers you a bigoteado, politely decline—unless you are made of stouter stuff than we (and if so, by all means drink up!). This is a concoction of all the drink leftovers and is sometimes given as a prank to unsuspecting visitors on their Santiago holidays.
What's Next?
Does Chile entice your adventurous spirit? Whether you're travelling in a large group or flying solo, our easy-to-use website lets you find and book your ideal trip in just a few clicks. If you want to explore more of the county, we can also arrange Valparaiso packages. What are you waiting for? Let Wotif help you find the perfect getaway at a great price—you could soon be chilling in Chile!
Top Santiago hotels
Lowest nightly price found within the past 24 hours based on a 1 night stay for 2 adults. Prices and availability subject to change. Additional terms may apply.