Top Phuket holiday packages
4.5-star property
Andaman White Beach Resort
4.3/5
Excellent! (499 reviews)
15 Jan. - 23 Jan.
8 night stay
Melbourne (MEL) to Phuket (HKT)
Jetstar • Return • Coach
Save 100% on your flight
Price was AU$6,021, price is now AU$3,905 per person
weather was terrible when we stayed and beach was really dirty with rubbish washed up on the sand. Room was ok but a bit dated. Probably won't stay here again.
Reviewed on 31 May 2022
4.0-star property
Phunawa Resort
3.9/5
Good! (600 reviews)
4 Jan. - 11 Jan.
7 night stay
Adelaide (ADL) to Phuket (HKT)
Jetstar • Direct return • Coach
Price was AU$5,299, price is now AU$3,978 per person
Room was spacious with a nice balcony and cleaned well every day. Plenty of bottled water supplied and bed was perfect. Staff were always friendly, polite and accommodating. Easy walking to beach, restaurants and bars. Sure, there are some small cosmetic maintenance issues but that's expected under pandemic circumstances.
Reviewed on 21 Feb. 2022
5.0-star property
Mom Tri's Villa Royale
4.7/5
Exceptional! (182 reviews)
20 Jan. - 26 Jan.
6 night stay
Sydney (SYD) to Phuket (HKT)
Jetstar • Direct return • Coach
Price was AU$3,825, price is now AU$3,301 per person
Friendly staff and a relaxing quality feel about the whole property. Fantastic views and brilliant dining experience from breakfast though lunch and evening dinner
Reviewed on 14 Nov. 2022
5.0-star property
Pullman Phuket Arcadia Naithon Beach
4.5/5
Wonderful! (765 reviews)
4 Jan. - 11 Jan.
7 night stay
Adelaide (ADL) to Phuket (HKT)
Jetstar • Direct return • Coach
Price was AU$6,817, price is now AU$5,939 per person
The rooms were very well appointed and clean, with beautiful styling. The entire complex was very well maintained and clean - a joy to walk around. The gym equipment was up to date, and the location offered a beautiful outlook over the sea and garden. Gym staff were really friendly and the yoga class on the top level was very peaceful. Yummy breakfasts and a great menu for the evening meal - with professional service. I would definitely recommend :)
Reviewed on 20 Oct. 2019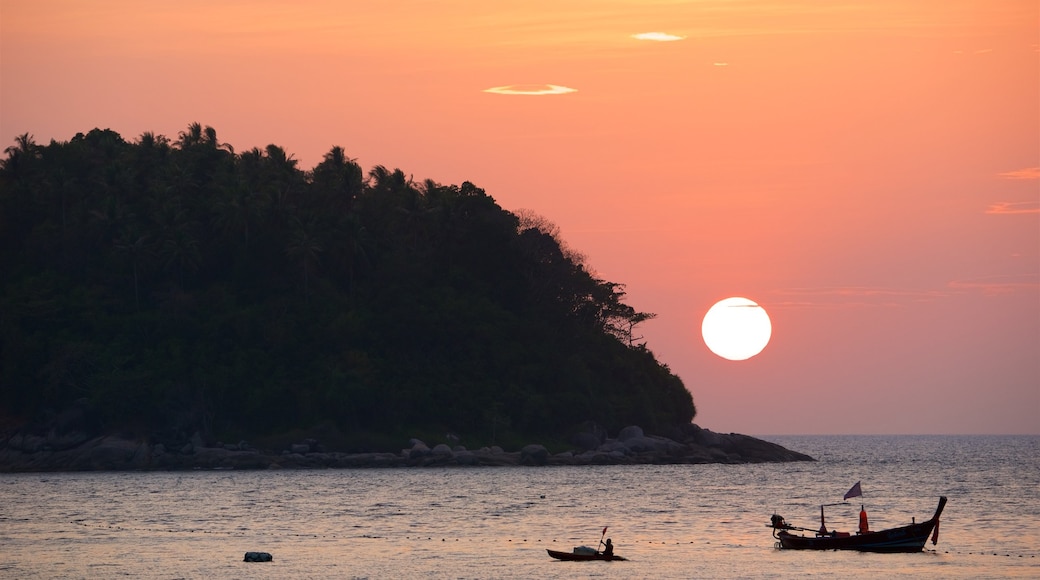 Book your Phuket holiday
Phuket Holiday Packages
Pronounced "pu-ket" and not the way you'd probably like to say it, this island province sits off the west coast of Thailand in the Andaman Sea and is about as picturesque a place as you can think of. There's kilometres upon kilometres of white sand beaches lined with lush tropical forests and beachfront towns where all-night parties continue well into the next day. Sounds freaking awesome, doesn't it? We think so, and can't imagine why you wouldn't either. Browse Wotif's incredible list of Phuket holiday packages and book yours the second you're done reading this.
Fun in Phuket
If we had unlimited time, then we might be able to let you know about every fun thing there is to do in this part of Thailand. But time is of the essence, so we're just going to lay out a few of the things we think are must-dos that will make your Phuket holiday that much better. Snorkelling, surfing, fishing, jungle hikes and full moon parties. Anything else?
Phi Phi Islands – If you thought the beach scenes from the DiCaprio movie The Beach were filmed on some Hollywood soundstage, you're wrong. They were filmed on the sand of these almost too-good-to-be-true islands just off the Phuket coast. You want to go snorkelling? The crystal clear water here makes for perfect conditions. You want to paddle a longtail boat? Not a problem. What about doing nothing on a beach? Take your pick from any number of popular or secluded stretches of sand to bronze on.
AC's Phuket Fishing Park – Have you ever wanted to catch a fish that's roughly the size of a motor bike? Just sign up for a day of freshwater fishing at AC's and you'll have the biggest arapaima you've ever seen on the end of your line in no time.
Siam Safari Nature Tours – Riding atop a massive elephant is crazy. It's not feasible. There's no way you can do that! Just kidding—of course you can do that. Book one of our Phuket car hire deals and make your way to this remarkable experience deep in the jungle. You'll come face-to-face with these magnificent beasts and will even be able to climb atop one for a trek through the jungle.
Patong – The largest beach town on Phuket is also home to some of the wildest shows on earth. Catch a show at Simon Cabaret and then do your best to process what in the world you just witnessed.
Fasten your seatbelt, browse Wotif's ridiculous offers on Phuket packages, and book one now. You should've booked one a long time ago, but that's neither here nor there. Send us a postcard.