Top Paris holiday packages
3.0-star property
Dauphine Saint Germain Hotel
Paris City Center
4.3/5
Excellent! (998 reviews)
27 Mar - 31 Mar
4 night stay
Melbourne (MEL) to Paris (PAR)
Emirates • Return • Coach
Price was AU$2,879, price is now AU$2,633 per person
Hotel was a fabulous little gem, staff were terrific and location perfect..... Rooms were tiny but was expected so far from an unpleasant experience.
Reviewed on 12 Dec. 2016
4.0-star property
Villa Pantheon
Paris City Center
4.4/5
Excellent! (516 reviews)
27 Mar - 31 Mar
4 night stay
Melbourne (MEL) to Paris (PAR)
Emirates • Return • Coach
Price was AU$2,813, price is now AU$2,581 per person
Great location in terms of getting around as well as access to cafes and restaurants. The staff were extremely friendly and helpful.
Reviewed on 26 Apr. 2018
3.0-star property
Hôtel Le Notre Dame Saint Michel
Paris City Center
4.3/5
Excellent! (1,013 reviews)
27 Mar - 31 Mar
4 night stay
Melbourne (MEL) to Paris (PAR)
Emirates • Return • Coach
Price was AU$2,969, price is now AU$2,755 per person
View from windows were incredible, great location. Room was very small and floor and roof bowed as the building was so old. Small bathroom without fan to clear condensation. Elevator was just big enough for two of of us and our suitcases just.
Reviewed on 27 May 2018
3.0-star property
Hôtel Marais de Launay
Paris City Center
4.4/5
Excellent! (722 reviews)
27 Mar - 31 Mar
4 night stay
Melbourne (MEL) to Paris (PAR)
Emirates • Return • Coach
Price was AU$2,722, price is now AU$2,526 per person
Very clean good staff good location comfortable. Only complaint is rooms quite small
Reviewed on 21 Apr. 2019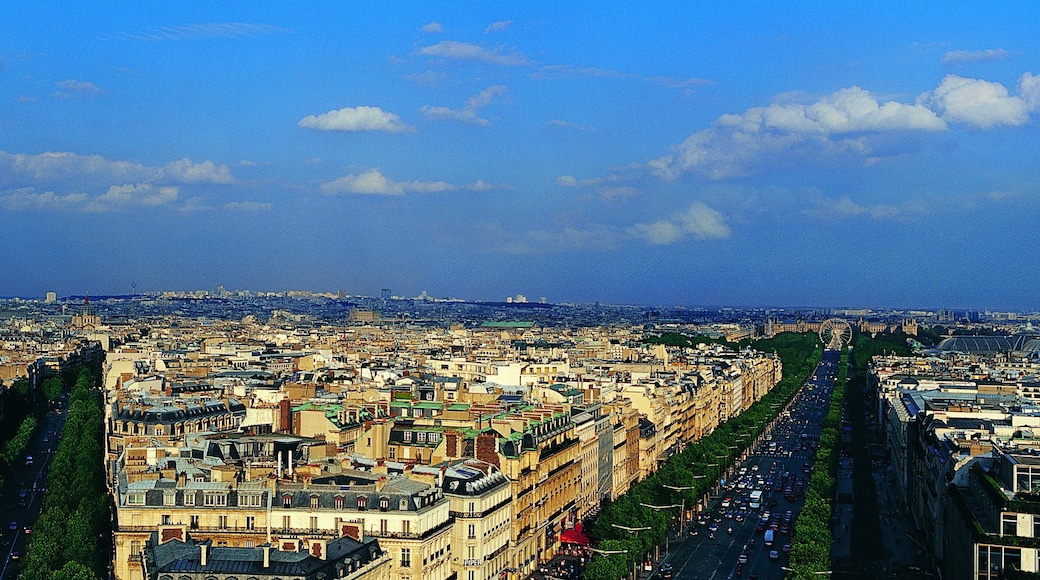 Book your Paris holiday
Paris Holiday Packages
We probably don't even need to write an introduction to the city of Paris, but that'd be sacrilegious—"The City of Lights" deserves all the introductions in the world. Why? Because it just might be the most glamorous place on Earth. From the world-class art museums like the Louvre to the Michelin-starred restaurants that seem to be on every corner, this town is freaking phenomenal. So stop wasting time doing whatever it is you're doing and book one of Wotif's Paris flight and accommodation deals now. Bonjour!
Museums, Museums and More Museums
It's hard to enjoy Paris holidays without spending solid time wandering around a museum or two. And since this city has more than you can count on all your fingers and toes, snag one of our Pari s car hire deals and cruise over to a few:
The Louvre – We're going to start out with the best of them all: The Louvre is the most famous art museum in the galaxy, and Paris holidays are a complete waste of time without a visit to this joint. Before entering the museum, be sure to take a picture in front of the glass pyramid so you can one-up your Instagram followers. After you get in, make a beeline for the Mona Lisa and see if you can figure out what she's smiling at. There's also a great collection of Egyptian antiquities that's worth a peek.
Musee d'Orsay – Located on the left bank of the Seine, this museum is home to a very large collection of French Art, including paintings, sculptures, photography and furniture—yes, furniture is considered art by certain people. Some of the artists whose works are on display include Monet, Manet, Cezanne, Gauguin and Van Gogh. You've no doubt heard of a few of them, right?
Musee du quai Branly – Enough with the art already. It's time to be amazed by some artifacts! The museum is home to some 450,000 objects relating to indigenous art and cultures of Asia, Africa, Oceania and the Americas. There's all sorts of cool stuff, like a mask from the Pende people of Congo and a giant Moai ancestor head from Easter Island.
Snails, Cheese and Wine
Who hasn't heard of the epic food scene in Paris? Some of the greatest chefs in the world were trained in the kitchens of these establishments! Here are a few restaurants worth ordering from:
Le Grand Vefour – This restaurant dates back to the late 1700s and is still cranking out some of the best dishes in the city. Located next to the gardens of the Palais Royale and headed by a chef named Guy Martin, Le Grand Vefour has perfected classic French dishes like duck liver ravioli and truffles parmentier of shredded oxtail. Thanks to his talents, this joint has earned itself a Michelin star in recent years.
Restaurant le Meurice Alain Ducasse – The dining room of this place looks like something that Louie XVI used to frequent before he lost use of his head. Chef Alain Ducasse is a genius—we bet he can whip up the best roast poulet de Bresse with medallions of black truffle with his eyes closed. Add a nice bottle of wine to that meal and the best dinner of your life will be underway.
We'd like to tell you a little more about what to do in this awesome city, but we think we've said enough. Book one of our amazing deals for holidays to Paris and enjoy your time in the capital of France. And when you've had enough of the art museums and fine restaurants, reserve one of our Nice holiday packages and hop on the quick flight north to the French coast. Bathing suits are optional!
Top Paris hotels
Lowest nightly price found within the past 24 hours based on a 1 night stay for 2 adults. Prices and availability subject to change. Additional terms may apply.
Recommended cities for you