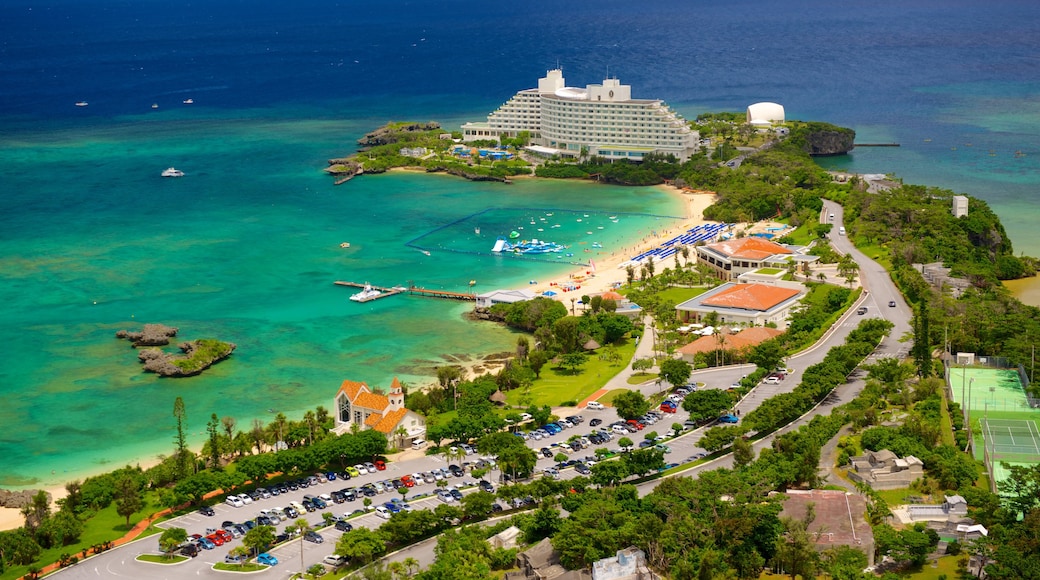 Okinawa Holiday Packages
Okinawans live longer than almost any other people in the world, and escaping on an Okinawa holiday quickly makes it clear why inhabitants of this special place want to stick around for so long. Take advantage of Wotif's Okinawa holiday packages to discover this prefecture's rich history, beautiful untamed nature and a distinct culture. Who knows—you might even live a little longer!
Things To Do
While there are more than 150 islands in Okinawa Prefecture, most inhabitants live on Okinawa Island. There are plenty of cities to roam through and gorgeous wilderness in between, so plan ahead and book one of our Okinawa car hire options before leaving. It will make your trip much easier—and spare you the need to figure out public transit.
While Japanese colonisation and World War II left behind little of the Ryukyu Kingdom, which once ruled the Okinawa chain, you can still find some traces. In Naha, the capital city, you'll find Shuri Castle. Once the kingdom's headquarters, this great red fortress is a photo op in the making. Seriously, make sure you've got film or memory card space for this one. The city is also home to the Shikina-en, the Sho royal family's Chinese-style garden, carefully rebuilt after World War II.
Head north into wilder territory, with natural beauty and a more traditional lifestyle. Drive the scenic routes north to visit the famous Churaumi Aquarium in Nago, then ditch the car and hike to Hiji Falls. Grab some water and keep cruising along the coast on Route 58 until you reach Okinawa Island's northernmost point, Hedo Cape. If you ever wanted to be struck dumb by the sheer beauty of nature, this is the place for it. This is where the Pacific Ocean and South China Sea meet you'll have turquoise waters on one side and green peaks on the other.
Shopping, Dining & Nightlife
Our Okinawa holiday deals will keep your wallet thick, so you'll want to make up for that by visiting Kokusai Dori. This street in Naha is packed with everything from Western chains to independently owned establishments. The street leads to Heiwa Dori, a traditional covered shopping arcade with dozens of small vendors. At the very end, you'll find the Tsyboya District, famed for its traditional pottery. On Sunday afternoons, the street closes to traffic, filling instead with street performers and cafe tables.
While you're there, stop for lunch or dinner at the Makishi Market. Select your favourite ingredients from the fresh fare on offer and have it cooked on-site. For a taste of local cuisine, sample the signature wheat soba noodles, usually served in broth with pork. The American military presence has resulted in some only-in-Okinawa dishes, including taco rice and the Nuuyaru burger, a Spam-based sandwich served at Jef, the local fast food chain.
The American presence has also influenced Okinawan music, which combines local sounds with rock and jazz. Both Naha and Okinawa City have live music scenes where you can hear this distinctive sound. While you listen, sip awamori, a dangerously strong rice liquor, and snack on chinmi, which translates as "strange foods." Sounds intriguing!
What Next?
Make your dreams of Okinawa holidays become a reality with Wotif. Bundle hotels and flights with our Okinawa packages and see this part of the world without blazing through your savings. Looking to explore cities across Japan? Add a couple of days to your holiday with our Yokohama packages!
Top Okinawa hotels
Lowest nightly price found within the past 24 hours based on a 1 night stay for 2 adults. Prices and availability subject to change. Additional terms may apply.
Book your Okinawa holiday